Life with a factory stereo
How to upgrade your vehicle's stock system
After a long, beautiful career touring the East Coast from Boston to Atlanta as a professional guitarist (Skip Castro Band, The Believers), I got my first full-time job at Crutchfield, where they actually pay me to write about one of my favorite subjects — car audio gear! It's now my mission in life to make people understand how much fun it is to have a first-rate sound system in your vehicle.
More from Charlie Pastorfield
You buy a car, you drive it for a couple of months, and you decide that the sound system just isn't cutting it. In the old days, you'd buy a new stereo and some speakers and life would be good. But it's not that simple anymore. Many car makers use unusual dash configurations, and others use "premium" systems that use amps and speakers with unusual impedance ratings and proprietary connections.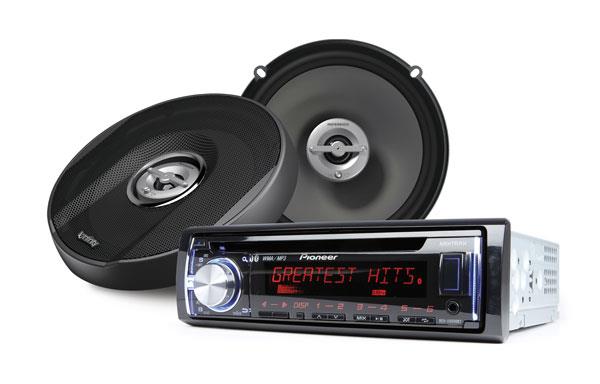 Many new vehicles won't accept this traditional car stereo and speakers combo.
The biggest dealbreaker? Instead of the old in-dash CD player/radio combo, many new vehicles feature all-in-one consoles that incorporate climate controls, OnStar®, GPS, vehicle warning systems, and other unique features, housed right along with your sound system. Replace your stereo and you lose many, if not all, of these important factory functions.
Options for the 21st century
What are your choices if you've purchased a vehicle like this? Are you stuck with the limitations of the factory sound system? Is the local dealership your only option for adding to your system? Will you have to suffer with second-rate sound quality and limited entertainment choices for the next 100,000 miles? Cheer up. There's more and more good news headed your way.
Car stereo manufacturers have begun to adjust, moving away from the traditional stereo and speaker offerings toward developing products that enhance factory systems. Solutions range from adding a simple powered subwoofer, to using a sophisticated sound processor to expand your system, and from adapters that connect your iPhone® or iPod® to your factory stereo, to kits that integrate your smartphone into your factory system. Let's talk about some of your options.