Connecting Your TV
How to get the best picture quality from every source
Steve Kindig has been an electronics enthusiast for over 30 years. He has written extensively about home and car A/V gear for Crutchfield since 1985. Steve is also a volunteer DJ at community radio station WTJU, where he is a regular host of the American folk show "Atlantic Weekly," as well as the world music program "Radio Tropicale."
More from Steve Kindig
The latest TVs and video components are capable of delivering a truly spectacular picture. And TV makers usually include a few types of audio/video inputs, although those options have narrowed in the past few years.
But a single wrong connection can seriously compromise video quality. High-definition images are a quantum leap in quality over standard-definition, and 4K/HDR images offer even more realistic contrast, color, and brightness. Sadly, many TV owners have never seen what their sets are capable of due to using the wrong type of connection or cable.
In this article, we'll define the various types of connections you'll find on current HDTVs, then we'll cover common connection scenarios.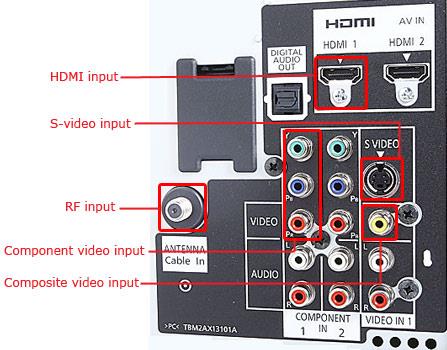 The back panel of today's HDTVs may look intimidating, but we'll help you make the right connections for the most common video components.
Video connection types
HDMI

HDMI can carry both high-definition video and high-resolution multichannel audio. It's generally your best option for high-def video, since it can carry full 1080p signals, and it's your only option if you're connecting a 3D video source to your 3D TV. For an in-depth look at HDMI, see our HDMI connections article. For more info on 3D TV, see our intro to 3D, or check out our in-depth 3D TV FAQ.


Signal type:

digital


Maximum resolution:

1080p

Component video

Component video is also high-def-capable, which makes it a good alternative when HDMI isn't an option. This three-jack connection splits the video signal into three parts (one brightness and two color signals). This analog connection delivers an extremely accurate picture with clearer color reproduction and less bleeding than S-video or composite video (below).


Signal type:

analog


Maximum resolution:

1080p (however, many video components will only send video up to 1080i via component video)

S-video

This 4-pin connection usually provides a sharp picture by transmitting the chrominance (color) and luminance (brightness) portions of a video signal separately. The signals can then be processed separately, reducing interference. S-video connections generally outperform composite connections (below), but don't measure up to component video (above).


Signal type:

analog


Maximum resolution:

480i

Composite video

This is the most universal video connector, found on most TVs made in the last 20 years. Picture quality is a big step up from RF (below), but typically not as good as S-video (above).


Signal type:

analog


Maximum resolution:

480i

Coaxial or RF

Probably the most common way folks shortchange their TV's picture quality is through the overuse of RF-type coaxial connections. There's a reason the RF inputs on TVs are usually labeled "Antenna" or "Cable" — those are the signals they were designed for. RF-type connections should generally be limited to bringing signals into your A/V system from outside your house: TV antenna, cable TV jack, or satellite dish. You may be tempted to use RF to connect your Blu-ray or DVD player, cable or satellite box, or game console to your TV because it's a simple one-cable hookup, and that cable is usually included free in the box. But remember that RF is the lowest-quality video connection between any video source component and your TV. Instead of RF, use the highest-quality connection from the types listed above to get the best-looking picture.


Signal type:

analog


Maximum resolution:

about 350i
To see larger photos of each type of input and connector, visit our A/V connections glossary.
Connecting A/V gear to your TV
Connecting your antenna
If you'll be using an antenna to receive over-the-air broadcasts, it's a fairly simple connection to your TV. If you plan to use an antenna but haven't chosen or installed one yet, you might want to check out our article on choosing an antenna.
Your antenna passes the broadcast signals it receives via a single coaxial RF cable. Most of the time, all you need to do is connect that cable to your TV's UHF/VHF input (usually labeled ANT or ANT 1), and that takes care of both video and audio connections.
Connecting your cable box or satellite receiver
Your cable box or satellite receiver usually connects to your cable wall jack or satellite dish via a single coaxial RF cable. However, when you make the connection from this component to your TV, we recommend using the best-quality video connection your cable box or satellite receiver will permit, starting with HDMI for an HD-capable box or receiver.
If you opt for HDMI, you may be able to pass both your audio and video signals to your TV via a single cable. On the other hand, if you opt for a component video, S-video, or composite video connection, you will need to make an additional stereo RCA audio connection to your TV.
If your cable or satellite programming delivers digital surround sound, and you want to hear that surround sound, you'll need to make a digital audio connection from the cable box or satellite receiver to a home theater receiver — even if you've made a single HDMI connection to your TV for audio and video. Depending on the connectors available on your cable box/satellite receiver and your home theater receiver, you'll probably want to use either an optical digital or coaxial digital audio connection.
Connecting a Blu-ray player
As we've suggested for other connections, we recommend using an HDMI connection between your Blu-ray player and your TV. In fact, it's especially important here, because you can only get the top-quality 1080p signal via an HDMI connection. HDMI passes both both audio and video signals via a single cable.
To hear the surround sound encoded on most Blu-ray discs, you'll need to make a connection to a home theater receiver. To get standard Dolby Digital or DTS, make either an optical digital or coaxial digital audio connection from your Blu-ray player to your receiver. This is your best option if you have an older receiver that lacks HDMI inputs.
However, to hear the more sophisticated surround sound formats offered on Blu-ray discs, such as Dolby Digital Plus, Dolby TrueHD, and DTS-HD™, you can't rely on a simple optical digital or coaxial digital connection. Instead, you'll need to connect your player to your receiver using either HDMI or a multichannel analog connection. See our article on connecting a Blu-ray player for more information.
Connecting a gaming system
All three of today's big gaming systems deliver intense entertainment, with vivid images and impressive sound. And just as with other components, there's a real value to making the best available connection, in order to get the best picture and sound.
However, not every game system offers the same connection options. Some require the use of proprietary cables or cable adapters. Others don't offer the full range of video connections. The bottom line? Using the best possible video connection and audio connection that your system allows is still the way to go.
Sony's PlayStation® 4 and Microsoft's Xbox One™ are both based on a Blu-ray disc drive, which makes HDMI the connection of choice for both video and audio.
Nintendo's Switch™, the best video connection is made via an aftermarket proprietary component video cable designed for use with the Wii. To get sound from your TV, you'll need to make a stereo RCA audio connection.
Because each game system differs as to whether it requires proprietary audio and video cables, and which cables are included, check your game system's requirements and included accessories before you buy additional cables.
Making video connections through a home theater receiver
In the previous sections, we've described how to make an audio-only connection to a home theater receiver, in order to get sound from TV broadcasts, DVD movies, and more. However, not everyone with a receiver makes audio-only connections to it.
Actually, many folks with a home theater receiver (or one of the DVD/receiver combo pieces that come with a prepackaged home theater system) end up connecting all of their components to the receiver's video inputs, as well at the receiver's audio inputs.
Here's why you might choose to do the same:
If your receiver offers video conversion for an HDMI or component video output (that is, it can pass any video signal you send into it out along an HDMI or component video cable), you'll only have to make a single video connection to your TV.
If your receiver also offers video upconversion, it will upconvert any signal you send it, making all your video sources look as good as possible on a high-def screen.
If you don't want to have to switch sources on the receiver for sound,

and

switch sources on the TV for video, this approach lets you make just one selection for both sound and video.
If you take this route, be sure to follow the general recommendations we've already shared: use the best-quality connections available in order to get the best picture. We recommend making a connection to your TV via HDMI or component video, for full high-definition viewing.
Of course, if you have an older receiver that can do home theater, but doesn't have component video or HDMI (and therefore can't send an HD signal to your TV), you may not want to run all your video sources through your receiver. Instead, you may want to just make audio connections from your components to the receiver, and make separate video connections directly to your TV.
Sending audio from your TV to your receiver via HDMI
If you're using your TV's built-in tuner to watch over-the-air HD broadcasts, and you want to be able to enjoy surround sound with those TV shows, there are a couple of ways to make that happen. Almost any fairly recent model TV will have an optical digital audio output, so you can send the audio signal back to your receiver. (In fact, newer TVs generally don't have an analog stereo audio output anymore, so digital may be your only option.)
Nearly all current TVs and home theater receivers have at least one HDMI input with a feature called "Audio Return Channel" (ARC). If you've got both a TV and receiver with this feature, you can send audio from your TV back to your receiver using the same HDMI cable you use to send video signals from your home theater components to your TV. This way, you won't need to make a separate optical digital connection. If you're not sure if your gear is ARC-enabled, look for an HDMI input labeled something like "ARC." You won't need a special HDMI cable for this feature to work — any recent, good-quality cable should do.
Connecting your Internet-ready or smart TV to the web
If you've got a TV that's Internet-ready, you'll need to connect it to your existing home network to access online content. Many of these TVs have Wi-Fi® capability, but some still require a wired Ethernet connection. You can still get a wireless connection with many of those TVs by adding an optional USB Wi-Fi adapter. These adapters are usually brand-specific, so shop accordingly. If you're connecting wirelessly, you'll likely be prompted to enter info such as your network name and any security passwords you have protecting your network. See our article on Internet-ready TVs for more info.
If you've got a DLNA-compatible TV, you'll need to go through the same steps to access the music, photos, and videos stored on your computer. You may also need to adjust the security settings on your computer.
Protect your investment: plug in to clean power
A lot of folks don't think about power protection for their TV — until it's damaged by a power surge. To protect your HDTV investment, you should plug your TV and all of your other components into a good-quality surge suppressor.
You can also actually improve your TV's picture, and in some cases extend its life, by using a higher-quality power protection and line conditioning unit. These components clean and filter AC power, often resulting in a noticeably crisper, clearer picture. For more info, see our article on choosing power protection.