Camcorders FAQ
Tara W. has worked for Crutchfield since 2004. She writes about whole-house music and video gear, and works on Crutchfield's video team.
More from Tara W.
Heads up!
Welcome to this article from the Crutchfield archives. Have fun reading it, but be aware that the information may be outdated and links may be broken.
Q: What kind of camcorder should I get if I need to record a friend's wedding?
A: For such a special occasion, it's a good idea to go with a high-definition camcorder, since it will capture the best quality footage that will last for years to come. These cams come with both easy, automatic modes for beginners, as well as manual modes for more experienced videographers. Plus, most high-def cams have plenty of built-in memory, so you shouldn't have to worry about running out of space before the lucky couple says "I do." You should also look for a camcorder with plenty of zoom, so you can get great shots of the bride and groom without infringing on the wedding party's turf.
Of course, if you plan on making this a side- or even day-job, then check out our professional-style camcorders. You'll be able to capture custom video and sound with their wide range of manual features. Plus, you can add on separate mics and video lights to get better sound and lighting.
Q: What kind of camcorder should I get to take on vacation?
A: If you're traveling to the beach or going hiking across rough terrain, we recommend a tough camcorder. These compact camcorders capture great video, and most won't break if you take them underwater while snorkeling or accidentally drop it a couple of feet while hiking (though we don't recommend making a habit of this). They also tend to be pretty lightweight, so it's no problem taking them along.
On the other hand, if you plan to do a lot of location hopping across the U.S. or even Europe, then check out a cam with GPS-tagging. It'll not only shoot gorgeous footage, but will also record the location from where you shot it for easy indexing when you get home.
Q: What kind of camcorder should I get my teen?
A: We tend to prefer pocket cams for teens. They're compact, inexpensive, and come in a variety of colors. Plus, they usually have pretty easy video controls, and make it easy to upload videos for sharing on sites like Facebook® or YouTube™.
Q: What kind of camcorder should I get to record my child's plays or sports games?
A: First, look for a camcorder with a high optical zoom. That way, you'll be able to zoom in close to your child from the bleachers or audience. It's also worth either looking for a cam with optical image stabilization, too, or investing in a tripod, to keep your videos steady. If you're indoors in low light, that image stabilization will come in handy, as will a lens with a wide aperture. Zooming in will limit the amount of light reaching your lens, so it's good to have all the sensitivity, light-gathering power, and stabilization you can afford for best results.
Q: I've never used a camcorder — is it too complicated for a novice?
A: Not at all. If you can use a point-and-shoot camera, you can use a camcorder. Most newer camcorders come with automatic modes and special features to make shooting video easier, and even fun. You can find touchscreen controls, face detection modes, and smile shutter technology — just like on point-and-shoot cameras. Even higher-end camcorders have lots of goof-proof automatic settings — start with them, then try out the more complex features as you get more comfortable with shooting your own videos.
Q: I don't plan to edit my video on a PC. Can I connect a digital camcorder to my TV to watch my videos?
A: Absolutely. Editing on your PC is a great option for some folks, but not necessary. All camcorders have an audio/video output that lets you connect the camcorder directly to your TV for playback. Many memory cards will mount on your computer or late-model TV as an outboard drive with a memory card reader, and many camcorder files can be played back with software-based players. There are lots of choices when it comes to watching your video; see our article on watching, sharing, and editing your home movies for more ideas.
Q: My digital camera has a video mode — does that mean I don't need a camcorder?
A: Your digital camera's video mode is a good substitute if you don't have a camcorder available, but a camcorder makes sense for extensive filming. Camcorders usually have larger lenses for capturing the light and detail required for natural-looking video. And while many digital cameras also offer HD video recording, you'll often find that a camcorder's design makes it easier to hold and manipulate zoom and focus while recording motion imagery.
Q: I see that most digital camcorders have a digital photo mode — does that mean that I can use my camcorder as a digital camera?
A: A digital camcorder with photo mode makes a nice stand-in when a digital camera isn't available. Right now, though, most digital camcorders can't deliver the higher resolution and greater photo-snapping versatility that digital cameras offer. If you think you're likely to get into digital photography in its own right, a separate digital camera is a wise investment. If you do decide to use your camcorder to snap photos, it's a good idea to get a separate memory card for photos and reserve the built-in memory for video-only.
Q: What's the difference between hard disk drive and flash memory camcorders?
A: Hard drive camcorders use rapidly rotating disks with magnetic surfaces to write and rewrite data, and are becoming less common as flash memory prices have decreased. Flash memory camcorders, on the other hand, use tiny microchips within which the memory cells are erased in one simultaneous action or "flash." Flash memory doesn't have any moving parts, so it's more durable than hard drive memory and can record and access media faster. Given the small size of the microchips, flash memory camcorders can also be built smaller and lighter than other cams.
Read more about the benefits of each in our full article on understanding recording formats.
Q: Do all high-definition camcorders record in 1080p?
A: No, some camcorders record at 1080i (60 half-resolution fields a second, interlaced to make 30 frames per second) or 720p. These are all high-def and will look great on your HDTV. The difference between 720 and 1080 lies in how much data each displays on your screen at one time. 720 means 720 horizontal lines make up a frame, so it is not as detailed an image as 1080. However, 720 video is most often pegged at 60 progressive frames a second, so it makes for smooth fast motion.
1080p is the highest resolution available, and can often give you the smoothest, most detailed footage. Most high-def cams that record in 1080p will also have a "long-play" or economy mode that records in 720p. Fortunately any HDTV can scale incoming video to fit its screen, so that your cam's video will look great regardless. See our article on HDTV resolution for more information.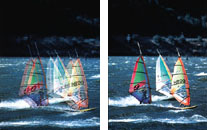 The image on the right was shot with Sony's SteadyShot® (digital) picture stabilization technology; the image on the left, without.
Q: What is the difference between electronic, digital, and optical image stabilization?
A: Electronic and digital image stabilization both use electronic processing to reduce shakiness and blur after the image has been captured. Similar to digital zoom, digital image stabilization reduces image quality by producing a pixelated, grainy-looking image.
When choosing a camcorder, you should look for one that uses optical image stabilization. It combats camera shake by actually shifting the lens elements during filming, and produces a cleaner looking video.
Q: How much recording time do I get with one charge of the rechargeable battery?
A: That depends on several factors. Power-hungry features like zoom, image stabilization, and LCD viewscreens tend to decrease the amount of time between charges. Most of our camcorders will have battery-life estimates in the "Hands-on Research" section of our website, but these are only estimates. Actual battery life will vary depending on your particular camcorder and battery, and your recording settings and environment.
One nice feature of all newer camcorder batteries: they have no "memory" effect, so you don't have to run the battery down before recharging it. Some camcorders even interact with the battery to measure and display the remaining record time. Want to be sure you're not caught with a dead battery? Optional super-high-capacity batteries are available for many models, and a DC charger can be handy for recharging on the go. We recommend picking up a spare battery or two to ensure you don't miss a moment.
Q: How much recording time will I get on one hard drive, memory card, disc, or tape?
A: This will depend on the video quality settings you choose, which are located in your camcorder's menu. Hard disk drives and memory cards will vary depending on their size, but to give you an example, 30-gigabyte hard drives can typically give you between 7 and 20 hours, depending on the recording mode.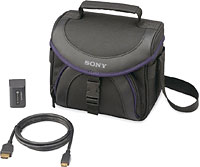 There are a number of accessories that are designed to make your filming experience easier.
Q: What else will I need to buy in order to use my camcorder when it arrives?
A: You'll definitely need blank memory cards, tapes, or discs (unless your camcorder only records to built-in memory, like a hard drive). If your camcorder has an HDMI ouput, then you may want to pick up a mini HDMI to HDMI cable to share your high-def video on an HDTV. Carrying cases and extra batteries are nice for on-the-go recording. A tripod can really help steady your shots, especially if you're planning on filming faraway objects with your cam's high-powered zoom. We also offer chargers, video lights, microphones, and more — take a look at our selection of accessories to see which ones suit the ways you plan to record.
You can also check out our full-length article on camcorder accessories.
Q: My high-def camcorder records in AVCHD — what's that?
A: AVCHD is a high-def video format that allows HD camcorders and some digital cameras to record video at resolutions up to 1920 x 1080. You can also find it in some high-def video clips, on Blu-ray discs, and in some digital satellite TV broadcasts. Be aware that in order to play back video footage recorded in AVCHD, you'll either need to connect your camcorder directly to your TV via the A/V output, burn high-def discs for playback in an AVCHD-capable DVD player or Blu-ray player, or play back the recorded file through your computer.
Q: Why are there so many numbers to show how much video a camcorder can record, and what do they mean?
A: When you look at a camcorder's specifications in the owner's manual, you'll usually see a few different estimates for how much video the camcorder can record. That's because most camcorders offer different recording settings, including a high-quality mode all the way down to a "long-play" or economy mode. For example, a 1080p high-def camcorder may have a few different HD video recording modes of 1920 x 1080 or 1280 x 720, and maybe a standard-def recording mode of 720 x 480. Within each mode you'll possibly find super fine, fine, normal, long-play modes, and more.
The reason for having so many choices is that the higher the setting, the finer the quality of your video, but also the more memory you'll take up. So while you may only be able to record an hour of video at your camcorder's highest quality setting, choosing the lowest quality setting might let you record several hours of video. The setting you choose depends on what you want kind of video you're shooting and how you plan to use it. For example, you'll probably want to record your wedding at the highest quality setting, but if you're just recording your dog howling to post it on YouTube™, then you may want to save the memory and choose a lower setting.
A: It's the tiny metal piece on the top of the camcorder that lets you add optional accessories, like an external video light or microphone. There are two different kinds: "hot shoes" have the ability to transfer power through the accessory shoe to the additional device, and tend to use up some of your camcorder's battery; "cold shoes" require that the device get power from a separate battery, which will need to be replaced periodically. If you're buying a camcorder for some serious filming, it's probably a good idea to look for an accessory shoe, since external mics and video lights tend to be higher-quality than the tiny ones built into your camcorder.
Q: How can I share my home movies with my friends and family?
A: Posting your videos online is one of the easiest ways to share your movies, as long as your relatives and friends have Internet access. Most video-sharing websites, like YouTube, have a maximum file size, so you'll want to check the site's requirements before you try to upload a video. You may have to decrease the video file size, and a number of different editing programs can help you do that. Another convenient method of sharing videos is dubbing to recordable DVDs. A single blank DVD is capable of storing two hours or more of studio-quality video, and most newer home players can play recordable DVDs. Check out our article on watching, sharing, and editing your home movies for more ideas.
Q: How do I transfer video from my camcorder to my computer?
A: Transferring video to your computer will depend on the type of camcorder you have. Flash memory and hard disk drive camcorders normally use a USB port; some cameras use an i.LINK™ digital A/V jack (also known as IEEE 1394). Before you purchase a camcorder, be sure to check your computer's input jacks and see which inputs it already has. Most newer computers feature one or more USB ports. Most older computers will have an i.LINK jack, although they're not as common in newer models. If your computer doesn't come with the input you need, it's quite easy (and relatively inexpensive) to add using an empty PC or PCI slot. (Transfer of digital photos, on the other hand, is typically accomplished via a USB connection, regardless of the type of camcorder you purchase.)
Also, keep in mind that most digital camcorders only provide basic video editing software. Before you buy a camcorder, decide what kind of editing you want to do, and look around for the appropriate application. For more information, see our article about editing digital video on your computer.
Q: How can I play my video on my TV?
A: This will depend on the type of input(s) your TV has and the camcorder you'll be using. Some camcorders have composite (RCA-type) outputs, while others feature component video or an HDMI output. You'll want to use an HDMI or component video connection for the best picture quality.
Q: What is the best method of storing my videos?
A: Because tapes can wear out, DVDs can scratch, and hard disk drives can crash, your best bet is to make multiple copies of your footage. Similar to storing digital photos, if you keep your files in more than one place, then you're more likely to have them for years to come. And don't postpone making those additional copies — if it's a project you're planning "to get around to," you may be one hard-drive crash away from losing all of the footage of your family's early years together. Find out more in our article on watching, sharing, and editing your home movies.
Q: How big a hard drive should I get if I want to store my home movies?
A: As big (and as speedy) as you can afford. External hard drives are great to have around the house, and can store everything from copies of your home movies and digital photographs, to important word documents and family records — so the bigger the better. Just remember that hard drives fail eventually, so it's a good idea to keep spare copies of your data on discs or memory cards if you can. And if you want to really ensure that your videos and photos stick around for years to come, consider storing your hard drive, discs, or memory cards in a fire-proof box or safe in a cool dry place. For more information, check out our article on watching, sharing, and editing your home movies