Understanding Home Theater FAQ
Tara W. has worked for Crutchfield since 2004. She writes about whole-house music and video gear, and works on Crutchfield's video team.
More from Tara W.
Heads up!
Welcome to this article from the Crutchfield archives. Have fun reading it, but be aware that the information may be outdated and links may be broken.
Home Theater Sound
Q: I want to get better sound with my TV. What are my options?
A: There are several different types of TV sound systems available, ranging from a single-speaker sound bar to full multi-speaker surround sound systems. Any one of these options can turn your room into a great listening space. Learn more about ways to get better sound with your TV to determine which option makes the most sense for you.
Q: I want to get the most detailed, realistic surround sound I can. What are my best options?
A: If you're looking for top-notch surround sound, you'll definitely want a multi-speaker system. Pre-matched surround sound systems are one way to go. These generally include a DVD player, two to five speakers, and a subwoofer, and are a good choice if you have a very limited amount of space. But for the best performance, you'll want to build a custom surround sound system out of separate components that you buy individually. Assembling a system yourself typically allows you to select a more powerful receiver and better-quality speakers. While it may take more time, effort, and know-how to select separate gear, we've found that a lot of folks enjoy the added power and performance of a custom-built system. Check out our in-depth guides on choosing a receiver and choosing speakers for more information on what to look for in home theater components.
Q: I've heard that some single-speaker "sound bars" can create surround sound. How is that possible without rear speakers?
A: While some sound bars only deliver stereo sound, others create virtual surround sound. Now, they can't give you the same precise, enveloping sound you'd get from a system with five or more speakers. But they can offer more engaging audio than your TV speakers and give you a more complete sound experience. Most sound bars with virtual surround sound use special processing that controls timing and volume to make sound effects seem like they're coming from different directions. See our article on sound bars for more information on these single-speaker TV audio solutions.
Q: How do I know which speakers to choose for my surround sound system?
A: There are many choices when it comes to home theater speakers, and you'll want to be sure that your speakers work well together and with your receiver. Consider purchasing speakers that are voice-matched, which means the speakers produce similar tonal quality and share the same harmonic characteristics. The best way to accomplish this is to choose speakers from the same "family" of speakers, by the same brand. Also, make sure that your receiver has enough power for the speakers you'll be using. The sensitivity of your speakers will help you determine whether a receiver is a good match — lower sensitivity ratings indicate power-hungry speakers that will require more "juice" from your receiver to produce the same volume as speakers with higher sensitivity ratings. See our full article for more detailed information on how to select speakers.
Q: I'm putting together my own home theater system. How should I budget my money and what should I look for?
A: Putting together a home theater system can be tricky if you don't know where to begin. There are several components that go into a home theater system. By planning what you'll need in advance, you won't have to put less into your speakers because you ran out of money or forgot to pick up the little things, like cables, and then run over budget. As a broad rule of thumb, plan on spending more on your audio system (receivers, speaker, and cables) then you did on your HDTV. Check out our article for a full breakdown of considerations when planning for your home theater system.
Q: I've noticed that some surround sound systems come with "wireless rear speakers." How can speakers be wireless?
A: Surround sound systems with wireless rear speakers use wireless transmitters and receivers to send signals from your home theater receiver to the rear speakers. This means you won't have to run cables from the front of your room to the back of the room. You will, however, have to power the speakers and pass audio signals to them. That's typically accomplished using a small amplifier placed near your rear speakers. The small amp plugs into a wall outlet and then connects to the left and right rear speakers with speaker wire. So the rear speakers aren't completely "wireless," but they're still a great solution if you're looking to run fewer wires around your room to keep your system looking neat. Check out our article on cable management for tips on hiding cables.
Q: What are Dolby® Digital and DTS®?
A: Dolby® Digital and DTS® allow your home theater system to play effects, dialogue, and soundtracks from movies the way that directors intended them to be heard — like you hear them in a movie theater. Just about any home theater receiver will let you decode Dolby Digital and/or DTS signals, which are simply two different ways of encoding/decoding sound data. These formats are best known for their ability to deliver multi-channel surround sound. See our article about surround sound formats for more info on sound processing.
Q: I've heard that I can play music from my iPod®, satellite radio, and computer on my home audio system. How can I do that?
A: Home audio systems provide more than just great sound for your favorite movies, TV shows, and video games. They can also play music from many of today's popular sources. Here's a quick breakdown of the kinds of musical extras you can attach to some home theater receivers and systems.
Satellite radio is one of the fastest growing forms of listening entertainment out there — you can add it to a compatible system by purchasing a tuner, antenna, and a subscription to the service of your choice.
iPod® integration has also become more common. Add a compatible dock and you'll be able to listen to your iPod's music through your audio system.
You can access music from your PC using a network-enabled receiver, an Xbox 360 or PS3, or by adding a wireless music player, which connects to your receiver's A/V inputs.
Q: How will I get the best audio performance from my system?
A: Use the best audio connections you can. Your home audio system or components might come with some stereo/RCA cables. In some cases, this may be the only connection available to you. But if you want to get full surround sound, you'll need to use digital audio cables, either optical, coaxial, or HDMI. These cables send the digital signal directly from your DVD player to the receiver, ensuring high-quality sound that will let you experience movies the way the director intended. And see our article on avoiding home theater pitfalls for more tips.
Home Theater Picture
Q: I've seen that a lot of newer DVD and Blu-ray players come with "video upconversion." What is that?
A: Most DVD and Blu-ray players can upconvert regular DVD signals to a higher resolution and send them to a compatible TV via an HDMI connection. Some home theater receivers have this feature, too. The signal remains digital as it travels to your compatible high-def TV for the cleanest possible transfer. Upconverting players and receivers can output video at 720p, 1080i or 1080p — resolutions that more closely match the screen resolution of HDTVs. Now, it won't be real HD, but it'll still look great on an HDTV. For the best picture quality from an upconverting player or receiver, be sure to choose a TV with at least one HDMI input. For more information on video upconversion, see our article on DVD players.
Q: How can I watch high-def movies and TV shows on my home entertainment system?
A: There are a few ways of receiving high-definition TV programming: over-the-air broadcasts, cable HDTV, digital satellite TV, and instant streaming from services like Netflix and Blockbuster. For more information on HDTV programming, see our article on high-def TV and check out our video about what you need for HDTV. Another option is a Blu-ray player, which is designed to let you take full advantage of your high-def TV's display capabilities. For more information, check out our article about Blu-ray players.
Q: How will I get the best video performance from my system?
A: Make sure you use the best video connections available as well as high-quality cables. If you've got an HDTV, you'll want to use an HDMI connection for high-def, 1080p capable Blu-ray players and gaming consoles, since it can give you the best picture quality available. Component video is an excellent alternative, and can give you a high-def picture with a video resolution up to 1080i. You'll also see S-video and composite video connections. These connections aren't capable of delivering the super-detailed video that HDMI or component video connections can, but they're great for older equipment which might not have newer video connections. For more detailed info, see our article on TV connections.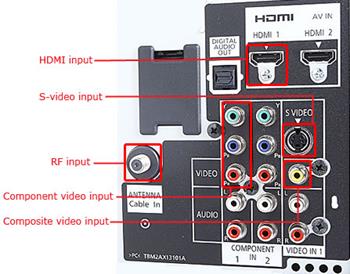 For each video source, use the best-quality connection available. For all high-definition sources, be sure to use an HD-capable connection: component video, DVI, or HDMI.
Q: I have a DVD player, a cable box, a gaming system, etc. Will these components be compatible with my new system?
A: Yes, the majority of audio/video components sold in the U.S. and Canada use the same connections to pass sound and video. Many also offer a variety of audio/video connections for you to choose from, but you'll want to check that your new equipment has enough connections to accommodate all your gear, whether it's old or new.
Home Theater Setup and Maintenance
Q: What components make up a home theater system?
A: For our purposes, a home theater system consists of a TV, a home theater receiver, a set of surround speakers (typically between five and seven), and a subwoofer. The receiver is the "brains and muscle" of the system, sending power and audio signals to each speaker, and video to your TV. Learn more about the components you need for a home theater system, and see our article for other ways to get great sound if a full home theater system won't work in your room.
Q: I've never set up a home theater system. Is it too complicated for a beginner?
A: Definitely not — and you don't have to be an expert to get a great-sounding system. Setting up a home theater system is a matter of selecting the right equipment for your needs and then connecting it properly. For pointers on choosing your gear, see our articles on four ways to get great TV sound, the components you need for home theater, and planning for your home theater system. For help with hooking your system up, check out our article on some common home theater pitfalls and how to avoid them.
Q: Do high-quality cables make a difference?
A: Yes, especially with analog audio/video connections. The better the cable, the better the picture and sound you'll get. Well-made cables carry cleaner signals over longer distances, and as time goes by, they're less likely to be damaged by the inevitable bending and twisting that most cables undergo. They also offer better shielding, and so they're less susceptible to interference from other sources. Even though high-quality cable costs more, it can be a key part of achieving the clear picture and pure sound that your components can deliver. See our guide for choosing A/V cables.
Q: How can I safely dust and clean my home theater and audio gear?
A: Cleaning your home theater system will help keep it looking nice and prevent dust and dirt build-up from damaging the internal circuitry. But you have to be careful with what kinds of products you use to clean your components. It's always a good idea to check your owner's manual first, but you'll find some good general tips below.
Make sure that your components are turned off before cleaning.
To clean your speakers:

Be careful of the finish on your speakers, especially wood finishes. Pledge and other wood cleaners that contain silicone can leave residue in the wood grain. Most manufacturers simply recommend cleaning the cabinet with a soft cloth, perhaps lightly dampened by water.
For speaker grilles, a can of compressed air or even the upholstery brush attachment on your vacuum cleaner will do.
To clean your DVD player and/or receiver:

Use a dry cloth (no paper towels) or lint-free cloth on the front and side panels. Moisture can short out the circuitry. Be sure to wipe away from the vent holes to avoid brushing dust or debris into the component.
If you need to remove residue or fingerprints, you can slightly dampen the cloth with water, wringing out as much water as you can. Make sure that your DVD player and/or receiver is unplugged whenever you clean your components with a liquid substance.
For sensitive areas, such as around the front panel controls and buttons, use a small paint brush or can of compressed air. You can also use compressed air to clean harder-to-reach places, like the cooling fan behind the vents or the back of the component.
To clean the lens inside of a DVD player, try using a disc cleaner.
To clean your cables:

You should unplug and replug any cables you have connected to your system every few years to help keep the connection clean. Be sure to unplug the power cord on your DVD player and receiver before you start checking the connections.
If you happen to see any build-up, use a good contact cleaner, like DeoxIT®, to safely clean the connection and keep your home theater in great working condition.