Four ways to get great TV sound
Options for every room, lifestyle, and budget
The Crutchfield writing team is a group of full-time, in-house copywriters who share a passion for consumer electronics. In addition to creating the articles and videos you find in the Research area of the Crutchfield website, these hard-working and talented people write the informational copy for the products on our website and in the Crutchfield catalog. Our writers constantly research the latest products, technologies, and industry trends, so that we can bring you the most helpful information possible.
More from Crutchfield Writing Team
As TVs have become thinner and thinner, so has their sound. In this article, we outline four different ways to add great sound to your TV, ranging from simple, space-efficient options to full-blown home theater systems.
1. Sound bar
Sound bar speakers need minimal space and wiring, and their sleek designs complement today's flat-panel TVs. Most models feature built-in amplification, and many come with a powered subwoofer for deep bass roar and rumble. The subwoofers included with most sound bars connect wirelessly.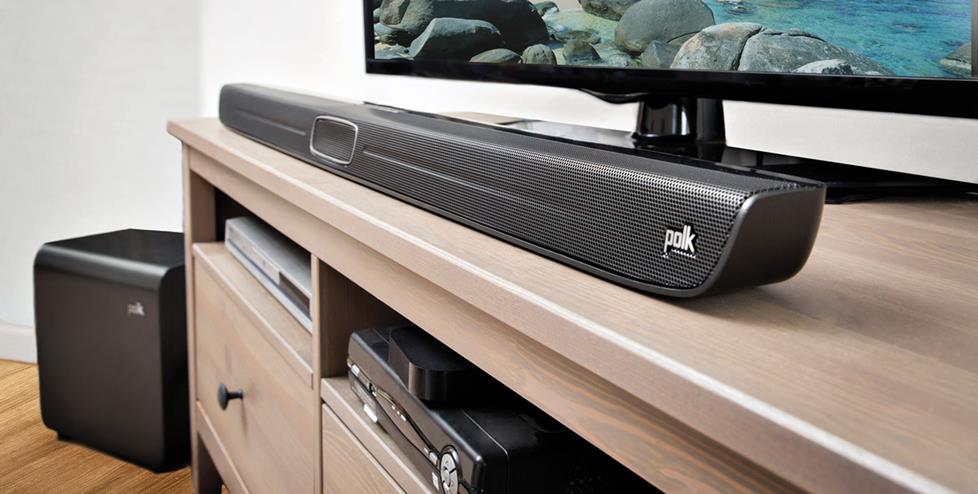 Sound bar speakers deliver room-filling sound without taking up much space.
This type of system works well when:
You have limited room for speakers or other equipment. The sound bar solution requires fewer pieces of gear than any of the other options discussed below, and you may be able to wall-mount the main speaker right below your TV.
Simple setup is key. You only need a couple of cables to hook up these systems. You won't have to run wires from one side of your room to the other.
See our article on choosing a sound bar for more information.
2. Stereo speaker system
Stereo speaker systems offer much better sound from your TV, and work well in rooms where surround speakers aren't an option.
Adding a stereo speaker setup to your TV is a great way to get engaging sound in small rooms and tight spaces. They need relatively little wiring and offer easy speaker placement options. Start with a stereo receiver. Choose a pair of bookshelf speakers to save space or floor-standing speakers for fuller sound. Add an optional powered subwoofer to beef up the bass.
If you don't have room for a stereo receiver, Russound makes a low-profile stereo TV amplifier that can be easily concealed behind your TV set. It provides plenty of power for a pair of speakers, has a connection for an optional powered sub, and is controlled by your TV or cable box's remote.
A stereo speaker system might be your best option if:
You have a small room. These systems are ideal for a smaller living room, or spaces like a den, bedroom, or office. Their compact size makes them a good fit, and they can produce enough sound to fill such rooms.
You want easy setup, without running speaker wires across your room. With only two speakers and a receiver, they require relatively little wiring.
3. Pre-matched surround sound system
A pre-matched surround sound system can deliver enveloping, multi-speaker surround sound without a lot of bulk. They usually include just five compact, room-friendly speakers, a control center (often with a built-in DVD or Blu-ray Disc™ player), and a subwoofer you can tuck into a corner. Some models also offer radio tuners, built-in Bluetooth® for streaming music from a smartphone or tablet, and wireless connectivity for rear speakers.
Pre-matched surround sound systems typically offer the simplest and least expensive way to get true multi-speaker surround sound.
These systems make sense if:
You don't have a lot of space for components and speakers. With small speakers and compact control centers, these systems make a great choice for small- to medium-sized living rooms.
You want some of the latest technologies. Many pre-matched systems include some pretty cool capabilities, like streaming movies from Netflix, built-in Bluetooth® and Wi-Fi®, or add-on multi-room speaker systems.
You want true home theater sound with simplified setup. These compact systems require hookup that's slightly more involved than the two audio options discussed above. But if you're okay with running wires from one side of your room to the other, they provide the simplest — and often least expensive — way to achieve true surround sound. Many come with color-coded connection wires, and you can usually have them up and running in less than an hour. Some models also offer wireless rear speakers — the control center transfers audio signals wirelessly to the two back speakers, so you won't have to run speaker cable from the front to the back of your room.
For more information, see our article on choosing and setting up a pre-packaged home theater system.
4. Component surround sound system
A system built from separate components gives you the best possible home theater sound, but also generally requires the most space. These systems involve five or more small to large speakers, depending on the individual system. You'll also need a subwoofer and a home theater receiver. And keep in mind that you'll need to run wires across your room to hook up your surround speakers.
Component surround sound systems give you top-notch audio performance, and usually offer greater flexibility, too. (This system requires rear speakers, not pictured here.)
A component surround sound system is a smart way to go when:
You have a large room. Nothing fills a big room with sound like a set of full-sized speakers driven by a dedicated receiver.
You do a lot of music listening. Music presents any audio system with just as great a challenge as movie sound. Larger speakers and a good receiver let you experience your favorite recordings with powerful and nuanced sound.
You want the most flexibility. A lot of options open up when you go the component route. Many home theater receivers allow multi-room music or PC networking possibilities. You can also make creative substitutions, like using in-wall speakers (this requires involved installation but saves lots of space). Down the road, you'll also enjoy more potential for system expansion.
For more information, see our article on the components you need for home theater.
Last updated January 18, 2017