Intro to home theater speakers
How to build a well-matched surround sound system
I started my Crutchfield career as a product advisor. I fielded thousands of customer questions about A/V equipment, designing systems for homes, cars, and the occasional party bus. Do that for eight years, and you begin to understand what people really want from their gear. You also get a lot of hands-on experience with the latest products. That's one of the coolest things about working here. As a writer, I enjoy translating technical jargon into easy-to-understand language. My goal is to make shopping for speakers and amplifiers simple. After all, this stuff is supposed to be fun! Outside of work, I enjoy playing and teaching music. I'm always on the lookout for interesting left-handed guitars.
More from Kramer Crane
A well-matched surround sound system brings what you're watching to life all around you.
In a Nutshell
Building a new home theater system? Here are the speakers that you need:
Want to keep things simple? Consider a pre-matched surround sound speaker system. Each comes with a center channel, front left and right speakers, and one or two pairs of surround speakers.
Our friendly Advisors can help you build your new home theater. Give us a call today for free, personalized advice.
Full Story
What makes the movie theater experience so exciting? Two things: a floor-to-ceiling screen that pulls you into another world. And wraparound sound that makes what you're seeing feel real.
Well, it's three things if you count fresh popcorn.
Want your sound system to match the vivid picture of your high-def TV? Read on to learn more about choosing the right speakers for your home theater.
Matching speakers to your room
Compact speakers offer easy placement options
For multi-purpose rooms where the TV and sound system won't always be the center of attention, think small. Compact speakers easily blend into your décor and leave plenty of room for other activities. Bookshelf, in-wall, and ceiling speakers are all good small-footprint options.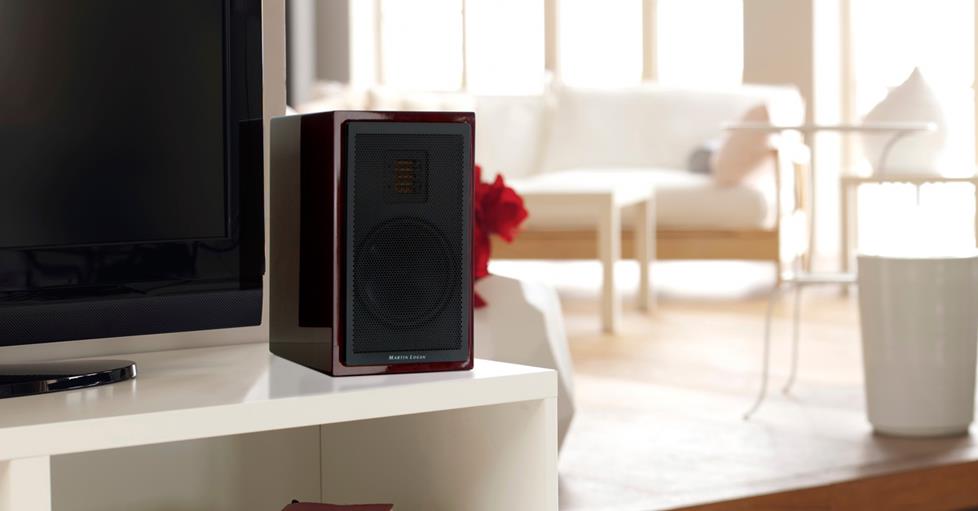 Bookshelf speakers offer clear, dynamic sound without taking up much space.
Get lifelike sound with tower speakers
Want big sound that feels like an actual theater? Anchor your surround sound system with floor-standing speakers. Their large acoustic chambers deliver powerful surround effects for movies and video games. Tower speakers are also ideal for jamming out to music.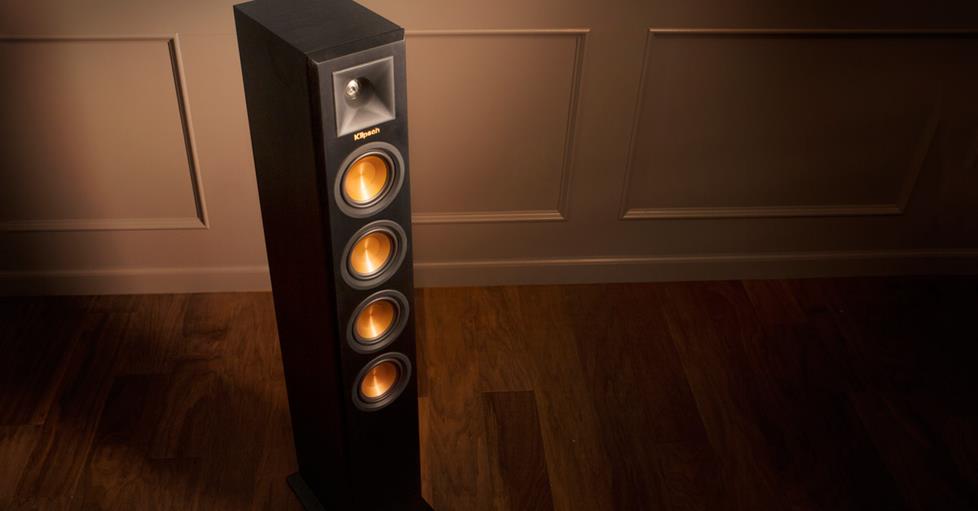 Floor-standing speakers use multiple drivers to create room-filling sound for music and movies.
Map out where your speakers will go
Consider the layout and shape of your room. Where will the speakers look and sound good? Check our article on speaker placement for some tips.
Know your speakers
Understanding what each speaker does will help you choose the right speakers for your system.
Center channel speaker
The center channel delivers more than 50% of a movie's soundtrack, including almost all of the dialogue. It keeps sound anchored to the on-screen action.
Consider the size of the other speakers. Compact bookshelves match well with a small center channel. Using tower speakers? Then go for a large center channel to match their robust output.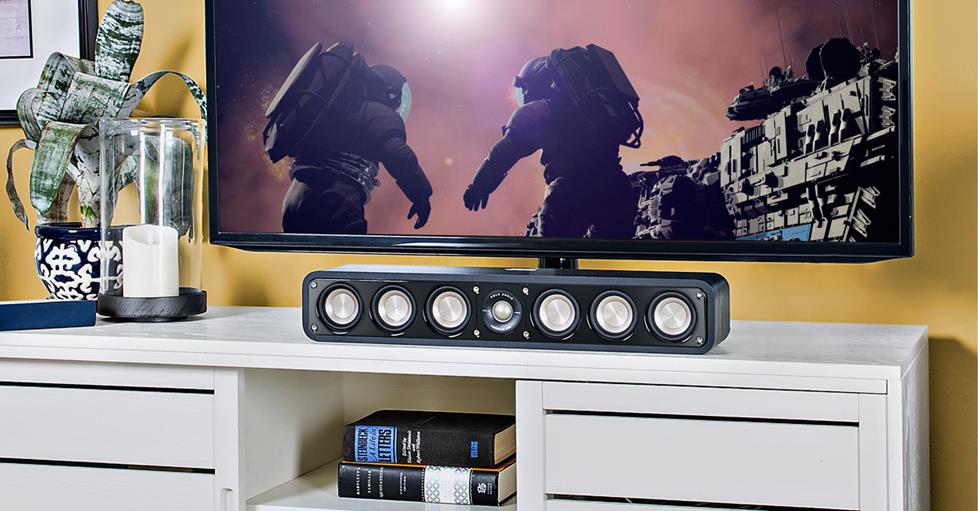 The center channel lives just above or below your television. It provides dialogue and important center stage sound effects.
Front left and right speakers
Your "front stage" speakers reproduce the movie's musical score. They also handle the bulk of the special effects. Sound moves between the front speakers in sync with the action unfolding on the screen.
Floor-standing speakers, bookshelf speakers, and on-wall speakers all work well as front speakers.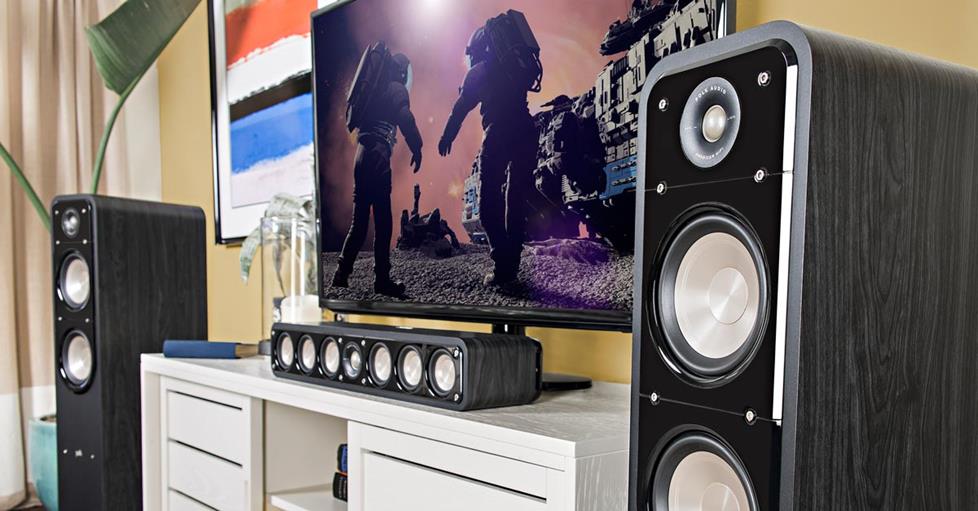 Match the size of your left and right speakers with your center channel for a balanced front sound stage.
Surround speakers
Surround speakers go beside and/or behind your seats. They immerse you in the movie by producing ambient sounds like rain drops, or rustling leaves. Surrounds also work with your other speakers to deliver spectacular directional effects. Think of a locomotive rushing by, or a bullet zinging past.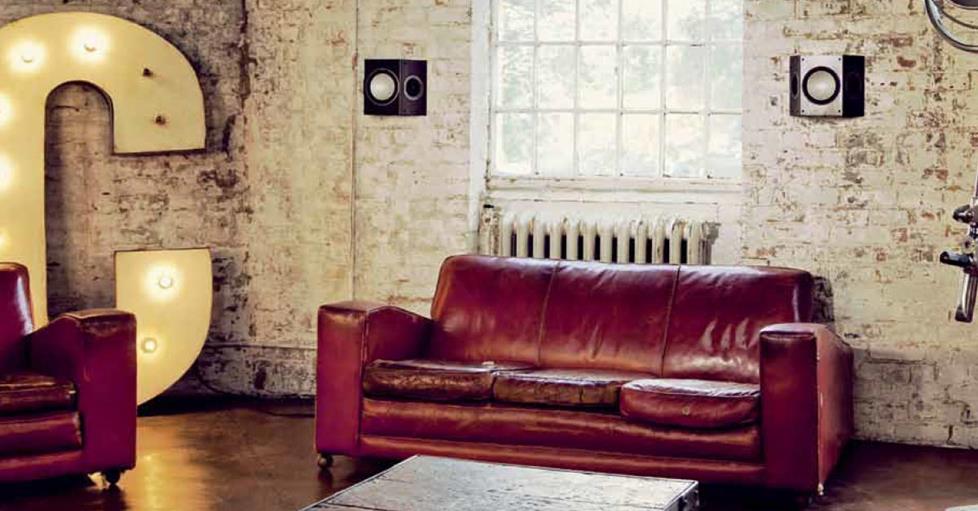 Bipolar speakers use opposite-firing drivers to create wraparound sound effects.
Powered subwoofer
Movie soundtracks provide a dedicated channel of deep bass that plays through a powered subwoofer. The sub is what gives planes flying overhead and bombs exploding their window-rattling punch.
Choose a subwoofer that matches well with your room and your speakers. As a rule, the larger the driver, the deeper the bass. Have a large room? Go for a sub with a 12" or larger woofer. Smaller room? A compact sub will sound great.
Most pre-matched systems include a powered subwoofer. The few that don't give you the freedom to choose a separate sub that best fits your décor or your taste for bass. For more detailed recommendations, check out our article on choosing home theater subwoofers.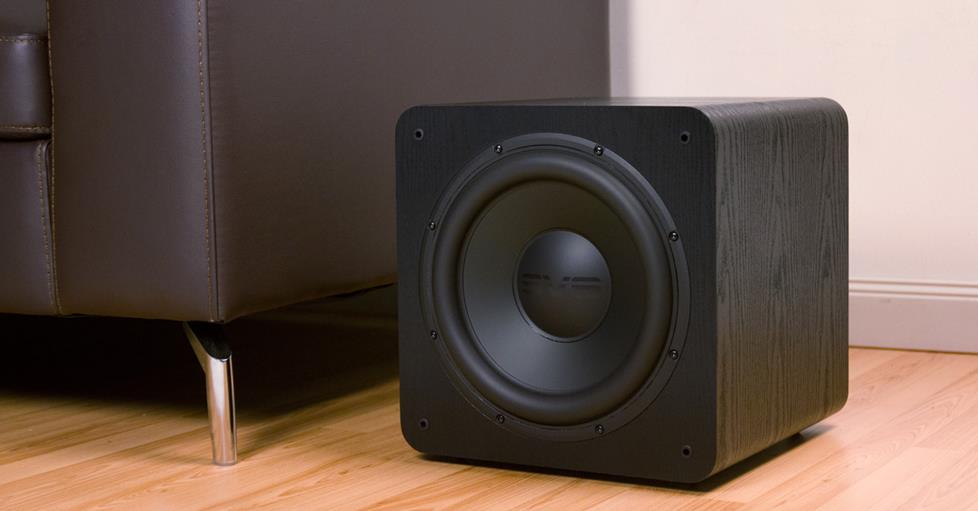 A powered subwoofer delivers thrilling bass for movies, music, and video games.
Voice match if you can, but it's not required
Each speaker brand or series has its own tonal qualities or "voice." It's best to use voice-matched speakers in a surround system, but it's not a must.
Say you want to build a system around some speakers that you already own. Perhaps the matching center channel is too tall for your entertainment cabinet. Or maybe the matching surrounds aren't available. No worries at all — it's okay to mix speaker brands. Your system is still going to rock.
Everything you need to get started
Connect your system together with speaker wire and a subwoofer cable. We also recommend good power protection for your receiver, TV, A/V components, and powered sub.
We can help you choose
Have questions about choosing the right equipment for your surround system? Call, email, or chat with us today.
Our expert Advisors know the gear inside and out. Your Advisor can send specific Crutchfield pages to your screen, saving you a lot of browsing time. You'll get a shopping cart loaded up with everything you need for your new home theater.
Free lifetime tech support is included with your Crutchfield purchase.
I love helping others bring their passion of audio into their home!

Jane, Crutchfield Advisor