Power protection FAQ
Ralph Graves is one of Crutchfield's blog editors, and part of the company's social media team. He writes about home audio/video gear, specializing in Apple-related and wireless technologies. Ralph holds a master's degree in music composition, and his works have been released on various labels. He's served as product manager for an independent classical and world music label, produced several recordings, and worked extensively in public broadcasting. Since 1984 he's hosted a weekly classical music program on WTJU, and is also active as a blogger and podcaster.
More from Ralph Graves
Heads up!
Welcome to this article from the Crutchfield archives. Have fun reading it, but be aware that the information may be outdated and links may be broken.

Q: Does my power protection component have to be turned on to work?
A: That depends on what you want it to do. Your gear will be protected from damaging surges and spikes if it's connected to a properly installed power protection component, even if the component isn't turned on. However, in order for any power conditioning features to work, the power protection component must be turned on.
Q: What is a ground loop?
A: A ground loop can happen when two or more components are connected to each other with signal cables (like RCA patch cords), and also plugged into separate AC outlets. This links the components in a circular path or "loop," and because the components have separate AC grounding paths, a small amount of AC current may actually travel back through the signal cables. This unintentional grounding through the signal cables causes interference that can be heard and seen through an audio/video system.
A ground loop is usually heard as a low hum coming through your system's speakers, or seen as faint horizontal lines or bars on your TV screen.
Ground loops usually occur under the conditions described above, but they can also involve telephone or coaxial lines. Electrical codes in the US and Canada require that all wires entering a structure (electric, telephone, cable, satellite, etc.) be common grounded to the same electrode. Ground loop interference can be annoying, but more importantly, a ground loop can indicate a potentially dangerous wiring problem that should be corrected by an electrician.
Nearly all of the power protection components we sell on Crutchfield.com provide ground fault detection. If one is detected, we strongly recommend consulting a licensed electrician as soon as possible.
Q: I only have a 2-prong outlet — can I use a power protection unit with a 3-prong plug?
A: You can use a power protection unit with a 2-prong adapter to prevent surge and spike damage. However, doing so will invalidate the power protection unit's connected equipment insurance policy. It's best to use a 3-prong outlet whenever possible.
Q: Why should I buy one of your power protection components when I can get a power strip at the drugstore for less than $15?
A: It's true that you can find multi-outlet power strips for as little as $15. But these models aren't equipped to fully protect your gear from spikes and surges. Also, they typically don't feature any kind of power conditioning, and in many cases can actually introduce noise into your system. And don't forget the warranty — the power protection components we carry have lifetime warranties and most include substantial connected equipment insurance coverage.
Q: I'm not in a high lightning-strike area — why should I worry about power protection?
A: Even if you think a direct lightning strike is unlikely, don't rule out the need for power protection. There are other types of damaging surges that have nothing to do with lightning, like the voltage spikes that can occur when the power is restored after any type of outage. Even the less catastrophic, and more common, types of power anomalies, including over-voltage and under-voltage, can cause damage over time. And electromagnetic and radio frequency interference can hinder your system's performance without the help of a power protection component with line conditioning.
Q: Will a power protection component protect me against a direct lightning strike?
A: The power protection components we offer have extremely fast reaction times (less than one nanosecond in some models). In most cases, they will protect your connected equipment from damage in the event of a direct lightning strike. The strike may damage or destroy your power protection unit, but it will covered by its warranty if it was properly installed. In the rare cases where the power protection component fails, any connected equipment is covered under the applicable connected equipment insurance coverage.
Q: What is voltage regulation?
A: Fluctuations in the AC line voltage in your home happen day and night, and you're probably not even aware of most of them. But over time, these fluctuations can harm the delicate circuitry in modern audio/video gear, limiting its performance or lifespan. A line conditioner with voltage regulation stabilizes the AC power it sends to the components that are plugged into it, keeping voltage within a narrow range to ensure optimum performance.
Q: What is an uninterruptible power supply (UPS)?
A: An uninterruptible power supply (UPS) component contains built-in batteries that provide a few minutes of power allowing sensitive electronic gear to shut down properly during a sudden outage. This helps prevent the loss of personalized settings in your audio/video components, such as channel programming in your satellite receiver. A UPS can also eliminate the need to reset components with internal clocks, such as DVRs, every time the power goes out.
Q: Can I plug one surge protector into another to expand the number of outlets at my entertainment center?
A: Possibly, though since some power protection components offer up to 12 AC outlets, "daisy chaining" multiple units together shouldn't be necessary. When daisy chaining, it's possible to add too great a current demand on the first power protection component, exceeding the load it was designed to carry. If that happens, the unit may go into "protect" mode, not allowing any power to pass through to your components. We recommend selecting a model that will accommodate all of your components in any given location.
Q: Can I use extension cords with my power protection component?
A: Yes, but for the warranty and connected equipment insurance to be valid, you'll have to use an extension cord approved by the power protector's manufacturer. This applies whether you want to use an extension cord between the wall outlet and the power protection unit, or between the power protection component and your gear.
Q: Do I need a special type of power protection component to handle my digital satellite TV system?
A: Yes. Although many power protection units have coaxial cable jacks, you'll need coaxial inputs specifically designed to handle a satellite signal. The voltage that normally travels between your dish and satellite receiver can be much greater than the voltage found in a typical cable TV signal. In fact, the difference in voltage might be great enough to cause a cable-only power protector to break the connection. Only a power protection model designed to accommodate digital satellite signals will be compatible with these higher voltage levels. A model designed for satellite TV also needs a phone jack input to protect your satellite receiver from surges that can enter through the phone line.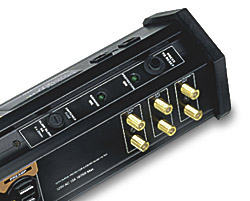 A satellite TV system needs power protection for the AC line, the satellite dish and cable/antenna feeds, and a phone line.
Q: Should I use a separate power protection component for any additional satellite receivers I have in other rooms in my house?
A: Absolutely. If, for example, you have a dual-LNB satellite dish with two signal cables coming into your home, each cable will need to pass through a power protection component. If you're splitting your satellite signal to feed a second TV, the length of the cable will be susceptible to the introduction of electronic noise on the way to the second room. Your second satellite receiver will also need its own protection from spikes, surges, and interference. The best solution is to also use a power protector with a line conditioner to protect your second receiver and filter out the noise from the extension cable.
Q: What is power conditioning?
A: Power conditioning (also known as line conditioning) filters out interference that can negatively affect the performance of your system. Electromagnetic interference (EMI) is caused by strong nearby electric fields generated by other devices that draw a lot of power, such as vacuum cleaners and blenders. EMI can add a buzzing or a hum to your system's sound, and appear as "snow" on your TV. Radio frequency interference (RFI) comes from radio stations, microwave towers, cell phones and other such devices. RFI can be heard as pops and clicks through your speakers, and can also cause "snow" on your TV's picture.
Q: How can power conditioning improve my HDTV's performance?
A: Interference from unconditioned power can cause a number of problems for your display. You may see intermittent lines or occasional flashes as the power fluctuates. Dropout can occur if the signal is disrupted. Power conditioning addresses these issues, but its greatest benefit is more subtle.
The electronic noise level your display receives affects its ability to render black. This background white noise dilutes black, softening it to gray — which dulls the overall image. Power conditioning minimizes noise, so your TV produces darker black. This increases the clarity and contrast of the image, making it appear cleaner and more detailed.
Q: What is power regeneration, and how is it different than power conditioning?
A: Think of it this way. If we were talking about purifying water, then power conditioning would be the equivalent of pouring dirty water through one or more filters. Power regeneration would be the equivalent of heating the water to turn it into steam, leaving all the impurities behind, then cooling the steam in a separate chamber to yield pure distilled water.
For high-end audio/video components, even a small amount of interference can impact performance to a noticeable degree so it's important to get power that's as clean as possible. A power regenerator takes the AC power that comes through the line and uses it to create its own power to send to your equipment. Incoming AC (alternating current) is converted to DC (direct current) to strip off electronic noise. The DC is then regenerated as AC through circuitry that tightly controls the power flow, eliminating as much variation as possible. This regenerated power has virtually none of the noise or fluctuation of the original current.
Q: What does an isolation transformer do?
A: Found in higher-performing line conditioners, an isolation transformer's job is to transfer electricity from your home's AC power to your audio/video equipment while isolating your gear from the power source. Isolation transformers reduce electrical noise, and can often cure ground loop noise problems.
Q: What's connected equipment insurance?
A: In addition to providing a warranty for the power protection unit itself, reputable manufacturers will also include connected equipment insurance at no additional charge. This insurance covers damage to your system resulting from the power protector's failure. The value insured can be quite high, but it's usually stipulated that all connections to and from the protector were properly made and that only the type of components the protector is designed for are covered.