What You Need to Watch HD
Steve Kindig has been an electronics enthusiast for over 30 years. He has written extensively about home and car A/V gear for Crutchfield since 1985. Steve is also a volunteer DJ at community radio station WTJU, where he is a regular host of the American folk show "Atlantic Weekly," as well as the world music program "Radio Tropicale."
More from Steve Kindig
Heads up!
Welcome to this article from the Crutchfield archives. Have fun reading it, but be aware that the information may be outdated and links may be broken.
To experience true high-definition television in your home, you need a source of HDTV signals and a high-performance display screen that can reproduce the remarkable detail and color of HDTV images.
We describe the basic ways to receive high-definition programs below. Once you know what type(s) of HDTV signals are available, you'll have a clearer idea of what equipment you need to watch them.
Over-the-air broadcasts
Most digital stations broadcast in the normal UHF range (channels 14 through 69), so you can receive them with a UHF antenna. Some stations use the "high-band VHF" range (ch. 7-13), and a few are "low-band VHF" (ch. 2-6), so you may need a UHF/VHF antenna. For antenna info that's specific to your address, visit the Consumer Electronics Association's antenna selector website.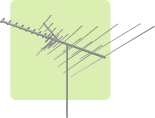 What you need:

HD-compatible TV
indoor or outdoor UHF or UHF/VHF antenna
local HDTV broadcasts (they're free!)
See our article on how to choose and install an HDTV antenna for more info.

Cable HDTV
Don't confuse "digital cable" with HDTV via cable — while it's true that all HD cable channels are digital, not all digital channels are high-def.
What you need:

HD-compatible TV
HD-compatible cable box
HD programming (subscription required)

Digital satellite TV
If you live in the contiguous 48 states and have a clear view of the southern sky, you can probably receive HDTV programs via satellite.
What you need:

HD-compatible TV
HD-compatible satellite receiver
HD-compatible satellite dish
HD programming (subscription required)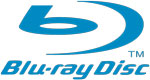 Blu-ray — high-def movies and more
High-def disc players — including Blu-ray player — can deliver an excellent high-def picture, with resolutions up to 1080p. See our Blu-ray players shopping guide for more info.