Review: Logitech® Harmony® Link
Finally, the missing Link
James Ralston is Crutchfield's Web Editor for Home Audio/Video. He joined the company in 1994 as a member of the sales department and began writing about A/V gear in 1999. James attended the University of Virginia, receiving a Bachelor of Arts degree in English Literature. Since arriving in the Charlottesville area, he has been active in the local music scene, playing drums in a variety of musical projects ranging from world beat, to blues, to instrumental improv.
Heads up!
Welcome to this article from the Crutchfield archives. Have fun reading it, but be aware that the information may be outdated and links may be broken.
If I had a buck for every time I've wanted to use my smartphone as an A/V remote, I could easily afford Logitech's new Harmony Link, which retails for $99.99.
This discreet little oval sits on your TV stand or shelf and acts as a translator, fielding Wi-Fi® commands from your favorite Apple iOS device or Android™ phone, and sending out infrared blasts to control your TV, cable box, Blu-ray player, and practically any other device you may have connected.
I was psyched to try the Harmony Link with our living room TV and its various connected sources. For years, I've experienced — and I'm not overstating this — the sheer joy of using a Harmony remote with my 7.1-channel home theater system in my rec room...so I'm no stranger to the elegance of its one-touch commands and easy programming.
However, upstairs in the living room, remote chaos reigns. Whatever remote I need never seems to be there for me. They hide beneath chairs. They end up in the wrong room (thanks, kids). And there are too darn many of 'em — one for the TV, one for the cable box, one for the Blu-ray player...you get the picture. However, I can always lay my hands on my Android phone. And my wife's iPhone® is never far from her reach, either.
Goof-proof setup, care of Harmony's web magic
Setting up the Harmony Link is remarkably similar to setting up any of Logitech's Harmony remote controls. You plug the device into your computer, enter info about your components and connections, and sit back while Harmony's web-based software loads it up with all the necessary settings.
With the Harmony Link, though, there are a couple of extra steps: entering your Wi-Fi network's login password, and downloading a free app for your iOS device or Android phone.
Works with iPhone, iPod touch®, and Android...
My wife and I tried out the apps for iPhone and Android on our respective handsets. These two apps are quite similar. One-touch on-screen activity buttons turn on your system and get all the necessary components fired up and set to the correct inputs.
For me, these one-touch commands are what make Harmony remotes so special. They don't require any complicated step-by-step programming (the software does it for you), and they let you get straight to your activity of choice quicker and easier. The Harmony Link's one-touch screen lets you add individual soft "buttons" for each of your favorite channels, too, for super-easy access.
On my Android-based HTC Inspire™, the "Watch TV" activity came with two screen's worth of buttons for various controls, like accessing my list of DVR recordings, pulling up the cable box's program guide, or adjusting the volume. You can also drill into a more comprehensive list of each device's functions, if you need to get to more obscure commands.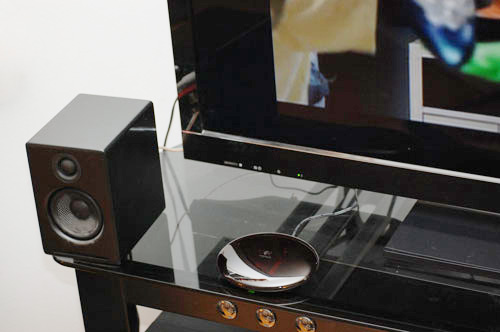 The Harmony Link didn't take up much room on my TV stand.
We had a few minor gripes with the Harmony Link iPhone and Android apps: my wife and I couldn't find the number pad for the cable box immediately. It was there, but you had to swipe your finger across one of the control screens to bring it up.
Also, there were other important buttons, like "Accept" and "Cancel" for recordings, that I felt should have been readily accessible along with the basic controls. The interface feels a bit Spartan at this point, but it's logically laid out and pretty easy to use.
I was expecting a little more in the way of customizable options...why not let me decide which controls show by default? Maybe that'll come in the next update. I have a feeling these apps will be seeing new versions in the near future, because overall the system works great, and it's a golden concept.
...but
made

for iPad®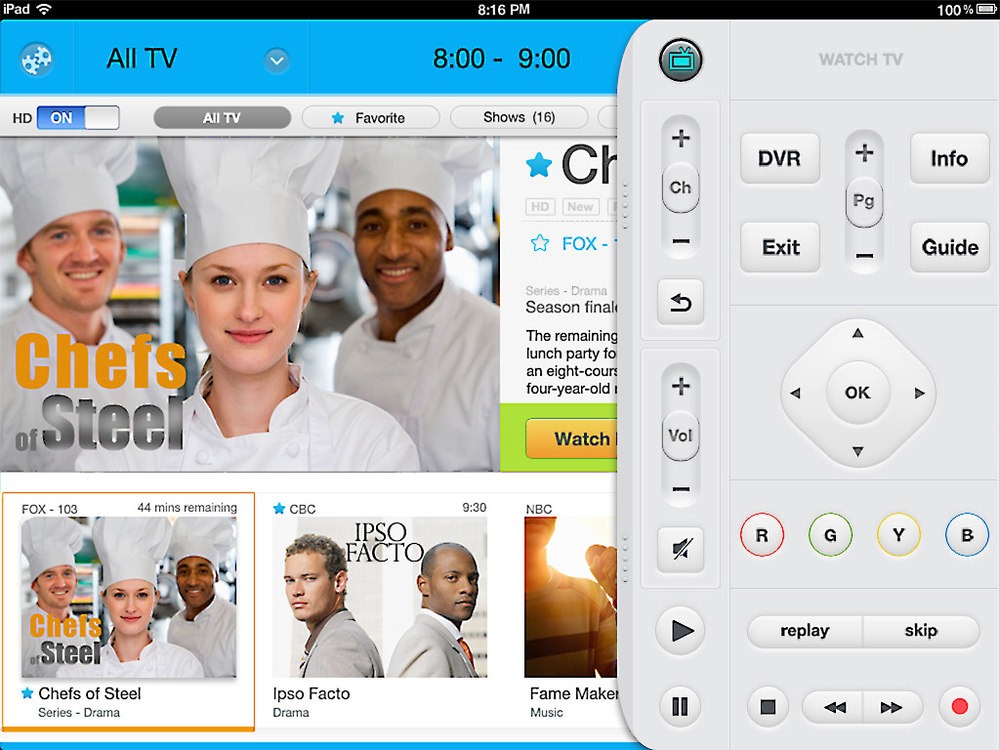 A screen shot of the Harmony's iPad app, which features a TV program guide.
I hear from the folks at Logitech that the Harmony Link offers a much better experience if you use it with an iPad. From what I've seen, the iPad app uses all the extra screen real estate to include a more robust and eye-catching program guide, and the controls look even slicker and more polished.
I can easily imagine people using the Harmony Link and a dedicated iPad as a killer control interface for high-end A/V systems. (Keep in mind, you can operate a maximum of eight devices with the Harmony Link.)
I'm hoping one of my co-workers who owns an iPad will take the Harmony Link for a spin and share their impressions about this more advanced app, because it looks downright impressive.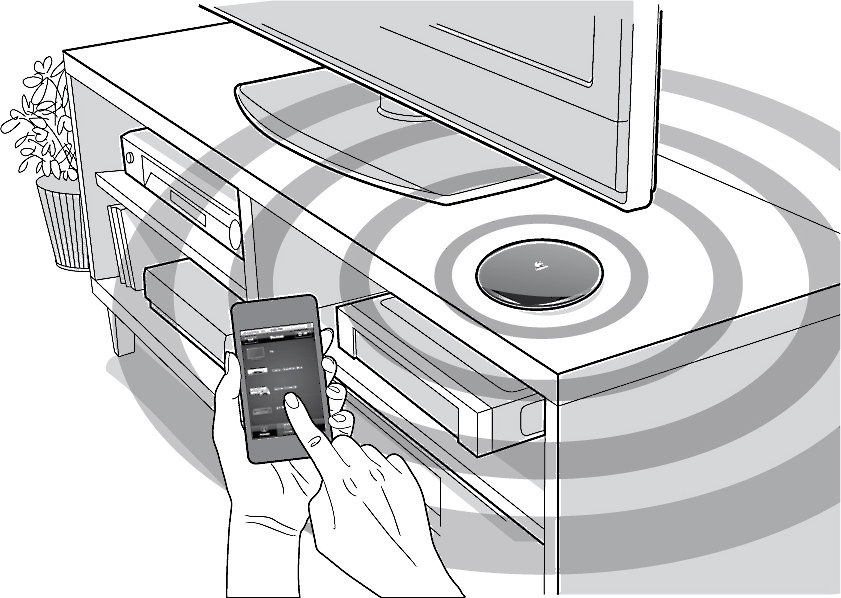 The Harmony Link wirelessly connects your TV to your smartphone.
Powerful infrared signals mean easy placement...
I placed the Harmony Link on the top shelf of my TV stand, near the TV itself. The unit's IR signals were strong enough to control components sitting two shelves below.
Full disclosure: my TV stand has glass shelves, so maybe that helps? Anyway, I didn't have to break out the additional plug-in IR blaster that's included in the package, but this would be a useful item for folks who keep their gear in an enclosed cabinet.
...and Wi-Fi means serious range
Since your smartphone or iPad communicates with the Harmony Link via Wi-Fi, it gives you much greater range than an infrared remote. Anywhere you can access your wireless network, you can control the components you've set up with the Harmony Link.
To test this theory, I paused a TV show my wife was watching while I was typing away on this review in a different room. (Then I apologized and explained I was conducting a test for work.) It's not hard to imagine how useful this extra range would be in a multi-room A/V setup: You could, for instance, control the volume of a pair of speakers installed in a second listening room, or change TV channels in a multi-room video setup.
The bottom line
If you've adapted to the smartphone lifestyle, and if you've got an A/V system that uses several remotes, the Harmony Link is easily worth the price of admission. Even more so if you're an iPad owner.
After having a Logitech Harmony Link in my home for a couple of weeks, I'm going to miss being able to pull out my phone to mute the commercials or change the channel. But at least I know one thing I can put on my holiday gift list this year.