mophie OutRide multisport and juice pack plus Review
New life for an iPhone® 4
J.R. has been at Crutchfield since 1996. He's been helping customers buy the right products from us for many years, and now he supervises and trains our Advisor Group. He worked as a D.J. on our local rock n' roll radio station, does video production on the side, and plays drums in a band called Ice House Road.
More from J.R. Stoffel
Heads up!
Welcome to this article from the Crutchfield archives. Have fun reading it, but be aware that the information may be outdated and links may be broken.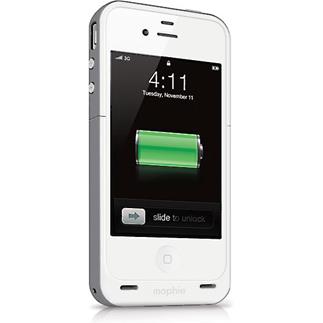 The mophie juice pack pro not only provides backup power for your iPhone 4/4S, its durable case protects your iPhone from dings and scrapes.
I have an antique phone. It's an iPhone 4. Not an iPhone® 5, not even a 4S. I keep it because it works great, and if I upgrade I lose my unlimited data plan (but that's another story). The problem is that the iPhone's battery no longer holds enough charge to get me through a full day of texting, twittering, news reading, video watching, and picture taking.

So I got a mophie juice pack plus. Now my iPhone 4 has a lot more life left in it, at least a lot more battery life. Connected to the juice pack plus, my iPhone now has power to spare after a full day of use. Thank you mophie!
New use for an old iPhone
The juice pack plus made my iPhone useful again, and another mophie product let me use my old iPhone in a new way.
I own a Kawasaki KLR-650 motorcycle. It's one of those bikes you can ride to work, and then on the weekends head up into the mountains where the roads are less... well... paved, and have some fun. And now with the mophie Outride multisport kit and my iPhone, I can record my weekend getaways."
Ready for any sport
When I opened the box, I discovered OutRide kit comes with mounts for just about every kind of action sport you could think of. There were mounts for handlebars and skateboards, helmet mounts for biking, skateboarding, horseback riding, skiing, even mounts for water sports like swimming and surfing.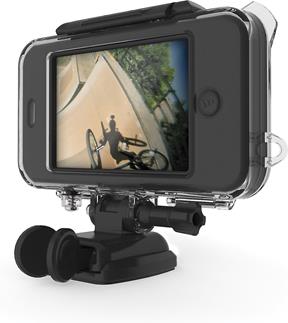 The mophie OutRide multisport case is rugged enough for just about any sport.
Everything's packaged separately so you can keep it all nice and tidy. Just taking out what you need for your crazy sport of choice. For my motorcycle rides, I use the helmet mount. The base is curved, with 3M adhesive that really grips the helmet's surface. The mount itself has a thumb-activated quick release, so you can detach the case just by feel.
Ready for water or dry land
The OutRide's case can be set up for use in wet conditions or dry conditions. The "wet" case completely locks the iPhone in a sealed compartment with watertight access to the important buttons for video recording, and picture-taking.
While my ride would take me across a couple of streams, I wasn't planning on actually getting in the water, so I opted for the "dry land" case. This gave me access to the phone's touchscreen, in addition to the camera control buttons.
The mophie OutRide app
To get the full use of your iPhone in an OutRide case, be sure to download the mophie OutRide app before you go out adventuring. In video mode, the app works just like your iPhone camera, except with a different set of controls. You can start and stop your video, or snap the shutter using one of the buttons built into the case. That's helpful when the iPhone's mounted to your head because you can do it by feel.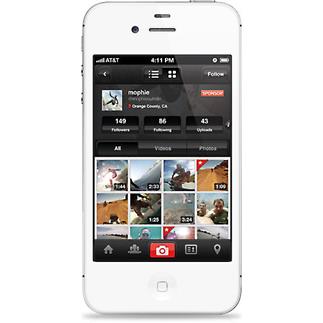 The mophie OutRide app lets you share your videos straight from your iPhone.
The app also gives you access to the OutRide social network. You can upload and share your videos to the OutRide website from your iPhone, and check out videos uploaded by others. The site has an amazing collection of videos and photos taken with OutRide kits. You can watch Mophie/iPhone videos from just about any sport you can imagine.
Time to hit the trail!
So, with my iPhone securely mounted to my helmet, I headed up to a favorite dirt/gravel road in one of Virginia's many wildlife management areas. When I got to the trailhead, I hit the record button and took off.

This road has many ups and downs, with stretches where you can get going pretty fast. There are eight or nine creek crossings, lots of rocks, and the whole road is densely shaded by tall trees and vegetation. It's a great ride. Fourteen minutes after I started, I finished at the top of the mountain.

I reached up and found the OutRide case still there, still holding my iPhone securely in place. I hit the shutter button to stop recording. I sat down on a rock to catch my breath and watched the video of my entire ride. Pretty sweet.
The action camera iPhone
When I got home I uploaded the whole 14-minute video from the mophie app. You can see a clip from the video below. Keep in mind my iPhone wasn't designed as an action sport camera. And it's about two years old, so the processing speed isn't as fast as the current models. Still, I think the final result looks great, and it was way cheaper than buying another camera just for my motorcycle rides.


I like using my iPhone as much as possible. Now I can add "Action Camera" to the long list of things it can do. Thanks again, mophie!