Move Your Groove Outdoors
During his tenure as a Crutchfield staff writer, Marshall Chase wrote about home theater receivers, sound bars, and in-wall and in-ceiling speakers.
More from Marshall Chase
Heads up!
Welcome to this article from the Crutchfield archives. Have fun reading it, but be aware that the information may be outdated and links may be broken.
Your life extends beyond the four walls of your home, why not music? You can take your favorite tunes with you whether you're catching rays on the beach, puttering in the flower bed, firing up the grill or just relaxing on the porch. We'll show you how.
Around the house
For great sound on the deck or in the yard, consider a pair of outdoor speakers. They're specifically designed to handle the acoustic challenges of an outdoor environment. These speakers make spaces more inviting, while remaining unobtrusive and resistant to weather. Power your speakers with a dual-room/dual-source receiver and you open a world of music. See below for a few options and see our full selection of outdoor speakers for even more.
Going beyond the property line
Your home setup is tied down, but you're not. Your music shouldn't be either. Wireless systems and portable speakers are good to go. Sand or sandlot, pool or picnic, surf or turf, your playlist is close at hand. Check out the Sonos® gear and Bose® SoundLink® Wireless Mobile speaker toward the end of this article.
Outdoor speakers
Outdoor speakers are perfect companions for pool or patio, designed to withstand the elements and years of play. These speakers are built tough and tested under harsh conditions (read our article on Polk Audio's Torture Tests). Plus, outdoor speakers don't have to stand out to be heard. Most are easily mounted under an eave using rotating brackets, so you can aim them where you'll enjoy them most. And cleverly designed landscape speakers fade visually into the background, so you'll forget they're around until your "planter" starts singing. Now when you're out in the yard your music fits the scene like a cool, refreshing drink.
Power your outdoor speakers with a dual-room/dual source receiver
Dual-room/dual-source receivers allow you to send audio signals from different sources to separate rooms. So you can listen to music favorites at your cookout without interrupting the kids' cartoons on the TV inside. Most multi-zone home theater receivers can power outdoor speakers while providing surround sound on your main system. Others require the use of a separate amplifier to power your second pair of speakers.
Stream music outside with Sonos®
Music on the patio or the porch shouldn't be limited to radio station playlists or your CD collection. Why not have a world of entertainment at your fingertips? Sonos allows you to wirelessly stream your iTunes® library, music services like Pandora® Internet radio and Spotify®, as well as over 100,000 free Internet radio stations, podcasts and shows. You can enjoy it all, indoors or out. Control is easy using your laptop, smartphone or tablet. Simply stay in your seat while you change up the beat.
| | |
| --- | --- |
| Turn your favorite speakers into a music-streaming system with the Sonos CONNECT:AMP. The built-in 55-watt-per-channel amplifier delivers your music in full-bodied stereo sound. | Get big sound with the Sonos PLAY:5. Its five built-in speakers pump out the tunes. Just connect the power cord and it's ready to go. 100-foot streaming range gives you plenty of placement options. |
Music that goes everywhere you do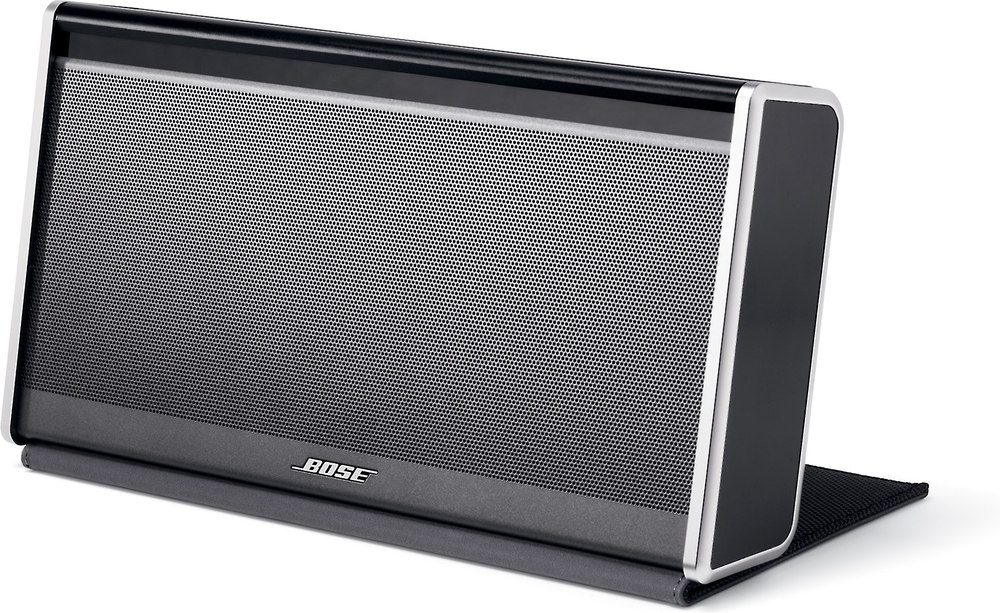 Bose® SoundLink® Wireless Mobile speaker features built-in Bluetooth® for wireless streaming with any compatible device, including iPhone®, iPad®, and Android™ smartphones or tablets. Free your music and your ears.
Earbuds are okay for the short stretch of a morning commute or an afternoon workout. But when you're listening for hours, not so much. The Bose® SoundLink® mobile speaker relieves your ears from their short leash. This compact player features built-in Bluetooth® so you can enjoy rich Bose® sound with your smartphone, tablet, or laptop — without connecting a cable. And with up to eight hours on its rechargeable battery, you and your tunes can spend some quality time together.