A Look at Connected Audio/Video Gear
Creating a connected system
The Crutchfield writing team is a group of full-time, in-house copywriters who share a passion for consumer electronics. In addition to creating the articles and videos you find in the Research area of the Crutchfield website, these hard-working and talented people write the informational copy for the products on our website and in the Crutchfield catalog. Our writers constantly research the latest products, technologies, and industry trends, so that we can bring you the most helpful information possible.
More from Crutchfield Writing Team
Heads up!
Welcome to this article from the Crutchfield archives. Have fun reading it, but be aware that the information may be outdated and links may be broken.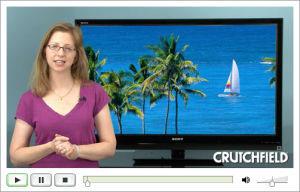 Want to learn more about connected HDTVs? Watch our short video to learn about what you need to get connected, as well as what you can expect from today's Internet-ready TVs.
From HDTVs and Blu-ray players, to video game consoles and handheld devices — lots of today's audio/video and portable gear can connect to your home network. And once you're connected, there's a lot you can do. For example, you can use a compatible HDTV to watch videos on YouTube, or play music stored on your computer in any room in your home with a wireless multi-room system. In this article, we'll give you an overview of some of the most popular options out there, and provide tips on setting up your own network of connected A/V gear.
First things first — you'll need a network
As varied as these networkable devices are, the one thing they all have in common is that they need access to a home network to reach their full potential. This can be a wired network — consisting of Ethernet (CAT-5) cable; or the more popular option, a wireless network, which sends Wi-Fi® signals throughout your home. Check out our article about setting up a home network to learn about the basic steps involved.
Putting together a connected system
Once you've got a home network up and running, there are a lot of A/V possibilities. One important note before we get started: Even if a component can connect to your network, it probably won't give you full access to the Internet the way a computer does. And capabilities can vary widely, even across the same types of products, or products by the same manufacturer. For example, one networkable Blu-ray player might let you stream Netflix movies, while another might be designed only to let you stream photos from a compatible computer. So when you're shopping for networkable gear, pay very close attention to the capabilities and the limitations of each product, and always feel free to call our Advisors at 1-888-955-6000 if you have any questions.
HDTVs: Quick, limited Internet access
More and more of today's HDTVs offer some kind of web connectivity. Generally, this will be limited to individual "widgets" that let you access specific info online. Depending on the model, you might be able to pop in and check the weather for your area or view the photos in your Flickr account, for example, but not log in to check your e-mail or see the latest from your favorite blog.


Some TVs, like the Samsung UNB8000 pictured above, can access online content like YouTube videos and news articles.

Blu-ray players: Stream photos, music, even Netflix
Blu-ray players have featured Ethernet jacks for a couple of years now, in order to access limited online BD-Live content available with certain discs, and to download firmware updates. Some models have recently started including much more functionality, allowing you to stream photos from compatible computers on your home network, or even stream music and movies from services like Pandora and Netflix (subscription required).


A few Blu-ray players, like the Samsung BD-P3600 pictured above, can stream movies from Netflix.

Video game consoles: More streaming and browsing capability
Online gaming is an important part of today's gaming consoles, and manufacturers take advantage of that connectivity to offer some pretty cool extras. For example, both the PS3 and Wii™ are capable of full web browsing. The Xbox 360™ and PS3 can stream music, movies and photos from compatible computers. And if you're a Netflix subscriber and have an Xbox LIVE Gold Membership, you can stream movies to your Xbox 360. Read our article about expanding the capabilities of your gaming console for more info.


Video game consoles like the Xbox 360 (above), PS3, and Wii offer a number of networking features.

Multi-room systems: Streaming music throughout your home
Some multi-room music systems use your wireless home network to play music stored on your computer in any room in your home. Some of them can also access online music sources, such as Rhapsody® or SIRIUS Internet Radio (subscription required). Check out our article about multi-room music systems to learn about your options.


Wireless multi-room music systems, like the Sonos system pictured above, let you listen to your digital music collection anywhere in your home. Some also let you listen to music from online services.

Cell phones and other portables: Internet browsing and games in the palm of your hand
A lot of cell phones, handheld gaming systems, and other portable devices can connect to a Wi-Fi network, allowing you to browse the Internet, play games online, and more. See our article on portable gaming systems for more info.


A lot of handheld devices, like the iPod® touch pictured above, can connect to a Wi-Fi network.