The Hybrid Surge and the Nikon 1
Former Crutchfield staff writer Woody Sherman spent years working as an editor and manager in the video industry at the national level.
More from Woody Sherman
Heads up!
Welcome to this article from the Crutchfield archives. Have fun reading it, but be aware that the information may be outdated and links may be broken.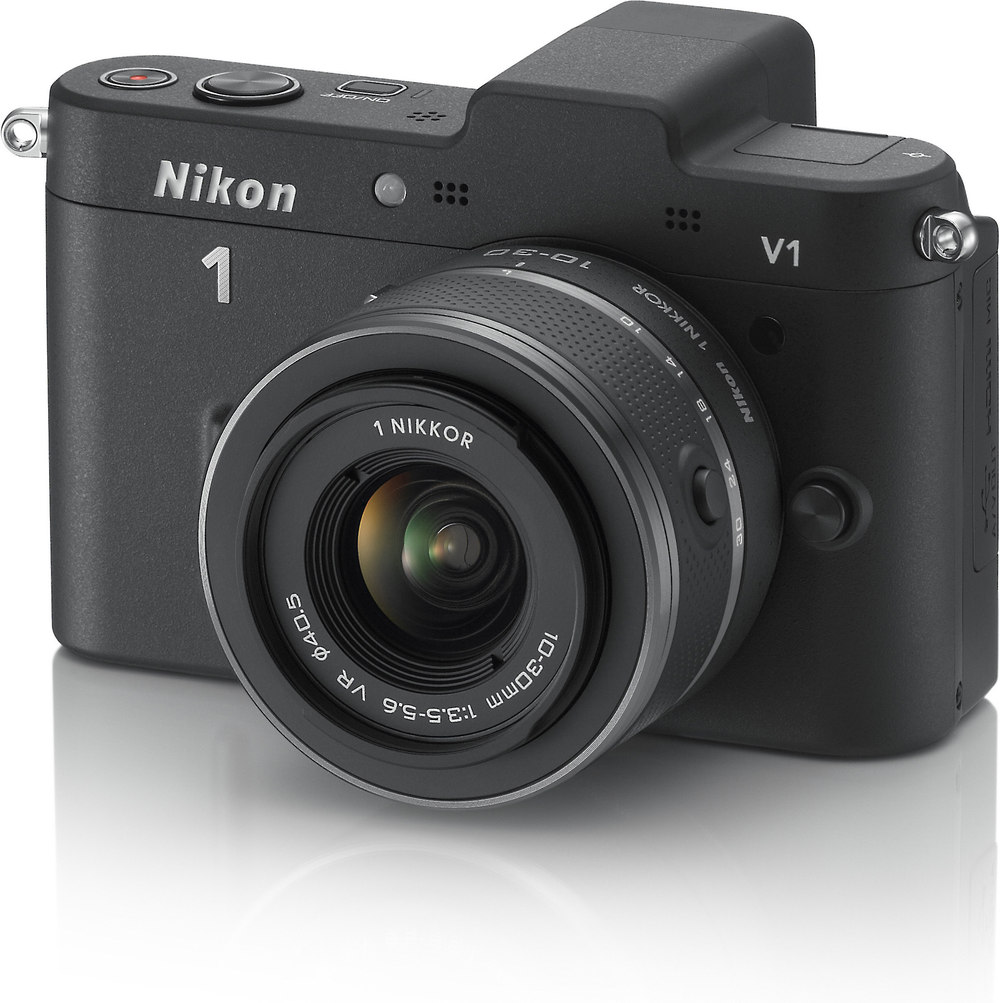 Nikon 1 V1 hybrid camera
Smoke, but no mirrors
Nikon set the digital imaging world abuzz recently with their first "mirrorless" interchangeable-lens cameras, the Nikon 1 V1 and Nikon 1 J1. These are some of the latest additions to what has become a very active segment of the digital imaging market.
If you've been following this world for longer than a day or two, you've probably become aware of a class of products often referred to as "hybrids."
These are cameras with a small body form factor and interchangeable lenses, which offer the convenience of a point-and-shoot, and many of the speedy, responsive features of DSLRs.
Nikon discourages the mirrorless label, saying mirrorless means a DSLR with the mirror removed. They prefer the term "Advanced-Camera with Interchangeable Lens (A-CIL)." That may be an apt description for the entire class.
I want my SUV
Here in North America, we've been a little slower to adopt this evolution of camera technology. We like our DSLRs. They're the SUVs of the camera world. Rugged and dependable, with all the features we demand on the road of life.
But face it, DSLRs can be inconvenient. They generally come with their own dedicated baggage. They have lots of fiddly knobs and menus that demand real, um, focus. They can weigh you down when you're fast on the move. And until you know your gear and have it "under your fingers", it's tough to be spontaneous and quick on the draw.
Hybrid vigor
Enter the hybrid. Panasonic, Olympus and Sony have been at the forefront of this mobility-friendly market, and have widely acclaimed models that have seen upgrades and revisions since their initial introductions. The product lines are now fragmenting, pursuing two different types of user:
The compact, point-and-shoot fan

, who's ready for the creative step-up that multiple lens choices can give. They don't want a lot of manual control, they're fine with an LCD display for photo composition, and they'd like some nice creative-filter and HD video shooting options. Essentially, they want a few creative steroids, but the same lightweight physical characteristics and simple controls they enjoy from compact cameras.



The developing hobbyist / experienced enthusiast

. They may already own a DSLR they love. But even they can't deny the allure of something as compact and nimble as a hybrid. They want a high image-quality camera that they can have at the ready for any opportunity, the so-called "street camera." So they demand a few things that the point-and-shoot graduates don't: Proper viewfinders (optical or electronic). Compatibility with a decent and versatile line of good lenses. Outboard flash compatibility. Manual control options. A bigger variety of video shooting formats. And, very often, larger image sensors.
Does size matter?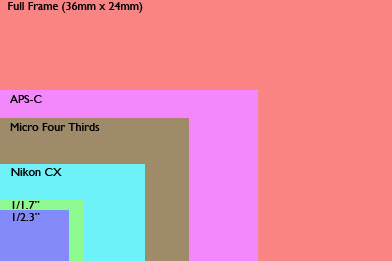 Popular sensor sizes compared
Well, unsurprisingly, the answer is: sometimes. Large sensor sizes make it easier to collect light, and they can make the most of a wide-aperture lens' short depth-of-field — that ability to isolate focus on a subject while making the foreground and background soft (bokeh).
Plus, if they're at the widely used Micro Four Thirds or APS-C sizes, the chances are increased that many lenses could either be compatible, or be adapted to be compatible.
But large sensors are not a guarantee of better picture quality. There are many factors that influence the fundamental physics that governs image acquisition. For the purposes of this article, we'll leave that statement as a given, and explore the fact that the manufacturers in this sector have made considered decisions about the type of sensors they have. Often, they've done their best to maximize image quality and not succumbed to the push for desirable numbers. After all, isn't it the final shot that counts? Everything else is just a tool. Wrench or pliers? Tell me what job you want to do first.
The current crop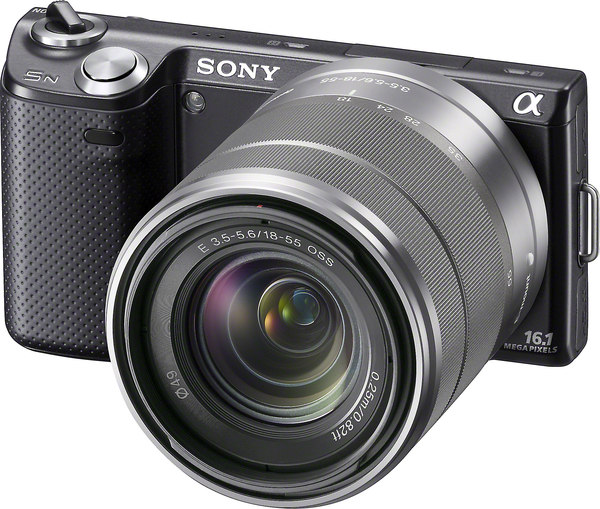 Sony NEX-5N
Sony's NEX series of cameras is currently winning the "pure numbers" race among the hybrid clan, with large APS-C image sensors throughout the product line and a whopping 24.3 megapixels from the top-end model, the NEX-7. Early returns for the latest releases have been largely good, and there's some evidence that these cameras might have some appeal for the aspiring videographer that would have formerly bought a DSLR.
Interestingly, the NEX-5N, at 16 megapixels, might be a more intriguing video device than its NEX-7 cousin, as it has larger pixels on the same-size sensor, implying better low light performance and less information-processing load for the BIONZ™ processor (although the NEX-7's processor has been tweaked to compensate for the extra workload). Time and experience will tell whether this is true or not.
Large sensors often mean larger lenses, though, so some of the hybrid's portability appeal is blunted when these are used.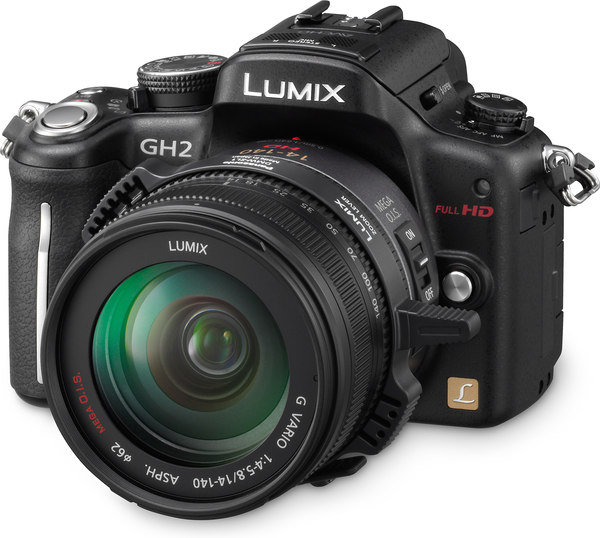 Panasonic DMC-GH2K
Panasonic and Olympus have committed their hybrid lines to the Micro Four Thirds sensor format. Four Thirds sensors, while smaller than APS, are still pretty beefy compared to the new Nikon and Pentax mirror-less sensors, and are very well supported in the optical arena. An impressive variety of lenses are compatible with these cameras, which draw their sensor/lens design inspiration from the video cameras of the past generation.
Pentax has released their new Q. It's playing the other end of the street from Sony. It features a compact size sensor (1/2.3", about one eighth the size of the M43 sensor) and of all the hybrids, it's the one that most legitimately can call itself a "pocket" camera, as it's seriously small for something with interchangeable lenses. Beyond the small size, a big hint about the market they wish to exploit is the announcement of two sub-$100 "toy camera" lenses for this model.
The build quality is solid, and though the sensor is small, everything about the design has been designed to get the maximum benefit from its size. While this really doesn't pretend to co-opt the DSLR market space, it does have its place as a camera that hearkens back to the elegant miniature cameras of the film era.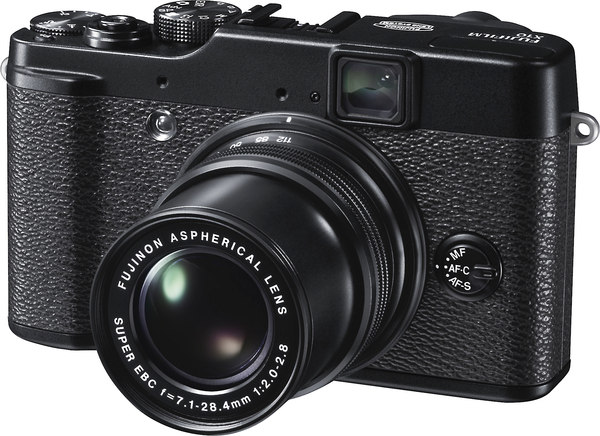 Fuji X-100
Fuji does not have an interchangeable lens hybrid, but it has two cameras that play in the same functional space, the X-10 and the X-100. These rangefinder-type cameras have generated a ton of buzz and favorable impressions. Now it is widely reported that Fuji will be introducing an interchangeable lens model soon, informed by their experience with the X-100 and the X-10.
The misunderstood Nikon 1 Series
Within 3 hours of the release of the V1 and J1 on the world stage, many enthusiasts had written this camera off, as it has a small sensor by comparison to the many hybrids, and makes a modest (by recent standards) 10 megapixels at its highest resolution. Why was Nikon, one of the world's most respected manufacturers, releasing something widely regarded by the enthusiast community as "underspec-ed" and "underpowered?" Why was the reaction so visceral? Was it because of the many reported colors that will become available for the J1? Is it the slightly surreal "Motion Snapshot" feature, that gives you a two-second HD slo-mo clip with music? Is it just the cute fluffy bunny of cameras, designed to give the casual Facebook picture poster some extra "oomph?"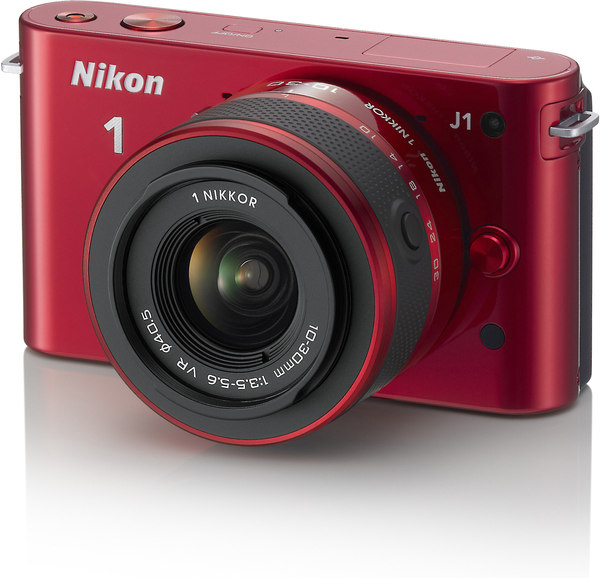 Nikon J1 in red
I'm not sure I think so. It's got some unexpected talents. First of all, the image quality has held up well to initial testing. It'll do 10 fps with continuous auto-focus, equivalent to the Sony NEX-7 (although, to be fair, Sony's doing it with a big APS sensor at 24 megapixels — a lot more data). It has two sophisticated forms of autofocus that engage together (contrast detection and phase detection), and its release time is world-class. And while the idea of buying a camera in a color to match your old iPod® is pure Japan in a nutshell, I think there's a class of young, enthusiastic people world-wide, curious about extending their photographic vocabulary, for whom this camera might be a good fit.
Executives at Nikon have admitted publicly that their primary aims were for responsiveness, compactness, and ease of use in the service of image quality. They feel that this combination of megapixels and sensor will deliver the best consumer experience with regard to those aims. The key words here are "consumer experience." Nikon is casting a wider net for customers, keeping a compact form factor while promising image quality that rivals DSLRs. People would be advised to remember they have a decent track record delivering said quality. Time will tell whether they deliver what the public will buy. But it's definitely worth a good look. We'll be there with a review the moment we've had a chance to get one in our hands.