Nikon Megazoom Showdown
Former Crutchfield staff writer Woody Sherman spent years working as an editor and manager in the video industry at the national level.
More from Woody Sherman
Heads up!
Welcome to this article from the Crutchfield archives. Have fun reading it, but be aware that the information may be outdated and links may be broken.
My wife and I live in an expanse of woods in what is otherwise a lawn and shrub dominated neighborhood. This means the neighborhood squirrels gravitate to our back yard, bringing all their garden mayhem. I have to say that the little guys have their entertaining aspects, though. For instance: they've decided our deck railings are their perfect outdoor bistro. The other day I saw one perched on the back rail gnawing on a huge mushroom. This seemed so unusual that I wished I had had my camera close by.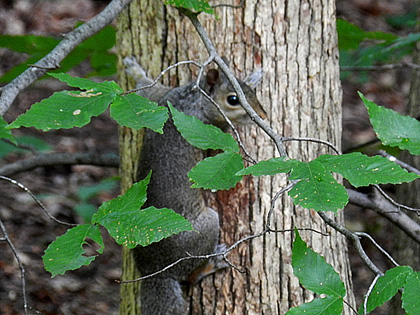 A squirrel from approximately 25 feet away on the P500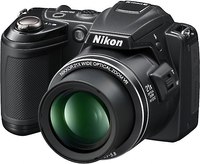 Nikon Coolpix L120
Cameras with a long-reach zoom are perfect for the squirrel-stalking task. You can sit by a window and snap away without spooking your skittish subjects. I took both the Nikon Coolpix L120, with 21X zoom capability, and the Nikon Coolpix P500 36X "megazoom" cameras home for a spin to see if I could catch the critters off guard.
Little Cameras, Big Performance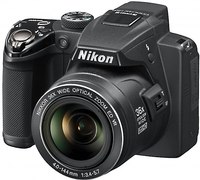 Nikon Coolpix P500
My first thought upon working with both models was that they were great opportunity cameras. What I mean by that is that they're lightweight and easy to manage, the controls present themselves logically to your hand, and they go wide or close in a hurry. On my walk along a local trail, everything from individual flowers to a pond scene to a mountaintop vista offered great chances for pleasing composition. The versatile lenses made the most of my opportunities from a fixed location. If I were, say, a real estate agent, or touring a museum's sculpture garden, I would love both the generous wide angle for the ability to show a lot in a tight space, and the telephoto's ability to capture a lot of details without moving around.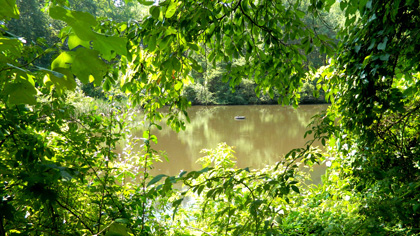 The L120 full wide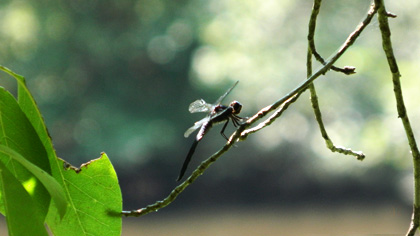 The L120, same angle as pond shot above, full zoom
Upon unpacking, I found both models gave a handsome first impression. These cameras are almost small enough for pocket use (okay, use a coat pocket), but with the bigger, more capable glass in front they have better low-light performance and zoom reach than most point-and-shoots. The P500, with its dual image processor, does a better job with detail in challenging hi-contrast areas than its more affordable sibling the L120, and a 36X zoom is nothing short of tremendous for a camera in this class. No, they're not DSLRs, but they're definitely not your typical point and shoot either.
These cameras don't change the laws of physics. A lens, unfortunately, cannot simultaneously be long, fast, and low-weight. As you zoom in, the lens takes in less light. You can solve this problem by making a bigger, heavier, more expensive lens (which would take us out of the highly portable world), or you can do what Nikon has done here — these cameras feature good image stabilization tools and exposure control to improve performance when you're at full zoom. It's not miraculous &mdash like many high-zoom cameras, they struggle to autofocus and stabilize in lower light situations &mdash but in decent light you will find yourself very pleased to have magnification comparable to high-end binoculars or spotting scopes in such an affordable package.
While we're on the subject of telephoto reach: I found myself getting "lost in space" when zooming in on a complex subject/background combo like squirrels in the trees. Handheld, this became tricky as fine positional adjustments can require a surgeon's steadiness at max zoom (these lenses are long!). Anyone who's used a set of powerful binoculars to follow a moving subject is familiar with the problem. It was magnified when I was using the back display at arm's length. Also, depth of field — the distance and depth of the plane where my focus was centered — was really shallow at full zoom for objects in the middle distance, and I found myself hunting a bit for my subject. I needed some practice before it all made sense.
The scene modes are well thought out and useful to the beginner. The portrait modes are a bit aggressive with smoothing skin tones; I know that the sample self-portrait I took with the P500 was kinder to the mileage that my face has logged than the morning mirror has been. Note that, for some, that may actually be a good thing &mdash I don't know many people that don't like a little extra portrait flattery from their camera equipment.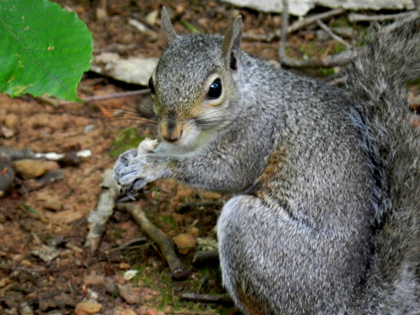 The P500, zooming from 20 feet away
Measure for Measure
The L120 does not have any manual mode or aperture/shutter priority modes, but boasts an auto scene detect function that selects from six preset scene modes, suitable for most events and occasions. I found the auto scene detect did a nice job of backlight compensation in several quickly composed shots. The P500 offers the experienced enthusiast the opportunity to customize shutter speed and aperture and choose which is dominant. I found this really helpful while shooting in high-contrast settings like the woods in the late afternoon.
Like most digital cameras these days, these have HD video modes. The P500 shoots a full 1080p at 30fps at its highest resolution, and has support for faster frame rates at lower resolutions. The L120 maxes out at 720p/30. A tripod is recommended for best motion picture results, especially when zoomed in — digicams are not really made for handheld shooting in the best of circumstances.
One of my favorite features on both these cameras is the side zoom controller, which on the P500 can be remapped for manual focus control, or to snap the zoom back to wide. The ability to control these functions with the left thumb makes for more stability with both still and moving pictures. The P500 is also superior to its sibling in the monitoring department, with both a top-mounted electronic viewfinder and a 3-inch, 921K dot LCD screen that articulates out from the camera body and pivots vertically. This feature really counted for me when I was trying to keep glare off the screen, or holding it for a high or low angle, or putting it on a tripod.The L120's LCD monitor has similar resolution but the screen is fixed, and there's no EVF.
You'll want an extra battery for any extended shooting with the P500, as the features you'll want to use a lot — autofocus, sports-continuous mode, stabilization, and zooming — can take a toll on the included rechargeable lithium-ion battery. The L120 uses most alkaline, lithium, or rechargeable "AA" batteries. A decent quick-draw camera bag will help you to keep things protected, yet available for quick deployment.
Concluding Thoughts
Disadvantages: Neither the Nikon Coolpix L120 or the Nikon Coolpix P500 has support for RAW mode, and the actual image quality could be a tad sharper and less processed for my taste. When I tried it indoors in artificial light, using the full zoom side of the range, I felt the results were, understandably, somewhat noisy and soft (as I mentioned earlier, you can't change the laws of physics). If you're doing the same outside, however, you'll be excited to have the 21X or 36X reach that would otherwise cost you thousands of dollars to achieve with DSLRs at the deeper end of the price pool. The tripod mount on both is out of line with the lens, so it could have a bit better balance.
Advantages: Great wide angle. While we've talked extensively about both these cameras in telephoto mode, I've failed to do justice to the extremely useful and low-distortion wide side of the lens's range. If you're shooting in tight quarters you'll really appreciate the ability to incorporate more of your surroundings. The HD mode is fairly responsive and clean, and support for frame rates over 30fps grants the ability to do some nice slow-motion effects. Controls are thoughtfully placed for quick response to shooting opportunities. The scene wheel is easy to reach, well-defined on the on-screen display, and boasts a wealth of convenient presets.
Here's a brief compare and contrast on the essential feature set:
| Feature | Nikon Coolpix L120 | Nikon Coolpix P500 |
| --- | --- | --- |
| Megapixel count | 14.1 (4320x3240) | 12 (4000x3000) |
| Manual mode | no; multiple presets available | yes; presets also available |
| Zoom range | 21x (25-525mm 35mm equivalent) | 36x (23-810mm 35mm equivalent) |
| Electronic viewfinder | no | yes, top center |
| LCD screen | yes, 921K dots | yes, 921K dots, articulated mount |
| HD modes | 720p/30fps H.264/MPEG-4 .MOV | 1080p/30/60, 720p, 960x540 iFrame, VGA (hi-speed fps rates available) H.264/MPEG-4 .MOV |
| Sensor | CCD | CMOS |
| Processor | EXPEED C2 | Dual EXPEED C2 |
| Lens | Nikkor F3.1-5.8 | Nikkor F3.4-5.7 |
| Sensitivity | ISO160-ISO3200 | ISO80-ISO6400 |