Nikon 1 V1 and J1 Digital Cameras
With hybrid cameras, possibilities abound
Former Crutchfield staff writer Woody Sherman spent years working as an editor and manager in the video industry at the national level.
More from Woody Sherman
Heads up!
Welcome to this article from the Crutchfield archives. Have fun reading it, but be aware that the information may be outdated and links may be broken.
| | |
| --- | --- |
| Nikon 1 J1 | Nikon 1 V1 |
Making a splash
Not many camera releases have achieved this level of buzz and curiosity. Nikon, one of the top two digital camera manufacturers in the world, has entered the mirrorless, interchangeable-lens hybrid camera market with a bang. For those of you new to this exciting segment of the digital-imaging universe, these are cameras with the small form factor of a point-and-shoot compact, with the added attraction of larger sensor-sizes and interchangeable lenses. Think of them as highly portable cameras with extra creative possibilities. (click on the images to see larger versions)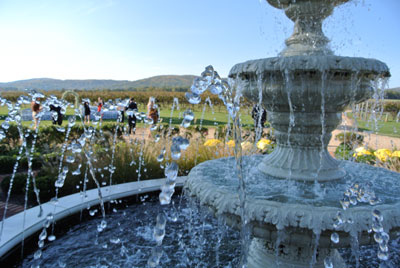 A fountain frozen in action by the Nikon 1 J1
Nikon has introduced two cameras with the "Nikon 1" label, the Nikon 1 V1 and its little brother, the Nikon 1 J1. I had a chance to get them in my hands at a perfect time.
First, it's approaching peak fall foliage season here in Central Virginia where Crutchfield is headquartered; and second, I was invited to a wedding and reception at a gorgeous location this weekend — one of our fine local wineries. I figured the combination of locale and event would make a perfect, real-world opportunity to put both of these cameras through their paces.
There's a lot of family resemblance between these two cameras, so it's fair to review them together. Yes, the V1 has some refinements that the J1 does not, as you might expect. But shot for shot, in both video and still photography, they deliver similar results.
Side by side
The V1 has a mechanical shutter option as well as an electronic shutter, while the J1 only features an electronic shutter. This means the V1 using that option will suffer less from some of the distorting, rolling-shutter "leaning tower" effects on fast-moving subjects. The V1 also has a higher-resolution LCD display (921K dots) and a well-appointed electronic viewfinder. It does not feature a built-in flash, though, although the J1 does; the V1 opts instead for a proprietary "hot shoe" which will accommodate a Speedlight flash unit or a GPS receiver module (available as additional options).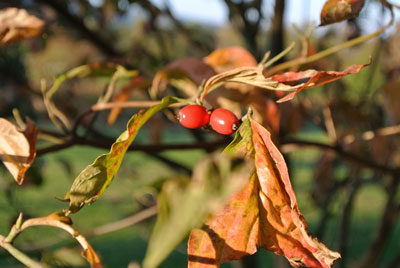 Fall is in full swing: taken by the Nikon J1
Substantial but sure
Both these cameras are more — substantial — than I expected. The V1, in particular, has a heft that its minimalist exterior does not communicate. And yet, it felt comfortable and natural in my hand, all the controls presenting themselves easily to my fingers while having the eyepiece to my eye.
And in the case of the smaller J1, there was a similar sense of ease when operating the controls, operating more at arm's length with only the LCD display for feedback.
Notable features
Let's start with the things that will make both of these cameras the favorite of anyone who's tasked with shooting the family's sporting events:
an amazing autofocus that tracks a well-lit moving subject with surprising accuracy. Nikon has come up with a way of pairing two main autofocus strategies — phase-detection and contrast detection — for a newly synthesized solution that stays locked on target.
Smart Photo Selector takes 20 shots at a 30 frames per second rate, analyzes which shots are blurred or marred by blinks, and delivers the 5 best shots for your examination - all within 2 seconds or so.
Motion Snapshot makes a 2.5 second slow-motion clip of the "impact" moment of your choosing, and adds an ambient soundtrack for a bit more emotion upon playback. It's a bit of a curiosity to me but I'm sure some people will come to know it and enjoy it.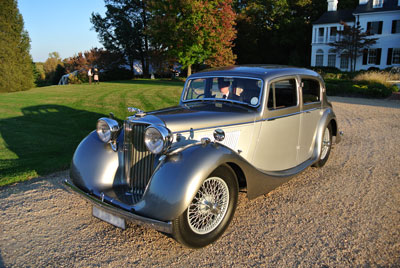 This late 40's Jaguar was waiting to transport the happy couple. Nikon J1.
Tenacious focus
The autofocus alone is a strong selling point. Though it tends to lose its way somewhat in lower light, it's a strong part of what makes this camera's image quality better than you'd expect.
I found that it was a little bit fiddly when I had multiple subjects in the scene, but both the V1 and J1 can shift to manual focus, controlled from the real dial interface.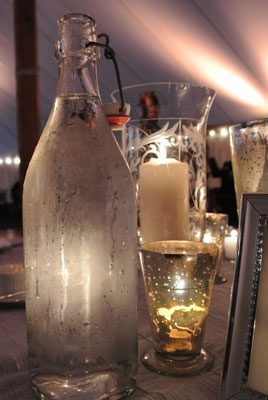 Available light only for this still-life. Nikon V1.
Your personal photo editor
The feature I came to love was the Smart Photo Selector. The current lenses available for the Nikon 1 cameras are not hugely "fast", so as the wedding reception moved towards evening, the pinlight/soft light/candlelight that dominated in the event tent presented a challenge for the autofocus.
Smart Photo Selector consistently delivered a shot or two that worked. Though I would tend to do most of my shooting from a tripod, were I in that situation again, I felt like the camera "had my back" in making the most of a tough situation for any camera.
Easy portability
You can't keep these cameras in a pocket. Well, maybe you can, but you'll have to remove the lens, cap the body, cap both sides of the lens, and use two healthy pockets. Still, it's nowhere near as clunky to carry around as any DSLR rig — I carried around both cameras in a soft portable disk drive bag, lens engaged, and had either at the ready in 10 seconds or so.
The control interface for these cameras is streamlined and simple — especially compared to its DSLR cousins. Most functions are covered with the two control dials, and they're intuitive enough that you can set the camera to auto and be shooting right away.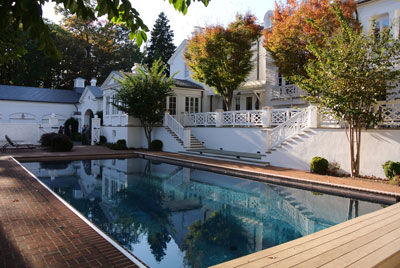 Swimming pool at the wedding venue. Nikon V1.
Results right out of the box
I enjoyed the experience with both these cameras. As you can see, I got some decent results on the first day I used these models, and I had only skimmed the manual. With a bit more time one can figure out the finer details and get an even higher percentage of keepers. These are great cameras for the person who's just beginning to unfurl their passion for photography. The Nikon 1 V1 and J1 digital cameras keep things simple, and will do a great deal of the heavy lifting for you if you want — but they're a serious step-up from the point-and-shoot world, ideal for the hobbyists who wish to extend their artistic choices.