Oarhe O's 2003 Infiniti G35
I've been with Crutchfield since 1999, where I began as one our advisors, helping our customers choose new gear. After a couple of years, I moved to the writing team where I spent a decade researching new products and getting hands on with car stereos, amplifiers, speakers, and subs. Yeah, I've been doing this for a while.
For the past few years, I've been the managing editor of Crutchfield's Car A/V web article content. I couldn't ask for a better job — we get to play with car audio gear every day! I'm a Virginia native from the heart of the Blue Ridge Mountains. Outside of work, I love listening to music, playing board games, and installing new audio systems for my friends.
More from Robert Ferency-Viars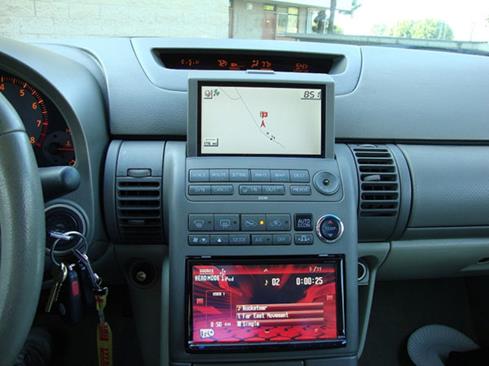 Click the image to enlarge
Items installed:
Installation Description
First, I removed the trim pieces under the steering wheel and under the passenger-side dashboard. Then I removed the clock trim and the trim below the shift knob, after removing the shift knob. If it's a 5-speed AT, put the car in neutral, remove the lower portion of the shift knob and remove the retaining pin. If it's a 6-speed MT, unscrew the shift knob from the shifter boot.
After I got the trim pieces out of my way, I installed my double-din head unit and the A/C controller board in my new trim piece. Then I had to remove my navigation unit from my old center console trim piece and install it on my new trim piece. Once it was installed, I set every everything in place and connected all available harnesses.
Editor's note: Oarhe's dash is a custom installation job. The Metra integration kit does not normally allow you to keep the factory navigation screen, but Oarhe found a way to make it work.
The two that remained unplugged were my steering wheel volume control and my navi voice and mute lines. To fix the mute line I had to wire the gps to the TIP31 transistor and then the transistor to the mute line, wire the gps audio out +/- lines to a line out adapter, then to the amp through the high-end input.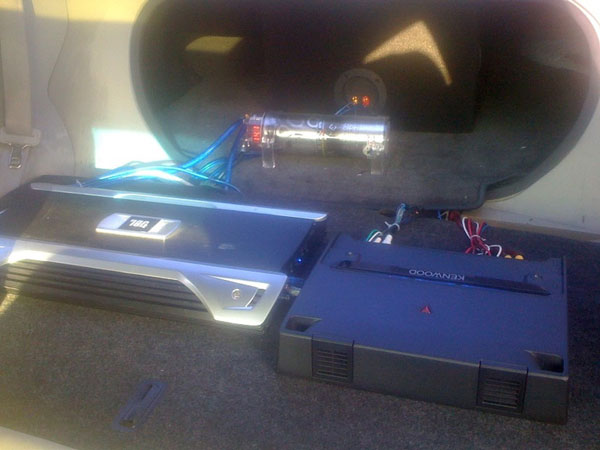 Kenwood and JBL amplifiers mounted on the back seat
Then I ran RCA cables from my head unit to my JBL GTO 14001 and my Kenwood KAC-8405 amps. I ran a 4AWG power line from my battery to a distribution block in my trunk. the 4AWG line has both a 150A circut breaker and a 160A fuse within a foot of the battery. my JBL has a 4AWG line coming from the distribution block to it and my Kenwood has a 60A fused 10AWG line coming from the distribution block to it.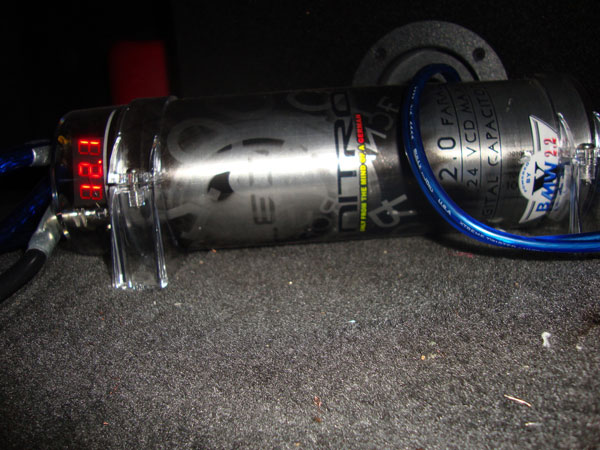 Nitro 2-Farad capacitor
I am using 10AWG speaker wire from my JBL to my Alpine 1043d and 12AWG speaker wire from my Kenwood to my Bose component speakers and 10AWG from my Kenwood to my rear Bose 6X9's. To finish this process, I replaced my trim pieces and replaced my shift knob.
Q&A Section
Why did you decide to upgrade your A/V system?
The G35 has a cheap circut board that is shared between the HVAC and the stereo, mine went out and I lost control of my stereo and heat/AC. My car was constantly blasting 90 degress and I had no audio.
What's the first thing you show people about your installation?
My head unit and my subwoofer.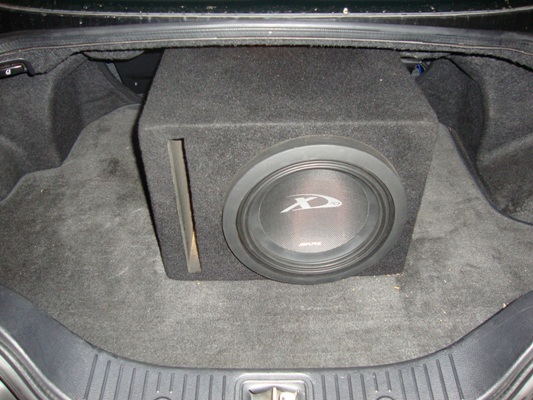 Alpine Type-X 10" subwoofer
Why did you choose these products?
I chose these products for compatibility, quality and to achieve the sound I wanted.
What was the most difficult part of the installation?
Removing the clock trim.
What plans, if any, do you have for future upgrades?
I plan to replace my component speakers and 6x9's.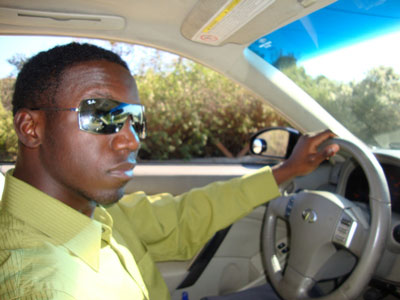 Oarhe behind the wheel
Vehicles in the Customer Car Showroom are submitted by customers and fans, and edited by Crutchfield writing staff. You can find more of these articles on the Showroom main page.