Peachtree Audio deepblue Bluetooth® speaker review
High-end performance comes to portable speakers
Former Crutchfield staff writer Woody Sherman spent years working as an editor and manager in the video industry at the national level.
More from Woody Sherman
Heads up!
Welcome to this article from the Crutchfield archives. Have fun reading it, but be aware that the information may be outdated and links may be broken.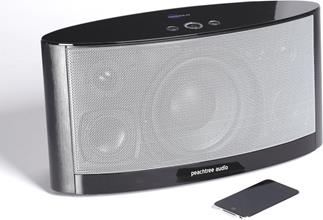 The Peachtree Audio deepblue Music System (shown with smartphone, not included)
Since I've been at Crutchfield, I've become a big admirer of products with the Peachtree Audio nameplate. Over the years they've built a solid reputation as an audiophile company with a knack for innovation and style. So I was intrigued to hear about their new wireless Bluetooth® sound system, the Peachtree Audio deepblue, as it's a new direction for the company.
Great expectations
When I entered the Crutchfield Labs to see it for the first time, I had high expectations — and I also had no idea of their intended price. That's all to the good. I was there to evaluate the experience, not the value. Or so I thought. More on that later.
First Impressions
The deepblue is a handsome black speaker with a silver-grey grille. Its curved lines are clean and pleasing. It's not exactly small, though, and upon picking it up I discovered it weighs more than 16 pounds. Clearly this system has something serious going on under the hood.
The deepblue features a 5-channel, 240-watt amplifier that powers five separate drivers — two 1" dome tweeters, two 3" midrange drivers, and a 6-1/2" subwoofer. Wow. That's a lot of hardware for a one-box sound solution you can move from room to room.
Cue the music
I turned the deepblue on and paired it with my iPhone® 4 in seconds. I chose a classic 80's Quincy Jones jam, his remake of The Brothers Johnson's "I'll Be Good To You," featuring Ray Charles and Chaka Khan. Thumping bass and snappy synthdrum snare attacks pounced from the speaker as the song began. Low frequencies shook the soles of my shoes. A few bars in, Ray Charles' recognizable growl cut through the pounding beat, filling out the midrange in a clean, full and rounded way. I thought the highs were a bit aggressive at first, but it turned out I had left my smartphone set with one of its equalization presets engaged. I reset it to "flat" and the frequency response evened out.
Having enjoyed the full-throated punch of the Quincy tune, I took a turn for the acoustic realm. Folk artist Richard Shindell's "A Summer Wind, A Cotton Dress" lays down a thick-textured wall of 12-string guitar sound as a backdrop for his distinctive baritone. I really enjoyed the crisp, clear definition coming from the deepblue. Every syllable and every attack of the fast fingerpicking of his 12-string was distinct and coherent, even when I changed positions around the labs.
The next day, I took the deepblue home to give it a bit of "real-life" mileage. I set it atop my entertainment cabinet and chose the anthem-like Tom Petty tune "Learning to Fly" for my next listening sample. I guess I was on a bit of a twelve-string jag, but once again the Peachtree Audio deepblue gave me a sense of real tonal balance while delivering serious, musical substance from the lower frequencies. I started to regret that this unit was just a loaner for review.
A few finer points
The remote for the system features bass +/- buttons, so you can adjust the bass response to personal preferences. I really enjoyed this feature as I prefer speakers that are a bit less bass-forward. Peachtree lets you crank it if you're a basshead — but they also give you the option of tailoring a more even frequency response at the low end. Thank you!
A built-in digital sound processor (DSP) allows the system's drivers to create an expansive soundfield that broadens the "sweet spot" in the room. In my own living room I found the listening more than satisfactory in all seating areas (and even in the next room).
Additionally, there's a minijack analog stereo input for directly wiring your music sources. You might find that you get slightly better sound with a wired connection. Also, the power supply is located inside the enclosure, so a simple uninterrupted power cable plugs into a receptacle on the system's body.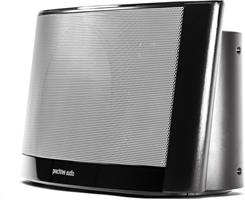 The Peachtree Audio deepblue fits easily on most shelves or tabletops.
The reveal
Given the quality and performance of deepblue, I had guessed the price tag would be close to four figures. So imagine my surprise when I learned the actual price. I was pretty blown away. That's a lot of power, elegance, and capability for the money — coming from a manufacturer known for delivering exceptional sound.
I think you can tell by now that I enjoyed my time with the Peachtree Audio deepblue. It fits on most shelves, counters, or tabletops (although make sure your chosen spot is rated for a 17 pound load) and has the capacity to fill all but the largest rooms with rich, full-spectrum sound. So if you've been on the lookout for a one-speaker solution that sounds great and looks pretty spiffy to boot, the deepblue is right down your alley.