Polk Audio Ultrafit 2000 Sports Headphones
When you find something good, run with it.
Ralph Graves is one of Crutchfield's blog editors, and part of the company's social media team. He writes about home audio/video gear, specializing in Apple-related and wireless technologies. Ralph holds a master's degree in music composition, and his works have been released on various labels. He's served as product manager for an independent classical and world music label, produced several recordings, and worked extensively in public broadcasting. Since 1984 he's hosted a weekly classical music program on WTJU, and is also active as a blogger and podcaster.
More from Ralph Graves
Heads up!
Welcome to this article from the Crutchfield archives. Have fun reading it, but be aware that the information may be outdated and links may be broken.
I look funny when I go on my early morning runs — it's not all because of my technique (or lack of it) either. My go-to portable headphones are a pair of in-ears that do a good job with my music, but too good a job in blocking out noise.
I run on a rural two-lane road with no curb. There's not much traffic, but what cars there are tend to blast down the road at full tilt. Since I have a real need to hear cars approaching from either direction, I run with one earbud in place, and the other dangling loose.
Comfortable design
So I was more than happy to try out the Polk Audio UltraFit 2000 sport headphones. These sports headphones are designed for practical use. The cups are held in place by flexible plastic fins that fit behind the ears. The padding was soft enough to feel comfortable touching my ears, and still left enough room for some ambient sounds to get in (like approaching vehicles).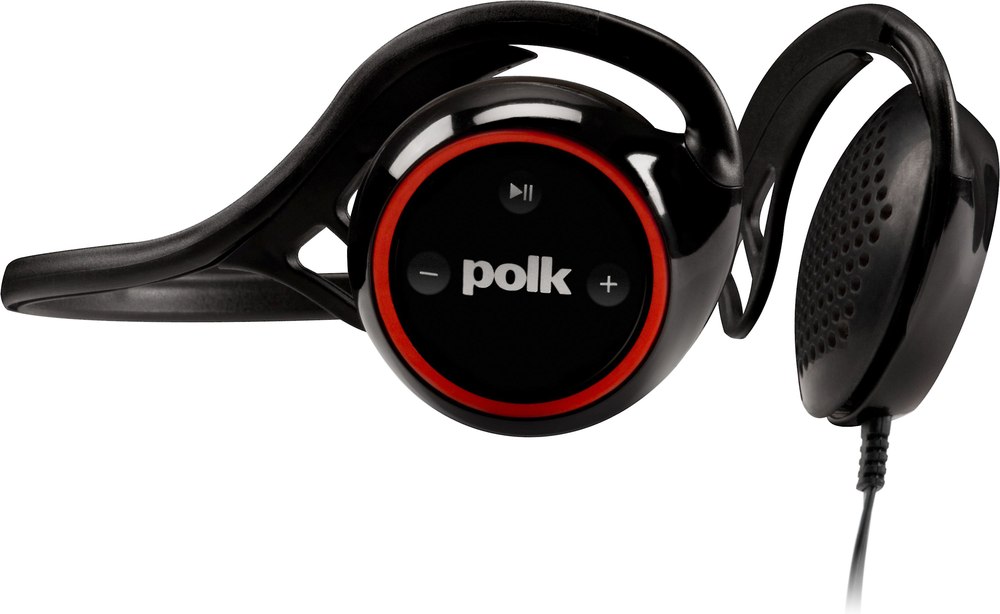 The headphones are available in either black/red or white/orange
color schemes.
I also liked the neckband. I've tried traditional portable headphones on my runs, and the feel of a thin wire headband bouncing up and down on top of my noggin was not pleasant. Having the band behind my head kept it off my skull, which was great. Only one drawback — if I looked up, sometimes the band hit the back of my neck. But I should keep my eyes on the road, not the sky anyway.
There was a thin reflective strip on the neckband, too. It's not enough by itself — I still wear light clothing and a blinking belt light for safety, but it was a nice touch.
Earcup options
I auditioned these headphones in early November, which gave me chance to try out another nice feature. The Ultrafit 2000's come with a variety of earcup covers, including a pair of soft plastic ones, thin foam pads, and thick woolen-like pads that resemble ear muffs.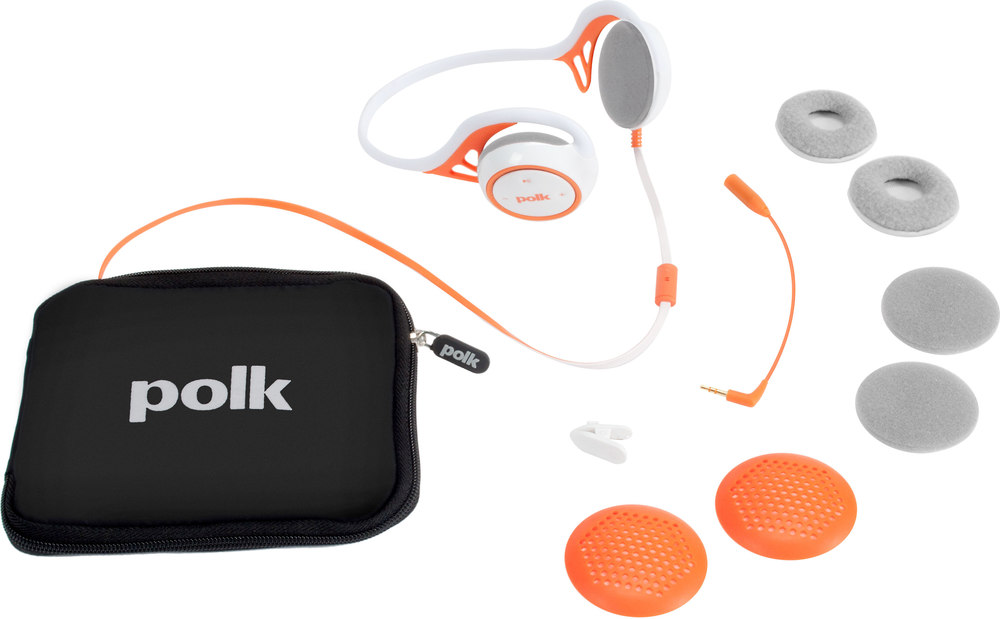 The headphones come with a variety of earpads.
In fact, that's their function — to help keep your ears warm on those cold November mornings. I've tried regular earmuffs, and because they completely cover the ears they dampen external sound too much (especially over earbuds). But the Polk earmuff earpads worked beautifully. They kept my ears fairly warm, and let enough ambient sound in to keep me safe.
Tangle-free cord — really
Polk claims that the headphone cord is tangle-free. I didn't mean to test that assertion, but over a two-week period of jamming the 'phones into gym bags, backpacks, coat pockets and even the provided travel pouch I found it to be true. I never had to unsnarl the cable. After dealing with headphones that present me with a Gordian knot on a regular basis, this was a welcome improvement.
Great sound for sport use
From a practical level, the Polk Ultrafit headphones were a joy to use. And they sounded good, too. As always, I auditioned a wide variety of music. Although they did a good job reproducing a lot of the detail in the music of my lossless digital files, they also colored the sound somewhat.
To my ears, the headphones had a little bit of an edge to them in the high end. Not unpleasant, but still there. Bass was nice and firm it sometimes seemed a little much for acoustic music, but right in the pocket for rap, soul, electronic and rock. And let's be realistic — I'm not going to be listening to Mozart string quartets or singer/songwriters strumming guitars when I'm out running. I want heart-thumping music with a strong beat that will help me keep my pace and energy level up. And for that kind of music, headphones' coloration actually enhanced the sound.
Run with it
Using the Polk Audio UltraFit 2000 sport headphones on my runs, I could listen to my music with both ears, and still hear approaching cars in time to take action. And with the headphones' sporty swept-back design and two-tone color scheme, I didn't look so odd, anymore.
Well, except for my running technique. But a great set of 'phones can't fix everything.