Prism Coffeehouse PA system setup
Installation of a PreSonus StudioLive 16.4.2AI mixer
In the 1950's, I'd take the family television's vacuum tubes down to Willow Grove Radio and TV Repair, check them with the giant tester machine, buy new replacement tubes, and reassemble the repaired television, so my mom and dad could enjoy their precious, respectively, Dean Martin and Red Skelton shows. In the 1960's, I studied radio and electronics at the Franklin Institute in Philadelphia. After college, in the early 70's, I joined a rock 'n roll band as the soundman, learning how to operate the electronics that make music sound good. Then, I worked in a music store in Austin manufacturing, installing, repairing, and operating sound systems and components for recording studios, nightclubs, and touring bands. I moved back to Charlottesville permanently in 1984 and opened a little demo recording studio. I also attempted to put to practical use the creative writing degree I had picked up along the way. In 2006, I finally came to my senses and got this job at Crutchfield where they actually pay me to ramble on, rant, and explain the things I love about music, electronics, and getting good sound.
More from Buck Pomerantz
For 40 years, the Prism Coffeehouse in Charlottesville, Virginia was one of the country's premier nonprofit venues for acoustic music. It closed in 2006, but is now working to reopen and put on shows at multiple locations, including The Haven, a former downtown church.
Crutchfield joined in the effort to bring back the Prism by donating some of the new sound equipment, including a PreSonus StudioLive 16.4.2AI mixer. This digital mixing console will handle the live "front of house" sound, providing up to six monitor mixes for the musicians on stage and enabling instant 16-track recording to a laptop.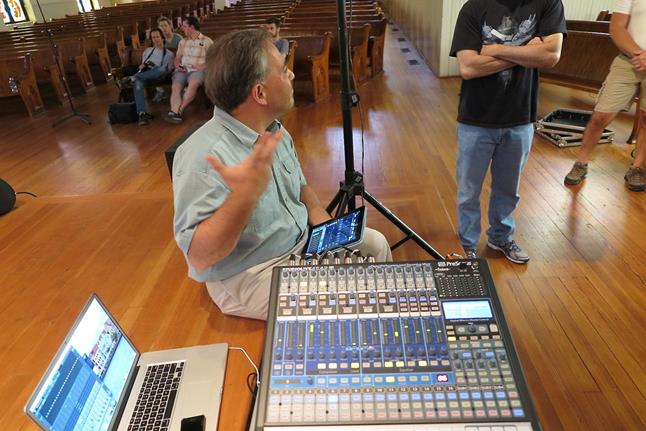 Tom from PreSonus explains the 16.4.2AI's capabilities
Recently, a group of Crutchfield pro audio advisors and writers met with Tom and Byron, a couple of experts from PreSonus, at the Haven to learn about the 16.4.2AI mixer and its vast capabilities for playing and recording music. We set the system up for a simple 3-piece band — drums, guitar, bass, and vocal — and put it to work.
PA setup
For producing live sound, the PreSonus 16.4.2AI hooks up like an analog mixer: microphones connect to the inputs; outputs feed the amplifiers that drive the PA speakers and stage monitors. We used 8 channels for the 3-piece band: 5 microphones for the drums – kick, snare, high hat, floor tom, and overhead – and one each for the guitar and singer. The bass guitar connected to the mixer directly from its amp via a balanced mic cable.
The mixer's main outputs ran to the main PA speaker amplifier's left and right channels, which powered the left and right PA speakers. The 16.4.2AI mixer also has a mono output, which we used for the PA's two powered subwoofers. We also provided our small band with two separate monitor mixes via the board's Aux 1 and Aux 2 outputs: one for the rhythm section (mostly kick and snare for the beat) and one for the singer (almost all vocal).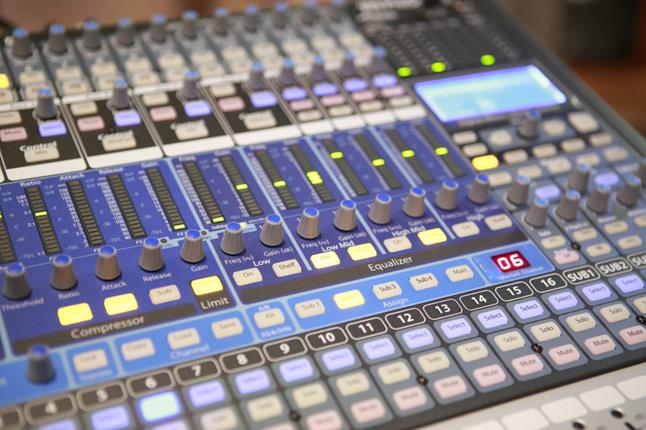 Fat Channel settings for channel 6
Fat Channel digital signal processing
Each of an analog mixer's input channels usually consists of a skinny strip of controls running vertically from the top of the mixer's face to the bottom. For their StudioLive digital mixers, PreSonus stretched one big "Fat Channel" strip horizontally across almost the entire width of the console, and packed it with LED meters, equalizers, and dynamic processors that can be applied to every input, auxiliary, and output channel. Selecting a channel gives you access to its Fat Channel settings.
In order to save space, some of the Fat Channel controls and LED meter arrays also function as input channel level meters, auxiliary mix level meters, and send controls. That's how we built the monitor mixes: we selected Aux 1 mix, and turned up the channels we wanted to go to that monitor. We did the same with the Aux 2 monitor mix.
Fat Channel digital signal processing includes a polarity inverter, high-pass filter, noise gate, dynamic compressor, hard limiter, and tunable 4-band equalization. It's very quick and easy to set up. You can store two Fat Channel settings for a channel so you can quickly change tone when, for instance, the guitar player switches instruments.
Doug, a soundman for the Prism said, "I like PreSonus' Fat Channel approach – select the input/output channel you want and most of the work surface gives direct access to all features available to that input. Once you have a sense of the physical layout, the tweaks and adjustments become pretty straightforward, almost analog-like."
Tom added, "The flow of the board is very similar in a lot of ways to analog just in the way we don't repeat things over and over, and we give you a lot more power. The whole idea of the layout is to be simple, intuitive, and easy, so you can get what you need with the press of one button."
Output processing and onboard effects
Each output channel has access to Fat Channel processing plus a 31-band graphic equalizer. There are also four effects generators on the board, so you can run two different reverbs and two different delays at the same time.
Mixer settings, "scenes" can be stored and recalled, for quickly applying successful mixes. Although the 16.4.2AI does not have automated faders, the recalled scene presents the settings on the Fat Channel meters, so you can easily return the faders to where they belong for that scene.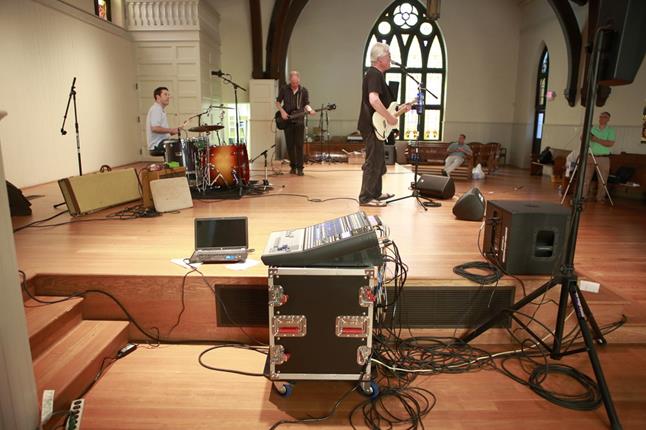 The mixer set up next to the band
This is how Tom explained the preset feature: "I'd love to have ten minutes on each source and dial in the settings, but sometimes I need to just get in the ballpark quick. We can recall presets for channels. So a lot of times when I'm dialing up a live mix, I'll go to the presets and I'll dial up the kick drum, for example. I select my channel, hit 'load' and the mixer menu changes to my channel preset memory. And the first preset is 'drum kick 1,' then 'drum kick 2,' 'funk 1' — these are just arbitrary names for the curves somebody else came up with — but you can usually play around with the different ones to get something that's close to what you want. This gets you up really fast. Once you're up and running, you can make your final tweak."
There are 50 preloaded presets for drums, guitars, horns, keyboards, and vocals, and 49 empty slots for your customized settings.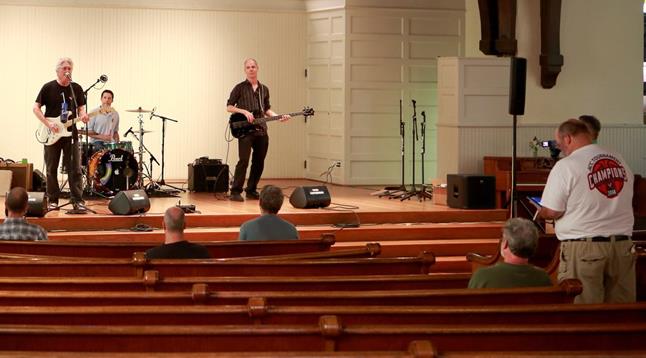 Advisor Artie (far right) mixes with an iPad
Active Integration connects the mixer to your other devices
Part of the Active Integration features of the 16.4.2AI is a wireless LAN adapter that comes with the mixer, plugs into the board's USB port, and communicates wirelessly via an outboard wireless router, creating its own WiFi network, so we could mix remotely with an iPad and an iPhone.
Although we set up the mixer next to the stage (a less-than ideal position), we were able to walk out into the room and mix the band with an iPad. We also adjusted the main EQ from there.
Another feature we played with was the iPhone app that lets you mix from an iPhone. We demonstrated the feature that lets the iPhone user control the entire mix or just the "Wheel of Me" that controls an individual monitor mix for the musician who only wants to hear more of themselves in their monitor.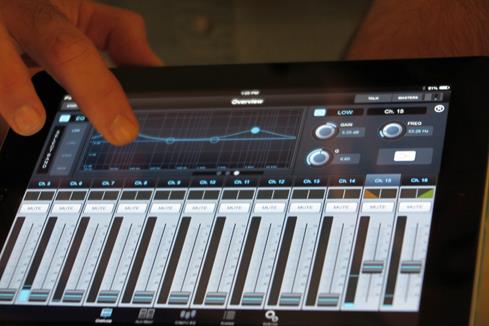 Adjusting EQ from an iPad
Getting the live sound right was fast and easy to set up, and a dream to operate, especially from the iPad.
Even though it's a digital mixer, the 16.4.2AI still has the familiar feel and action of an analog board. The Fat Channel is laid out in an intuitive manner, so it was quick and easy to apply the EQ and dynamic effects we wanted for each channel. We got the band sounding great — clear, distinct, and powerful — even in the echo-prone empty church auditorium.
Connecting to the computer
The 16.4.2AI features a FireWire S800 interface that connects to a compatible computer loaded with the PreSonus StudioLive AI software library that comes with the mixer. Other connection options for Thunderbolt, Dante, and AVB protocols will be available from PreSonus in the near future.
Capture™ multi-track recording and playback
After launching the software, it took two mouse clicks to start recording digitally. Capture can record all the input channels plus the left/right master outputs for up to 18-track recording for the 16.4.2AI. When we played it back, it sounded exactly like the band did live in the room.
One of the most amazing features, at least to me, is the fact that Capture records the original, raw, unprocessed sound of each channel separately from all the mixer settings (scenes) and processing that were applied. That way, you can either play back the channels as reproduced live, with all the filtering, compression, EQ, and effects included; or without them.
You can use this feature to perform a virtual soundcheck. You play a recording of your band from a previous night with the scene memory attached to the Capture session. Capture loads those settings to the mixer, so you can then tweak the EQ and dynamics for the new venue, without the band needing to be there at all.
Studio One Artist® digital audio workstation (DAW) software
Byron explained that, "Studio One was originally designed for musicians, singers, and song writers, meaning you didn't need to have a background in engineering to be able use and get the most out of it. With the automation, the instruments, and plug-ins, it's all drag and drop. If I want a particular plug-in on my snare drum, I just drag it from my browser and drop it on the snare drum track. If I can do something in one second that normally would take ten seconds, I'm not just saving nine seconds, I'm working ten times faster. You finish more songs, and the creative flow does not get interrupted."
He continued: "At PreSonus we like to say, 'from riff to release,' from the moment you have an idea, to the actual tracking, mixing, mastering, and ultimately digital release. From the idea all the way to the finished product, you never have to leave the DAW, and so you're not jumping in and out of programs. You stay more organized that way, and the program itself helps you stay organized because everything is connected."
Tom summarized, "Studio One is easy to use, sounds better than anything else I've heard, and you can take everything from concept to finished product, that's ready to upload directly to music sharing and selling platforms like SoundCloud™ or Nimbit®."
Other bundled software includes Smaart Measurement Technology™ audio analysis, for equalizing the sound for a venue's space, and Melodyne, which provides note-by-note improvement of timing, duration, pitch, and harmony for your recorded tracks.
My conclusions are that the StudioLive 16.4.2AI mixer works great, suits the needs for this small-band venue, and has room for future growth. For live sound, operators will have no problem getting it to sound the way they want. For recording and remixing, it may take some hands-on experience with the software to achieve professional-sounding recordings, but that shouldn't be a problem for all the people involved with the Prism and interested in recreating its vibrant music scene.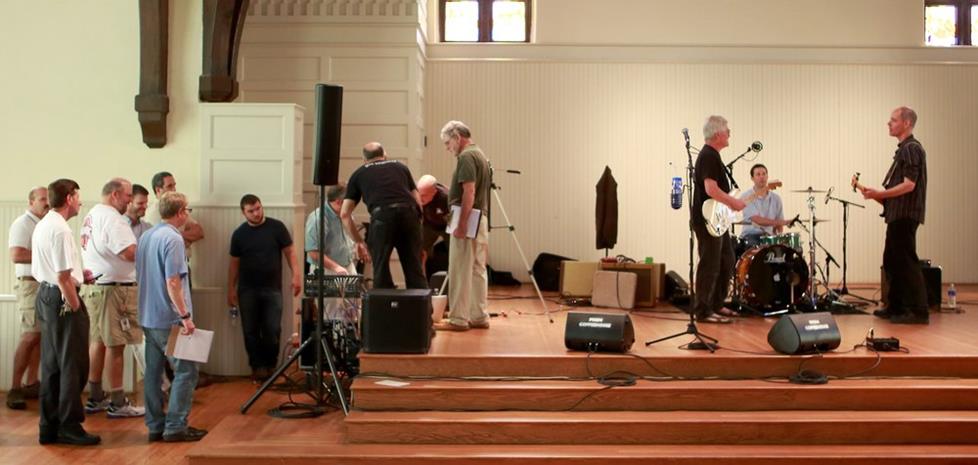 Crutchfield pro audio advisors and writers learn about the mixer from PreSonus while the band decides what to play next