Pro audio cable buying guide
How to choose the right cable for your pro audio gear
Ken Nail has written about car audio for Crutchfield since 2003, after four years as Crutchfield Sales Advisor, and 10 years as a music teacher. He's an avid music listener, whose favorites are classical and film music. When not chained to a desk, Ken spends most of his time training for triathlons and marathons, and likes getting outside for backpacking, downhill skiing, and bicycle touring. He attended West Virginia University, where he received a Master's Degree in Music Performance and a Bachelor's Degree in History.
More from Ken Nail
Let's face it – the best gear in the world won't get the job done without the right cables. They are the links that make your sound system work, by transferring signals between your different pieces of gear.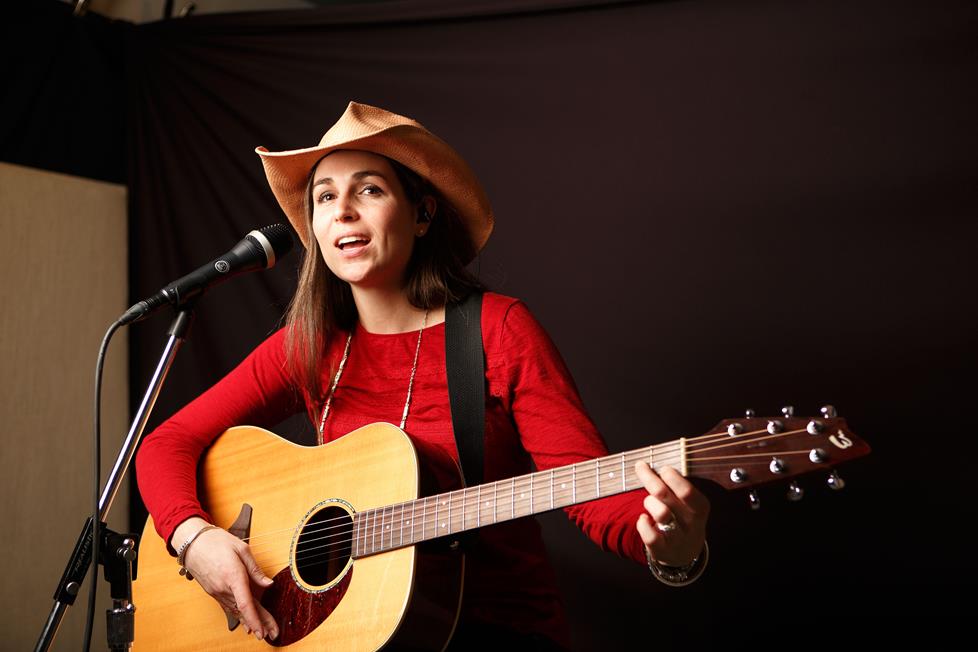 A typical PA system
If we examine a typical PA system, you'll see that there are a lot of connections necessary – connections between microphones and mixing boards, boards to monitors, amplifiers to speakers, and so on. Depending on the gear you're using and your setup, you'll probably need a variety of different cables of varying lengths to hook up your equipment.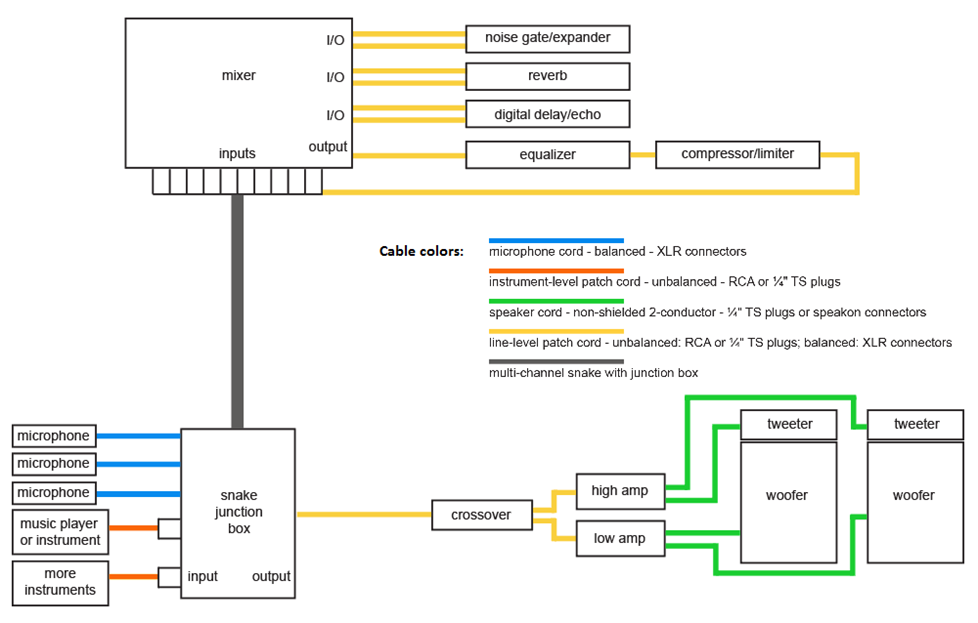 Many types of cables are needed to wire a sound system (click the image to enlarge)
Understanding the different cables and their applications
Pro audio cables do the same sorts of things that the cables in a home stereo system do, but there are some key distinctions between the types of cables used in home audio and those used for PA systems and recording studios.
First, and probably most obvious, are the types of connectors used – pro audio cables employ a variety of connectors that aren't usually found in home audio or other applications. They are unique to pro audio gear.
Second is the internal and external construction of the cables. The demands of long cable runs, the necessity of noise rejection, and the rough use often encountered demand different construction.
What's a "balanced" cable?
Many pro audio cables are "balanced" cables. Long cable runs, like those used in many PA setups, are susceptible to external noise from sources like electrical wiring or RF interference. This can introduce distortion and noise into the signal path. Typical home audio cables have two internal wires – a positive line and a ground. Balanced cable construction incorporates a third, negative line which works to cancel noise and provides a stronger signal. Balanced cables are the norm for almost all pro audio applications.
Types of connectors
A variety of different connectors are used in pro audio applications. Here's a quick look at the most common. Each different type of connector has a "male" and a "female" version. Remember that the male version of the connector will have a pin or pins that plug into holes on the female version of the connector.
It's not unusual for cables to have different types of connectors at each end, depending on the requirements of your gear. For example, a typical microphone cable has an XLR female connector on one end and either an XLR male or TRS male connector on the other. When buying cables, keep in mind which type of connectors your gear requires and purchase accordingly. Here's a quick look at the most common types of connectors you'll find.
XLR – XLR connectors are used in many pro audio applications. The most common variation has 3-pins and a lockable tab so it can't be accidentally unplugged. You'll find XLR cables used for microphones, mixing boards, amplifiers, and speakers – it's a very popular style of connector.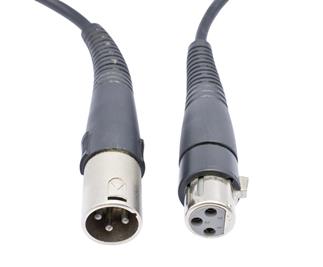 Male and female XLR connectors
TRS – Often referred to as a 1/4" stereo patch cord, TRS stands for "Tip, Ring, Sleeve," which describes the configuration of the pin. The pin has a pointed tip, the main sleeve of the pin, and a ring of metal in between the two, which is separated by two thin bands of insulating material.
TRS cables are balanced cables, and they're commonly found in many of the same applications as the XLR. While TRS cables don't have to be a specific size, the 1/4" standard is most common for pro audio applications. The ubiquitous 1/8", or "minjack" cable is another type of TRS cable, most often used to connect audio components to computers, digital recorders, or portable audio devices.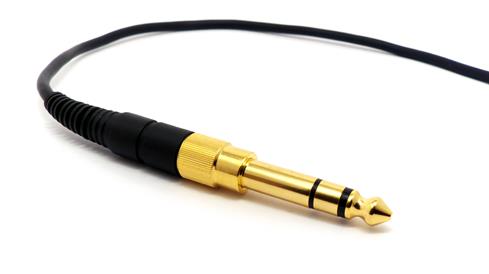 A TRS connector showing the tip, inner metal ring, and the long sleeve
TS – Also known as a 1/4" mono patch cord. This is an unbalanced version of the TRS cable. It's usually used for connecting instruments to amplifiers. Think of the cable connecting an electric guitar to an amp and you're thinking about a TS cable. The name describes that there's a metal tip, a single insulating band, and then the sleeve of the connector. No metal ring in between like on the TRS connector.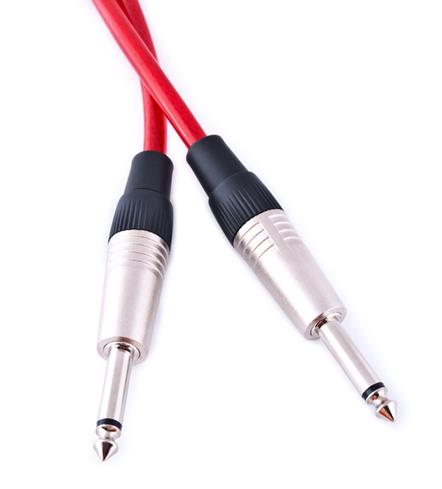 A pair of TS connectors
NL4 – The NL4 connection is a generic description for Speakon® connectors — a type of cable connection developed by Neutrik. Technically there are a couple of different types of Speakon connectors — the NL4 variant is the most common, and is what most people refer to when they're talking about Speakon connectors. Speakon connectors are used primarily for speaker cables — their twist and lock mechanism ensures a tight connection that can't be accidentally unplugged.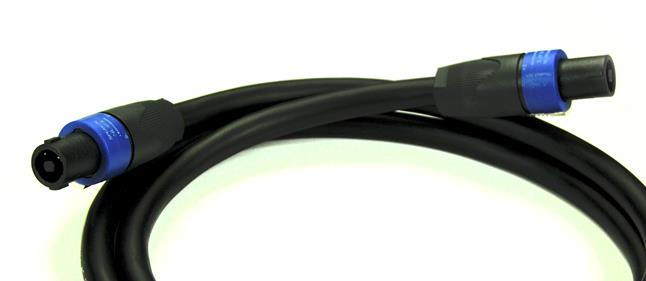 Speaker cable with NL4 Speakon connectors
Banana – The connectors listed above are the most commonly used cable connectors for pro audio. Although banana connectors are more common in home audio applications, you'll sometimes encounter them on cables that connect amplifiers to speakers.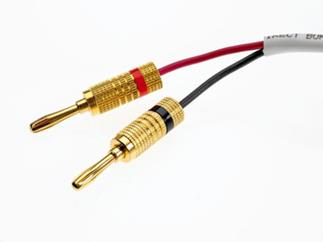 Banana connectors are sometimes used in pro audio cabling
Snakes – If you need to run a number of cables from multiple inputs to a single location – for example from multiple microphones to a mixing board – a snake may be a good investment. A snake is simply a pre-assembled bundle of cables that eliminates the need to run multiple cables.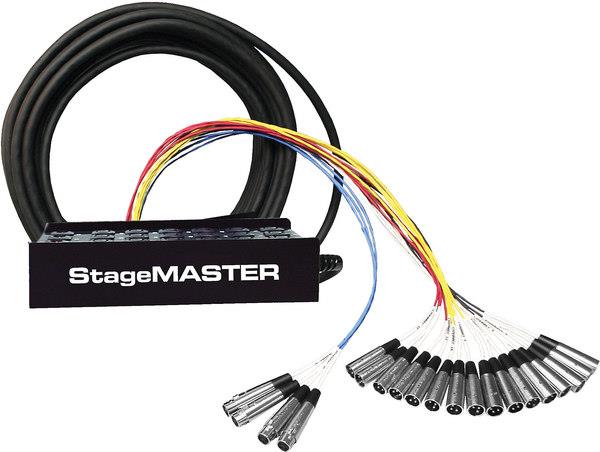 A snake combines multiple cables into a single bundle, linking the performance space to the mixing board
Cable adapters and Y-cords – Cable adapters provide simple solutions to cabling problems, and let you adapt different types of cables to different inputs, or patch together dissimilar cables when needed. Y-adapters can be used to combine or split different channels of audio signals.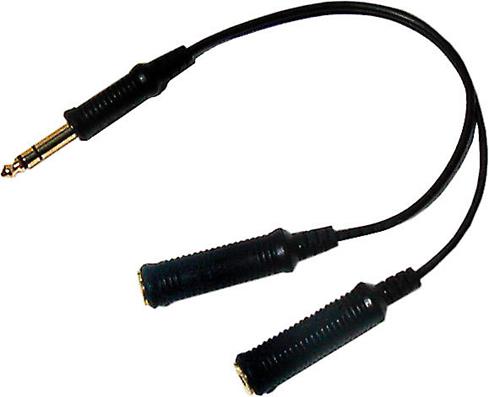 Y-adapters can be used in a variety of situations
What to look for when you buy
Connectors: It may seem obvious, but the first thing to look for when buying a cable is getting the right connector. Check the gear you're buying or already have and note the types of connectors used on the pieces of equipment you're connecting. It's not unusual to need cables with different connectors on each end – so note what you need for each piece of gear you're hooking up.
Length: Another obvious but important point. Consider the needs of your studio or your band's setup and be sure to get cables that are long enough to get from point A to point B. Remember, although the shortest distance between two points is a straight line, take into account how you'll need to route your cables to connect your gear in the real world.
Construction: Ask a professional musician about cables and they'll probably tell you that cheap cables are a false economy, since they often require replacement. Consider your usage requirements – if you'll be setting up and tearing down your equipment regularly, spend the extra money on cables designed to take a beating.
If you have any questions about cables or want help choosing the right cables for your gear, contact our advisors via phone, chat, or email. They'll help you get exactly the cables you need.