Raising the Bar on TV Sound
During his tenure as a Crutchfield staff writer, Marshall Chase wrote about home theater receivers, sound bars, and in-wall and in-ceiling speakers.
More from Marshall Chase
Heads up!
Welcome to this article from the Crutchfield archives. Have fun reading it, but be aware that the information may be outdated and links may be broken.
Television technology has made a giant leap in video quality, but audio seems almost an afterthought. When Crutchfield began in 1974, TVs with 6" speakers were not uncommon. Today, a 50" high-definition screen comes with a couple of speakers no bigger than a pack of gum. Sit an average of 8-10 feet away and the resulting performance gap between picture and sound is all too noticeable.
It's not you — it's the crummy TV speakers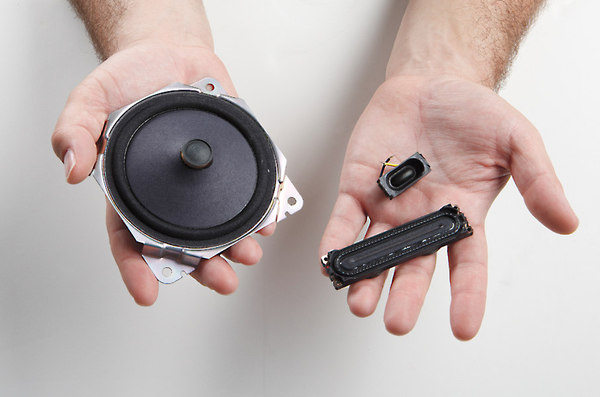 Comparison of speakers from a tube TV (left) and a flat-panel widescreen TV (right). As TVs have gotten bigger, their speakers have gotten smaller.
Flat-panel TV speakers are made to fit inside a wafer-thin bezel. But their dinky size can only give you feeble results. Raising the volume to try and hear speech over a music track or rumbling action scene is a frustrating exercise. HDTV speakers are easily overwhelmed by richly detailed digital movie and TV show soundtracks. You can't change the laws of physics. But you can change your speakers.
Hear, hear!
Crisp dialogue, and lavish, room-filling sound that finally does justice to your HDTV's picture — that's what you get when you upgrade your TV audio. The three system examples below offer great sound options for any room or budget, large or small. Whether you prefer a single component or several, something here will satisfy. Whatever route you choose, one thing's for certain — in the end you'll wonder how you ever got along before.
Powered sound bar
When simplicity is key or space is at a premium, the powered sound bar is a great option. These slender speakers have a full complement of drivers with much more power and clarity than built-in TV speakers. Some models have a separate subwoofer for fuller, deeper bass. Some even serve as a platform for your TV. Powered sound bars offer a perfect enhancement for listening in the bedroom, study, or den.
Passive sound bar
Kick it up a notch with a passive sound bar. Just connect it to a home theater receiver and you'll enjoy better sound and flexibility while your system remains sleek and stylish. Just add a powered sub for full-range sound.
Component systems
An amazing home theater system doesn't have to take up a lot of space. In fact, it can have a beautiful balance of aesthetics and acoustics. Consider creating a 3.1-channel system. This is an excellent way to get great sound in your home without running wire to rear speakers. High-quality on-wall speakers are the perfect way to deliver the critical left, right and center channels without overwhelming your décor. If you want to add rear channels later on, they make unobtrusive surround speakers as well. Add a subwoofer and you'll have deep bass to build the sonic foundation of movies and music alike.