C-ville to Philly with the Magellan RoadMate 5265T-LMB
Dominic J. DeVito has been a member of the Crutchfield A/V writing squad since 2006. He was born and raised in Staunton, Virginia, and attended the University of Notre Dame, where he earned a degree in chemical engineering. During that time he developed a passionate obsession for experiencing music, both live and recorded, which he parlayed into a 15-year stint in record retail (much to the chagrin of his very patient parents) and a long-running tenure as a rock DJ at WTJU. His expositions can be found in back issues of Plan 9's 9X Magazine as well as Schools That Rock: The Rolling Stone College Guide. He's been to more concerts than he can remember.
More from Dominic DeVito
Heads up!
Welcome to this article from the Crutchfield archives. Have fun reading it, but be aware that the information may be outdated and links may be broken.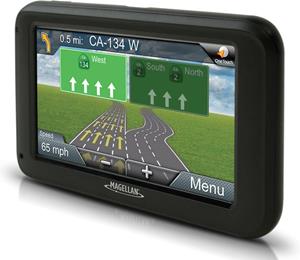 The Magellan RoadMate 5265T-LMB portable navigator
The RoadMate 5265T-LMB has a lot of great features that you'll find on comparable navigators (text-to-speech, Bluetooth, lifetime map and traffic updates, a nice 5" display), but the main two I found compelling during a recent road trip out of state were the Landmark Guidance and PhantomALERT traffic camera warnings.
Landmark Guidance
The Landmark Guidance feature can be turned on or off, but the default setting is "on". With it, the 5265T-LMB offers spoken directions that include the building where the next maneuver is supposed to be performed.
For instance, when a turn was supposed to be made at a gas station, the navigator said "At the Sunoco, turn right onto 2nd Avenue." Normally, it would only say to turn right onto 2nd, but this way, I was spending less time looking for a hard-to-see street sign and was able to easily see the gas station where the turn was supposed to
be made. This was more than just a neat extra; it was a real enhancement over other navigators I've used in the past.
The one issue I could see with this is if the businesses that it identifies (gas stations, fast food restaurants, shops) change, there may be some confusion without a recent map update. This would be especially true at areas with multiple gas stations on the same intersection. But this navigator offers up to four free map updates a year, so it doesn't seem like a major concern at this point.
| | |
| --- | --- |
| Searching for accommodations | The POI menu |
PhantomALERT
The PhantomALERT traffic camera warnings also came in handy when driving through a few urban areas. I didn't come across any fixed radar camera alerts, but I did get a number of red-light camera announcements. I don't make it a habit to run red lights, but it's nice to know in advance where they are just to lessen the potential temptation. The warnings could have been delivered a hair earlier in some instances, but overall it was quite helpful.
There are apps out there for your smartphone that can do the same thing, but most of them cost some money either up front or with a subscription. As far as I know, the red light and speed (radar) camera warnings for the 5265T-LMB are free for life, and there are extra warnings (speed traps, high-accident areas) that are available for some sort of added fee through Magellan's website.
Overall the RoadMate 5265T-LMB performed quite admirably, although it was not able to route me on a toll-free route that would have been considered anywhere near quick between Charlottesville and Philadelphia (because there isn't one). Also, a couple of the speed limits the navigator showed on its display were different than the actual posted speed limits for a few miles on some stretches, but that's probably another issue that can be remedied with a map update.