Review: Rockford Fosgate C.L.E.A.N. amplifier gain-setting system
Properly setting an amplifier's gain level in seconds
Buck Pomerantz was born and raised in Philadelphia. His parents bought their first television set when he was born. He figured out how to run it by the time he was two. Besides athletics, his formative interests included electronics, amateur radio, music, and stage crew work. He got his BA in writing from Brown University. Then he joined a rock 'n roll band as their soundman and moved to Charlottesville, Virginia. After that venture failed, he spent time in Boston, New Orleans, and Berkeley. He worked in a music store in Austin manufacturing, installing, repairing, and operating sound systems for recording studios, clubs, and bands. He moved back to Charlottesville, ran a little recording studio and finally joined Crutchfield as a copywriter. He has 2 grown children and 3 grandchildren, but after a good nap he can still rock out.
More from Buck Pomerantz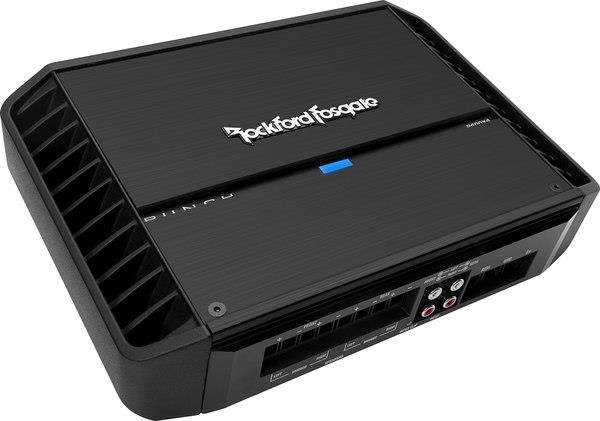 Rockford Fosgate Punch P400X4
Setting the gain of a car amplifier properly is very important to ensuring your music will sound as distortion-free and powerful as possible. For many, setting an amp's gain can be technically difficult and often incomprehensible. Rockford Fosgate has come up with a method that allows you to set the gain of their new Punch amplifiers quickly and accurately. With their C.L.E.A.N. ("Calibrated Level Eliminates Audible Noise") system, it's as easy as playing an audio track and adjusting a couple of volume knobs.
Testing a Punch P400X4
Rockford Fosgate rates the P400X4 4-channel amp at 50 watts RMS per channel at 4 ohms and 100 watts per channel at 2 ohms. My first impression of this amp, when I got it out of its box, was that it's very small and very heavy for its size. The chassis is one solid aluminum heatsink. The connections are beefy — I could really crank down on the screws holding the power and speaker wires. This is important for an amp because loose connections often cause problems in car audio.
Out of the box
The amplifier comes with a small bag of mounting screws and an Allen wrench tool, along with a certificate of performance, an illustrated quick-start guide sheet, and a CD loaded with 27 audio test tracks and the complete owner's guide as a PDF file (multiple languages). One side of the illustrated guide shows how to hook up the amp and the other shows how to set the gain. The certificate indicated that the amp I was working with had put out an average of 142 watts per channel at 2 ohms when tested at the factory — that's about 40% higher than the rated specifications, so a customer's experience will most likely exceed their expectation.
Setting up
A small problem I encountered was that the hex-head Allen wrench tool that came with the amp didn't fit the panel screws, preventing me from opening the panel to make the setup adjustments. A few seconds with an emery board fixed it, taking off the little burr of metal at the tip of the tool. All the connections are on one side of the amp, which simplifies the wiring and makes installations easier to keep neat. It was a bit disconcerting that I had to reach my hand just over the power wires to make the gain and other adjustments, but I was confident that the wires were tightly in their place and posed no threat of shock to me.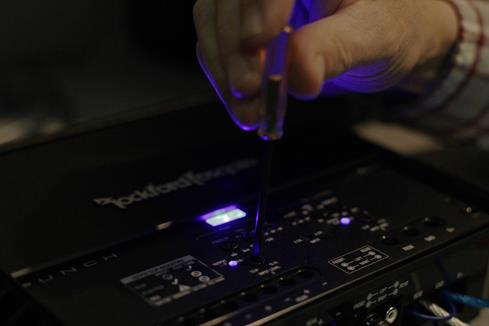 I turned up the gain until the light turned blue
Setting the gain
It took me less time to do it than it will to tell about it. The illustrated guide shows 10 steps, but it was simpler to follow than even that. With the receiver's tone controls set flat, I played Track 7, a 0 dB 1000 Hertz sine wave. I turned up the receiver's volume to full, and checked the input clip light on the P400X4. The CD player I used did not clip, even at full volume. If it had, I would have had to turn the receiver's volume down until the clip light went out. So far so good. I turned up the gain adjustment for the front channels until the output clip light turned blue, overshot to red, then back down to blue. I repeated that for the rear channels. I was done in well less than 60 seconds, the play-time of the test track.
For non-CD media receivers
Rockford Fosgate's setup test tones are also available as MP3 downloads from Amazon On Demand, Rhapsody, Google Play, and Spotify, labeled "3sixty.3 setup disc." (Punch amps and the 3sixty.3 use the same test tone tracks for setup.) Another way to utilize the C.L.E.A.N. setup system would be to, first, copy the tracks you wish to use into a computer, and then copy them to a thumb drive, so you could play them from your media receiver. For the most accurate and consistent results, be sure to download, rip, and copy your test tones at the highest possible resolution or fidelity.
Checking up on it
The lights on the amp indicated that it was set up correctly — but was it? I next connected an oscilloscope and a volt meter to the amp's output and repeated the setup procedures while keeping an eye on the waveform and RMS voltage. Sure enough, the 1000 Hz signal never clipped when the receiver was maxed, but just started to flatten at the top when the blue light came on, and was obviously clipped when the light turned red. Easing it back to blue, I read that the amp was putting out 19.5 volts RMS. That translated to 190 watts at 2 ohms, almost 50 watts more than the certificate specified.
The amp seemed to do better because no speaker was connected
I measured the amplifier working without a load, which would have lowered that reading to the expected 16.9 VRMS, which is 142 watts at 2 ohms. The load, in this case, would have been a speaker, and even a 50-watt 1000 Hz sine wave through a speaker is extremely loud, annoying, and dangerous to hearing, so I didn't use one. The clip lights accurately indicated what was going on with the signal, so I'll believe Rockford Fosgate's certificate of performance.
Conclusion: It works as advertised
If you follow the simple directions, you can properly set the gain of one of these Punch amps with the C.L.E.A.N. system in seconds. This guarantees that the maximum clean signal coming out of your receiver will result in the cleanest and most powerful output from this Rockford Fosgate amplifier. Sounds good too, and works for me.
This video from Rockford Fosgate shows how quick and easy gain-setting is with their C.L.E.A.N. system:
In this video, he shows how the optional remote clip indicator can help you monitor the signal from the front seat:
Try it for yourself
Rockford Fosgate makes a few models of Punch amplifiers, all of which feature the C.L.E.A.N. gain-setting system:
P300X1 mono subwoofer amplifier, 300 watts RMS x 1 at 2 ohms
P500X1bd mono subwoofer amplifier, 500 watts RMS x 1 at 1 ohms
P1000X1bd mono subwoofer amplifier, 1,000 watts RMS x 1 at 1 ohms
P300X2 2-channel car amplifier, 100 watts RMS x 2
P500X2 2-channel car amplifier, 150 watts RMS x 2
P1000X2 2-channel car amplifier, 300 watts RMS x 2
P400X4 4-channel car amplifier, 50 watts RMS x 4
P600X4 4-channel car amplifier, 75 watts RMS x 4
P1000X5 5-channel car amplifier, 75 watts RMS x 4 plus 500 watts RMS x 1 at 1 ohm