Rugged cameras for kids on vacation
Getting more memories per family vacation mile
Former Crutchfield staff writer Woody Sherman spent years working as an editor and manager in the video industry at the national level.
More from Woody Sherman
Heads up!
Welcome to this article from the Crutchfield archives. Have fun reading it, but be aware that the information may be outdated and links may be broken.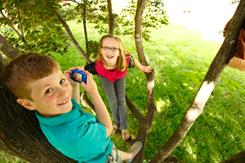 Rugged cameras can handle the occasional drop or ding.
Want a new way to get everyone in the family in the shots from your vacation — and get the benefits of an entirely different point of view in the bargain? Consider adding a "tough" camera to your family's vacation inventory and find out just how many memories you might have been missing.
Tough cameras to the rescue
There's a class of cameras tough enough to handle young, acrobatic lifestyles. They make it easy for a kid to capture moments you might miss. And some of those moments may surprise you.
From the angles at which young people experience the world, to the thing they find important, you'll probably see some shots you wouldn't have seen otherwise. And the best payoff is, years from now, when they see that shot again, they'll say, "I remember that!" And they'll experience it with all the resonance of a childhood memory. Adding one of these cameras to your family's digital imaging mix might pay serious benefits.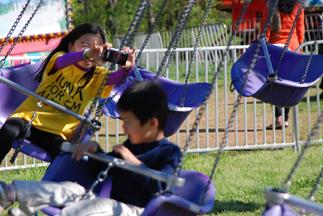 These rugged cameras are perfect for your kid's action-filled lifestyle.
We choose some favorites
So, with an eye toward exploring this idea, Julie, our brand manager here at Crutchfield, and Jude, our camera merchandiser, got together. They selected a few rugged cameras for Julie's kids to try out for an extended period.
They chose the Olympus TG-2 iHS and the Nikon Coolpix AW110.
From sledding to poolside
The cameras arrived for evaluation on the day of our last significant snowfall here in Virginia and the kids wasted no time putting them to the test. Julie sums up the benefits nicely:
"My eight-year-old tobogganed down hills fearlessly and tumbled off into the snow on occasion. There were snow angels -- there was self-video of the downward toboggan ride.
Not five days later, the cameras and their underage users found themselves in Orlando, a.k.a. Theme Park Heaven.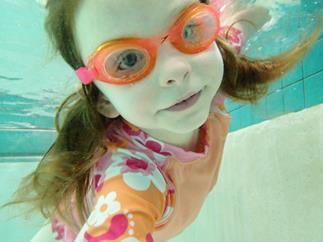 The Olympus TG-2 iHS captured this close-up.
They grabbed the cameras and snapped underwater pics in the pool -- threw the cameras in the water and then dove for them after they tumbled to the bottom -- took hot tub pics in water so steamy it was hard to stay in -- snapped kid pics over dinner with greasy nacho fingers. And then it was time for the big guns.
Over the next couple days, they were given free use of the cameras as they rode rattling roller coasters with violent hairpin turns, as they thundered down the final death-defying slide of log flumes, while spinning in teacups, while eyeball to eyeball with sharks in aquariums, while on a safari, and -- possibly worst of all? -- while eating melting ice cream.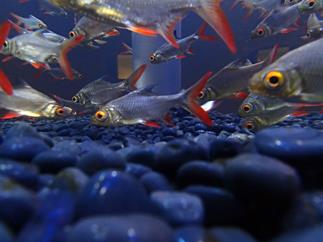 You might not have thought to shoot the aquarium from this angle.
Admittedly, I can't say the cameras didn't emerge with signs of wear -- they did. But the thing is that a regular camera with signs of that kind of abuse would probably already be a goner. These cameras? Still clicking away.
So we're pretty impressed. And while we have forty pictures of other people's feet, we also have a handful of awesome shots no adult would ever have taken."
So with one simple addition to your child's suitcase, you could have dozens of memories you might have otherwise missed along the way. Check out Julie's review of the Olympus TG-2.