Sennheiser MM 100 and MM 400 Bluetooth® headsets
A family review of a headphone family
During his tenure as a Crutchfield staff writer, Marshall Chase wrote about home theater receivers, sound bars, and in-wall and in-ceiling speakers.
More from Marshall Chase
Heads up!
Welcome to this article from the Crutchfield archives. Have fun reading it, but be aware that the information may be outdated and links may be broken.
The last time I reviewed a set of Bluetooth® headphones, my daughter, Clara Lou, adored them. That's why for this review she and I were given two different Sennheiser headphones to try out; the Sennheiser MM 100 and the MM 400 Bluetooth wireless headsets.
Many such headsets are dual purpose. First, you can use them for listening to music on a device that has Bluetooth capability. Second, a growing number of these headsets have cell phone pairing capabilities. With so much utility, high demand is easily explained.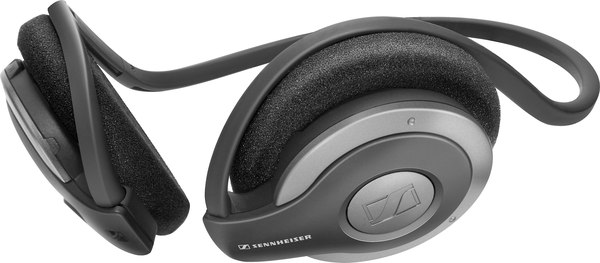 Sennheiser MM 100 Bluetooth wireless headset
Using your child for research
Clara Lou, a young teen, tested the MM 100's. I'll let her speak for herself:
My dad's used me as a guinea pig in his reviews before. I tried the Sennheiser MM 100's in a very loud place — the school bus. This thing is awesome! I could hear the music on my iPod touch® perfectly, nearly blocking out the more annoying people around me when I turned them up loud enough.
This headset is very comfortable. It's light and the band is kind of thin and fit just behind my head. I was able to link it easily to my iPod®. The sound quality was great. I listened to "The Lazy Song" by Bruno Mars, which is a perfect song for going to school, or I suppose, to work. The bass stood out just right with the guitar, keyboards and other singers (and whistlers) coming through clearly.
The MM 100's were great to use around the house, too. I left my iPod in the bedroom while I listened all over the house to Beyonce sing "At Last." The great thing about Bluetooth is that I can grab a snack and just sit outside while I leave my iPod right where I can find it later. I could even use the MM 100's to easily change the volume or skip any tunes I wasn't in the mood for.
I didn't know that you could use Bluetooth headsets for talking on the phone! Wow! I needed a little help getting my phone to synch up with the headset because I'd never done it before.
Once my dad showed me how, it was as easy as connecting them to the iPod. I started calling people on my contact list on my phone and used the headset to talk. It worked great and even let me just leave the phone in the house while I went outside to talk.
I highly recommend the Sennheiser MM 100 headset. It's awesome for moms and dads, (but not the dog. I tried it. the headset doesn't fit.)
She kept it charged
Clara Lou tested the headset for ne arly two weeks at the end of the school year. Even though she used it frequently, the battery rarely ran down. The MM 100's come with a multi-national power adapter and USB cable for charging.
I thought it was amazing that she remembered to plug the headset in each night at bed time so they would be fully charged for the next day. More than anything else, it provided clear evidence that she really liked the MM 100's.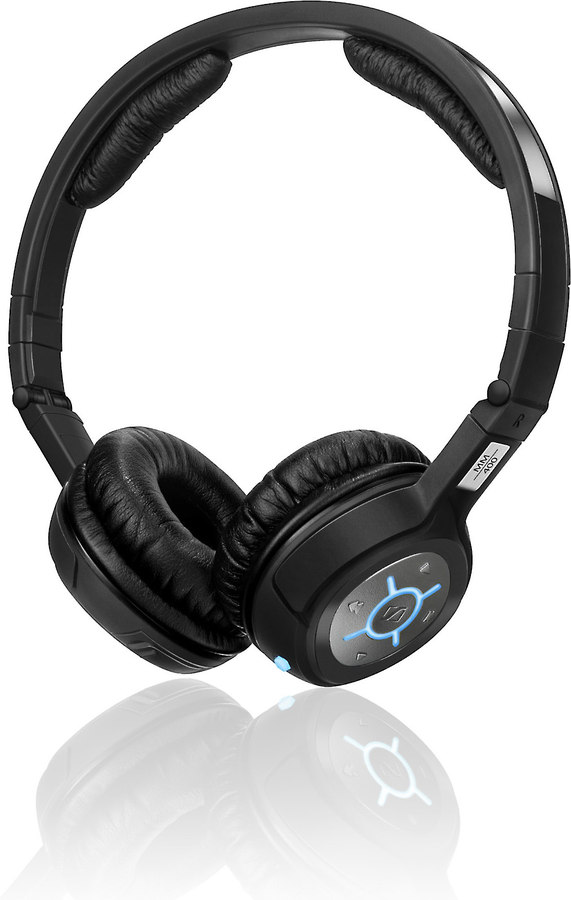 Sennheiser MM 400 Bluetooth wireless headset
Papa's perspective
I reviewed the Sennheiser MM 400 headset. Like the MM 100's, the headset has a comfortable on-ear design. It rests on top of the head, rather than behind. Though heavier than the MM 100's, I found the MM 400's light enough to wear for extended periods without any ear fatigue.
Both headsets offer similar control of Bluetooth telephones as well as synching capability with compatible music players. My daughter and I have identical cell phones (family plan) and she let me borrow her iPod touch though with polite encouragement to get my own someday.
I wanted to give the MM 400 a bit of a run since they offer an extended frequency range and upgraded clarity with Sennheiser Duofol™ drivers. I followed my daughter's lead with "At Last," only I chose Etta James' version.
The string introduction came through with good separation between the high violins, warm cello and the deep, pluck of the stand-up bass. The rhythmic but soft piano chords in the background sat right where they belonged, allowing the Etta's soulful vocal to penetrate.
The open-ear design of the MM400s gave the performance an airy, open feel, though I have to admit that the swish of the laundry in the background made it through, causing me to bump the volume up a couple of notches.
Considering my daughter's first selection of "The Lazy Song" made me think about Pink Floyd, and "Another Brick in the Wall, Pt. 2." I was looking mainly to see if Roger Water's bass would punch through as hard as his lyrics and I wasn't disappointed. I also wanted to hear what low-distortion drivers would do with guitar licks that were meant to be a bit distorted. I was met happily with good, clear, buzzing notes, with no added distortion from the MM 400's.
The MM 400's calling
Musically satisfied, I took the MM 400's through the paces on my LG cell phone. Like my daughter, I found synching up to be quite simple. I used the phone to dial out and had good voice clarity.
I find that Bluetooth headsets don't do much towards improving the voice quality of the party you're speaking with, and that seemed to be the case here, too. But I think that's mainly a cellular phone problem. What is nice is to hear the other person in both ears.
Consensus? Wow!
Both my daughter and I found our Sennheiser headphones comfortable, easy to use, and with sound quality we appreciated.
Clara Lou liked how small the MM 100's could be folded up and fit in a backpack pocket. I thought it was interesting that she didn't want to try the MM 400's. Perhaps she thought the bigger headphones would stand out too much for a middle school bus ride.
The MM 400's come with a soft carrying case as well as a headphone plug you can use on an airline flight or when you use a player that doesn't have Bluetooth. I did use the MM 400's with that cable when I connected the headset to a different, non-Bluetooth player.
My daughter and I agreed that the Sennheiser MM 100 and MM 400 headsets we tested would be sorely missed when we returned them after our review.