Sennheiser Momentum headphones
Classic looks and balanced sound
David Brown is a member of Crutchfield's Home A/V writing team. He studied writing and politics at Ithaca College in upstate New York, where he grew up. He spent 12 years in Washington, D.C., where he earned a Masters degree in journalism and wrote an award-winning humor column. David relocated to Charlottesville, VA, in 2012. He enjoys listening to music, playing the guitar and piano, and hiking with his wife and children.
More from David Brown
Heads up!
Welcome to this article from the Crutchfield archives. Have fun reading it, but be aware that the information may be outdated and links may be broken.
With so many new fashion-forward headphones hitting the market, there was bound to be a retro-inspired response. Enter the Sennheiser Momentum. Eschewing bright colors for brown leather, these small around-the-ear headphones make their own fashion statement. With their classic looks and focus on portability, the Momentums are both a throwback and a step forward.
Matching leather jacket not included
Sennheiser chose premium materials for the Momentum, including super-soft earpads made of real leather, as well as a leather headband — rugged on the top, cushioned on the bottom where it rests against your head. The earcup sliders are stainless steel and securely cradle the brown earcups. If you own a bomber jacket and happen to be looking for matching headphones, look no further.
The Momentum comes with a hard-shell travel case (more brown) as well as a 1/4-inch plug adapter and two very thin cables concealed in a clever hideaway. The cables, one of which includes a 3-button in-line remote designed for Apple devices, connect to the left earcup and twist to lock into place. The volume and multi-function buttons on the remote are large, though difficult to distinguish by touch. But the cable's miniplug includes a nice feature: it pivots for a straight or right-angle connection into your mobile device.
Mostly around-the-ear
At first glance, I wondered if the Momentums really were around-the-ear headphones as advertised. The answer is… it depends on the size of your ears. It seems that in an attempt to make circumaural headphones as small as possible, Sennheiser is walking a very narrow line. While I appreciate the small size, light weight and easy portability that comes with small earcups, I must admit, they don't fit perfectly around my ears. I have to do a fair amount of adjusting to get my ear all the way inside, and even then, it's a bit of a snug fit. Based on my informal message board research, this shouldn't be an issue for too many people.
Aside from getting my ears to fit just right, I found the Momentums to be rather comfortable. I tend to prefer larger around-the-ear headphones for their cushy comfort and spacious earcups. But what they lack is portability. I would gladly sacrifice a bit of comfort for an around-the-ear headphone that is less bulky and goofy looking than the giant pair of headphones I use at home, which look more suited for a helicopter pilot.
How do they sound?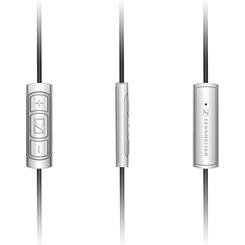 The Momentum's in-line remote and microphone let you control music playback, adjust volume and answer calls on your iPhone.
The Momentum's sound is quite forward, meaning it's the equivalent of sitting in the front row at a concert versus the center of the hall. When listening to "The Best Things in Life are Free" from Sam Cooke at the Copa, I felt as if I was front and center at the legendary New York club. The guitars are spread way out to the right and left, and Sam Cooke himself sounds as if he's standing right in front of me. I could even be sitting in on this gig.
Excellent tonal balance
The other dominant characteristic of the Momentum's sound is balance. Low, midrange and high frequencies are all properly tuned to give each instrument its due. On "Shame, Shame, Shame" from Buddy Guy's Slippin' In, both guitars come through clearly, while Buddy's solo doesn't obliterate the rest of the band. The drums are punchy but not overpowering, and the cymbals shimmer with just the right amount of sizzle. The low frequencies of the bass guitar and bass drum provide just enough impact, though some listeners could find the bass a bit overinflated. It's a beautifully balanced presentation that wonderfully illustrates the musicality of the recording.
Though I found the soundstage wide on the Momentum, it isn't terribly broad or deep compared to some larger closed headphones. While I was impressed by the detail of the acoustic guitar sound on "Chinese Translation" by M. Ward, the Momentums didn't quite afford this song the space it needs to breathe. It usually has a bit of an airy feel, but the Momentums made it feel slightly claustrophobic, compared to other headphones, which kept the song from sounding as grand as it typically does to me.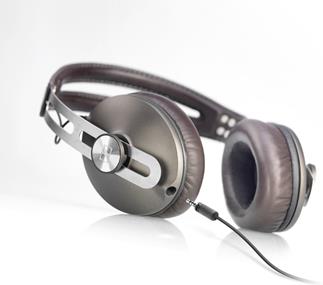 The Momentum features stainless steel earcup sliders, genuine leather earpads and two detachable cables.
But the detailed sound of the Momentums makes up for some of the spatial limitations. The forward tone brings some of those details to the surface, as on another M. Ward song, "Transfiguration #1". The guitar sounds are very accurate and alive, a pleasing trend I noticed with acoustic guitars on many other recordings. Some electric guitars, particularly ones with a certain amount of twang, are particularly dynamic as well.
For a harder rocking example, I sampled "Stuck Between Stations" by the Hold Steady. The Momentums kept the overdriven guitars in check so they don't obscure the vocals or piano. And the sizzle of the cymbals is not overly bright or harsh-sounding. Yet despite the feeling that the Momentums were somehow reining in certain instruments, the song didn't feel at all sterile, but full of life, as it should.
Perfect for jazz
I found myself gravitating toward a lot of jazz while auditioning the Momentums. Kind of Brown by Christian McBride and Inside Straight seemed an appropriate selection given the look of these headphones. On "Theme for Kareem," the balanced sound of the Momentum was perfect for enjoying the interplay of sax, vibes, piano and drums, in addition to McBride's active bass playing. No instrument dominates the proceedings, as each occupies just the right amount of space in the mix for a very involving performance that kept me listening deep into the album.
The bottom line
The Momentums produce clean, tight sound across the frequency spectrum for a wide range of music. What impressed me most was how well they performed with just about every song I threw at them. More expensive headphones offer incredible detail, yet they reveal the flaws in bad recordings or low bitrate digital files. Of course, lower-end headphones with limited clarity can make your music seem a bit flat. The Sennheiser Momentum seems to live in the sweet spot of making just about everything sound good. They have a remarkable consistency across a wide range of musical styles, eliciting musical details while maintaining excellent tonal balance. When you factor in their small size, cool looks and comfort, the Momentums are uniquely positioned as a well-balanced portable closed-back headphone, thus making them a true standout.