Sennheiser PX 360 Headphones
Great for travel, welcome at work
Ralph Graves is one of Crutchfield's blog editors, and part of the company's social media team. He writes about home audio/video gear, specializing in Apple-related and wireless technologies. Ralph holds a master's degree in music composition, and his works have been released on various labels. He's served as product manager for an independent classical and world music label, produced several recordings, and worked extensively in public broadcasting. Since 1984 he's hosted a weekly classical music program on WTJU, and is also active as a blogger and podcaster.
More from Ralph Graves
Heads up!
Welcome to this article from the Crutchfield archives. Have fun reading it, but be aware that the information may be outdated and links may be broken.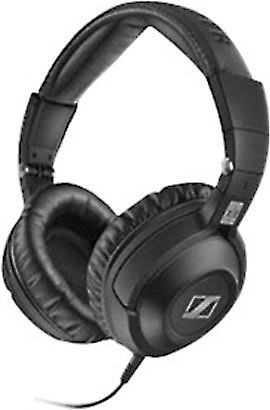 The Sennheiser PX 360 heapdhones
It's always fun for to try out high-end headphones for review. But the reality is that for me, as it is for many people, when I'm at work, I really just need a good basic set of headphones. Since my attention's usually focused on the task at hand, my listening is more passive than active (unless that task is auditioning headphones, of course). So sound reproduction doesn't have to be the non plus ultra — if I'm working, I'm going to miss the finer points of the music, anyway.
My first set for work cost me $10 (OK, technically $9.99 plus tax). They were adequate, but delivered really marginal sound. A better choice (had they been around at the time) would have been the Sennheiser PX 360 headphones.
After trying them out for a week or so, I can say that the PX 360's more than filled the bill. They're a simple set of headphones that deliver a nice sound — perfect for my average workday listening.
Function as form
The PX 360's have a simple, no-nonsense design. While light on cosmetics, everything present is there for a purpose. The earcups look sort of boxy, but the padding was quite comfortable, and they formed a seal around my ears that significantly muted the ambient noise generated by my coworkers.
The headband is lightweight, yet sturdy enough for regular wear and tear. It too was nicely padded, and I could comfortably wear the 360's continuously for most of the workday.
Good to go on the go
Most of the higher-end headphones I try really need a headphone amp. Sensitive drivers require the extra juice to operate efficiently and deliver the best possible sound. While the PX 360's sounded very good with a headphone amp, they also did well without one. And that's important, because for my rough-and-ready desktop setup, the fewer things I have connected together, the better. Just using the laptop's headphone jack was the simplicity I was after.
It also meant that my iPod also had more than enough oomph to drive the headphones. So the sound I was getting from my portable player was just as good as that I enjoyed from my laptop. The PX 360's small, efficient drivers received all the power they needed from either minijack connection. I was perfectly happy using these headphones for my mobile listening sessions.
Sound decisions
All in all, the PX 360's performed well. A lot of my high-resolution tracks seemed to have a softer focus than normal, especially in the extreme registers. But the sound wasn't distorted, and there wasn't any harshness to the music.
Most of my music is saved in a lossless format, but I always have some lower bitrate files on hand to test headphones with. Some of the test tracks are saved at 256kbps (the current standard for iTunes and other sites), and others at 128kbps (the former standard, and more highly compressed audio). I even have a few saved at 64kbps (bad for anything save spoken word content).
While the inherent audio quality of those 64kbps files was poor to begin with, the PX 360's certainly didn't make them sound any worse! Music I had saved at 128kbps and 256kbps sounded proportionally better. The higher resolution files had more sonic detail, and I could hear that different through the headphones.
The main point is that, regardless of the inherent sound quality, the PX 360's reproduced the music with reasonable accuracy, and never added anything to detract from the listening experience.
Welcome at work
All in all, the Sennheiser PX 360 headphones performed as I expected. They were light on my head, their earcups blocked out a fair amount of ambient noise, and my music came through with a good deal of presence (especially those lossless files). For a good, basic set of headphones for work or play, I have no problem recommending the Sennheiser PX 360's.