Ben H's 2003 Toyota Camry LE
Dominic J. DeVito has been a member of the Crutchfield A/V writing squad since 2006. He was born and raised in Staunton, Virginia, and attended the University of Notre Dame, where he earned a degree in chemical engineering. During that time he developed a passionate obsession for experiencing music, both live and recorded, which he parlayed into a 15-year stint in record retail (much to the chagrin of his very patient parents) and a long-running tenure as a rock DJ at WTJU. His expositions can be found in back issues of Plan 9's 9X Magazine as well as Schools That Rock: The Rolling Stone College Guide. He's been to more concerts than he can remember.
More from Dominic DeVito
The 2003 Toyota Camry LE sedan might be considered more useful for hitting soccer games than bringing the boom or turning heads on the sidewalk. That didn't stop Ben H. from Palm Harbor, FL, from turning his dark gray vehicle into a moving club night, complete with a hard-hitting sound system and a mind-expanding light display. "I wanted to get the most out of my car's sound capabilities," Ben tells us, and we're proud to have been part of the audio aspect of his new installation.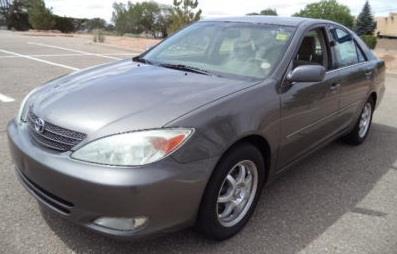 Ben's 2003 Toyota Camry LE might look a little plain on the outside, but he really turned the inside out with his new sound system and lighting.
Items installed:
Ben chose his new gear because it "fit my price range and quality expectations." He also added a PAC LC-2 gain knob to the Camry's factory stereo, plus blue LED bulbs for the dome lights, map lights, center console, and other interior locations.
Starting with the speakers
Ben tells us, "I first installed the Sony door speakers and rear deck speakers myself, following the directions that Crutchfield sent me with the products." He also ran into the most difficulty with this part of the installation, as he notes about installing the rear-deck speakers, "because my hands couldn't fit in the back to remove the brake light wire."
With a little help from his (professional) friends
Ben then went to a local electronics shop for help installing the sub, amp, and gain knob. The Boston Acoustics sub enclosure fits nicely against the rear of the backseat in the Camry's trunk. It fills the car with bass while still giving Ben a fair amount of storage space:
Here's a great idea: mounting the amp on the backside of the sub enclosure keeps it safe and sound and out of sight: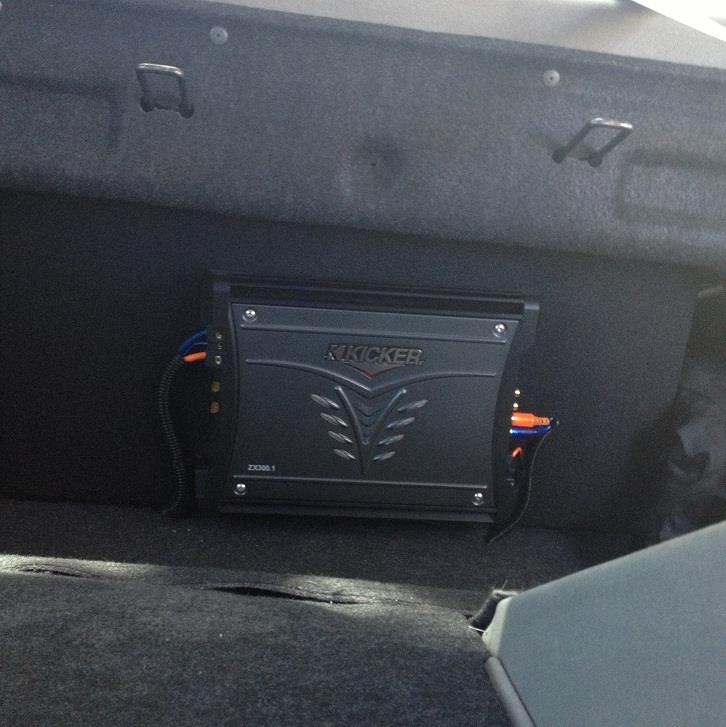 The PAC LC-2 gain knob installed under the dash to the left of the steering wheel helps Ben control the output of the amp going to the sub enclosure, right from the driver's seat. You can find similar products on our Amplifier Remotes page.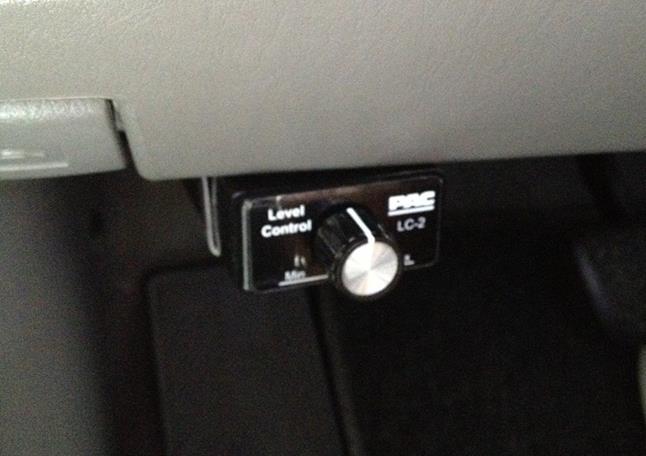 Ben's really proud of his audio system — he tells us the Boston Acoustics sub and box is the first thing he shows people. He also tells us that he wants to add a Sony receiver in the future.
Lights, action, and more action!
But Ben wasn't satisfied just to give his Camry an audio overhaul: "Once the sound system was complete, I replaced the interior lights with blue LED bulbs and installed four more under the front seats and under the glove compartment and driver compartment." As you can see, the results are pretty darn impressive: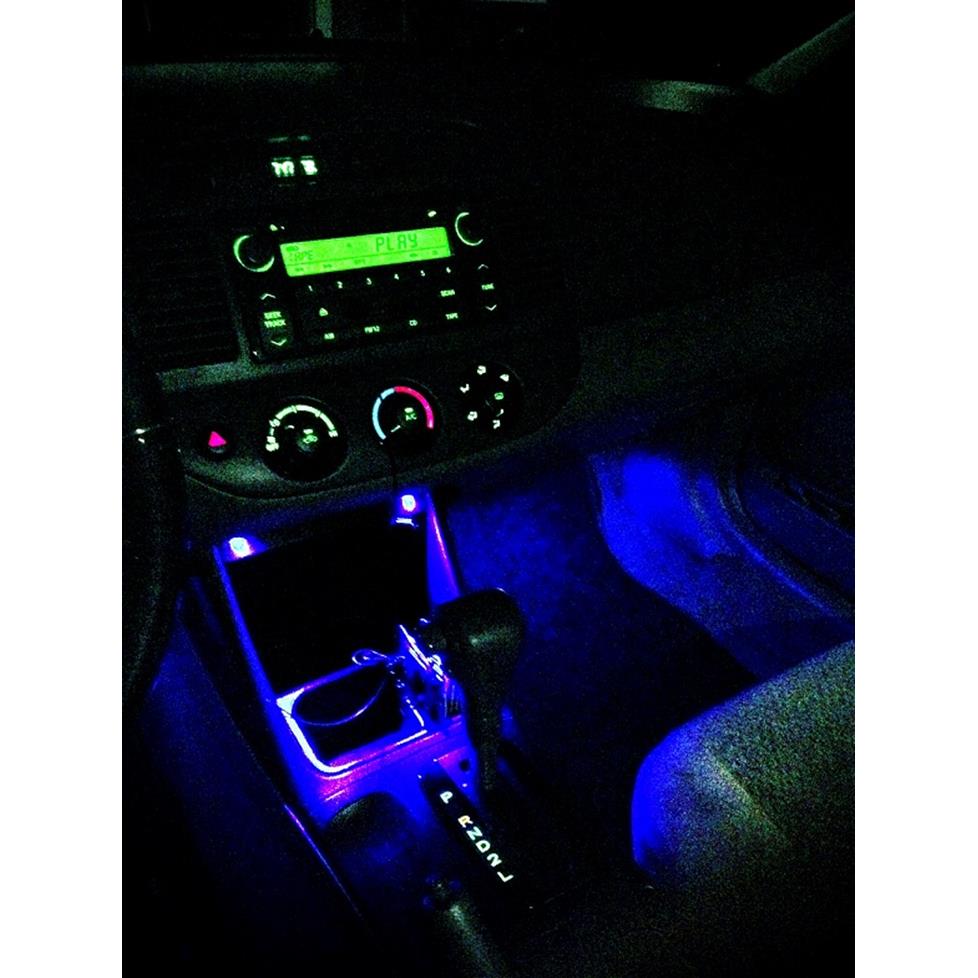 Ben's Camry looks like a dance club at night thanks to blue LEDs under the front seats and in the center console.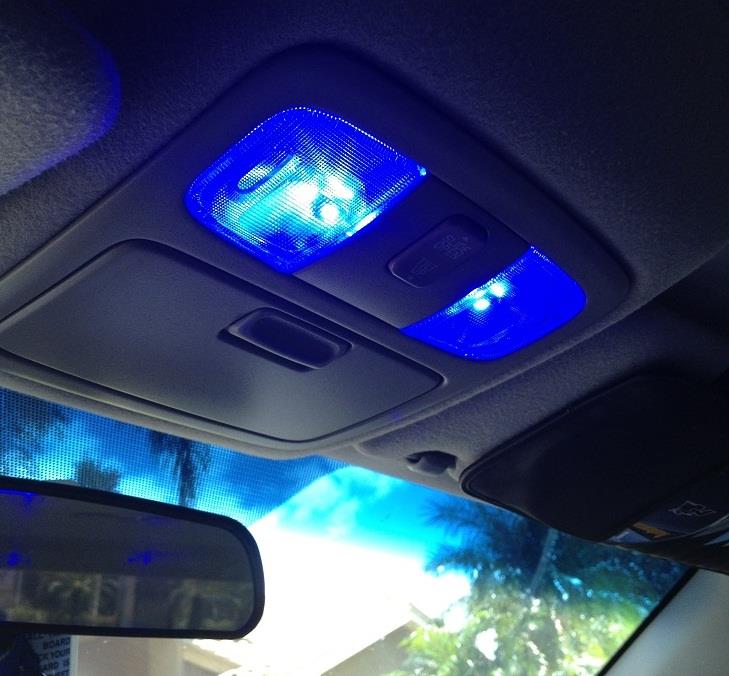 He even got the map lights and dome light to go blue, too.
Rolling with style
Ben's now got one cool ride for those warm Florida nights. Next time we're in his neighborhood we'll know not to freak out if we hear some deep bass and see strange blue lights coming from a nearby vehicle.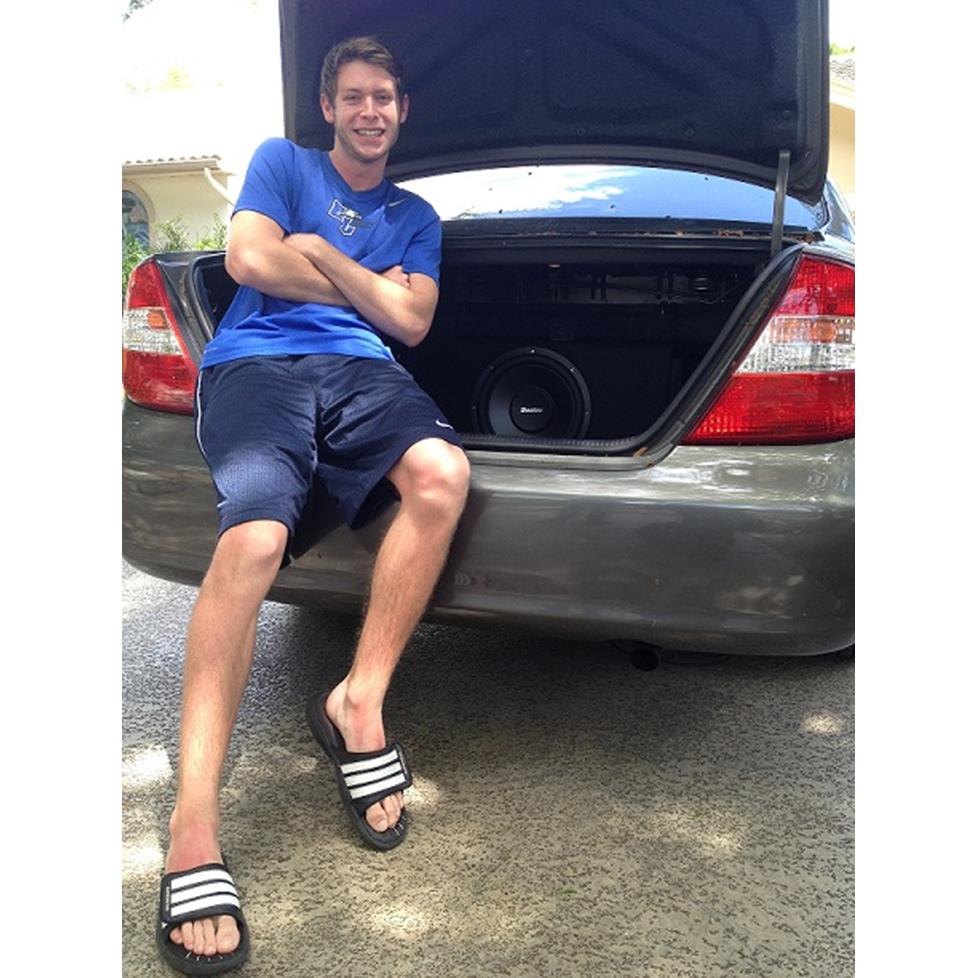 ---
Vehicles in the Custom Car Showroom are submitted by customers and fans, and edited by Crutchfield writing staff. You can find more of these articles on the Showroom main page.