Mike S's 1965 Shelby Cobra Replica
Don't call this a "fake snake" — it's a modern roadster based on a classic American design
Dominic J. DeVito has been a member of the Crutchfield A/V writing squad since 2006. He was born and raised in Staunton, Virginia, and attended the University of Notre Dame, where he earned a degree in chemical engineering. During that time he developed a passionate obsession for experiencing music, both live and recorded, which he parlayed into a 15-year stint in record retail (much to the chagrin of his very patient parents) and a long-running tenure as a rock DJ at WTJU. His expositions can be found in back issues of Plan 9's 9X Magazine as well as Schools That Rock: The Rolling Stone College Guide. He's been to more concerts than he can remember.
More from Dominic DeVito
Mike S. of Cape Coral, FL, owns a sweet kit car from Backdraft Racing—their BDR RT3 Roadster features a fiberglass body patterned after the iconic 1965 Ford Shelby Cobra. Unfortunately, the car doesn't come with an audio system of any kind, and MIke really "wanted to have some sounds." That's where Crutchfield comes in—Mike picked up some great speakers from Polk Audio and used some ingenuity to place them where he could get the most out of his music in this hard-to-fit vehicle.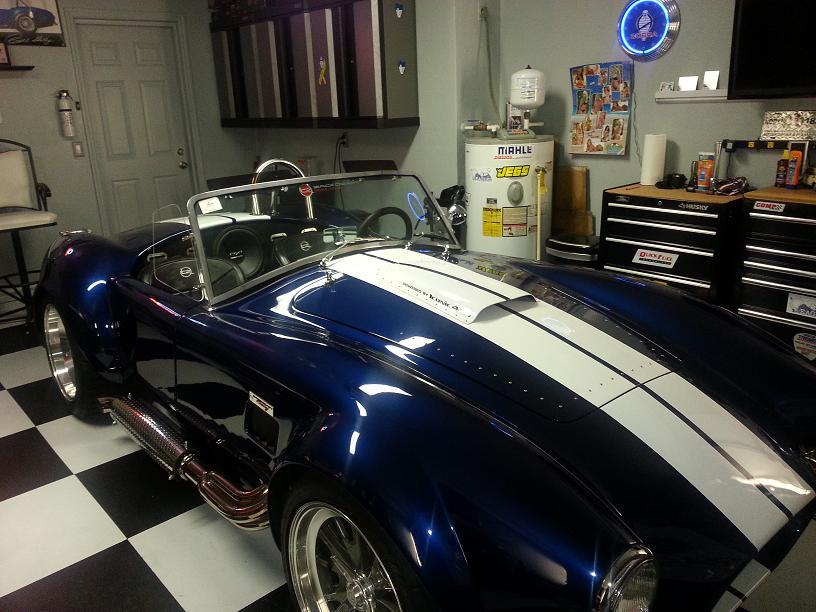 Mike's 1965 Shelby Cobra Roadster replica by Backdraft Racing.
Items installed:
Polk Audio DXi 12" dual voice coil subwoofer
Polk Audio DXi6500 6-1/2" component speaker system
Polk Audio PA 330 2-channel amplifier
Polk Audio PA 880 mono amplifier
He did what to his car?
The first step of Mike's installation was to add the 6-1/2" component speakers. He picked Polk Audio speakers because he values their quality and the fact that they're marine rated, which is handy for top-down driving. Mike hid the speakers behind the roadster's seats. In order to do that, he had to cut some holes in the Backdraft's fiberglass frame. Yes, you read that right. Mike tells us that was the most difficult part of the installation process for him. He hooked up the DXi6500s to the Polk Audio PA 330 2-channel amp and took the roadster out for a spin.
He opted not to add a head unit to his vehicle, and instead uses his smartphone and iPod® as portable music sources he can tap directly into the amps with their line-level inputs. "Anyone who gets into the car may hook up their phone so they have their own music," he tells us.
"Not enough sound"
Mike wasn't totally satisfied with the sound that just the two component speakers provided, so he went a step further and picked up the 12" DXi dual voice coil subwoofer and the PA 880 mono amplifier. He added another hole in the Backdraft's body, between the two seats, and mounted the sub free-air style to round out the bottom end. Here's what the system looks like from inside the trunk: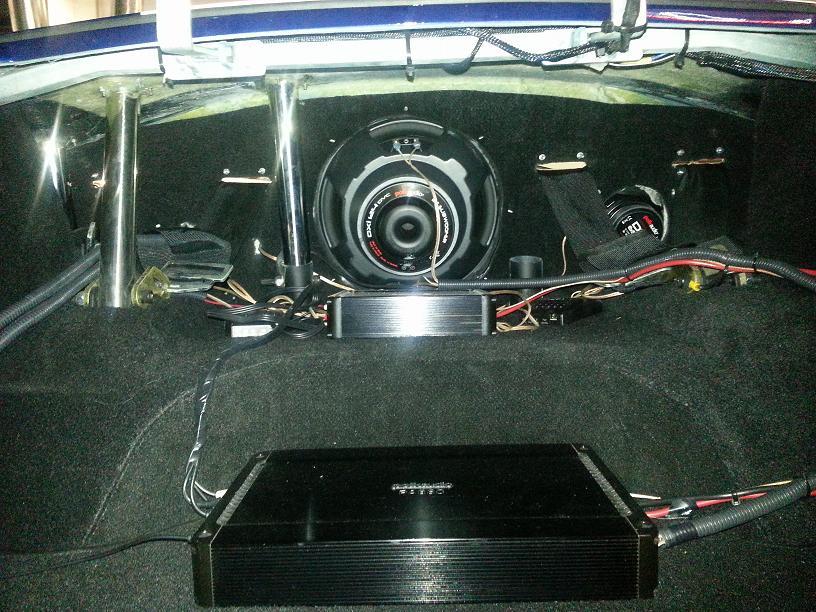 Two Polk Audio amps, a sub, and component speakers.
"Perfect! The car rocks now"
Mike's really happy with how the his car sounds now that there's some bass right where he can feel it. Add in the deep tones from the roadster's side exhaust pipes and he's in seventh heaven. He doesn't plan on making any further upgrades to his stereo, but we suspect that he has plenty of audio excitement for now. Check out his car from the front, with the sub in plain view: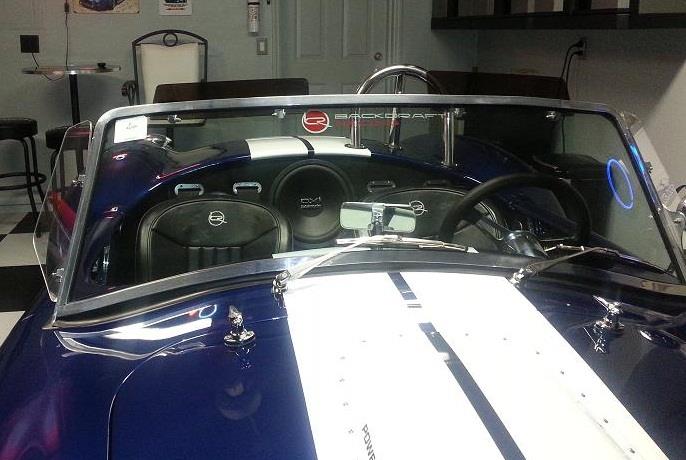 And here's Mike showing off in another roadster, with the Shelby Cobra replica close by: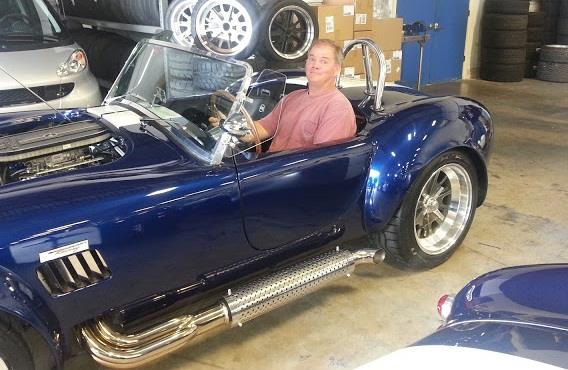 ---
Vehicles in the Custom Car Showroom are submitted by customers and fans, and edited by Crutchfield writing staff. You can find more of these articles on the Showroom main page.