SiriusXM SXV200V1 Tuner Compatibility Chart
I've been with Crutchfield since 1999, where I began as one our advisors, helping our customers choose new gear. After a couple of years, I moved to the writing team where I spent a decade researching new products and getting hands on with car stereos, amplifiers, speakers, and subs. Yeah, I've been doing this for a while.
For the past few years, I've been the managing editor of Crutchfield's Car A/V web article content. I couldn't ask for a better job — we get to play with car audio gear every day! I'm a Virginia native from the heart of the Blue Ridge Mountains. Outside of work, I love listening to music, playing board games, and installing new audio systems for my friends.
More from Robert Ferency-Viars
Heads up!
Welcome to this article from the Crutchfield archives. Have fun reading it, but be aware that the information may be outdated and links may be broken.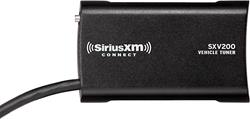 SXV200V1 Satellite radio tuner for the car
The SiriusXM SXV200V1 in-car tuner is the best advance in satellite radio in years. This little tuner box adds DVR-style features to your satellite radio experience, like the ability to pause and rewind the live radio broadcast. But not all of those features work with every aftermarket stereo.
To help you determine if this tuner will work for you, we picked up this chart from our friends at SiriusXM: