A sneak peek at the Sonos Play:3 (S3)
Tara W. has worked for Crutchfield since 2004. She writes about whole-house music and video gear, and works on Crutchfield's video team.
More from Tara W.
Heads up!
Welcome to this article from the Crutchfield archives. Have fun reading it, but be aware that the information may be outdated and links may be broken.
I first heard Sonos' newest and smallest music player in our training room a few weeks ago. I was pretty impressed, so I jumped at the chance to take the Play:3 for a test run in my own home.
First, some background on Sonos
Sonos music players let you play music from a computer and a variety of Internet services in any room — wirelessly. In my house, I have a player connected to my home theater system, a player connected to my computer speakers, and a Play:5 (formerly called the S5) in my kitchen.
Unboxing the Play:3
The Play:3 is the little brother of the Play:5, so I planned to put the Play:3 in my kitchen and test it against the Play:5 that I already have in that room. Comparing sizes, it's easy to see a difference — the Play:3 is only 10-1/2" wide, 5" high and a little over 6" deep (slightly larger than a loaf of bread). I keep the Play:5 up on my fridge because I'm not willing to part with that much counter space, but the Play:3 fit nicely on my countertop and left me plenty of room to work.
What does it sound like?
I'd already heard the Play:3 in our training room a few weeks prior, but I was excited to put it through its paces in the "real use" location of my kitchen. I used my iPhone* to pull up Adele's 21 album that's stored on my computer and started listening. Adele's vocals came through clear and strong, and with the player at 50% volume, it easily filled my kitchen with warm, soothing sound.
* Sonos players can be controlled with free apps that are available for iPhone® or iPod touch®, iPad®, and Android™ phones. Their touchscreen control app is the best wireless music control system I've seen on the market today.
Next up, I switched to Mumford and Sons. The strings and other instrumentals on the song The Cave were clearly defined and had depth that I didn't expect from such a small player.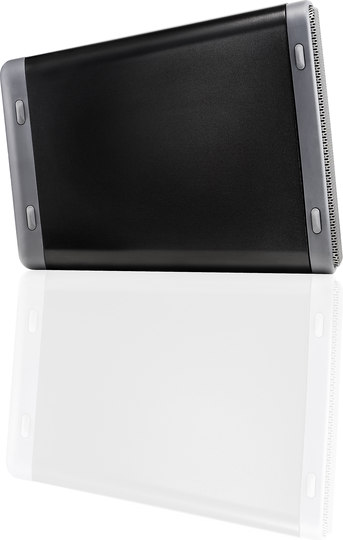 The Play:3 is also available in black.
Comparing the players
I was very interested to test the Play:3 against the Play:5. To do so, I grouped the two players into a single zone but operated the volume of each player independently — muting one player while listening to another and then quickly switching.
The Play:5 has more drivers than the Play:3 and a bigger cabinet, too, so I expected a substantial difference and I was correct. The Play:5 produces deeper bass, more defined highs, and a sound that's more open. But this doesn't mean the Play:3's a slouch in any way — it was perfectly suited for my kitchen (and my living room where I moved it later to see how it'd perform in a room with carpeting). If I were outfitting someone's home, I'd choose the Play:5 for rooms that were larger or more open and I'd use the Play:3 for bedrooms, a kitchen, and an office or a den.
Overall, these little players, especially the Play:3, produce a great sound despite their compact all-in-one design. And they offer Sonos' intuitive wireless system and control for an extremely enjoyable wireless music experience.