Sony Cyber-shot® DSC-TX10
Touring Iceland with the DSC-TX10
Zach Zimet joined the Crutchfield marketing team in 2003, and now heads up the department. He has been an electronics enthusiast since he was 10, and is still excited that he actually gets to work here. In his spare time, Zach enjoys cooking, friendly competition, and traveling with his family. He has a B.S. in Commerce from the University of Virginia.
Heads up!
Welcome to this article from the Crutchfield archives. Have fun reading it, but be aware that the information may be outdated and links may be broken.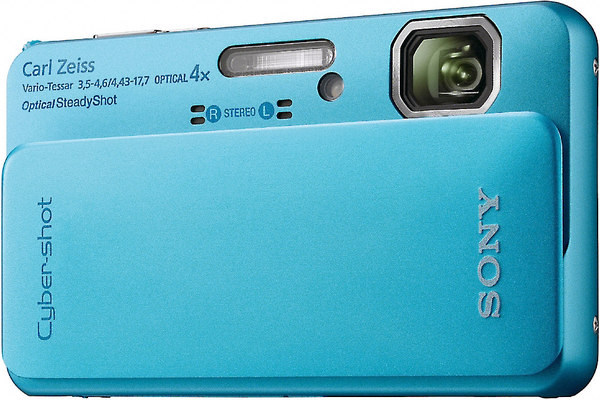 The Cyber-shot DSC-TX10 is available in a choice of colors.
When my family started planning a trip to Iceland, I knew we would want to take along a tough camera. Something that could stand up to volcanoes, glaciers, hot geothermal pools, hiking to waterfalls, dusty dirt roads, and to top it all off — a toddler.
I also needed something small, since we don't ever check luggage. And I also wanted high quality photos to take back home to remember our trip.
I borrowed a Sony DSC-TX10 for the trip, and put it to the test. Here's what I found:
First Impressions, Stateside
The DSC-TX10 is waterproof, shock proof, freeze proof, and dust proof. Given that level of durability I was expecting something bulky, so I was pleasantly surprised to see how small the camera was. I had no problem fitting it comfortably in my pocket, and it only weighed about 5 ounces. Nice.
The camera face slides down manually to expose the lens and turn the camera on — slide the face back up and the camera shuts itself off. Buttons along the top of the camera let me zoom and snap pictures, and the entire back face was a touchscreen which gave me access to all of the features and setting.
I slid in a 16GB Sony SDHC card, set the camera to the Intelligent Auto mode, and took a few pictures around the house. It worked fine and I put it back in the box.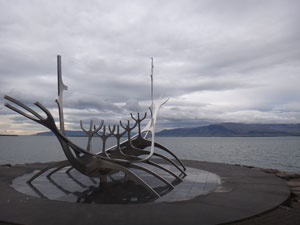 This picture was taken in auto mode. The trip was off to a good start.
In Iceland
I had every intention of fully testing the camera before the trip, reading the manual, playing with settings, etc. But life is busy, and I ended up getting off the plane in Reykjavik having barely touched the only camera I brought along.
With the camera still on the Auto setting, I started snapping some pictures around town. Fortunately, like the photo at left, they came out pretty nicely — big relief. (NOTE: click on the images to see the full-sized versions)
Going Beyond "Auto"
After a day on the Auto setting I started playing around with other modes. One of the interesting ones is Backlight Correction HDR, which quickly takes three shots at different exposures and then re-combines them into one image. I took a few pictures with this feature.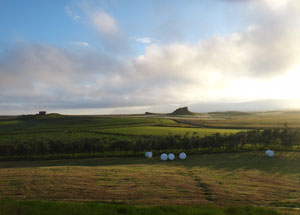 This image is actually a combination of three different shots.
I also had a great opportunity to try out the camera's Burst mode while standing in front of the Strokkur geyser, watching it shoot boiling water 50 feet in the air.


These photos of the Strokkur geyser were taken in burst mode. You can see a full-sized version of the final image in the series here.
And Gourmet mode magically does make pictures of food look really good. I'm convinced this was the best piece of toast I've ever eaten: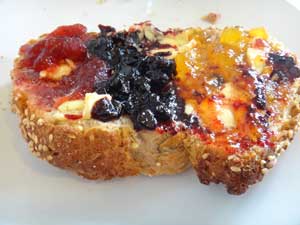 Gourmet mode makes toast look tastier!
This thing is waterproof, right?
Iceland is known for its geothermal pools, the most famous being the Blue Lagoon. It's an outdoor pool/spa filled with milky blue water, situated in a huge field of black volcanic rock. As I started to wade into the water, I panicked a little. Even though I knew this was a waterproof camera, there was something unsettling about actually letting it get wet.
I spent a few minutes wading around the lagoon with the camera over my head, looking like a big idiot. Eventually I both figuratively and literally took the plunge. The camera, of course, was fine — impervious to even hot, sulphuric water.
After that experience, I was worry-free taking pictures at the beach, next to waterfalls, etc.
And it's freezeproof too?
Even though I was there in August, it's still called Iceland for a reason. Glaciers and icebergs were a fun way to make sure that the camera really could handle the cold weather. Dedicated camera reviewer that I am, I even took a snowmobile out on the Vatnajokull ice cap.
Panoramic Mode
Apart from its rugged design, my favorite feature of the DSC-TX10 ended up being the Panorama mode. You take a photo by sweeping the camera across a landscape, and it automatically turns it into one seamless image. This let me capture the feel and setting of places in a way that I often couldn't with regular photos.
Overall
I had a great time traveling with the DSC-TX10. There are a few small tweaks Sony could make in the future (adjustable wrist strap, improved optical zoom, etc.), but no glaring weaknesses. Battery life was good (it always lasted a full day of shooting), and the camera's ability to take European 220 volt power came in very handy for me on my trip.
Overall, this is simply the best travel camera I've ever used. It's small, incredibly durable, has great features, and takes nice photos without any fuss. Whether on its own or as an accompaniment to a more powerful DSLR setup, the Sony DSC-TX10Sony DSC-TX10 is something I plan to bring on future trips.
And Iceland is fantastic — if you get a chance to spend a few days there, do it.