Sony STR-DA2800ES review
A user-friendly home theater receiver
David Brown is a member of Crutchfield's Home A/V writing team. He studied writing and politics at Ithaca College in upstate New York, where he grew up. He spent 12 years in Washington, D.C., where he earned a Masters degree in journalism and wrote an award-winning humor column. David relocated to Charlottesville, VA, in 2012. He enjoys listening to music, playing the guitar and piano, and hiking with his wife and children.
More from David Brown
Heads up!
Welcome to this article from the Crutchfield archives. Have fun reading it, but be aware that the information may be outdated and links may be broken.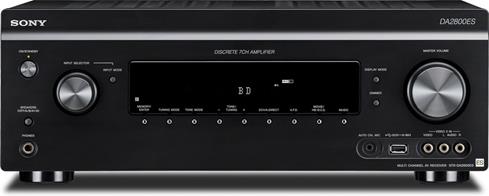 Home theater receivers are loaded with features, inputs and settings, offering a sometimes overwhelming number of possibilities. Yet we ultimately want them to be easy to use, so they can get out of the way and let us enjoy movies and music.
The Sony STR-DA2800ES2 A/V receiver attempts to reconcile these competing interests. While equipped with plenty of processing firepower and unique features, the end-goal of this 7-channel receiver is to make enjoying your home theater as simple as possible. We were excited to hook it up in our Labs and go through the set-up process to see how easy it is to use.
In addition to the included remote, you can download Sony's ES remote app for Apple and Android devices.
Easy Setup
We connected the '2800ES2 to a Samsung HDTV, Polk's Blackstone TL250 5-channel surround speakers and PSW111 subwoofer, and the Oppo BDP-95 Blu-ray player. Once everything was hooked up, I powered the receiver on and was immediately greeted by Sony's graphical user interface (GUI), which walked me through the set-up process. Sony designed the GUI to be extremely user-friendly, and they succeeded. It's easy on the eyes and easy to use, boiling down a complex series of functions and settings to selections as simple as "Watch" and "Listen."
The remote control makes navigation quite simple, with the large blue HOME button taking you back to the main menu, centrally-located arrow keys for moving between selections and an adjacent RETURN/EXIT button for backing up one screen at a time. The GUI and remote work beautifully in tandem, and I rarely had to look down at the remote as I jumped between menu screens and made selections. Like most receivers, it takes some searching to find out where everything is located in the 2800ES2's GUI. But even right out of the box, I found it quite easy to navigate through all the various options.
After making an easy connection to our network, I wanted to calibrate our 5.1-channel speaker system. The '2800ES2 allows for manual set-up, but the best way to get nicely balanced surround sound is with automatic speaker calibration. Sony provides an optimizer microphone that lets the receiver take measurements and calibrate the speakers.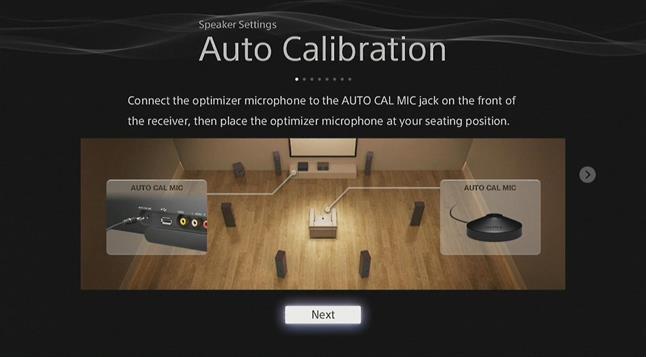 After this process is complete, you'll see a nice graphical display of your speakers in a virtual room, complete with distances from the listening position as well as any adjustments in volume the receiver made to compensate for asymmetrical speaker placement or seating positions that are off center.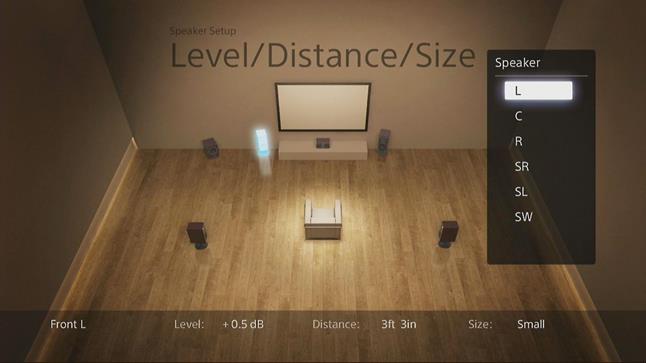 Once your speakers are configured, it's time to set up the '2800ES2 to control all your home theater components, from TVs to Blu-ray players to cable and satellite boxes. An HDMI connection between the receiver and a component can allow for some control of multiple devices with one remote thanks to HDMI CEC (Consumer Electronics Control) support. But for more consistent and versatile control of other components, the '2800ES2 comes with 2 infrared blasters, which allow the receiver's remote to control every piece of equipment in your system. The receiver's GUI takes you step by step through the process, letting you enter brand names and model numbers so it can look up remote codes online. It can even learn commands if no codes are available.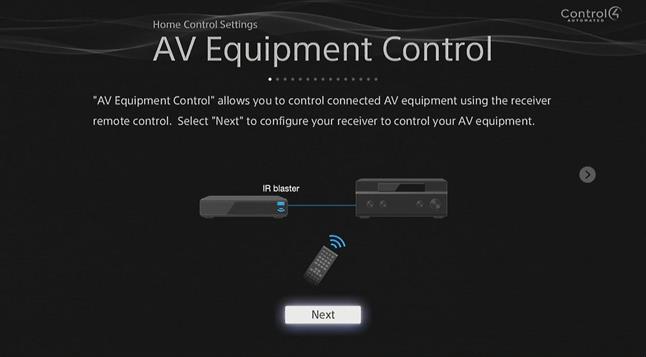 For instance, it had no trouble finding codes for the Samsung BD-E6500 Blu-ray player, allowing the Sony remote to easily control the player. However, it couldn't find codes for our Oppo BDP-95. But by following the menu prompts, I successfully got the '2800ES2 to learn the Oppo's remote codes so its remote could control that player as well.
Made for one-button operation
Once you have your components set up, watching a movie or listening to music are as easy as turning on the receiver, accessing the Home screen and selecting Listen or Watch. The simple menu commands show you exactly what your source options are for that function. Another nice feature is that it only shows the sources you have connected and set up, letting you name them and even select an icon to display. So no one should ever have to ask that dreaded question, "Which input is the cable box?"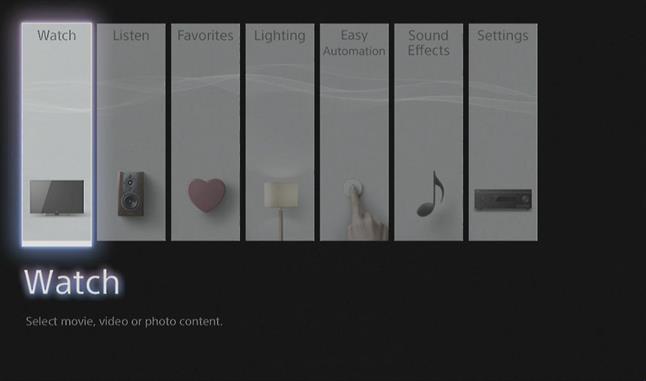 Sound simple? Sony made it even simpler with Easy Automation mode, their solution to dummy-proof the home theater experience. You can customize up to four settings — Movie, Music, Party, and Night – for one button convenience. For each function, you choose what components the '2800ES2 should power on and control with the remote. You can even customize the receiver's playback settings such as volume, sound field, speaker calibration, and more, including light dimming with compatible equipment.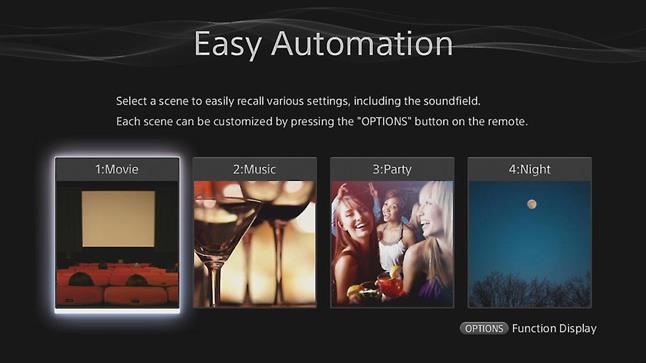 For instance, you may want to set up Movie mode for all speakers in your surround system. But for listening to music, you may want just the front right and left speakers. Night mode is perfect for setting the volume lower so as not to wake sleeping family members with explosive sound effects. And Party mode can be set up to activate a second zone in the kitchen or dining room, while outputting the same stereo signal from all speakers. Once you've configured these scene modes, just one button makes it all happen. That is a lot of functionality to condense into one simple keystroke of the remote.
We had no problems getting our TV, Blu-ray player and receiver to all turn on and start playing Avatar with the easy automation function. All I pressed was BD (Blu-ray disc) on the remote, and everything instantly came to life. I did have to push the SELECT button to resume movie playback, but that was easily accomplished with the '2800ES2's remote thanks to our earlier programming. This opens up home theater use to every member of the family rather than reserving its operation for the most technically savvy.
Choose your sound field
Sound fields have long been a part of Sony's A/V receivers. These are preset digital sound processing settings designed to mimic certain listening environments, venues and preferences in your home theater. I recommend experimenting with the various sound fields, so you can see how your music and movie soundtracks sound with different fields applied. The remote lets you easily scroll between them as you listen so you can hear the differences.
The big addition to the '2800ES2's sound field list is HD-Digital Cinema Sound, which is designed to match your home theater's sound to that of a mastering studio where sound engineers create movie soundtracks to deliver powerful, dynamic sound in the theater. I didn't want to turn off Avatar, which filled the home listening room in our Labs with dynamic sound effects while dialogue remained bold and clear.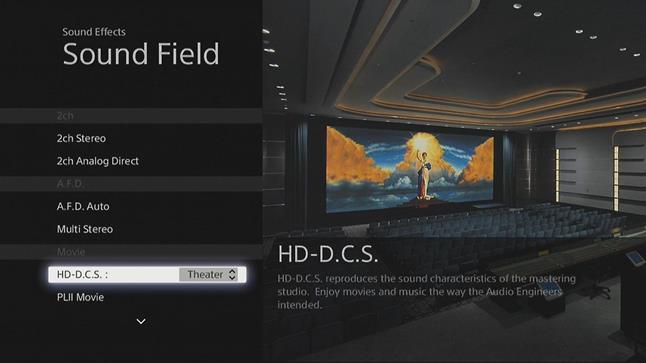 I tried out several sound fields with music and really liked the fullness that Concertgebouw Amsterdam, modeled after a famous Dutch concert hall, gave to Levon Helm's version of "Tennessee Jed" utilizing all the surround speakers and the sub. I also loved the option of having pure two-channel music played directly from my source or adding just the sub in case my front speakers didn't quite provide enough bass. The Auto Full Direct option added the sub on "Alice in Wonderland" by Bill Evans, making Scott LaFaro's melodic bass playing come to life with richness and depth.
The multitude of speaker calibration settings, sound fields and other audio options is a bit overwhelming and seemingly redundant at times. But having too many options is usually better than too few, and once you pick favorite settings for movies and music, it's easy to set up the '2800ES2 to default to those settings.
Lots of ways to listen
Once your system is up and running, there are plenty of options for enjoying music, movies, and more. I plugged my iPod touch® into the front panel USB port and used the Sony remote to bring up my library and play a few tunes. Then I unplugged the iPod and popped in a flash drive with high-resolution music files (see the aforementioned Bill Evans). I also streamed music from the networked hard drive in our Labs, thanks to the '2800ES2's Ethernet connection. Easy Automation doesn't work with these features, but they are nevertheless quick and easy to get to with the '2800's intuitive menu and remote.
The bottom line
Some of us love to spend time navigating menu systems and experimenting with settings in our A/V receivers. And the Sony STR-DA2800ES2 won't deprive you of those adventures. But for those members of your household who just want to know how to get the movie started, this is where the true value of this receiver lies. Once you jump through a few hoops during setup, the '2800ES2 can indeed simplify the user experience down to one-button control of a number of components, functions and settings. That makes it easy for the whole family to enjoy movies, music and shows, which is what home theater is all about in the first place.