Soundmatters foxLv2 Bluetooth ver.2.2
Can go from pocket to party in under a minute
Ralph Graves is one of Crutchfield's blog editors, and part of the company's social media team. He writes about home audio/video gear, specializing in Apple-related and wireless technologies. Ralph holds a master's degree in music composition, and his works have been released on various labels. He's served as product manager for an independent classical and world music label, produced several recordings, and worked extensively in public broadcasting. Since 1984 he's hosted a weekly classical music program on WTJU, and is also active as a blogger and podcaster.
More from Ralph Graves
Heads up!
Welcome to this article from the Crutchfield archives. Have fun reading it, but be aware that the information may be outdated and links may be broken.
I had an opportunity recently to try out the Soundmatters foxLv2 Bluetooth® ver. 2,2 powered speaker system. It's small, it's portable, and it surprised me with the quality of sound it put out.
The Basics:
The foxLv2 is a compact wireless speaker system that uses Bluetooth. It's about the size of two "D" cell batteries (and weighs a little less). Inside are two small speakers and a bass driver.
Soundmatters came up with an interesting solution for enhancing the bass. Their BassBattery™ is a downward-firing bass driver. The battery rests on the diaphragm, adding weight and strengthening the response.
Sounds good on paper — how about in the real world?
Included with the FoxLv2 was a small rubber rectangle. Soundmatters said it was an " anti-slip acoustic 'yoga' mat which when used, greatly reduces FoxL's dance moves." Hmmm.
Well, it turns out they were right. The BassBattery configuration delivered bass as promised — the strongest I've heard in a device this small.
When I first set up the system, I had the foxLv2 on our kitchen counter. At one point I could actually feel the bass vibrate through the counter top. And on that slick Formica surface, I did indeed need the anti-slip mat to keep the system from taking a header off the edge.
Best sound in a near-field environment
Let's be clear — the foxLv2 won't get the party started in an auditorium or a club. This is a very small, compact system. But on a table, a desk, or even on a coffee table, it can provide good clear sound that four or five people comfortably seated nearby can enjoy.
The speakers delivered very clean highs, and I was especially impressed with the degree of separation between the two channels. The sound seemed very spacious, especially with music mixed to create a big soundfield.
Bluetooth connectivity
As with most Bluetooth devices, connecting the system was pretty easy. I just turned on the foxLv2 to start searching for devices, and once it locked in, did the same with my sending device. I tried the system with two such devices, a smartphone and a laptop. Connecting was equally easy with both.
One thing about the range: technically Bluetooth devices have a 30-foot range, but inside our house I found that to be diminished depending on what room I moved to with either the player or the foxLv2. For my situation, this was a system to use across the room, not across the house.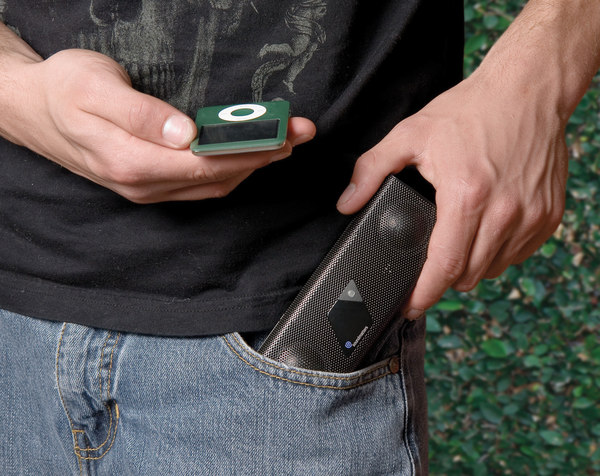 The FoxLv2 slips easily into your pocket.
Phoning it in
My first audition was with a configuration I think most people would use: smartphone and FoxLv2. In addition to playing music stored on the phone, I also tried out some Pandora® Internet radio and watched some YouTube™ videos while streaming the audio through the speakers.
Pandora®, like most streaming audio services, trades some fidelity for bandwidth. With the foxLv2, that was no problem. The music sounded much fuller than it did either through the smartphone's built-in speaker (no surprise) or its headset.
I was especially impressed with how podcasts sounded through the foxLv2. The speaker system did a good job with lo-fi audio. Most of the podcasts I listened to sounded much clearer than they usually do.
Videos also benefited. YouTube audio can be indifferent at best. I won't say the sound was totally immersing, but it was easier to make out what people were saying, and music seemed to have a good amount of detail (and bass).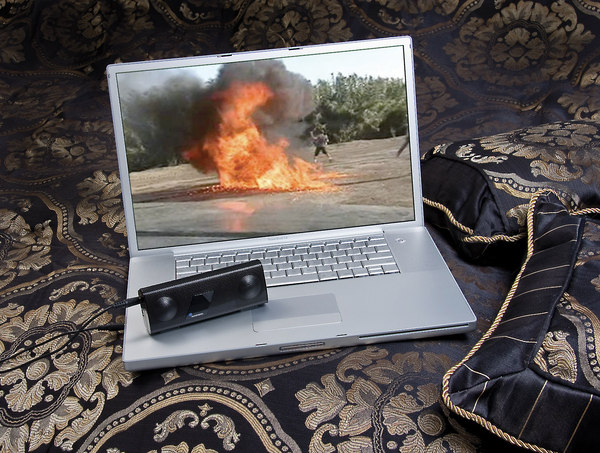 You can make a wireless connection to your computer,
or a wired one from the headphone jack, or even just
charge the foxLv2

using the included USB charging cable.
It
does

compute

Another common use I can see for the FoxLv2 is providing entertainment while traveling. So I tried it with a Bluetooth connection from my laptop.

There have been plenty of times while traveling that I've attempted to watch a movie or listen to some music in a hotel room through my laptop's speakers. It was often not worth the effort. And while headphones helped, being tethered to my computer all night long wasn't much fun, either.

Based on my experience with them at home, these speakers would be welcome on my next trip! They connected easily to the laptop, and I could enjoy not only everything in my iTunes® library, but audio from anything I was accessing online.

The sound files stored on my computer (well, actually the external hard drive wirelessly connected to my computer) are lossless, so they have a lot of musical detail in them. I'm into a Buddha Bar spell right now, so the system's BassBattery got a workout.

It sounded great. The bass hit with convincing hardness, and the highs were nice and crunchy.

The same was true with the classic rock and rap tracks I auditioned. It was easy to hear not just the basic parts of the songs, but the interplay of instruments and some of the more subtle sound nuances. This was especially true with acoustic tracks, and even classical music. The latter usually suffers the most with small speakers, but not in this case. The instruments sounded convincingly real. There was plenty of separation between them, too, and even in complex contrapuntal passages I could generally follow the individual lines.
Some nice extras
The foxLv2 can be charged either by a USB connection to a computer (slow) or with its own AC adapter (fast). Soundmatters promised about eight hours of operation on the system's rechargeable battery, and that was pretty close to what I got. Obviously, the louder I played it, the sooner I drained the batteries.
No one called me on the smartphone while I was trying out the system, but had they done so, I could have heard the call through the foxLv2. And because the system has built-in microphones, I could have responded as well.
Overall impressions
Slipping the slender foxLv2 into my pants or jacket pocket seemed natural to me — as natural as doing the same with my phone. And what a great combination. I'm hard-pressed to think of a portable speaker system this small that sounds this good.
And with Bluetooth wireless capability, it really is just a matter of turning the foxLv2 on, and pressing play on your phone. This was a fun device, and I enjoyed impressing friends and family with the Soundmatters foxLv2 Bluetooth ver.2.2.