Sport headphone workout
5 models to exercise your ears
Ralph Graves is one of Crutchfield's blog editors, and part of the company's social media team. He writes about home audio/video gear, specializing in Apple-related and wireless technologies. Ralph holds a master's degree in music composition, and his works have been released on various labels. He's served as product manager for an independent classical and world music label, produced several recordings, and worked extensively in public broadcasting. Since 1984 he's hosted a weekly classical music program on WTJU, and is also active as a blogger and podcaster.
More from Ralph Graves
Heads up!
Welcome to this article from the Crutchfield archives. Have fun reading it, but be aware that the information may be outdated and links may be broken.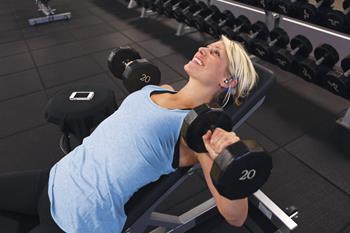 Sarah lifts weights while wearing the Denon AH-W150 Exercise Freak sports headphones.
You wouldn't think of working out in street attire, would you? So why would you wear the same earbuds to the gym that you use when you're out and about? Like exercise clothes, sports headphones are designed specifically for the stress and strain of physical activity.
How effective are sports headphones compared to ordinary earbuds? We took five of our hottest sports headphones to some fitness professionals to find out.
Getting the Gear
We chose five models that represented the latest in sport headphone design:
(click on the links to jump to the detailed responses)
Time to hit the gym!
Five employees of the ACAC Fitness and Wellness Center in Charlottesville, VA were given one or more pairs of our sports headphones: The employees used the headphones during their normal exercise routines. After letting them work out with the headphones for a few days, we checked in with the ACAC employees to get their reactions.
Working the core
We wanted to know three basic things:
Fit and Comfort: How comfortable were the sports headphones to wear during various activities, and how well did they stay in place?
Sound Quality: Did the music have real presence and clarity? Was there a significant improvement over the sound quality of the user's regular earbuds?
Functionality: How well were the sports headphones suited to exercise? Were they easy to keep clean? Did the cord resist tangles?
The short take:
The testers rated their headphones in each category on a scale of 5 to 1 (best to worst). Here are the results:

The Details:
Our testers gave us some helpful feedback on their experiences with their headphones. Here are some of the things they had to say: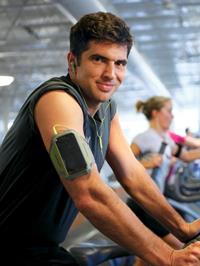 Chris puts some miles on the treadmill while enjoying his Bose® SIE2i sport headphones.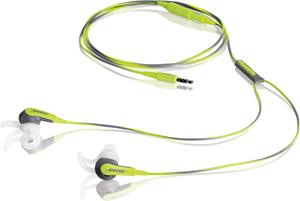 "The Bose® SIE2i sport headphones were great for exercise and simple to clean. The headphones had a nice design and cool colors.
I really loved the Bose® SIE2i sport headphones. I expect to see lots of people using them around the club in the fall."
— Chris
These innovative headphones deliver a combination of sweat and weather resistance, comfortably secure fit, and Bose® quality the sound. The in-line remote and microphone let you conveniently control select Apple® products. The exclusive Reebok® fitness armband holds your device securely in place. Available in orange and green.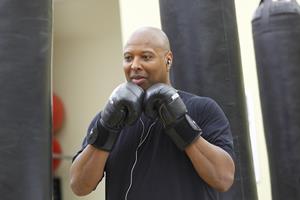 Cecil goes a few rounds with a punching bag, wearing the Bowers & Wilkins C5 headphones.

"The C5s had awesome sound. I felt like I was in a movie theater. A huge improvement over my regular headphones. And they were really good for exercise – a very well-designed product."
— Cecil
"Compared to my regular headphones, the sound quality of the C5s surpassed them in every respect. I was really impressed with the sound and look of these headphones."
— Chantel
"I really liked the appearance of the headphones. And the inline controls made them great. The C5s had better sound than my regular headphones and much more bass! These sport headphones were well-suited for exercise, and easy to clean."
— Kristen
Amazing sound quality and performance are the hallmarks of Bowers & Wilkins headphones. The C5s feature a Secure Loop to hold them gently in place. In-line controls and microphone allow easy operation of your iPhone® or iPod®.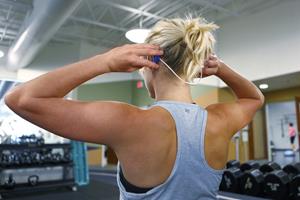 Sarah putting on the Denon AH-W150 Exercise Freak headphones in preparation for her workout.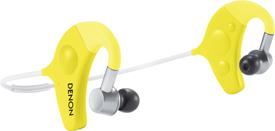 "The Denons were louder and had more presence than my regular headphones — good sound quality. The wireless design made the 'W150's a lot easier to work out with than regular headphones with a cord."
— Chantel
With these Bluetooth headphones, there are no wires running to a device on your arm or hip. You can move freely while you stream music wirelessly to the AH-W150s from your Apple or Android™ device. These headphones include a free Denon Sport app that measures distance and helps you track your progress.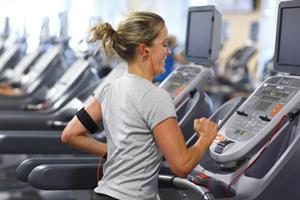 Kristen's Klipsch Image S4i Rugged headphones help her maintain her pace

"I really liked the appearance of the S4is. They were simple in a good way, and the in-line controls made them great. The S4is put out clear, crisp sound."
— Kristen
"The Image S4is were suitable for working out. The headphones were easy to clean and the cord stayed untangled."
— Chantel
Klipsch designed these headphones for all-weather use and feature a tangle-resistant cable. They include in-line controls and a microphone for iPhone and iPod use.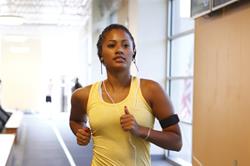 Chantel on the indoor track, wearing Sony XBA-S65 sport headphones. Thanks to their over-the-ear loops that held them in place, Chantel could run with confidence.

"The headphones were very comfortable and lightweight. The 'S65s stayed in place while I exercised. They never disappointed me. I could focus on my workout and not worry about them falling out.
I was really impressed with the quality of the Sony headphones. If I were recommending them, I would want the person to know how comfortable the 'S65's are."
— Chantel
Adjustable over-the-ear loops help keep these headphones comfortably and securely in place. The XBA-S65s are both sweat and water resistant, so you can wear them with confidence and rinse them when you're done.