Telling Stories with Your Video Footage: Part 1
Former Crutchfield staff writer Woody Sherman spent years working as an editor and manager in the video industry at the national level.
More from Woody Sherman
Heads up!
Welcome to this article from the Crutchfield archives. Have fun reading it, but be aware that the information may be outdated and links may be broken.
Video is everywhere
Everything shoots video. Your phone. Your tablet. Your still camera. Your laptop. And while you probably wouldn't take your iPad® to document a graduation ceremony, rest assured it's been done by more than one person. Don't be that person.
Drowning in assets
Because video is everywhere, we must recognize that we probably have a great many more life moments stored away than any generation ever has to this point. Even if your grandfather was a huge 8mm movie buff, the sheer cost of film and processing lent a discipline to the process of documenting the family. One had to choose the moment carefully in those days. Today, we are literally drowning in digital assets — video, stills, music. How do we tame the flood and learn to swim?
12 Tips
I need to point out some work that's been done before on this site about how to acquire great footage. Tara W. wrote an excellent article in 2011 called 12 Tips for Shooting Better Video with Your Camcorder. You'll find it's a great source for going about the process of making great video for storytelling. But what do you do once you've finished the shoot and brought home the bacon?
Job one: Filtration
Many of us now own video recording devices that are capable of taking hours of video at a stretch, and so, consequently we leave them rolling (although you should have read tip #6 in Tara's article!). This generates huge amounts of footage, and recordings that mirror the way real life unfolds: long periods of unremarkable activity, punctuated by great, unpredictable moments that are worthy of preserving for a lifetime. And while some people might want to document every moment of their lives, I'd wager that most of you would settle for a well-told story that gives you a digest-view of something memorable.
So do yourself a favor: sit down with what you've shot, while it's still fresh in your mind. Take a notepad and a pen. Yes, I'm talking old school. I know, you could use a computer or tablet to do the logging, but writing things in longhand doesn't interrupt the process of considering the footage.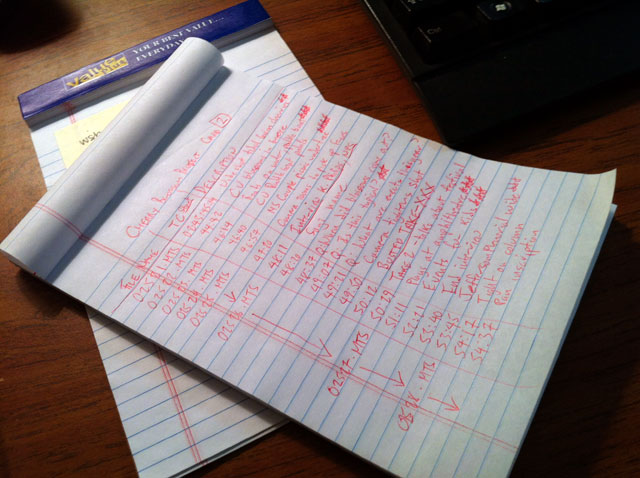 Logging your raw video footage will save you lots of time later
Log your footage
Because file-based media (stored on hard-disk or flash memory) have nearly taken over from tape-based acquisition, I'm going to describe that workflow here. Should you be using tape sources, the concepts are nearly identical: define the media you wish to keep in a way that lets you find it easily later on.
First, identify your source – flash memory card, camera on-board flash storage, or hard drive with video files – and copy it to another hard drive, right now. Don't use your computer's hard drive — you can in a pinch, but video files are large and your computer has better things to do with its system drive.
If you have stuff you know is precious, copy to TWO drives and keep one in another, climate-controlled location. Place the files into a folder that identifies the shoot CLEARLY. I recommend starting all folder names with the date (01022012 would be January 2nd, 2012) and then an underscore and a short description on what was shot, something like 01022012_NewYearSnow. Make a folder for each separate shoot.
Open a folder and write its name on the top of your notepad. Make three columns on your notepad. In the first column, write down the filename you're going to view. Given that it was generated by your camera, it's probably alphanumeric scramble that doesn't make a lot of sense. Write it down anyway.
Now look at that clip, using either the software provided by your camera's manufacturer, a computer viewer like QuickTime® player, VLC, or Windows Media® Player, or editing software that's compatible with the type of media your camera shoots. Is there something there worth keeping? No? Throw that clip away (this is sometimes easier said than done, for many reasons, but give it a try). If you can't let unremarkable footage go, you're being a video hoarder, and eventually you will fill your garage with unsightly hard drives. Only you know what's important, but trust your instincts and pare down your sources. You're filtering it.
Rate the good stuff
Okay, you see something you like. Is there a face, a sentence spoken, a referenced item, an action or reaction that could advance the viewer's comprehension of the story you'd like to tell? If so, write the TIME/TIME CODE reference in your computer's player down where the action occurs in column 2. Most often, it will appear in a format similar to this one: 01:47:55:13. This means hour 01, minute 47, seconds 55, frame 13. Here's a tip: when you're logging quickly, all 8 numbers aren't necessarily needed, you just need to know where to find it again, so the middle pairs are the important ones, minutes and seconds. That will help you find that moment again.
In column 3, write down what makes that image memorable in a way that makes sense to you: " CU [close-up]duck quacks" or "MS [medium shot] she picks up baby" or "K says why running race was hard today." When I was doing this for a living I often gave these notations a "star" rating, with 5 stars being something that had to be featured.
Repeat til done
Once you've finished logging all the clips on your first folder, place the logged notepad pages in a safe place next to the associated media files' hard drive. Then go to the next folder and create logged pages for that media. Do this until you've seen and logged everything you've shot that applies to your story.
See what you've done here? You may not have thrown out any media (or maybe you couldn't, it can be tricky), but in your mind, you have a set of mental images of the memorable shots in the body of raw footage, and words associated with them. And whether you think it's happening or not, your mind is already going to work, thinking about what to do with all this. And that — will be the subject of our next article. Happy logging til then.