Four popular car speaker lines
I've been with Crutchfield since 1999, where I began as one our advisors, helping our customers choose new gear. After a couple of years, I moved to the writing team where I spent a decade researching new products and getting hands on with car stereos, amplifiers, speakers, and subs. Yeah, I've been doing this for a while.
For the past few years, I've been the managing editor of Crutchfield's Car A/V web article content. I couldn't ask for a better job — we get to play with car audio gear every day! I'm a Virginia native from the heart of the Blue Ridge Mountains. Outside of work, I love listening to music, playing board games, and installing new audio systems for my friends.
More from Robert Ferency-Viars
We at Crutchfield listen to a lot of different car speaker brands so we can provide solutions for our customers that will work well with the particular kinds of music they like to listen to.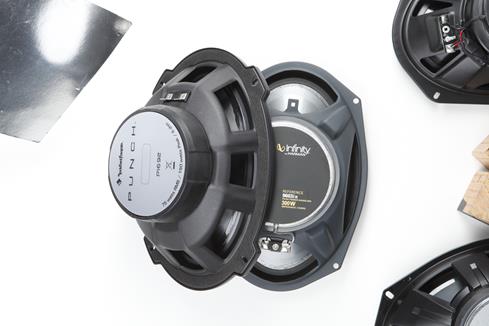 Recently, we gathered members of the Crutchfield car A/V writing team into our Crutchfield Labs car listening room for some critical listening of four of our most popular car speaker families. We wanted to hear the differences ourselves so we could describe to you how they sound.
Alpine Type-S — the all-around classic
Infinity Reference and Reference X — smooth from top to bottom
Polk Audio DXi — great with vocals
Rockford Fosgate Punch — when you like it loud