Best wireless surround sound systems
Top ways to get home theater without all the wires
I started my Crutchfield career in 2007. I spent eight exciting years as a product advisor, fielding thousands of customer questions about A/V equipment while designing systems for homes, cars, and the occasional party bus. These days I specialize in home speakers and distributed audio systems, focusing on translating technical jargon into easy-to-understand language. My goal is to make shopping for speakers and amplifiers simple. After all, this stuff is supposed to be fun! Outside of work, I enjoy playing and teaching music. I'm always on the lookout for interesting left-handed guitars.
More from Kramer Crane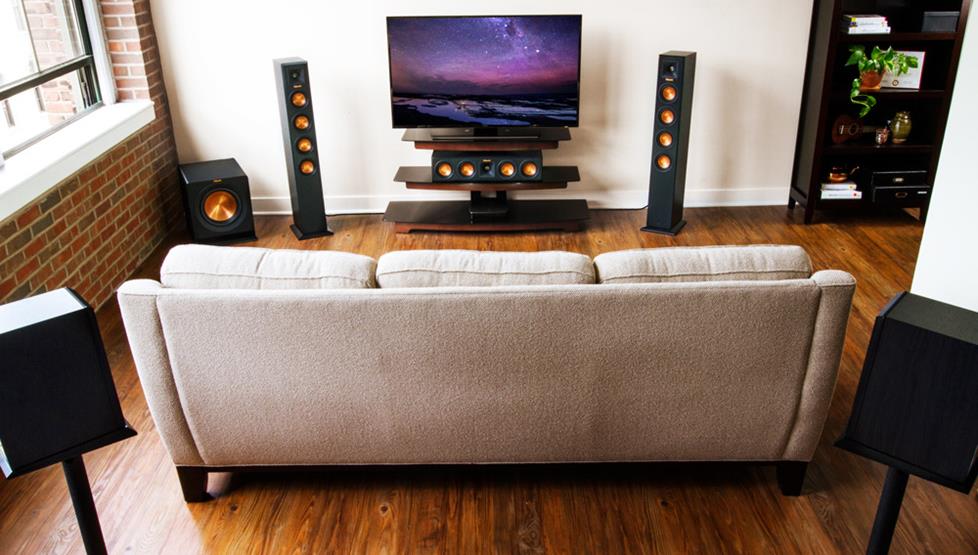 Enjoy room-filling surround sound without wires running all over the floor.
In a Nutshell
Want the home theater experience without the hassle of running and hiding wires? Consider these system options:
Get best-in-class performance with wireless bookshelf and tower speakers from Klipsch. This 5.1 system can be expanded to 7.1-channel wireless surround sound for the ultimate movie watching experience.
Go for a complete 5.1-channel wireless surround sound system from Sonos.
Choose a sound bar that can be expanded to 5.1 with wireless surround speakers. This is a great way to start small and grow your system over time.
Full Story
Hearing a movie's soundtrack the way the director intended is a powerful part of the home theater experience. But that hasn't always been easy. Surround sound has traditionally involved a slew of wires and cables running all over the room. I can't tell you how much time I've spent carefully hiding my system's wires over the years.
Thankfully, new technology has made wireless surround sound a reality! And there are some really cool options available. They range from modest sound bars with compact rear speakers, to wireless tower speakers that thunder with detail.
The best wireless surround sound system available
Let's start with the biggest and baddest wireless system that we carry: the Klipsch Reference Premiere HD Wireless. Klipsch set this system up in our training room for some movie demos and it blew me away. It was one of the best surround sound performances I'd heard from them in years, wired or wireless.
There are two aspects of this system that I really dig. First, you don't need a home theater receiver or any speaker wire to make it work because the amplifiers are built into the speakers. That's huge!
Second, you can mix and match bookshelf and floor-standing speakers to customize a system that's perfect for your room.
Check out this short video from Klipsch to see the system in action.
Setup is a breeze. Connect your cable box, gaming system, or Blu-ray player to a central hub via HDMI. The hub decodes and processes the surround sound information. It then beams each channel's signal along with system calibration information to each speaker.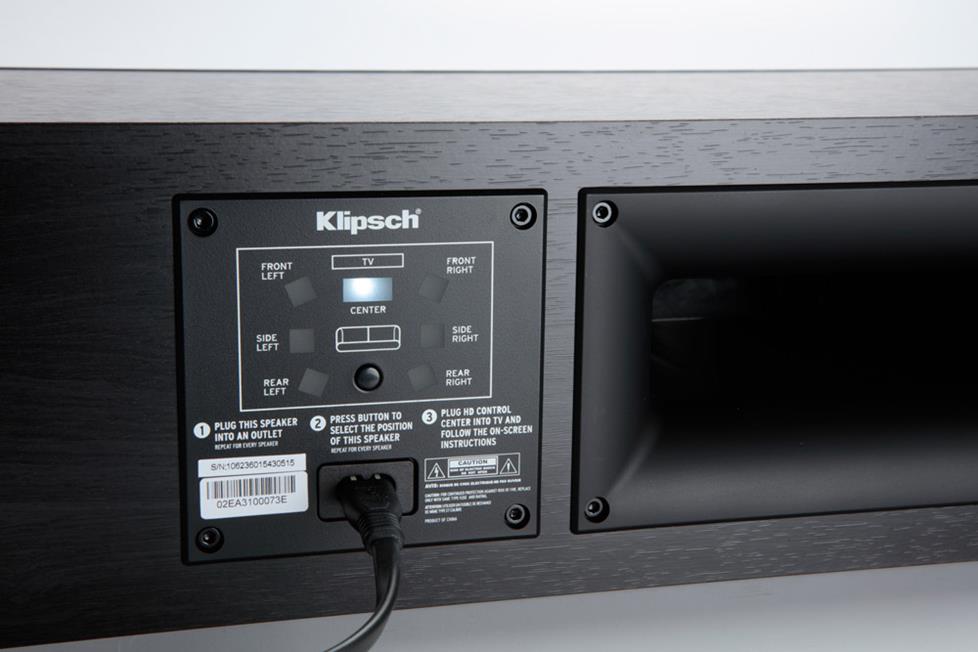 Setting up the Klipsch system is as easy as following the instructions on the back of the speakers.
I mentioned that you can mix and match speakers. You can also start small and grow your system too. Get started with the hub and a pair of wireless bookshelf or floor-standing speakers. Expand all the way to a full 7.1-channel wireless surround sound system by adding a center channel, subwoofer and side and rear surround speakers.
Easy 5.1-channel surround sound with Sonos
Sonos wireless music speakers have been customer favorites for years. Now, Sonos has taken their wireless expertise and applied it to their 5.1-channel surround sound system.
Check out this short video from Sonos to see how their system works.
The centerpiece of the system is the PLAYBAR. It acts as your left-, right-, and center-channel speakers. It also handles all of the system's audio processing. Simply feed your TV's audio output into the PLAYBAR, and it takes care of signal decoding and wireless audio distribution.
Each Sonos speaker has a built-in amplifier, so the only wires are the AC power cords. The intuitive control app turns your phone or tablet into the remote control.
The PLAYBAR 5.1 system is available as a complete package, which includes the PLAYBAR, two PLAY:1 surround speakers, and the wireless SUB. This is a great fit for most spaces.
However, if you have a large room, or really want to crank your system to "11", I recommend buying the system à la carte. Pair the PLAYBAR with two PLAY:3 or PLAY:5 wireless speakers for next-level home theater performance.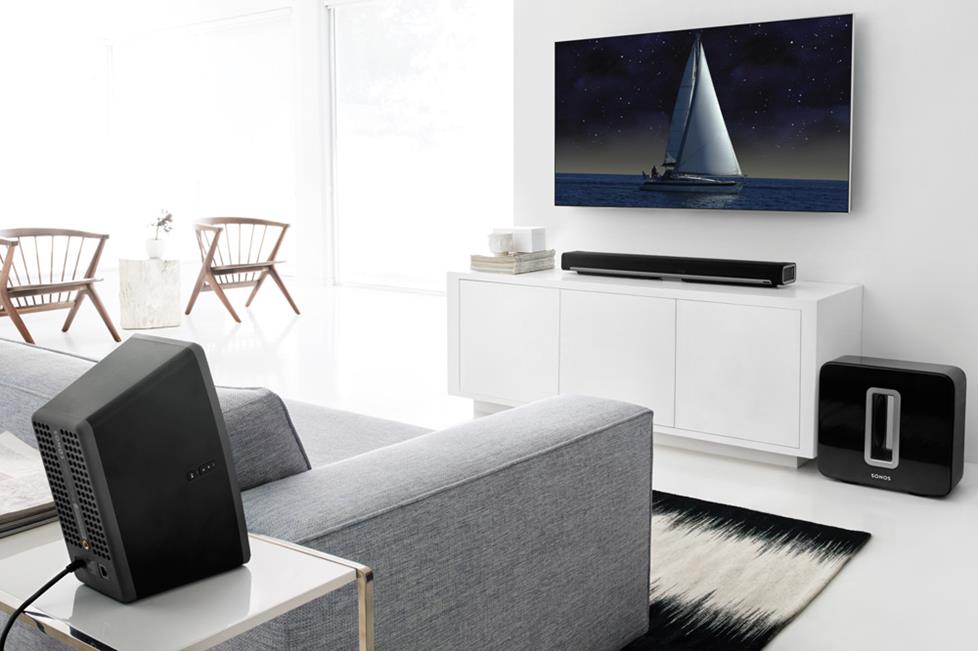 Here the Sonos PLAYBAR, SUB, and a pair of PLAY:3 speakers combine for fantastic wireless surround sound.
The newest addition to the Sonos family is the PLAYBASE. This works just like the PLAYBAR, but acts as a platform for you TV to sit on. It's a great option if you aren't wall-mounting your TV. Pair any of the Sonos wireless speakers as well as their sub to the PLAYBASE for a wireless 5.1 system.
Start with a sound bar and expand to 5.1-channel wireless surround sound
Sound bars have long been a popular way of improving a TV's front soundstage. Now, an increasing number of sound bars can be expanded into a 5.1 system with wireless rear surround speakers.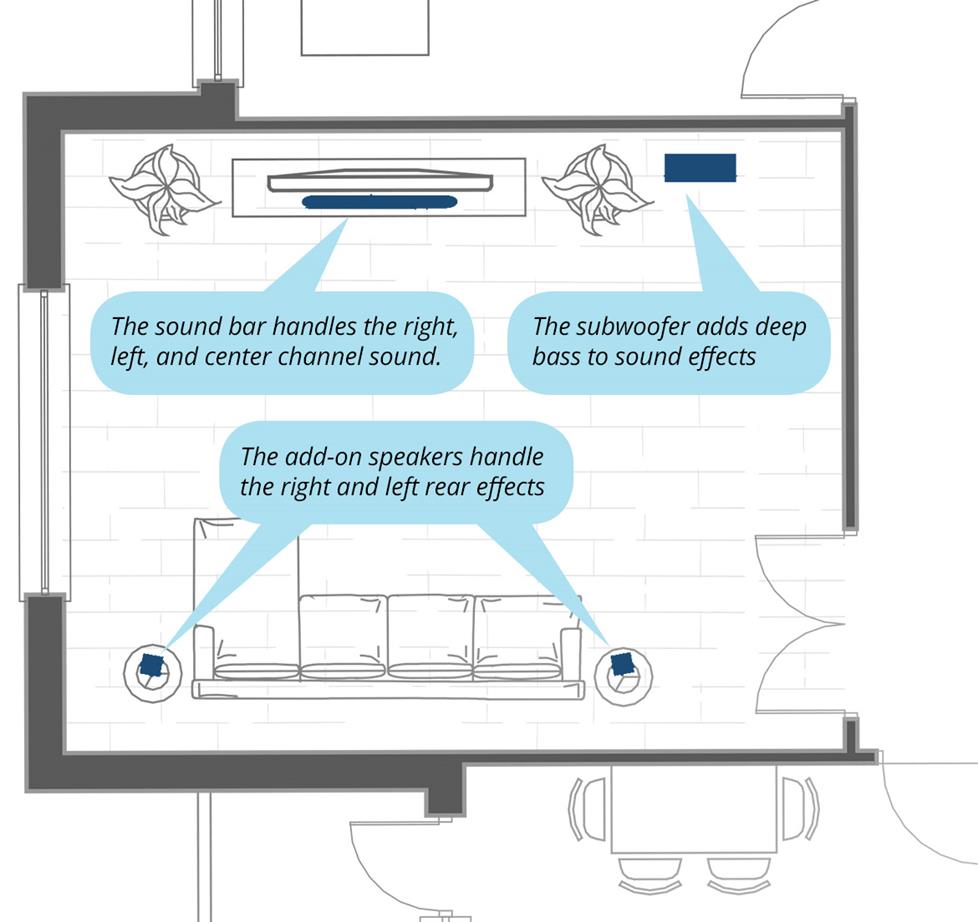 Enjoy an awesome home theater experience without running or hiding any speaker wires or subwoofer cables.
I like this route for a couple of reasons. First, it gives you some budget and space flexibility. Start your system with a sound bar and wireless sub for improved dialogue, volume range, and bass response. Then when you're ready to expand your system, add a pair of matching wireless surrounds. They add those crucial special effects that make movies so much fun to watch at home.
The other main benefit to these systems is that your wireless rear speakers can be used as standalone music players when you're not watching TV. Take one into the kitchen while you're cooking. Or set one up on your porch and stream music from your phone or the internet while you hang out with friends. When you're ready to fire up a movie or watch a football game, bring the speakers back into the living room and your surround system is ready to rock again.
Our sound bars buying guide will help you choose the best sound bar for your system.
In the world of surround sound, wireless refers to signal transmission. We can broadcast an audio signal to powered speakers without speaker wire. But, a constant power supply for the equipment is still required. You'll need to plug even "wireless" speakers into a power outlet. Or better yet, a power protection device.
Don't have room for surround speakers? Build a strong front soundstage
Sometimes our rooms can't accommodate surround speakers at all. And that's okay – you can still get great TV sound without wires getting in the way. Here's where a traditional wired system makes sense. Since all of the equipment is in one area, the wires are easily hidden.
A 2.1 system combines a pair of bookshelf or floor-standing speakers with a powered subwoofer. This makes for a strong front soundstage, and also a rockin' stereo music system.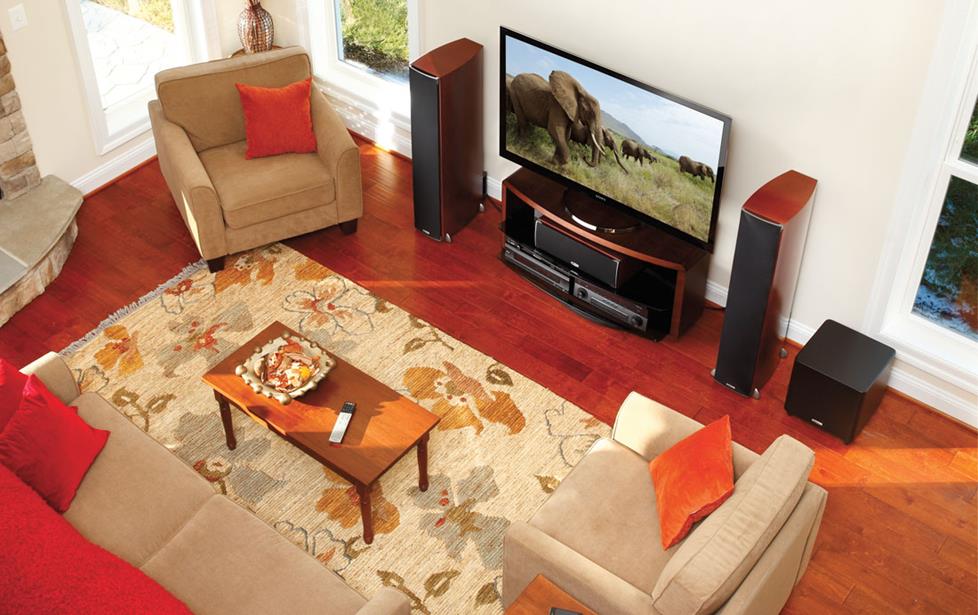 Love watching movies? Go with a 3.1 system. This adds a center channel speaker to a 2.1 system for improved dialogue and a wider front soundstage.
If you're going the front soundstage route, I recommend powering your system with a home theater receiver. It handles the audio/video processing and provides amplification for the speakers. And it gives you expansion flexibility should you decide to add surround speakers down the road.
Check out our intro to home theater speakers to learn more about choosing speakers. Read our guide to choosing speaker wire to find the right wire for these two systems.
Connect with a Crutchfield advisor for a personalized recommendation
Have questions about choosing the right equipment for your surround system? For one-on-one shopping advice, call, email, or chat with us today. Free lifetime tech support is included with your order.
Laid back, reliable, informative...Oh, and I'm way into wireless, too!

Christopher, Crutchfield Advisor