Zeppelin Air Review
A Test Flight in Three Parts
During his tenure as a Crutchfield staff writer, Marshall Chase wrote about home theater receivers, sound bars, and in-wall and in-ceiling speakers.
More from Marshall Chase
Heads up!
Welcome to this article from the Crutchfield archives. Have fun reading it, but be aware that the information may be outdated and links may be broken.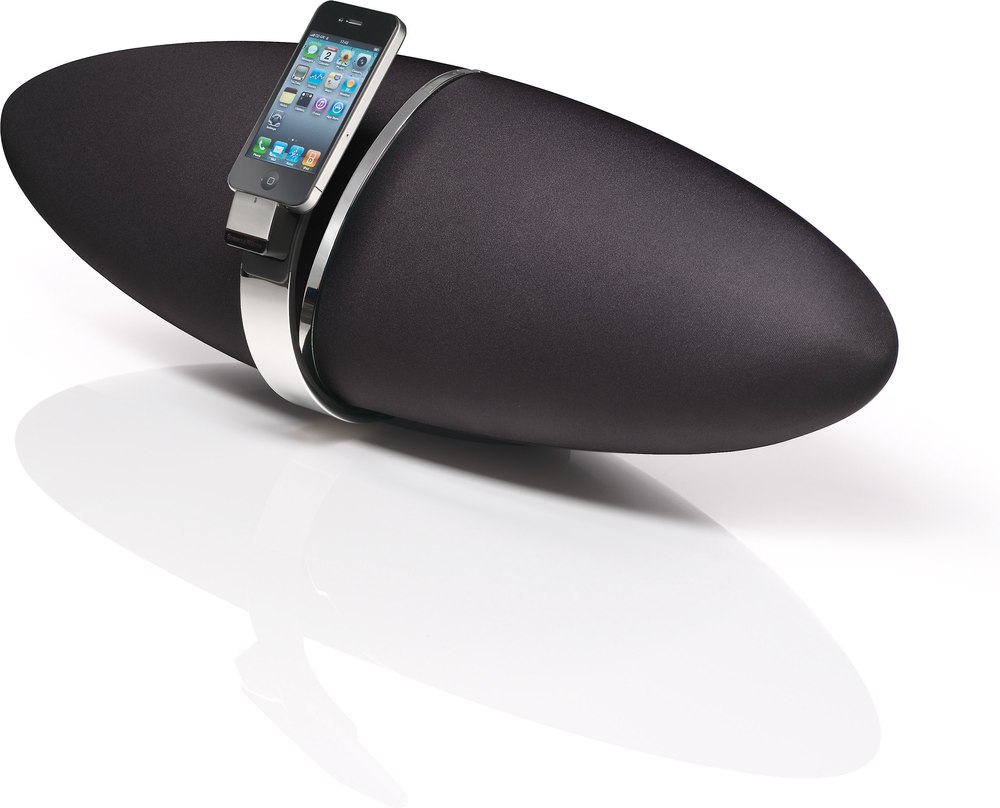 The Bowers & Wilkins Zeppelin Air
I recently had an opportunity to review the Bowers & Wilkins Zeppelin Air iPod music system. Now, this is not your average iPod® dock. Its bulging center and narrow ends really do make it look like something you'd see floating over a football stadium. Bowers & Wilkins' reputation for excellence had me filled with high expectations for sound quality.
I left work with the system thinking that here is a gizmo that plays the iPod, either docked or wireless, that's going to sound great, fill a good sized space and be fairly simple to use. Those formed the parameters of the in-flight test, and the Zeppelin Air did not disappoint me.
It's the "Air" in Zeppelin Air
Apple AirPlay® was the feature I was most interested in testing out. Apple's AirPlay is a way to wirelessly stream media from your iTunes library to a compatible device. The cool thing about this is that since the streaming occurred through my home Wi-Fi® network, I could be anywhere on the property and change the tune, or even adjust the volume. (To learn more about this technology, see our Intro to Apple AirPlay)
Now, I am someone who has adopted iPod vicariously. That is, when I want to use one, I borrow my daughter or stepson's device. So I am actually new to the iPod culture, which makes me the butt of a little humor in my household. (Insert Cro-Magnon joke here.)
Bowers & Wilkins provide great instructions for setting up AirPlay for the first time. Even while following the instructions, I accidentally managed to get into a little trouble.
One part of the set-up involves connecting the Zep to your computer with an included network cable and going to a Bowers and Wilkins website for initialization. Apparently, not every web browser automatically inserts the http:// address prefix when you type in a URL.
So, it took a consultation with my stepson to discover where I had gone wrong. Once I cleared that glitch, I found the Bowers & Wilkins steps to be spot on and the rest of the setup was fairly quick. There was the matter of distracting laughter and friendly jibes from the local youth, but that dissipated when the music took over so I could begin to make repairs to my "expert" status.
ABBA Air
We used my daughter's iPod touch® and began streaming ABBA wirelessly to the Zeppelin Air. The birthday girl (13) is a big fan of the movie Mamma Mia, which features the music of the 1970's Swedish group. The very first words spoken by this particular Zep were "You can dance; you can jive, having the time of your life." The actual dancing and jiving started soon after.
When the guests arrived, the Zeppelin was moved outdoors onto a concrete patio with a carport cover. The space is about 20' by 20' and the speaker system came to land on a hard rubber storage bin at the outer perimeter. At first, I didn't think this was acoustically ideal, but I was mistaken.
The cuts flowed wirelessly from the iPod touch to the Zeppelin Air, with song selections coming fast and furious.
I thought the rapid changes would slow the Zep down to a crawl. But there were no delays. Eventually we got to hear a song all the way through — Avril Lavigne's Contagious. This rocking tune came through perfectly with the fullness of the artist's hard-singing, Telecaster-smacking self. The drums and bass filled in well and, in true daddy-of-a-teen form, I was asking my daughter to please turn it down a notch. This was easy to do with the iPod touch OR with Bowers & Wilkins' great little concrete-fall-surviving remote. After all, what 13-year-old's birthday party would be complete without some experimentation with Newton's law of universal gravitation?
Graduating to trance and more
The next event to test the Zeppelin Air was my stepson's college graduation party. With Pomp and Circumstance a distant memory, this new baccalaureate wanted some party to go with his pork barbecue. His iPod classic doesn't work with AirPlay, because it lacks wireless capability.
No problem. The Zeppelin Air has a dock for just such occasions that enables control with its hearty remote as well as charging. I've heard that some people express regret that the dock doesn't retract, but I found the sturdy front armature form to be highly functional since it doubles as a convenient handle.
So, the young man started off mercifully with a flurry of tunes that his mom and I found not only recognizable, but great sounding. It was the first time I can say that Eric Clapton did Cocaine (the studio version) on my patio. It sounded great, as always. This time I was the one who cranked it. While it didn't shake the roof, I was still asked to turn it down a notch.
As guests continued to arrive and the average age of the group plummeted, the Zeppelin Air was replaced by my stepson's car audio system. The sound from the Air didn't travel the distance well to the fire pit and was shy of the bass capabilities of the two 12" subs in my stepson's vehicle.
There's a UFO (Unusually Fun Object) in my house!
While the outdoor challenges were fine for the kids, I wanted to hear how the Zeppelin aIR would sound playing tunes I enjoyed indoors. Once again I borrowed my daughter's iPod touch. The Zep makes a direct digital connection with the iPod when docked and will even do Apple Lossless using AirPlay. I couldn't discern any difference in sound quality whether the iPod was docked or streaming.
I put the Zep through the motions, listening to everything from Billie Holiday to Billy Idol. In every case the result was room-filling sound, and a wide, spacious, accurate playback regardless of the source. But the best part was the über-cool capability to change the song and volume using the iPod from any room in the house even when I couldn't see the Zeppelin Air. This is a feat that I just can't pull off with my older non-AirPlay-ready Marantz receiver.
It was a great spin!
I've heard a LOT of iPod music systems, but haven't had the chance to actually live with too many of them. I love my Marantz NR1501 receiver and PSB Image T6 speakers (which I've written about before). But with my growing collection on iTunes, it doesn't make for the most convenient access of the household music library.
In all the use I've made of the Zeppelin Air, it never disappointed. Bowers & Wilkins has a well-earned reputation for high-fidelity audio equipment and this piece was no exception. In fact, it really has some class. The speaker complement seemed just right for the space and occasions I provided, which were varied. While it didn't meet the power-hungry volume demands of a 20-something party from a placement 50 yards away, even they appreciated it for a while. The Bowers & Wilkins Zeppelin Air is something I think anyone who is serious about quality sound would enjoy having moored close by.