Why Choose Crutchfield?
Deep discounts on car installation gear
We offer vehicle-specific installation instructions, dash kits, wiring harnesses, and speaker accessories at deeply discounted prices with car stereo and speaker purchases. Available for most vehicles.
Learn more
Trusted since 1974
Our customers have trusted us with their business, and they've helped us win awards for our service.
Check out our most recent awards
Factory-authorized dealer
The manufacturer's warranty always applies.
See more details
Bose® VideoWave® II entertainment system
46" 1080p LED-backlit HD monitor with built-in home theater audio system
Item #: 01846VW2
This item is no longer available.

Overview
Our take on the Bose® VideoWave® II entertainment system by Crutchfield's Steve Kindig
VideoWave® II: A TV and a Bose® home theater system in one
The VideoWave® II looks similar to ordinary HDTVs, but it's a remarkably innovative entertainment system loaded with unique capabilities. It's the only TV with an advanced Bose® home theater system built inside. Movies will be riveting with life-sized sound and crisp, clear dialogue, and music will sound full and spacious. Exclusive Bose technologies make all this happen with no visible speakers, subwoofer or wires to clutter your room.
Room-filling sound that's heard but not seen
The first thing you notice about the VideoWave II is how big it sounds. The soundfield extends well beyond the screen and seems to stretch around to the sides of viewers. This spacious sound puts you in every movie scene, and when you're listening to music, it puts the musicians in the room.
The VideoWave's unique cabinet design is the key to its amazing sonic performance. While typical LCD TVs have grown ever skinnier, the VideoWave's cabinet is a full six inches deep. That provides the space for Bose's sophisticated audio system, which includes six high-performance woofers and a seven-element speaker array to create spacious sound. Bose's proprietary acoustic waveguide produces an impressive amount of bass punch, and advanced digital signal processing directs sounds around your room to create realistic home theater effects.
Sound tailored to your room
Bose understands that every room is unique when it comes to size, shape, furniture and floor coverings. And all of those things affect the sound you hear. Bose's built-in ADAPTiQ® audio calibration system can overcome these acoustic challenges. This proprietary technology first analyzes your room, then adjusts the VideoWave II system for consistent, high-quality performance. Audio calibration is part of Bose's set-up service, so you'll enjoy customized sound without lifting a finger.
Streamlined hookup, setup, and operation
Like every Bose product, the VideoWave II is extremely easy to set up and use. Aside from its power cord, the TV has only one hookup: a special supplied cable that connects the TV to the accompanying VideoWave control console. The control console is the system's connection hub and command center for the TV. All of your external sources connect to the console.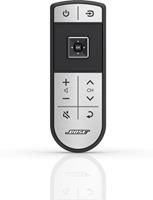 The system's A/V connections are split between the rear and front panels of the console. You'll find a total of four HDMI inputs, two component video inputs, and two USB ports. A separate iPod® dock makes it easy for you to enjoy your favorite music.
Controlling an entire home entertainment system can be challenging with some gear, but not the VideoWave II. It includes a click pad remote with just a few buttons to control source and channel switching and volume. Everything else is handled by the remote's click pad, which provides convenient touch, glide and click operation. And the functions of your connected devices are displayed right on the TV screen, framing whatever you're already watching.
Delivery and expert setup included free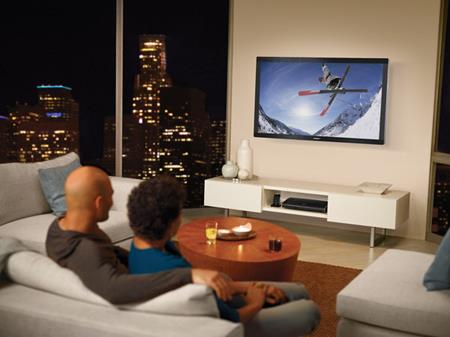 When you purchase a VideoWave system, the price includes Bose's professional set-up and delivery service, which ensures that you will see and hear the full performance the system is capable of. The experienced Bose delivery team will:
deliver the VideoWave II system to your home
place it on your existing entertainment unit
connect the system to existing A/V sources located on the same unit
run ADAPTiQ® audio calibration system to ensure the best possible performance for the room
demonstrate how Unify® technology makes it easy to connect and control sources
program the click pad remote to control connected sources
provide a personalized tutorial on system operation and use of click pad remote
demonstrate the performance capabilities of the system
What's in the Box:
46" LCD-LED monitor
Control console
Pedestal stand
AC power supply (with attached 6' DC cord)
6.5' AC power cord
59" AC power cord
Proprietary system cable
Remote control
2 "AAA" batteries. iPod/iPhone dock
ADAPTiQ headset
Two 6.5' HDMI cables
6.5' Component video cable
6' Composite video cable
6' RCA stereo audio cable
6' IR emitter cable (with 3 flashers)
USB flash-drive
2 Anti-tip straps
4 Anti-tip strap screws
2 Stand screws
6 Sticky-pads
Hex wrench
Operating Guide (En/Fr/Sp)
Setup Guide (En/Fr/Sp)
Warranty Information
"Out Commitment To You" letter
USB Flash Drive Instructions
Bose Corporation contact information
Energy Guide:

View the Energy Guide
Features:
General:
VideoWave® II system includes a 46" HD monitor, control console with connections for all your components, and an iPod®/iPhone® dock
warranty: 2 years parts & labor — in-home service
HD monitor:
46" screen (measured diagonally)
glossy screen with black bezel and cabinet
no built-in tuner — designed for use with a separate over-the-air TV tuner, or a cable or satellite TV receiver
LED edge backlight for impressive picture contrast with deep black levels
120Hz refresh rate for smooth video motion
picture settings memory for each video input
built-in amplified speaker system with 6 woofers and a 7-element speaker array
internal acoustic waveguide enhances bass output
ADAPTiQ® auto room EQ system with headset microphone
programmable click pad remote control
44-3/8"W x 26-7/16"H x 6"D (29-3/4"H x 13-7/16"D on stand)
weight: 137 lbs. with stand; 106 lbs. without stand
wall-mountable (bracket not included)
because the VideoWave II audio system works by bouncing sound off your room's walls, Bose does not recommend placing the HD monitor in an enclosed cabinet or recessed alcove
Control console:
7 A/V inputs, including:

1 composite video
2 component video (selectable component/composite)
4 HDMI v1.3

optical and coaxial digital audio inputs
stereo minijack headphone output
front-panel USB port for connecting a camera or thumb drive
input for connecting the supplied iPod®/iPhone® dock
output for connecting the control console to the HD monitor
Unify® Intelligent Integration System for easy system setup and configuration
includes two 6-1/2-ft. HDMI cables, plus composite and component video cables
IR emitter for remote control of other components
16-7/16"W x 3-1/16"H x 10-3/4"D
weight: 7 lbs.
Dock for iPod®/iPhone®:
Details
Product Research
Video Features
Audio Features
USB/iPod Functions
Convenience Features
Remote Control
Mounting Options
Video Features
LED Edge-Lit Display: The Bose VideoWave II System utilizes LED edge backlighting for a vivid picture with sharpened detail and dynamic contrast.
120Hz Refresh Rate: The Bose VideoWave II System features a 120Hz refresh rate, so action sequences are displayed in smooth fashion. 120 Hz anti-blur technology doubles the frame rate from 60 frames-per-second to 120 frames-per-second, virtually eliminating motion blur that could be caused by fast action video.
1080p Resolution: The VideoWave II System has a display resolution of 1920 x 1080. All video inputs are displayed at 1080p.
Video Inputs: The VideoWave II System provides high definition HDMI & component video inputs, as well as standard definition composite video inputs. All video connections are found on the VideoWave II System's Control Console. There is a proprietary system cable that runs from the Control Console to the display monitor.
HDMI (v.1.3): The system features four HDMI inputs (3 rear/1 front). The HDMI inputs will accept 1080p, 1080i, 720p, 480p, and 480i video signals.
Component: The two rear-panel component video inputs will accept1080i, 720p, 480p, and 480i signals.
Composite: There are three composite video inputs (2 rear/1 front) capable of 480i signals only. The two rear-panel composite inputs share the same A/V inputs as the two rear-panel component video inputs. The front-panel composite video input is an independent A/V input.
Note: The VideoWave II System does not contain a built-in TV tuner; it will require an out outboard TV tuner, Cable box, or Satellite receiver.
Image View Format: The Bose VideoWave II System features various image view formats to match the display monitor and your connected sources. You can select from the following.
Normal: Leaves original video image unchanged.
Auto-Wide: Fills width of the screen without cropping any content.
Stretch 1: Stretches video image evenly from the center.
Stretch 2: Stretches the edges of the video image much more than the center portion of the image.
Zoom: Enlarges the video image.
Gray Bars: Places vertical gray bars on the left and right of a standard definition video image.
Video Presets: The Bose VideoWave II System provides video presets for Dark, Normal, and Bright ambient light conditions.
Video Adjustments: If you are unsatisfied with the Video Presets, you can manually adjust the system's Brightness, Contrast, Color, Tint, Sharpness, Backlight, and Color Temp.
Gamma & Color Settings: You can further customize the system's Gamma, Red, Green, and Blue color settings (we recommend that these adjustments be made by a qualified technician).
Motion Smoothing: Motion Smoothing provides an adjustable control (Low/Normal/High/None) to insure a smooth and clear picture for sports and fast-moving action scenes. Movies will appear to be more natural and lifelike when Motion Smoothing is ON. However, you can set motion smoothing to None, if you prefer to view films the way the director intended them to appear.
Audio Features
Built-in Bose Sound: The Bose VideoWave II System employs exclusive PhaseGuide technology combined with a unique seven-element speaker array and advanced digital signal processing for convincing cinematic effects. Six high-performance woofers and a proprietary acoustic waveguide reproduce resounding bass for even more realism.
Bose ADAPTiQ Audio Calibration System: The VideoWave II System's performance is customized to the acoustics of your room with the Bose ADAPTiQ audio calibration system. Your room is unique, with size, shape, textures and other elements that can affect the sound you hear. The ADAPTiQ audio calibration system overcomes these acoustic challenges so you don't have to change a thing. This proprietary technology first analyzes your room, then adjusts the VideoWave II system for a consistent, high-quality performance. ADAPTiQ audio calibration system analyzes the way your room's dimensions & other variables affect sound, then automatically adjusts the sound of your speaker system to the acoustics of your room. To perform a calibration you need about 10 minutes when the room is quiet. While wearing the special headset, the system will ask you to place yourself in five different locations (sitting or standing) in your listening area as the system takes measurements in each. Audio prompts from the system will guide you through the process.
ADAPTiQ Headset: The special headset supplied with the ADAPTiQ system has no speakers, but special microphones designed to be worn above the ears. It enables you to take acoustic measurements in your room during the custom equalization process. The headset has an adjustable headband and a 28' cord terminating in a pair of stereo male RCA plugs. These plug into the system's front-panel left and right RCA inputs.
Audio Inputs: The Bose VideoWave II System is fitted with both analog and digital inputs. All audio connections are found on the VideoWave II System's Control Console. There is a proprietary system cable that runs from the Control Console to the display monitor.
Analog Inputs: The system's Control Console is equipped with three sets of RCA stereo analog inputs (2 rear/1 front).
Digital Inputs: The Control Console is also equipped with two optical (toslink) and two coax (RCA) digital audio inputs.
Headphone Jack: The Control Console features a front-panel 3.5mm headphone output for connecting a set of headphones. The system's speakers will be muted while your headphones are plugged in.
Video Muting: When you want to enjoy listening to music without being distracted by video, or if you just want to conserve energy, you can turn off the video screen. When listening to audio sources like iPod/iPhone, the system will automatically enter screen-saver mode; press any button on the click pad remote to restore the picture.
Bose Link: The VideoWave II System supports Bose Link technology. Bose Link whole-home audio technology lets you connect compatible Bose products to the VideoWave II System for listening to different analog audio sources in as many as 14 additional rooms.
USB/iPod Functions
USB Port: The Control Console features a front-panel USB type-A port for viewing JPEG still-image files from a USB device, including a digital camera. There is also a rear-panel USB (type) port used for updating the system's software & firmware. A USB thumb-drive is provided for system updates. Visit Bose Product Support for the latest software & firmware updates.
iPod/iPhone Dock: The Bose VideoWave II System comes supplied with an iPod/iPhone dock for connecting select iPod and iPhone models to the system. The iPod/iPhone dock plugs into the "iPod/iPhone" proprietary port on the back of the Control Console. The Bose VideoWave II supports audio/video playback, menu control, on-screen information display, & charging of your connected iPod/iPhone (your iPod/iPhone's click-wheel or touch-screen will be locked). The VideoWave II System is "Made for iPod/iPhone compatible" and supports the following iPod/iPhone model functions (10/30/2012).
iPod/iPhone Model
Generation
Tester Version
Media Type
Control
Display
Charge
Audio
Video Out
Remote
iPod/iPhone
Song/Artist Text
Track #
video
5th
1.3
Y
Y
Y
N
Y
Y
Y
classic
80GB
1.1.2
Y
Y
Y
N
Y
Y
Y
120GB
2.0.1
Y
Y
Y
N
Y
Y
Y
160GB
2.0.4
Y
Y
Y
N
Y
Y
Y
iPod nano
1st
1.3.1
Y
N
Y
N
Y
Y
Y
2nd
1.1.3
Y
N
Y
N
Y
Y
Y
3rd
1.1.3
Y
Y
Y
N
Y
Y
Y
4th
1.0.4
Y
Y
Y
N
Y
Y
Y
5th
1.0.2
Y
Y
Y
N
Y
Y
Y
6th
1.1 PC
Y
N
Y
N
Y
Y
Y
7th*
1.01 PC
Y
N
Y
N
Y
Y
Y
iPod touch
1st
2.2.1
Y
Y
Y
N
Y
Y
Y
2nd
4.2.1
Y
Y
Y
N
Y
Y
Y
3rd
5.1.1
Y
Y
Y
N
Y
Y
Y
4th
6.0
Y
Y
Y
N
Y
Y
Y
5th*
6.0
Y
N
Y
N
Y
Y
Y
iPhone
2G
3.1.3
Y
Y
Y
N
Y
Y
Y
3G
4.2.1
Y
Y
Y
N
Y
Y
Y
3GS
5.1.1
Y
Y
Y
N
Y
Y
Y
4
6.0
Y
Y
Y
N
Y
Y
Y
4S
6.0
Y
Y
Y
N
Y
Y
Y
5*
6.0
Y
N
Y
N
Y
Y
Y
Note:

*The iPod nano (7th gen), iPod touch (5th gen), and iPhone 5 will require the Apple Lightning to 30-pin adapter or cable (both, sold separately) in order to dock with this system.
Apple iPod/iPhone software updates may change functionality results. If you download a newer software version, you may need to reset the device and your iPod/iPhone to regain functionality. If this doesn't work, you may need to wait until an newer software update is available.
Convenience Features
Unify Intelligent Integration System: The Unify Intelligent Integration System guides you through the initial process of setting up and configuring your system. The Unify Intelligent Integration System uses on-screen navigation to simplify system setup & everyday use. This proprietary technology walks you through step-by-step, and even verifies you've done it correctly. It helps you choose the right cables and inputs, and programs the click pad remote to operate your connected devices. Clear, on-screen menus provide all the information you need for your connected sources. After completing the initial setup, you can use the Unify system at any time to change your system setup and configuration.
Automatic Off: The system will automatically turns off after 4 hours of no user interaction (no remote control button presses). The system will also automatically turn off 15 minutes after you no longer see video from an audio/video source or no longer hear audio from and audio source.
Remote Control
Innovative Click Pad Remote: The innovative click pad remote has only the buttons necessary for basic control of the system (power, volume, & source/channel switching). Controls that are unique to your connected devices appear on the monitor screen and are accessed by using the click pad located on the remote control (once programmed/learned). To select these additional controls, you touch the click pad, glide your thumb to the function (or control) you want, and press down on the click pad itself.
IR Emitter Cable: The remote control also offers IR commands using the included IR emitter cable to control connected IR devices.
Mounting Options
Tabletop Stand: The Bose VideoWave II System comes supplied with a tabletop pedestal stand, which must be attached using the supplied hardware. The monitor weighs 137 lbs with the stand attached. Two Anti-tip straps are included to help prevent the monitor from tipping over when placed on stand, shelf, table, desk, etc..
Note: If using the monitor on the stand, do not place the Control Console between the legs of the stand or anywhere directly under the bottom edge of the monitor. This will avoid blocking ventilation and audio system openings in the product enclosure.
Optional Wall Mounts: The VideoWave II System is compatible with many VESA certified brackets that use a 400 mm x 400 mm screw pattern with 6mm screws. The panel itself without the stand weighs 106 lbs., so the mount must be able to support that weight. Articulating wall mounts are not optimal because of the effect that changes in position might have on the acoustics and are therefore not recommended.
Note: The included proprietary system cable is not rated for in-wall use. An in-wall version of this cable (sold separately) is available from Bose.
Placement: The back of the monitor should be approximately 1-4" from a wall. You should try to allow 3-10' between the monitor and the side walls of the room. Allow at least 8" of clearance from the top of the monitor to any surface above (such as a shelf) to allow for proper ventilation and acoustic performance. The area between the side walls and the monitor should be free of as many objects as possible that would block the sound, such as tall bookcases and storage cabinets. To enjoy the best audio and video performance, try to have the vertical center of the screen at eye level when seated.
Professional Installation: As a VideoWave II System owner, you'll receive the highest level of Bose customer care. Within one business day of your purchase, a Bose specialist will call to provide information on delivery and setup and answer any questions you may have. When your VideoWave II system is delivered, the Bose installer will set it up, connect all existing sources, program the click pad remote and provide a complete system demonstration.
Our Product Research Team
At Crutchfield, you'll get detailed, accurate information that's hard to find elsewhere. That's because we have our own in-house Product Research team. They verify what's in the box, check the owner's manual, and record dimensions, features and specs. We stay on top of new products and technologies to help people make informed choices.

;