Why Choose Crutchfield?
Deep discounts on car installation gear
We offer vehicle-specific installation instructions, dash kits, wiring harnesses, and speaker accessories at deeply discounted prices with car stereo and speaker purchases. Available for most vehicles.
Learn more
Trusted since 1974
Our customers have trusted us with their business, and they've helped us win awards for our service.
Check out our most recent awards
Factory-authorized dealer
The manufacturer's warranty always applies.
See more details
Bose® AE2i audio headphones
(Black)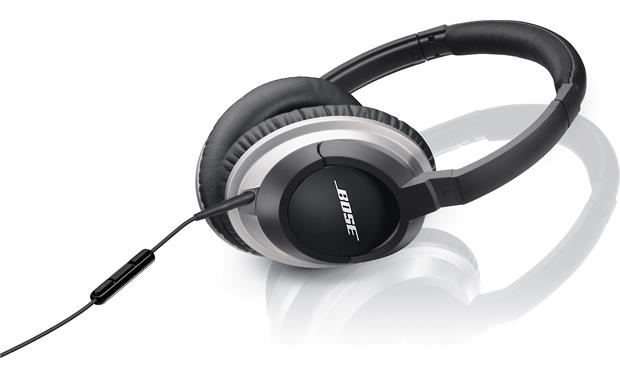 Bose® AE2i audio headphones - Front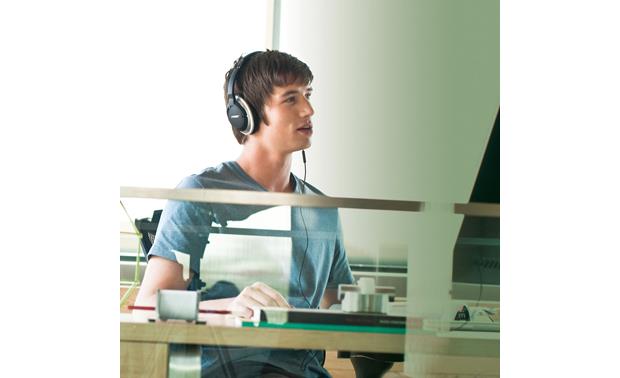 Bose® AE2i audio headphones - At work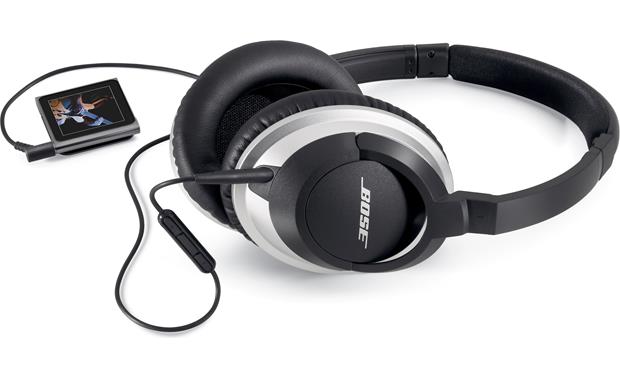 Bose® AE2i audio headphones - Connected to an iPod® nano® (iPod not included)
From Bose: AE2i Headphones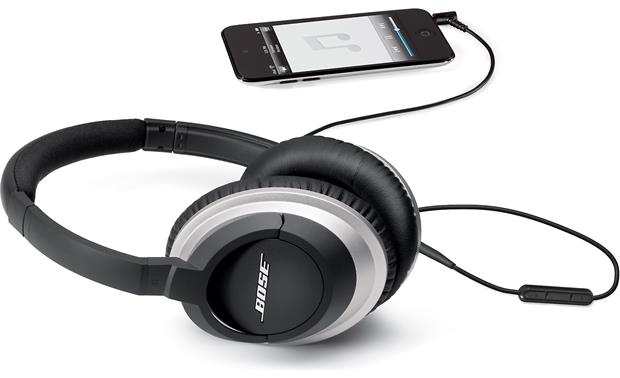 Bose® AE2i audio headphones - Connected to an iPod® touch® (iPod not included)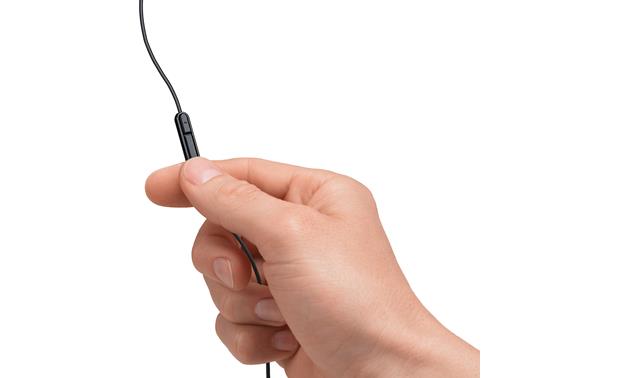 Bose® AE2i audio headphones - In-line remote/microphone in hand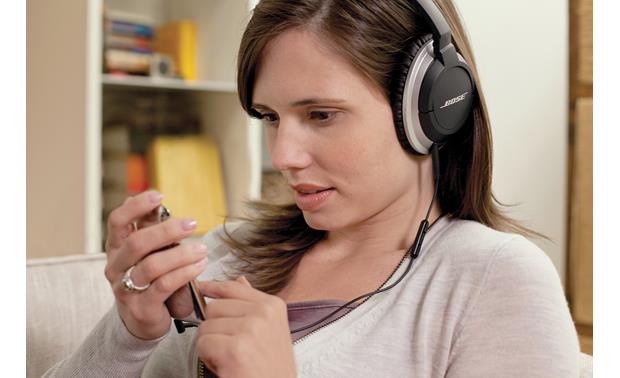 Bose® AE2i audio headphones - Listening at home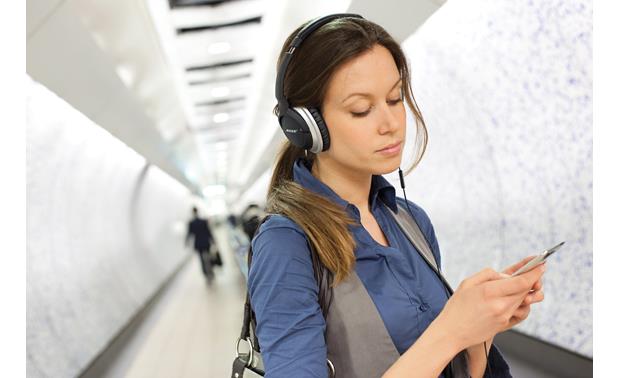 Bose® AE2i audio headphones - Listening on the go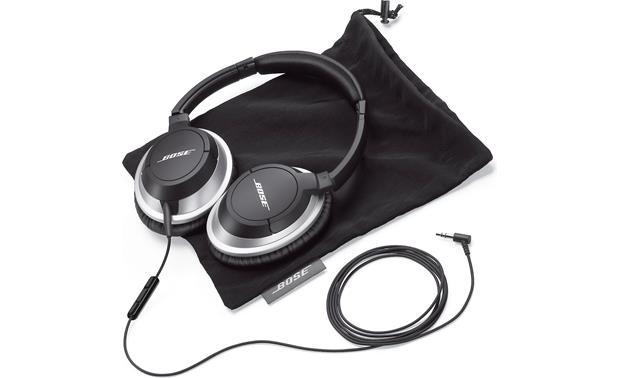 Bose® AE2i audio headphones - Shown with included draw-string storage bag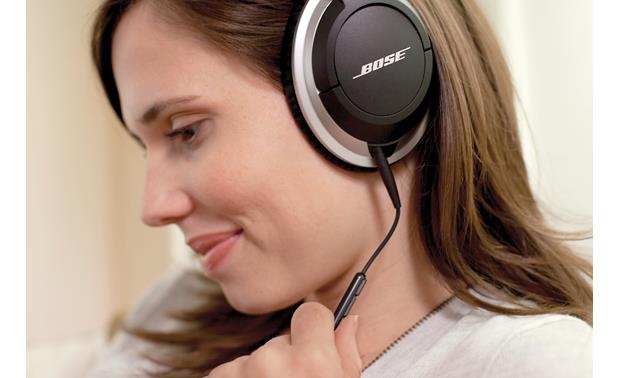 Bose® AE2i audio headphones - Using in-line remote/mic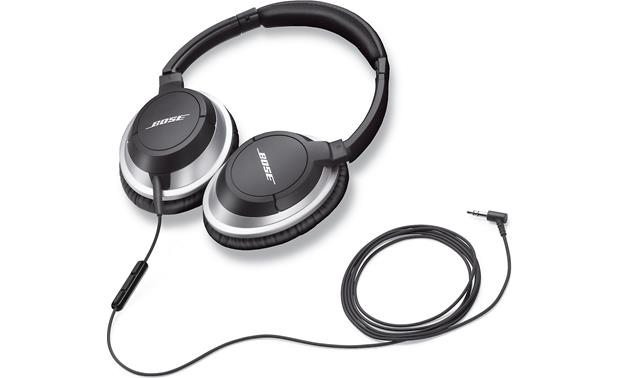 Bose® AE2i audio headphones - With earcups folded flat for storage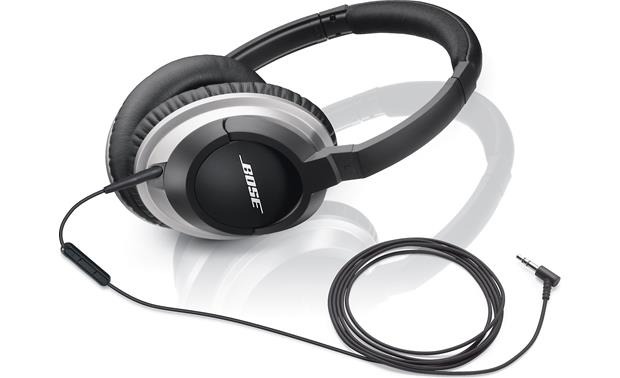 Bose® AE2i audio headphones - With in-line remote and microphone cable
Item # 018AE2I | MFR # 345444-0010
This item is no longer available.
Overview
Our take on the Bose® AE2i audio headphones by Crutchfield's Dave Bar
Engineered for performance. Designed for comfort.
Whether you're kicking back at home or listening on the go, the Bose® AE2i audio headphones provide superior sound, extraordinary comfort, and a stylish design. The Bose TriPort® acoustic headphone structure lets the AE2i faithfully reproduce deep, full bass, clear highs, and smooth sound throughout the entire audio spectrum. Their performance can uncover subtleties in your tunes you may have never noticed before, even with long-familiar tracks — the delicate swish of brushes on a brass cymbal, or the reverberations echoing off the back wall in a concert hall.
Take calls. Take control.
Bose designed the AE2i specifically to work with select Apple® products. A three-button remote control built into the cable lets you conveniently answer and end calls, control music playback, and raise or lower the volume without having to dig your player out of your pocket. You can even enjoy hands-free conversations on your iPhone®, thanks to the remote's built-in microphone. The microphone also lets you take advantage of the voice control feature found on many of the latest iPhone, iPod® and iPad® models. Just hold down the button and say your command.
Take 'em along wherever you roam
You'll love the lightweight, compact design. The earcups feature soft cushions that fit gently around your ears so you can enjoy hours of listening at a time. And the headphone cord attaches to just one earcup, so you won't have to deal with tangles. A handy fold-flat design with a collapsible headband makes it easy to store and transport your headphones in the supplied carry bag.
Product Highlights:
comfortable, lightweight, around-the-ear design
detachable headphone cable with inline remote and microphone for use with select Apple® products

3-button remote lets you answer, end, and switch calls, turn volume up and down, and control music playback
built-in microphone allows hands-free iPhone conversations and Voice Control with select Apple products

TriPort® acoustic headphone structure for powerful bass and clearer sound
compact, fold-flat earcups and collapsible headband for greater portability
67" cord with a 3.5mm male connector for your audio device
cloth carry bag
weight: 4.9 oz.
warranty: 1 year
What's in the Box:
Black/Silver Bose around-ear headphones
67" Cable with an in-line iPod remote (terminated by an angled male 3.5mm mini-plug)
Cloth pouch
Owner's guide (English/ German/ Spanish/ French and 13 other languages)
Product registration and Warranty information
Great Head phone

Joe P, Staten Island
Why Shop
With Us?
10 Reasons.
Reviews
Bose® AE2i audio headphones Reviews
Average Customer Review(s):
Joe P from Staten Island on 5/9/2014
Crutchfield Customer Review
(
What's this?
)
Great Head phone

Pros: Sounds Great

Cons:
Bose® AE2i audio headphones Reviews
Winston P from Memphis, TN on 5/5/2014
Crutchfield Customer Review
(
What's this?
)
have really enjoyed the Bose AE2i headphones. The sound is great and I can listen to my music effortlessly without having my hearing aids on. "Coolness Factor" means nothing to me, therefore I did not rate it.

Pros: Great sound. The types of music I enjoy range from big band (Sinatra, Ella Fitzgerald, Steve Lawrence, etc), classical, gospel, some country, and occasionally 1950"s rock and they all sound great with these headphones.

Cons: At times they become a little uncomfortable after wearing them for long periods. Some time there is a little to much bass.
shibone from crimora on 3/18/2014
Quality people + Quality products = Satisfied customers. That's Crutchfield. Of my other purchases at Crutchfield this was my first Bose product. When connecting to computer push wire in far enough but not too far and lay back and enjoy. They sound great

Pros: I'm not a geek so manufs. make it simple and Crutchfield does the rest

Cons: Just another wire
Too Clean on 12/2/2013
Crutchfield Customer Review
(
What's this?
)
Been ordering from Crutchfield for almost 20 years and I don't have anything but positive things to say about them. Saw the headphones went on sale and Crutchfield gladly refunded me the difference (60 days to do so). Class act as always.

Pros: Everything

Cons: Nothing
TerryK from New Port Richey, FL on 10/21/2013
Crutchfield Customer Review
(
What's this?
)
Bought these for my husband for his birthday and he loves them. He uses them at home and work to block out distracting noise

Pros: Good quality sound. Great over the ear fit, light weight..the description did not say noise reduction but my husband says they block out all the annoying distractions at work.

Cons: I have no cons
Royboy from Palm Springs, CA on 10/13/2013
Crutchfield Customer Review
(
What's this?
)
For the price, great quality all around. Light weight, easy to adjust, VERY easy to wear even for long periods. Lots of noise reduction, although this is not advertised as a feature of these lower priced Bose. Other headphones in this price range can't compete. The $30 extra for the volume and other controls definitely worth having. Detachable cord handy but I did lose mine and had to buy a replacement (my bad).

Pros: Sound quality, durability.

Cons: none
Bose AE2i audio headphones
Jayesh from Irvine CA on 7/13/2013
Crutchfield Customer Review
(
What's this?
)
As I expected these headphones are excellent. Feel very comfortable and of course sound quality is excellent. Build quality seems ok so I expect these to last a long time.

Pros: Great sound, feel comfortable

Cons:
DAE from Gibsonia, Pa. on 3/31/2013
Crutchfield Customer Review
(
What's this?
)
better sound than Beats by far!

Pros:

Cons:
Vocals disappeared after 2 weeks, only background sound
Mouli from Burbank, CA on 8/1/2012
Crutchfield Customer Review
(
What's this?
)
I used it for 2 weeks and then suddenly the vocals disappeared. I used to hear it really mild on the background with the music playing loud. I was really disappointed. Have been using a QuietComfort for 2 years now. THose are the BEST hands down!

Pros: Light

Cons: Noise Cancellation
Dave S from Oregon on 2/8/2012
Crutchfield Customer Review
(
What's this?
)
Awesome sound as expected from Bose. Controls work great with an iPhone. Great idea to have replaceable cord, instead of tossing headphones if something happens to it, or the plug. Upgraded to the AE2i because of issues with a pair of wireless phones. Glad I did. As always outstanding customer support from Crutchfield. They sent my new AE2i's same day I called, sent back other pair with the driver when he delivered my new ones. 100% SATISFIED THX

Pros: Sound, durability, quality and price. You get what you expect and pay for.

Cons: Haven't found any yet!!!
KennyS from Keene, NH on 2/3/2012
Crutchfield Customer Review
(
What's this?
)
I am very impressed with these headphones! I know Bose has a great reputation for high quality sound, and this holds true with these headphones. I can easily zone out for an hour listening to my ipod with these on my head. Each song I hear is a new experience because of the new sounds I can pick while wearing my new product.

Pros: Great sound quality, very comfortable. Worth the money.

Cons: Cord is a little longer than usual. The bass isn't very strong if that's what you're looking for.
Details
Product Research
Features
Overview: The Bose AE2i (around-ear) audio headphones let you hear smoother audio throughout the entire frequency range from full lows to clear highs. The Bose AE2i audio headphones can enhance your listening experience at home and on the go from your favorite audio sources, including your portable digital music player and laptop computer.
TriPort Acoustic Structure: The Bose AE2i headphones, with enhanced, proprietary TriPort acoustic headphone structure, deliver sound reproduction that many conventional headphones can't match. The TriPort technology allows you to enjoy deeper, richer lows from a compact headphone design. The TriPort design helps produce a quality audio performance from these light-weight, Around-Ear headphones.
Bose Acoustic Equalization: Bose acoustic equalization fine-tunes the frequency response of the around-ear headphones for exceptional audio performance for low, mid, and high frequencies.
Around-Ear Headphone Design: The Bose AE2i headphones feature a comfortable around-ear fit with pivoting, angled earcups. The Bose AE2i headphones feature soft cushions that provide an acoustic seal between the headphones and the user's head, enhancing both performance and comfort. The improved ear cushions, in both design and materials, give you a softer more comfortable feel. As a result, AE2i headphones can provide hours of comfortable listening.
Note: The AE2i do not offer active noise reduction.
Padded Adjustable Headband: The adjustable, cushioned headband has been redesigned to distribute weight more evenly across the top of the head. The sturdy design features soft cushion for added comfort. The adjustable headband allows approximately three inches of adjustment in length.
Detachable, Single Audio Cable: The 67" audio cable attaches on the left earcup for greater freedom of movement and less tangling; it detaches for convenient storage. The cable is terminated by an angled male 3.5mm connector which plugs into your audio device. The end that plugs into the headphones is a male 2.5mm connector.
Note: The headphones do not include a 1/4" headphone adapter.
In-Line Remote Control: The cable included with the AE2i headphones has an in-line remote control and microphone compatible with select Apple devices. The in-line remote provides basic music playback functions for your compatible iPod, iPhone, or iPad. The in-line microphone supports hands-free communication for your iPhone and initiates Voice Control on your compatible Apple device.
Music Playback Controls: Play/Pause, Fast Forward/Rewind, Skip/Previous Track, Volume Up/Down, Voice Control
Hands-Free Phone Control: Answer/End Call, Decline Call, Call Waiting, Volume Up/Down
iPod/iPhone/iPad Compatibility Chart: The Bose AE2i headphones are "Made for iPod/iPhone/iPad" compatible and support the following models and functions (as of 12/29/2011).
iPod Model
Generation
Tested Version
Audio Output
In-Line Remote
In-Line Mic
3.5mm Connector
Audio Playback
Playback Controls
Answer/End Call
Voice Control
Hands-Free Communication
Shuffle
1st
n/a
Y
Y
N
N
N
N
2nd
n/a
Y
Y
N
N
N
N
3rd
n/a
Y
Y
Y
N
N
N
4th
n/a
Y
Y
Y
N
N
N
dock connector
3rd
2.0.2
Y
Y
N
N
N
N
clickwheel
color
4th
3.1.1
Y
Y
N
N
N
N
mini
1st
1.4.1
Y
Y
N
N
N
N
2nd
1.4.1
Y
Y
N
N
N
N
video
5th
1.3
Y
Y
N
N
N
N
classic
80GB
1.1.2
Y
Y
N
N
N
N
120GB
2.0.1
Y
Y
Y
N
Y
N
160GB
2.0.4
Y
Y
Y
N
Y
N
nano
1st
1.3.1
Y
Y
N
N
N
N
2nd
1.1.3
Y
Y
N
N
N
N
3rd
1.1.3
Y
Y
N
N
N
N
4th
1.0.4
Y
Y
Y
N
Y
N
5th
1.0.2
Y
Y
Y
N
Y
N
6th
1.1 PC
Y
Y
Y
N
Y
N
touch
1st
2.2.1
Y
Y
N
N
N
N
2nd
4.2.1
Y
Y
Y
N
Y
N
3rd
5.0.1
Y
Y
Y
N
Y
N
4th
5.0.1
Y
Y
Y
N
Y
N
iPhone
2G
3.1.3
Y
Y
N
N
N
N
3G
4.2.1
Y
Y
N
N
N
N
3GS
4.3.5
Y
Y
Y
Y
Y
Y
4
5.0.1
Y
Y
Y
Y
Y
Y
4S
5.0.1
Y
Y
Y
Y
Y
Y
iPhone
1
5.0.1
Y
Y
Y
N
Y
N
2
5.0.1
Y
Y
Y
N
Y
N
Note: Apple iPod/iPhone software updates may change functionality results. If you download a newer software version, you may need to reset your iPod/iPhone to regain functionality. If this doesn't work, you may need to revert to the older software version or wait until a newer software update is available.
Fold-Flat Design: The Bose AE2i headphones rotate to fold flat, allowing for easy storage and transport in the included carry pouch.
Note: Only folds flat one way.
Drawstring Cloth Pouch: The Bose Around-Ear headphones come supplied with a drawstring cloth pouch for storing or transporting the headphones.
Our Product Research Team
At Crutchfield, you'll get detailed, accurate information that's hard to find elsewhere. That's because we have our own in-house Product Research team. They verify what's in the box, check the owner's manual, and record dimensions, features and specs. We stay on top of new products and technologies to help people make informed choices.
Q & A
Customer Q&A
1 question already asked
We have not received any answers from other customers on your question. I would recommend reaching out to an Advisor by phone (1-800-324-9695) or online chat. They should be able to help answer your question. [ Jeff Apr 09, 2014 ]

Staff