Why Choose Crutchfield?
Deep discounts on car installation gear
We offer vehicle-specific installation instructions, dash kits, wiring harnesses, and speaker accessories at deeply discounted prices with car stereo and speaker purchases. Available for most vehicles.
Learn more
Trusted since 1974
Our customers have trusted us with their business, and they've helped us win awards for our service.
Check out our most recent awards
Factory-authorized dealer
The manufacturer's warranty always applies.
See more details
Yamaha RX-Z7
Home theater receiver, Internet-ready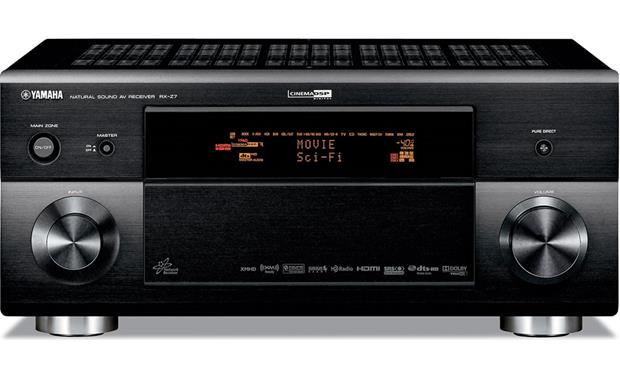 Yamaha RX-Z7 - Front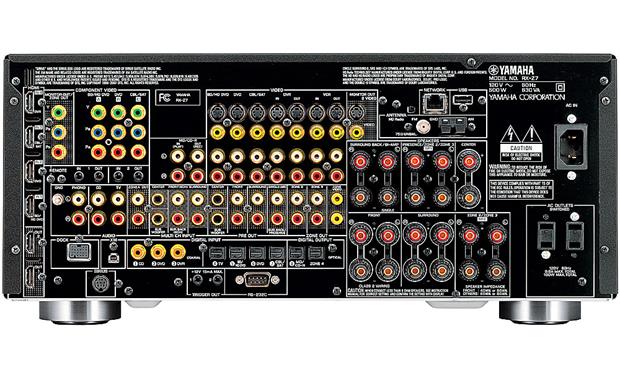 Yamaha RX-Z7 - Back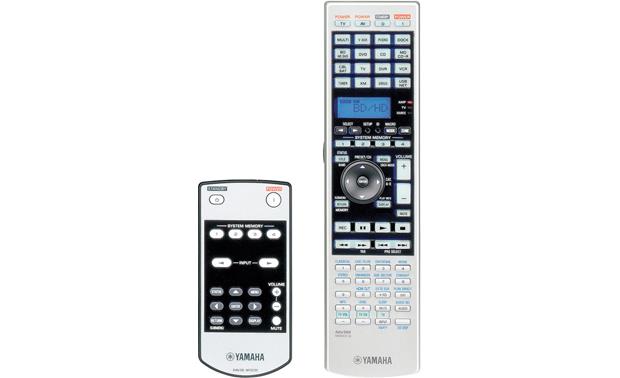 Yamaha RX-Z7 - Basic and multibrand/learning remotes
Yamaha '1900, '3900, & 'Z7 receivers
Analog-to-HDMI Conversion and Upconversion
Understanding Automatic Speaker Calibration
Understanding Multi-room/Multi-source Playback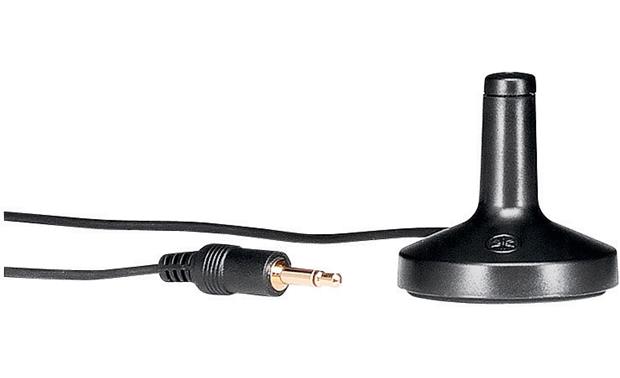 Yamaha RX-Z7 - Calibration microphone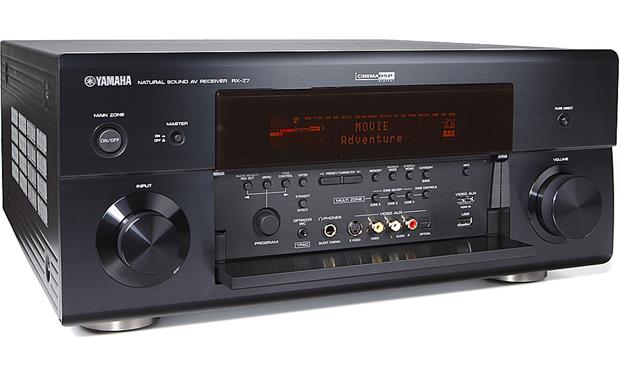 Yamaha RX-Z7 - Front panel open
Item # 022RXZ7 | MFR # RXZ7
This item is no longer available.
Overview
Our take on the Yamaha RX-Z7by Crutchfield's Dave Bar
Let Yamaha's RX-Z7 engulf you in audiophile-quality home theater sound. Its seven high-current channels of amplification and cutting-edge Yamaha sound processing deliver spectacularly enveloping audio for all your movies, TV shows, and music. The 'Z7 also treats your video sources to some of the most advanced video processing available. Plus you get a wide array of entertainment options, including PC networking, HD Radio™, and iPod® integration.
1080p HDMI switching and other video conveniences
This receiver lets you switch easily among five digital high-def sources, like an HD satellite tuner, a Blu-ray player, and more, while maintaining pristine digital picture and sound quality. The front-panel HDMI input makes it a snap to plug in a game console or your high-def camcorder. Two HDMI outputs let you send signals to multiple displays, such as an HDTV and a video projector.
Advanced video processing and control
Yamaha also outfitted the RX-Z7 with Anchor Bay's VRS™ video processor. This sophisticated technology provides superior video scaling and deinterlacing — it can upconvert all your video sources to resolutions as high as 1080p. Seven separate video adjustments, including noise reduction, fine detail, and edge enhancement, allow extensive "fine-tuning" of the picture. You'll see improved detail and smoother playback from your video gear, and enjoy the convenience of a single-cable digital connection to your TV. The 'Z7 supports HDMI-to-HDMI upconversion, too: it can scale any incoming HDMI signal to a higher resolution that better matches your HDTV.
Easy access to PC music and Internet Radio
You get plenty of digital music options, too. Connect the 'Z7 to a wired PC network and you can access MP3 music files stored on your compatible computer. View track titles on your TV and select the tunes you want to hear using the receiver's remote. You can also listen to Internet Radio stations over your broadband connection. Add Yamaha's optional Wi-Fi® Network Music Commander for a handy way to browse through songs and stations or control playback from anywhere in your home.
More fun with your MP3 collection
When you add the optional Yamaha YDS-11 control dock, your iPod becomes a fully integrated component in your A/V system. You can view its menu on your TV and select songs, photos, or videos using the receiver's remote. A handy front-panel USB input lets you plug in a wide range of portable MP3 players, or even a USB flash memory drive loaded with your favorite tunes. Switch on Yamaha's Compressed Music Enhancer mode to hear your MP3 collection at its best.
Multi-room music and video
The 'Z7 lets you re-assign up to four of its surround amplifier channels to power stereo speakers in other rooms. This lets you play three different audio sources in three different areas of your home at the same time, without the need for any additional amplifiers. You can also route digital audio signals to a fourth room for playback with an additional receiver. The RX-Z7 even includes a component video output that lets you send a second high-def video source to a TV in a remote room.
Easy, accurate home theater setup
Yamaha's sophisticated auto-calibration system enables fast, easy, and remarkably accurate home theater setup. The 'Z7 uses the included microphone to analyze sound from up to eight different listening positions, then automatically adjusts level, equalization, and delay settings for each of your speakers. A streamlined on-screen display puts intuitive, easy-to-follow menus on your TV screen to simplify receiver operation and setup. And these menus don't block the entire TV picture, allowing you to control receiver functions on-screen while still viewing your programs. The learning/multibrand remote lets you control every component in your system.
Learn about the ins and outs of HDMI connections at the Crutchfield Learning Center.
Shop our selection of HDMI cables.
Product Highlights:
140 watts x 7 into 8 ohms (20-20,000 Hz) at 0.04% THD
Dolby® TrueHD, DTS-HD™ Master Audio, Dolby® Digital Plus, DTS-HD™ High Resolution Audio, Dolby® Digital EX, DTS-ES™, Pro Logic® IIx, DTS Neo:6, and SRS Circle Surround II decoding
home PC networking capability with Web browser control
built-in HD Radio tuner with multi-casting reception and iTunes® tagging
Advanced YPAO 8-point automatic sound optimization (microphone included)
Cinema DSP 3D modes and enhanced Adaptive DSP level for fuller surround effects at low volumes
enhanced Adaptive DRC (dynamic range control) for better clarity at lower listening levels
Anchor Bay PReP™ and VRS™ video processing
XM Satellite Radio Ready (requires XM subscription and optional XM tuner kit)
Neural-THX Surround decoder for XM's HD Surround channels
SIRIUS satellite radio capable (requires SIRIUS subscription and optional SiriusConnect™ home tuner kit)
iPod integration (requires optional Yamaha YDS-11)
Bluetooth® compatible (requires optional Yamaha YBA-10)
improved Compressed Music Enhancer for MP3s and other digital music files, including multi-channel sources
four-room/four-source output:

powered and line-level stereo audio output for second and third rooms (using powered outputs for these rooms reduces the number of channels in your home theater room)
component video output with HD pass-through and 480i to 480p conversion of composite/S-video signals for second room
composite video output for second and third rooms (same source for both rooms)
digital audio output for fourth room via optical digital out

Digital ToP-ART design
high-current, low-impedance amplifier construction
192kHz/24-bit Burr-Brown digital-to-analog converters for all channels
Pure Direct mode for better sound from stereo sources
Silent Cinema for simulated surround sound via standard stereo headphones
on-screen GUI (Graphic User Interface) with display overlay
learning/multibrand remote
basic remote for second or third listening room (requires remote control extender system, not included)
17-1/8"W x 7-3/4"H x 18-9/16"D
weight: 41 lbs.
warranty: 5 years
Connections:
1080p-compatible HDMI switching: 5 in, 2 out (including 1 front-panel input)
selectable 480p/720p/1080i/1080p video upconversion for all non-HD and HDMI sources (upconverted video available through HDMI output only)
HDMI version 1.3a with support for Deep Color, x.v.Color, 120Hz and 24Hz refresh rates, and auto lip-sync compensation
Ethernet port for computer networking
front-panel USB port for audio playback from USB flash drives and portable USB music players
component video switching: 3 in, 1 out (output assignable to main or 2nd room, includes on-screen display)
component video conversion (composite to S-video, or composite and S-video to component)
6 audio/video inputs, including:

1 front-panel input with composite and S-video
5 rear-panel inputs with composite and S-video

4 audio-only inputs (including phono)
digital audio inputs: 5 optical (including 1 front-panel), 3 coaxial
digital audio outputs: 2 optical
7.1-channel analog audio preamp input
7.1-channel preamp output for connecting optional external amplifiers
RS-232C port for automated control systems
back surround speaker channels re-assignable for bi-amping front left and right speakers
binding post speaker terminals
1 set of main speaker outputs
detachable power cord
What's in the Box:
Black AM/FM/Surround Sound receiver
Wireless remote control (RAV389)
Simple remote control (RAV36)
4 "AAA" batteries
CR2025 Lithium battery (installed)
75" AC power cord
Optimizer microphone with attached 20' cable (has 3.5mm miniplug on the end)
Microphone base
AM loop antenna
AM antenna base
FM wire antenna (with push-on "F" connector)
Owner's Manual
Manual appendix
Firmware update information
Front panel/remote diagram
Warranty card
On-line product registration information
XM Radio Mini-Tuner information
Featured Video:
Details
Product Research
Audio Features
Video Features
Network Functions
Remote Controls
Input and Output Notes
Audio Features
Digital ToP-ART/High Current Amplification: Yamaha uses the Digital ToP-ART (Total Purity Audio Reproduction Technology) design concept, which combines the latest and best technologies, parts, and circuit designs, to maximize sound quality. High Current Amplification uses superior quality components from input to output to achieve high current power with low impedance. Yamaha's Digital ToP-ART design concept ensures that the receiver is fully capable of handling the transmission of high volume digital sound data at speed up to 192kHz. The interior layout thoroughly isolates the digital, analog and video sections and provides the shortest possible signal routes.
Presence Speakers: The receiver has a pair of speaker terminals that can be used for Presence speakers. The presence speakers supplement the sound from the front speakers with extra ambient effects produced by Cinema DSP. These effects include sounds that the filmmakers intended to locate a little farther back behind the screen in order to create more theater-like ambience. The Presence speakers should be placed at the front of the room about 1-3 feet outside the main front speakers and mounted six feet or higher. When the presence speakers are turned on, there is no output from the surround back speakers. When both presence and surround back speakers are connected and turned on, the surround processor automatically chooses which to play based on the program material and the selected soundfield setting.
Four Zone Operation: The RX-Z7 allows you to play different audio sources in four separate zones. The receiver has dedicated stereo preamp outputs for zones 2, 3, and 4. Two pair of speaker terminals can be assigned for zone 2 or zone 3 use. Zone 4 also features an optical digital output so you can play digital and analog audio sources there. Only sources that are connected via analog audio inputs can be output to zones 2 and 3. In addition, the receiver features two composite video outputs and one component video output so you can have an additional video source playing in Zone 2, 3, and 4 (the same video source will playback in Zone 2, 3, and 4 simultaneously). If you're using the preamp outputs in the 2nd, 3rd and/or 4th zone, a separate amplifier or stereo receiver with a pair of speakers, or a powered speaker system are required. The receiver features a Party Mode which lets you play the main zone source in other zones simultaneously.
Assignable Inputs: All of the HDMI, component video, and digital audio jacks can be assigned to the input of your choice.
Multi Channel Input: The receiver features six additional input jacks for an outboard 5.1 channel surround processor. You can also assign a pair of audio analog inputs from CD, TV, MD/CD-R, BD/HD DVD, DVD, CBL/SAT, DVR, VCR, or V-Aux for a 7.1 channel input.
Digital Inputs/Outputs: Digital audio signals input at the optical or coaxial digital input jacks can be output at the optical digital outputs.
Speaker Terminals: The receiver has binding post speaker terminals for the front, center, surround, surround back/bi-amp, presence/zone 2/zone 3, and zone 2/zone 3 channels. The binding posts can accept bare wire, pin connectors, and single banana plugs. A collar surrounding the binding post terminals prevents the use of spade connectors and the positive and negative posts are too far apart for dual banana plugs.
Bi-Amp Speaker Connections: This receiver allows you to reassign two amplifier channels (Front A/Surround Back) to make bi-amp connections. A bi-amplification connection uses two amplifiers for one speaker, one amp connected to the woofer section of a loudspeaker and the other to the combined midrange and tweeter section, effectively doubling the power driving the speaker.
Preamp Outputs: The RX-Z7 offers preamp outputs for all channels: front L/R, center, surround L/R, surround back L/R, and subwoofer for connecting to separate amplifiers if desired.
FM/AM Tuner: You can tune stations either manually or automatically. You are able to preset a total 40 stations in 5 preset station groups (A to E). Each group contains 8 station presets. You can preset stations using the auto tuning as well as the manual tuning function.
HD Radio Tuner: The RX-Z7 is equipped with an HD Radio tuner. HD Radio offers CD-quality digital sound via existing FM bands. HD AM stations offer sound quality equal to current analog FM broadcasts. Additionally it provides program-associated data and the ability to tune to multiple programs at the same FM dial position (multi-cast). The RX-Z7 can display HD radio information on the front panel and on a monitor.
iTunes Tagging: iTunes Tagging allows you to Tag songs on an FM HD Radio station. The songs' information is captured and transferred to your compatible iPod when connected using a YDS-11 iPod dock (item number 022YDS11, sold separately). The next time you connect your iPod to your iTunes account, a new Tagged playlist will appear and give you the option to preview or buy the songs from iTunes. iTunes Tagging is currently available on iPod video (5th generation), iPod classic, and iPod nano (3rd and 4th generations).
XM HD Surround Sound: XM HD Surround provides content with six discrete channels of digital full fidelity audio powered by Neural Audio technology, marking the first time that a radio company has broadcast in 5.1 Surround Sound twenty-four hours a day. XM will broadcast the Fine Tuning (XM Channel 76) and the classical pops music channel XM Pops (XM Channel 113) in XM HD Surround. XM will also broadcast a variety of special shows and live music performances at the XM studios in XM HD Surround.
Surround Modes: The RX-Z7 offers the following Surround Modes for movies and music:
Dolby TrueHD: Dolby TrueHD is a high definition audio technology, using lossless coding technology to faithfully reproduce the sound of the studio maters.
Dolby Digital Plus: Dolby Digital Plus is an improved Dolby Digital surround format that is compatible with up to 7.1-channels of discrete digital
DTS-HD Master Audio: DTS-HD Master Audio is a lossless audio format compatible with up to 96 kHz and up to 7.1-channels. The lossless audio coding technology faithfully reproduces the sound of the studio master.
DTS-HD High Resolution Audio: DTS-HD High Resolution Audio is an improved version of the conventional DTS, DTS-ES and DTS 96/24 signal formats that is compatible with sampling frequencies of 96 or 48 kHz and up to 7.1-channels of discrete digital sound. High data bit rate performance provides high quality sound.
Dolby Digital: Dolby Digital is a 5.1 multi-channel digital surround format.
Dolby Digital EX: Dolby Digital EX is a 6.1 multi-channel digital surround format.
DTS: DTS Digital Surround is a 5.1 multi-channel digital surround sound format used for both commercial/theatrical and consumer grade applications.
DTS-ES Discrete: DTS Digital Surround with a discrete sixth full range channel
DTS-ES Matrix: DTS Digital Surround with a matrix sixth full range channel
DTS 96/24: DTS 96/24 is a digital audio format enabling high sound quality playback in 5.1-channels with a sampling frequency of 96 kHz and 24 bit quantization of DVD-video.
Dolby Pro Logic: Dolby Pro Logic is a surround sound processing technology designed to decode soundtracks encoded with Dolby Surround using mono-rear channels.
sound and also improves sound quality due to extra data bit rate performance.
Dolby Pro Logic II: Dolby Pro Logic II technology processes any high quality stereo (two-channel) movie and music audio into five playback channels of full-bandwidth surround sound. A matrix surround decoding technology, Dolby Pro Logic II detects the directional cues that occur naturally in stereo content and uses these elements to create a five-channel surround sound playback experience. You can choose from the following Dolby Pro Logic II formats - Cinema, Music, or Game.
Dolby Pro Logic IIx: Pro Logic IIx expands any existing stereo- or 5.1-channel audio for a 6.1- or 7.1- channel playback, creating a seamless, natural surround soundfield that immerses you in the entertainment experience. You can choose from the following Dolby Pro Logic IIx formats - Cinema, Music, or Game.
DTS Neo:6: DTS Neo:6 is a matrix decoding technology for achieving 6.1-channel surround playback with 2-channel sources. You can choose from Neo: 6 Cinema and Neo: 6 Music.
Neural-THX Surround: THX Neural Surround has been adopted by XM Satellite Radio for digital radio broadcasts of XM HD Surround recordings and live events in surround sound. THX Neural Surround employs psychoacoustic frequency domain processing which allows delivery of a more detailed sound stage with superior channel separation and localization of audio elements.
SRS CS II (SRS Circle Surround II): SRS CS II is a high-performance 6.1 channel matrix surround sound decoding system. You can select from a Movie or Music SRS CS II mode.
HiFi DSP Modes: The receiver features the following Digital Soundfield Programs based on actual measurements taken in specific venues:

Classical: Hall in Munich, Hall in Vienna, Hall in Amsterdam, Church in Freiburg, and Chamber
Live/Club: Village Vanguard, Warehouse Loft, Cellar Club, The Roxy Theatre, and the Bottom Line
Entertainment: Sports, Action Game, Role-playing game, Music Video, or Recital/Opera
Movie: Standard, Spectacle, Sci-Fi, Adventure, Drama, or Mono Movie

Virtual Cinema DSP: Virtual Cinema DSP lets you enjoy the effects of Cinema DSP surround sound without using surround speakers (handy for use in custom installations where some rooms don't have surround speakers). It can be used with the front, center, and presence speakers, or even with just the two front left and right speakers.
Silent Cinema: The Silent Cinema mode allows private listening of multi-channel music or movies, with an accurate simulation of surround sound, through ordinary stereo headphones.
Stereo Modes:
2-Channel Stereo: Use this mode to mix down multi-channel sources to 2 channels.
7-Channel Stereo: Use this mode to output sound from all speakers. When you play back multi-channel sources, this unit dowmixes the source to 2 channels and then outputs the sound from all speakers. The mode creates a larger soundfield and is ideal for background music at parties.
Pure Direct: The Pure Direct mode turns off the video circuitry and the front panel display and bypasses the decoders and DSP processors of this unit so you can enjoy pure hi-fi sound from 2-channel PCM and analog sources. During Pure Direct playback, tone control and sound menu settings are not available.
Straight Mode: In this mode 2-channel stereo sources are output from only the left and right speakers while multi-channel sources are decoded straight into the appropriate channels without any additional effect processing.
Compressed Music Enhancer: Yamaha employs sophisticated digital signal processing with exclusive algorithms to enable playback that improves the performance of compressed music formats, including MP3 and WMA. With the Compressed Music Enhancer, highs and especially lows are richer and smoother, bringing music back to life to be as close to the original as possible. You can select between 2-channel Enhancer and 7-channel enhancer.
Decoder Parameters: You can adjust the following decoder parameters.
Panorama (PLII/x Music): Sends stereo signals to the surround speakers as well as the front speakers for a wraparound effect.
Dimension (PLII/x Music): Adjusts the soundfield either towards the front or towards the rear of the room.
Center Width (PLII/x Music): Moves the center channel output completely towards the center speaker or towards the front left and right speakers.
Center Image (DTS NEO: 6 Music):Adjusts the front left and right channel output relative to the center channel to make the center channel more or less dominant as necessary.
Focus (CSII Movie and CSII Music) Adjusts the clearness of a sound image by elevating the perception of the sound image to compensate for no-optimally placed speakers from a lower location.
TruBass (CSII Movie and CSII Music): Adjusts the lower register by producing the perception of improved low frequency performance.
Parametric Equalizer: In connection with YPAO technology, the RX-Z7 employs a parametric equalizer with frequency adjustments in one-third octave increments between 32 Hz and 16 kHz, gain adjustments in 0.5 dB increments between -20 dB and +6 dB, and Q factor adjustment values between 0.5 and 10. Each channel is independently adjustable.
Adaptive Dynamic Range Control (DRC):During low-volume listening, such as late as night, dynamic range suffers and some sounds are missed. The effect of Adaptive DRC varies with volume, at lower volume the dynamic range is narrowed.
Soundfield Parameter Adjustments:You can adjust the value of certain digital soundfield parameters so that the soundfields are recreated accurately in your listening room. The following is a list and description of the soundfield adjustments:
Decoder Type: This function allows you to select the decoder used.
DSP Levels: This function adjusts the level of all the DSP effect sounds within a narrow range depending on your the acoustics of your listening area. You can adjust the DSP level between -6 dB to +3 dB
Initial Delay: This features changes the apparent distance from the source sound by adjusting the delay between the direct sound and the first reflection heard by the listener. You can select between 1 to 99ms for the Main and Presence speakers and 1 to 49ms for the surround and surround back speakers.
Room Size: This feature adjust the apparent size of the surround soundfield. You can make adjustments for the Presence, Surround and Surround Back room size between 0.1 to 2.0.
Liveness: This function adjusts the reflectivity of the virtual walls in the hall by changing the rate at which the early reflections decay. You can adjust the Surround and Surround Back Liveness from 0 to 10.
Reverberation Time: This setting adjusts the amount of time taken for the dense, subsequent reverberation sound to decay by 60 dB at 1 kHz. You can set this between 1.0 to 5.0 s.
Reverberation Delay: This function adjust the time difference between the beginning of the direct sound and the beginning of the reverberation sound. You can adjust this setting between 0 to 250ms.
Reverberation Level: This setting adjusts the volume of the reverberation sound. You can adjust this setting between 0 to 100%.
Dialog Lift: When Presence speakers are in use, you can activate the Dialog Lift feature, which assigns some of the front and center channel elements to the presence speakers to lift the dialog to a higher position. The effect of the Dialog Lift can be set between 0 and 5, with the higher adjustments reflecting a higher position of the front/center channel sound.
YPAO Automatic System Calibration: Yamaha's YPAO system uses a small microphone and sophisticated equalization to automatically set the best sound for any room, no matter where the speakers are. First it checks the speaker connections and phase of each speaker. Then it sends out tones which are captured by the microphone to analyze the room acoustics and sets a variety of parameters, such as the speaker size, the distance of the speakers and even the sound pressure level until it achieves the best sound conditions for your room. Using the supplied Optimizer Microphone, YPAO performs the following checks and makes appropriate adjustments to give you the best possible sound from your system:
Multi-Measure: optimizes up to seven listening positions in your listening room
Speaker Wiring: checks which speakers are connected and the polarity of each speaker
Speaker Distance: checks the distance of each speaker from the listening position and adjusts the timing of each channel
Speaker Size: checks the frequency response of each speaker and sets the appropriate low-frequency crossover for each channel
Parametric EQ: adjusts the frequency and the parametric equalizer level of each channel to reduce coloration across the channels and create a cohesive sound field; this is particularly important if you use different brands and sizes of speakers, or if you have a room with unique sonic characteristics
Level: adjusts the volume level of each speaker
Speaker Angle: optimizes the speakers for the effects of the soundfield programs.
Speaker Setup: This feature allows you to manually adjust the following speaker settings:
LFE/Bass Out: select the speakers that will output the LFE (low-frequency effect) and the low-frequency signals; choose between Subwoofer, Front Speakers, or Both
Speaker Sizes: choose from the following speaker sizes for each speaker in your system:

Front: select between Large or Small
Center: select between Large, Small, or None
Surround: select between Large, Small, or None
Surround Back: select between Large x 1, Large x 2, Small x 1, Small x 2, or None
Presence Speakers:select between None or Yes

Bass Crossover: select the crossover frequency of all the speakers set to Small; choose between 40, 60, 80, 90, 100, 110, 120, 160, and 200Hz
Subwoofer Phase: switch the phase of your subwoofer if the bass sounds are lacking, weak or unclear; choose between Normal and Reverse
Speaker Level Adjustment: adjust the output level of each speaker from -10 dB to +10 dB in 0.5 dB steps
Speaker Distance: adjust the distance of each speaker and the delay applied to the respective channel; adjust between 1 to 80 feet in 0.2 foot steps
Low-Frequency Effect Level:This feature adjusts the output level of the LFE channel according to the capacity of your subwoofer or headphones. You can select between -20 and 0 dB.
Bass and Treble Control: You can independently adjust the bass and treble from -6 dB to +6 dB in 0.5 dB steps. You can also choose at what frequency you want the Bass and Treble enhanced. Bass (125, 350, or 500 Hz) and Treble (2.5, 3.5, 8.0 kHz).
Dynamic Range: This feature allows you to select the amount of dynamic range compression to be applied to your speakers or headphones. You can select between Minimum, Standard, Maximum, or Auto.
Memory Guard: This feature is use to prevent accidental changes to the DSP program parameter values and other system settings.
System Memory: This feature is used to save up to four of your favorite settings that can be easily recalled when needed. You can save settings such as Soundfield programs parameters, Speakers settings, LFE level, Dynamic range settings, and Parametric equalizer settings.
Auto Lip Sync: When using the HDMI output, the audio and video signals can be synchronized automatically.
Audio Delay: You can delay the sound output up to 240 ms in 1 ms steps to synchronize it with the video image.
Volume Trim: Use this feature to adjust the level of the signal input at each jack. This is useful if you want to balance the level of each input source to avoid sudden changes in volume when switching between input sources.
Max Volume Adjustment: Use this feature to set the maximum volume level in the main zone. This feature is useful to avoid unexpected loud sound by mistake. You can set the Max Volume between -30.0 dB and +16.5 dB. The actual full volume range is -80 dB to 16.5 dB. There are also independent max volume settings for zone 2 and zone 3.
Initial Volume Setting: Use this feature to set the volume level of the main zone when the power of this unit is turned on. You can choose between Off, Mute, and -80 dB to + 16.5 dB in increments of 0.5 dB. There are also independent initial volume settings for zone 2 and zone 3.
Channel Mute: This feature mutes specific speaker channels you want to deactivate.
Sleep Timer: The sleep timer is useful when you are going to sleep while this unit the receiver is playing or recording a source. You can select between Off, 30, 60, 90, and 120 minutes.
Video Features
1080p Compatible HDMI 1.3a: This receiver has the capability of repeating 1080p signals from HDMI input to HDMI output. Four rear-panel inputs, one front-panel input, and two rear-panel outputs are provided, so the user can switch among them. The receiver's HDMI 1.3a connections all support the latest HDMI 30-bit and 36-bit color depths. This Deep Color allows the rendering of billions of colors for far greater accuracy. Colors are vivid with perfectly smooth tonal transitions and ultra-fin gradations between colors. In addition, the HDMI 1.3a connections support 24Hz refresh rate which enables viewing movies in native format and Auto Lip-Sync compensation. HDMI 1.3a also uses a new color standard called xvYCC Color Space which supports 1.8 times as many colors as previous HDTV signals. This expanded range of colors means that HDTVs can display images with colors that are far more natural and vivid.
Note: Currently no source material is available that supports Deep Color or xvYCC Color Space
Video Conversion: Video conversion allows analog video signals from composite video, S-video, and component video sources to be output as digital video signals through the HDMI outputs. In addition, component video signals can be output as S-video or composite signals, S-video signals can be output as composite or component video signals, and composite video signals can be output as S-video or component video signals. You cannot convert HDMI input signals to any other type of signal.
Video Scaling (up-conversion): The receiver features an Anchor Bay Technologies VRS precision video scaler engine for advanced analog video up-scaling. The scaler engine will take an analog video and scale it to 480p, 720p, 1080i, or 1080p HDMI video (up-scaled video is only available from the HDMI output).
HDMI Aspect: This feature selects whether the receiver converts the aspect ratio of a 4:3 video signal that it outputs at its HDMI output. You can choose from Through (does not make any adjustment to the aspect ratio), 16:9 Normal (displays video images with the aspect ratio of 4:3 on your 16:9 TV with black bars on the left and right sides of the screen), Smart Zoom (fits video images with the aspect ratio of 4:3 to your 16:9 TV).
Standby Through: When the RX-Z7 is in standby mode (power off), the Standby Through feature allows an HDMI source signal to pass through the receiver to the TV. Which HDMI input and output are used can be specifically programmed, or the menu can be set such that the HDMI input and output engaged when the receiver is turned off are used.
Component Video: The RX-Z7 offers three component video inputs and one component video monitor output. These inputs and output have a frequency response of 5 Hz to 100 MHz, capable of switching High Definition video sources, including 1080p.
Front Panel Input: The front panel's Video Aux input features analog stereo RCA and optical digital audio inputs, plus composite video, S-video, and HDMI inputs. The amplifier is also equipped with a USB on the front panel to use with portable MP3 devices. The 1/4" headphone and YPAO Optimizer Mic inputs are also found on the front panel.
Rename: This feature in the GUI Menu allows you to change the name of the inputs in the GUI screen and on the front panel display.
On-Screen Display with GUI: An on-screen GUI (Graphical User Interface) display makes operating the receiver easy and intuitive. It is compatible with iPod, internet radio, PC, and USB displays. Six display languages can be selected; English, Spanish, French, German, Russian, and Japanese.
Network Functions
Network Receiver: Using a local area network (LAN) connection and Windows Media Player 11 or Windows Media Connect 2.0, Yamaha Network enabled receivers allow you to play MP3, WMA and WAV music from your PC. The receiver can even be used as a client for Yamaha's MusicCAST home music server, seamlessly integrating with the MCX-2000 digital audio server within your LAN. If the RX-Z7 has a broadband Internet connection you can listen to any of the thousands of stations available on Internet radio using the included vTuner database. You can also stream music Rhapsody (subscription required). With USB terminals on the front and rear panels you can play music from USB flash drives and portable USB music players.
DLNA: The RX-Z7 is DLNA (Digital Living Network Alliance) certified, ensuring it has undergone rigorous testing and conforms to the Interoperability Guidelines for compatibility with various CE, PC, and mobile devices over wired and wireless networks.
Network Port: The amplifier features a RJ-45 Port to connect a Cat-5 cable for network connections.
Remote Controls
Main Remote Control: The receiver comes with a multi-brand wireless remote control (RAV389) with learning capabilities. In addition to the receiver, the remote can control multiple brands of A/V components. The remote has numerous pre-programmed macros which allow you to perform multiple operations with the press of one button. The macros are also user programmable. The remote also features a small LCD window for operation display.
Simplified Remote Control: The RX-Z7 is also supplied with a simplified remote control (RAV36) for basic operation of the receiver.
RS-232C: The RS-232C terminal is a control expansion terminal for factory use only.
Remote 1/2 In&Out: If your components have the capability of the transmission of remote control signals, you can connect the Remote In and Remote Out jacks of this receiver to the remote control input and output jacks of your other audio components with an optional monaural analog mini cable (3.5mm, sold separately).
Trigger Out: This unit can control components corresponding to the selected input source and activating/deactivating the desired zone using the unit's Trigger outputs. This unit sends the 12V/15mA direct electric current at the two Trigger Out 3.5mm jacks.
Input and Output Notes
Bluetooth: An optional YBA-10 Bluetooth adapter (022YBA10, sold separately) can be connected to the dock port on the RX-Z7 to allow you to stream audio wirelessly from your compatible Bluetooth device.
Note: Either the iPod dock or Bluetooth dock can be connected to the receiver, not both.
iPod Universal Dock: With the optional YDS-11 iPod Universal Dock (022YDS11, sold separately), you can connect your iPod digital music player to the RX-Z7 and control audio/video playback using the remote control. Most fourth generation and later iPods (Click Wheel) are compatible. Video from your iPod and album art can be displayed on a connected TV monitor.
SIRIUS Satellite Ready: You can listen to SIRIUS Satellite Radio by connecting the SiriusConnect tuner (607SCH1 or220SCH2P, sold separately) to the RX-V1065's proprietary plug. SIRIUS Satellite Radio offers over 130 channels of music, news, sports, talk, and entertainment to choose from--all in digital quality. During SIRIUS playback you can display the channel number and name, category, artist name and song title, Composer name, channel number and antenna reception level, or Soundfield program on the front panel.
Note: A subscription is required in order to receive SIRIUS Satellite Radio.
XM Satellite Ready: The optional XM Direct 2 Home Tuner (220XHD2H1, sold separately) lets you enjoy XM Satellite Radio through the XM-ready receiver. Simply connect the XM direct 2 Home Tuner to the XM jack on back of the receiver, place and aim the included antenna for optimum reception, and you are ready to start enjoying commercial-free music, plus live sports, new, talk, and exclusive entertainment.
Note: In addition to the XM Direct 2 Home Tuner and the XM-ready receiver, you will need a subscription to XM Satellite Radio to receive XM programming.
Our Product Research Team
At Crutchfield, you'll get detailed, accurate information that's hard to find elsewhere. That's because we have our own in-house Product Research team. They verify what's in the box, check the owner's manual, and record dimensions, features and specs. We stay on top of new products and technologies to help people make informed choices.