Yamaha YSP-5600 Digital Sound Projector
Powered sound bar with 4K video passthrough, Dolby Atmos®, and MusicCast
Item # 022YSP5600 | MFR # YSP-5600BL
Out of Stock
Ship date unknown Reserve yours risk-free Email me when available

Our VirginiaVA-based experts can help.
Overview
Our take on the Yamaha YSP-5600 Digital Sound Projector by Crutchfield's Jeff Miller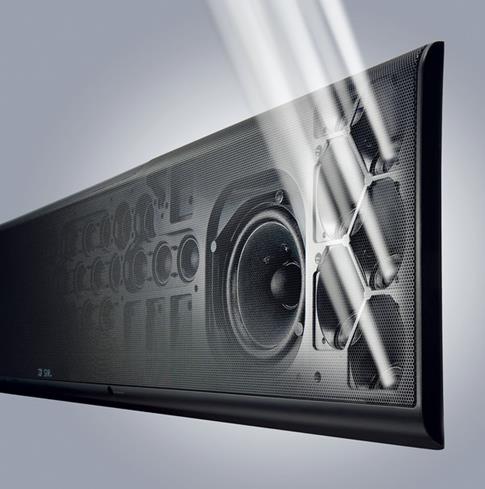 44 beam drivers, including 12 dedicated "height" or "ceiling" drivers deliver Dolby Atmos sound by reflecting sound around the room.
World's first Atmos sound bar
This may sound corny, but my first Dolby Atmos experience in the Crutchfield Labs gave me a sense of wonder that I thought I had outgrown. Mesmerizing movie effects poured over me from every direction, including overhead. I was completely immersed in the world and the action onscreen. Now, imagine getting completely enveloping Atmos sound from one easy-to-setup speaker.
The game-changing Yamaha YSP-5600 Digital Sound Projector can give you just that. An incredible array of 44 directional speakers, two subwoofers, and Atmos sound processing are jam-packed into this single, décor-friendly sound bar. We'd be skeptical if we hadn't seen Yamaha's famous beam drivers pull off impressive surround sound over and over again. Their precisely angled drivers use advanced processing to reflect sound off the surrounding walls and ceiling. You get the uncanny illusion that speakers are placed all around you, including overhead.
Placement and mounting options
Keep in mind the Yamaha YSP-5600 sits 8-3/8" high. So if you plan on placing it on a TV stand, it works best under a wall-mounted TV. This sound bar can also be wall-mounted using Yamaha's SPM-K30 bracket (sold separately).
Surround effects tailored to your room
The YSP-5600 uses advanced auto calibration and an included microphone to dial in the sound of the beam drivers so they produce lifelike atmospheric effects with your specific room and exact seating position. A choice of preset listening modes,including Dialogue Lift, Sports mode, and a dedicated stereo mode, let you adjust the sound according to your preferences. For late-night viewing, the beam drivers can even "target" a particular seat, while hushing the sound in other areas.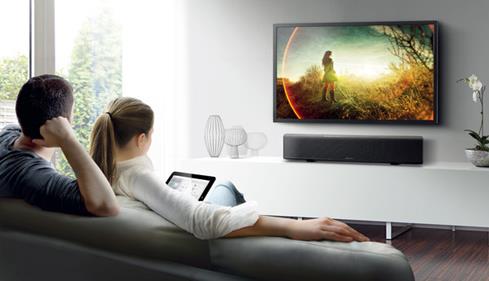 The YSP-5600 is almost 9" tall and probably pairs best with wall-mounted TVs, but it takes the place of a full Dolby Atmos speaker array.
Wondering about the bass? The two built-in subwoofers in this bar reproduce the low frequencies, and a subwoofer output on the back panel means you can add your own powered sub if you want more. Or, use the SWK-W16 wireless adapter (sold separately) to connect any subwoofer to the YSP-5600 wirelessly.
Cutting edge multi-room music
If Yamaha had stopped with Atmos, I'm sure the movie buff inside us all would've been satisfied. But with built-in Wi-Fi®, the YSP-5600 offers something great for our inner music lover, too — Yamaha's new MusicCast multi-room audio system. MusicCast gives you a world of wireless music options at your fingertips. The sound bar also works together with other Yamaha MusicCast speakers and components so you can put together an easy-to-use whole-home music system.
MusicCast lets you choose how to listen

MusicCast gives you lots of music sources to choose from. Access your personal digital music library, Internet radio, and popular streaming services. There's support for Pandora® and SiriusXM. If you're a Spotify® Premium subscriber, Spotify Connect lets you access all your favorite albums and playlists. MusicCast even supports high-resolution audio formats.
You can play the same song or music service in a room or group of rooms, while you play different music in other parts of the house. You can even send TV sound or another connected source from the YSP-5600 sound bar to other MusicCast systems. That's a cool feature if you need to leave the room, but still want to keep track of a game or show.
Built-in 2-way Bluetooth for even more freedom
Want to quickly play a song you found on YouTube™ or SoundCloud? Not a problem. Use Bluetooth to stream sound from your phone through the MusicCast system — no restrictions! You can also send audio from the YSP-5600 to other Bluetooth-enabled hardware. That means you can play MusicCast sound through portable speakers and wireless headphones.
A free app puts the control in your hand
Control all your MusicCast speakers and components with the free app for Apple® and Android™ smartphones or tablets. It lets you select rooms, browse music sources, and start and stop playback with an intuitive interface.

More MusicCast components to build a whole-home music system
MusicCast WX-030 - compact speaker adds MusicCast wireless music to any room.
Yamaha home theater receivers - Play MusicCast through your stereo and send sound from connected sources like TV, CD, or vinyl to other MusicCast components.
MusicCast SRT-1500 sound system/TV platform - Space-saving sound platform sits under your TV and plays home theater sound and MusicCast wireless music.
Product Highlights:
Sound bar:
Yamaha's Digital Sound Projector technology delivers 7.1.2-channel sound with support for Dolby Atmos
built-in amplifiers: 2 watts x 44 (beam drivers), 20 watts x 2 (subwoofers)
features 46 total built-in speakers:

thirty-two 1-1/2" horizontal beam drivers
twelve 1-1/8" vertical beam drivers
two 4-1/2" cone subwoofers

Yamaha IntelliBeam auto calibration system optimizes the sound bar for your room (setup microphone included)

height channel sound beam can be adjusted to match the listening position

Dolby Digital® and DTS® decoding, including Atmos

next-generation DTS:X surround sound available via a future firmware update

Cinema DSP modes add richness and depth to music and movie soundtracks
Dialogue Lift for clearer, louder dialogue on movies and shows
sits on a TV stand or can be mounted on a wall (hardware not included)

sits 8-3/8" tall when placed on a stand
MusicCast wireless multi-room music system:
connects to your Wi-Fi network for wireless music listening
built-in Bluetooth lets you stream directly from compatible devices

also sends audio wirelessly to Bluetooth-enabled speakers or headphones

free MusicCast app lets you play music with your Apple or Android device
support for online music services, including Spotify, Pandora, SiriusXM, and thousands of free Internet radio stations (subscription required for some services)
connects wirelessly to other Yamaha speakers and receivers with MusicCast to play the same song through multiple speakers or different songs in different rooms
plays MP3, AAC, WMA, FLAC, ALAC, WAV, and AIFF files
supports high-res playback for PCM-based files up to 24-bit/192kHz
built-in music enhancer for smoothing out the sound of over-compressed MP3 files
Apple AirPlay® for streaming from compatible Apple devices and computers running iTunes®
DLNA support for streaming music from compatible networked computers and NAS drives
supports 802.11 b/g/n Wi-Fi (2.4 GHz)
Connections and general info:
HDMI switching: 4 in, 1 out

HDCP 2.2 technology for 4K Ultra HD sources and TVs (HDMI input 1 and monitor output only)
does not support HDR pass-through

digital audio inputs: 2 optical, 1 coaxial
analog stereo RCA inputs
Ethernet port for network connection
subwoofer output for adding your own powered subwoofer

optional SWK-W16 kit can be attached to a subwoofer (not included) to connect it wirelessly

wall-mountable with optional bracket (sold separately)
remote control
43-5/16"W x 8-3/8"H x 4-7/8"D (with feet installed)
weight: 25.8 lbs.
warranty: 2 years
What's in the Box:
Active soundbar speaker
6.5' AC power cord
Remote control (FSR145)
2 "AAA" batteries
58" Optical digital cable
IntelliBeam microphone
Cardboard mic stand
2 Mounting feet
2 Screws (washers attached)
Owner's Manual on CD-ROM
Quick Reference Guide
MusicCast Setup Guide
"Yamaha Worldwide Representative Offices" sheet
Online Product Registration Card
Warranty sheet
MusicCast App note
Spotify Premium" offer
Great sound

Anonymous, Guntown, MS
Reviews
Yamaha YSP-5600 Digital Sound Projector Reviews
Average Customer Review(s):
Yamaha YSP-5600 Digital Sound Projector
Anonymous from Guntown, MS on 4/23/2018
Crutchfield Customer Review
(
What's this?
)
Richard from Melbourne, FL on 1/5/2018
Crutchfield Customer Review
(
What's this?
)
I was greatly disappointed In the YSP-5600 sound bar. For the price I paid I expected at least sound equivalent to a Bose system (without the bass of course). My wife complained that she could not understand the dialog in some TV shows. I adjusted the treble and voice clarification features that seem to improve the voice quality but the overall sound quality is just not there. I followed all instructions on setup described in the owners manual. It has several good features bluetooth and WiFi connectivity and performed a successful firmware update during the setup process. Having 3D surround sound is worthless if the sound quality is missing. I have owned (and still own) Yamaha receiver/amplifiers, the sound quality has always been amazing so I figured I couldn't go wrong with this product.

Pros: Many good features like bluetooth and WiFi connectivity. Plenty of HDMI inputs along with other standard inputs. Automatic calibration of the system using an external Mic.

Cons: Poor sound quality for the money.

Crutchfield response

on 1/8/2018

Richard, we're sorry you're disappointed with your sound bar. Whenever you are not completely satisfied with anything you purchase from Crutchfield, please contact our Customer Support team at 1-800-955-9091. Purchases from Crutchfield can be returned or exchanged within 60 days of the purchase.
Tom from San Diego, CA on 12/23/2017
Crutchfield Customer Review
(
What's this?
)
This awesome product was easy to set up. Just know that you'll actually have to go online for some of the setup instructions. Because of it's size & weight and because of the way the wall mount is made, it was a challenge to attach to the wall mount because there are sides/metal plates where there would be the only place to visually confirm that the unit is indeed mounted properly. Also in the advertising of the unit, I nowhere saw the requirements for the best listening experience. These requirements include no vaulted ceilings and no seating against the wall. Seating should be toward the back 1/3 of the room.

Pros: Great sound

Cons: Surround sound is limited by room characteristics
Versatile, excellent sound quality 5.1 and 7.1 quality
Tony from Lihue, HI on 9/8/2017
Crutchfield Customer Review
(
What's this?
)
After almost a year of ownership, I can say that I do not regret the purchase AT ALL! I started with the Auto config set up, and from there, I went into the setup menu, and tweaked some settings, and had the sound basically where we wanted it. There are lots of Yamaha DSP settings to choose from as well, and that will keep you experimenting with your particular room for a while. Our viewing room is about 25 x 15 with a pitched roof. Yes I know it is recommended that the roof be flat...but...you have to work with what you you've got. The "surround" sound projection is still very good, and the overall sound quality is excellent. As with all speakers, "sound bars" especially, the room is an important sound component. It's fun to experiment with and tweak! This is not just a "sound projector", but a full blown Preamplifier/amplifier. You will need a sub, and can go with Yamaha's additional wireless adapter if you're too far from the YSP-5600 or just do not want to deal with any extra wires. If your listening area is very large, I would consider another sound source. While it can fill up a room quite easily, if you get above 1000-1500 or so sq feet, you may want to go with a regular 5.1 or 7.1 system. In Stereo mode, with no DSP enabled, the FLAC files on our media sound clear and precise, and mirror the CDs from which they were ripped. As for the 4K issue, you can always bring the sound into the YSP5600 thru the Digital Coax port, or the Optical input.

Pros: All speakers(except for the sub) are in front of you. With Yamaha DSP options, and the setup, you have almost limitless control of the sound that reaches you. No Satelite speakers required ( again except for the sub). For us, the Pros outweigh the Cons. For Stereo, sound quality is as good or better than a 5.1 or 7.1 setup. costing the same or more.

Cons: Not as "loud" as a regular 5.1 or 7.1 Receiver/surround set up. Separation between channels is better using separate speakers, of course. Very sensitive to the shape of your listening room. Takes time to break in the system.
Jake from San Francisco,Ca. on 3/6/2017
Excellent sound bar. You do need a sub. Very happy with product.

Pros: Excellent for movies Very wide soundstage Sub control on remote

Cons: Needs a sub
Excellent audio for home entertainment
Bill from Cary, NC on 1/16/2017
Crutchfield Customer Review
(
What's this?
)
A great replacement or start for your home movie entertainment. Gives out great sound without all the surround speakers.

Pros: Replaces bulky receiver and speakers without all the wires

Cons: none
Steve from Downers Grove, IL on 1/9/2017
Crutchfield Customer Review
(
What's this?
)
I expected better sound, but not bad. The measurements are like any other preamp/receiver in that they change every time you redo the setup. I do like the simple airplay integration, and the wireless network. Set up wqs easy and intuitive. Also, as other reviews have pointed out you do need a sub...not an option. Coming from a 5.1 system I had one handy and it made a world of difference.

Pros:

Cons:
Tyrone from Maryland, USA on 8/14/2016
As a customer of Crutchfield I wanted to point out to current/future owners and Crutchfield that this product has a significant short coming which is not (and should be) highlighted on its web site. That is its LACK of support for HDR passthru (support) via the only port on the YSP-5600 that supports HDMI 2.0/HDCP2.2. I only found this out today when connecting up the Xbox One S which supports 4K with HDR. My Vizio P50-C1 supports HDR10 and Dolby Vision. The Xbox screens indicated that I was passing a 4K signal but not HDR. When I started combing the web I confirmed that not only did it not support HDR (reportedly due to older hardware being installed) but it allegedly was made far more clearer with our neighbors across the pond (UK). I am incensed that a product of this capability and expense would have such a glaring oversight and not be crystal clear about it to the consumer. If HDR passthru (support) is not a big deal for you then consider it. Otherwise run away and if you are a current owner I would strongly encourage a letter to Yamaha corporate as to how they plan to rectify this.

Pros: Has everything that a soundbar should but and this is a big BUT.......

Cons: No HDR support due allegedly the hardware in the device

Crutchfield response

on 9/7/2016

Thanks for your review. We sent your feedback to Yamaha and the confirmed the YSP-5600 does not offer HDR pass-through. This sound bar was designed prior to the finalization of the HDR hardware specification. So if you have a HDMI source device with HDR capability, you will need to connect it directly to your TV. Your TV may be able to send audio back to the soundbar via HDMI ARC. Keep in mind, most TVs send audio two-channel PCM, so you will lose Dolby Atmos support. As you suggested, we have updated our web presentation.
A Great Product for Our Configuration
KCFL Bert from FL Panhandle on 8/8/2016
Crutchfield Customer Review
(
What's this?
)
We have a FL beach house and recently tore out an old built-in wall unit designed for an old style "box" TVs with only a 36 inch maximum width. We then built and installed a new wall unit and spec'd the dimensions to both accommodate a 60" LG TV and this Yamaha YSP-5600 Digital Sound Projector. The center section of the cabinet has doors and drawers where the cable box, dvd, modem and router are hidden then above that sits the Yamaha with a shelf above it where the LG sits. We could not be more pleased with the end result given that the room itself could not accommodate a multi speaker surround system. The room itself is irregular shape and there was no practical or aesthetic way to accommodate rear speakers. And because of space limitations we wanted an arrangement that was high quality with less clutter. This Yamaha offers impressive sound quality given those constraints. There is plenty of audio power. Set up for the Yamaha was simple except for also configuring the device on a Logitech Master Remote where I initially made some human errors. We are still learning some of the enhanced features. Thanks to Artie for working with me to come up with this configuration. He offered a couple alternative ideas with this being his top recommendation for our situation and we are pleased. Wireless streaming capabilities work well. While we have space for it, we have not set up a wireless sub woofer. We will re-evaluate that over time and may or may not do that.

Pros: A great sound solution for rooms not conducive to a full multi speaker surround sound system.

Cons: It is expensive, but it best met our needs. While not a complaint, we use a Logitech master remote for basic daily functions but supplement that with the individual remotes to enable enhanced features. For example, on the Yamaha it does make a difference to switch from dialogue vs music vs movie listening modes. It is a bit heavy but once installed it hopefully should not need much subsequent moving. The cables that came with Yamaha were too short for our cabinet and had to be replaced.
Yamaha YSP-5600 Digital Sound Projector
Thomas from Vacaville, CA on 5/21/2016
Crutchfield Customer Review
(
What's this?
)
After 1 month of use I am completely satisfied with this system. From Atmos Bluerays to 50's cds, they all sound better. The control you have with the remote is amazing. I know there are features that I have yet to use, but each thing i discover is a pleasant surprise. Setup could not be faster or easier. Great System.

Pros: Completely different sound experience.

Cons:
Frank from Hamilton, OH on 4/17/2016
Crutchfield Customer Review
(
What's this?
)
I purchased this to replace a 5.1 speaker system so that we could make better use of our available space. I was a little skeptical at first feeling there is no way this would work or sound good. However, I have to say that I have been very surprised and happy with the purchase. You definitely need a subwoofer to take full advantage of the performance of the sound bar but the performance of the sound bar with my sub is just outstanding for both movies and music. Next step is to upgrade my sub!

Pros: Easy to set up, no wires and great sound. Also great service and return policy from Crutchfield if for some reason it does not suit your needs.

Cons: None
Yamaha Sound Project with Atmos capability
Tony from atlanta, GA on 3/28/2016
Crutchfield Customer Review
(
What's this?
)
I live in a condo and needed a high performing sound solution without a ton of speakers taking up space. No, it doesn't replicate Dolby Atmos like several pieces of Klipsch speakers firing from overhead and every corner but that wasn't my expectation. Great range of sound especially paired with a Klipsch sub. Very happy with the purchase.

Pros: Packing 44 speakers into a single bar provides optimal performance for a small footprint.

Cons: Pretty expensive and the LED can be hard to read through the grill.
Yamaha YSP-5600 Digital Sound
The Pic from miami, FL on 2/23/2016
Crutchfield Customer Review
(
What's this?
)
This really is an impressive piece of technology. The sound is incredible, the setup is a cinch. Must have for movie/music sound lovers.

Pros: Easy to set up, clear instructions, the best sound from a sound bar hands down.

Cons: None
Yamaha YSP-5600 Digital Sound Projector
John J from waterville, OH on 2/22/2016
Crutchfield Customer Review
(
What's this?
)
I have had the unit for over a week and have not been able to hear it yet. Seems to be copy write issues with TV manufactures.

Pros: Still trying to hook up.

Cons: Instruction/setup is very confusing. For the price of the unit they could have given you a printed manual. I have talked to tech support twice and cannot figure out why it won't work.
Joseph from st paul, MN on 2/20/2016
Crutchfield Customer Review
(
What's this?
)
Impressed!! It does a great job of mimicking the side speakers. I am not so sure about the overhead (Atmos). I am not sure the source material was Atmos, so that's probably the reason. The area we are using it in is open to the kitchen with fairly high (10 foot ceilings), which is the reason I bought it. Rear speakers would look silly in the open area of my house. You do have to crank it up to be more effective, but I didn't notice any distortion on the higher volume levels. Yamaha obviously put a great AMP in the bar. I agree with the previous comments about that. I really think it's a great bar, probably the best. It replaced a DT SSA-3. A good sub is a MUST for ANY sound bar. I like the rackable YST-115 for an even cleaner look, as you can hide the sub wire in the wall without having to fork over $150 for a wireless option. I'd buy it again, but it should be a bit lower cost in my opinion. Ironically the same day I set this up Klipsch sent me an email about a similar setup that they have released. As far as size, yes it's large but not as large as some folks talk about. How else could you physically get that many speakers in a box? It's about as wide as a DT SSA-3 but twice the height and of course thicker. It's not a "big" deal. Go for a big TV to make it look proportional on a wall. It would look kind of silly inmo paired with anything under 55" TV.

Pros: NO wires! No distortion! Overall I would buy again, despite my Cons below.

Cons: A bit of a pain to setup. The onscreen menus reminded me of the Mac 2 days. :) The wireless setup was a chore to setup after initial set up. I'll probably call for help on that one. Price point should be a bit lower given you have to buy the wall mount separate and the wireless speaker option.
Yamaha YSP-5600 Digital Sound Projector
James from burton, MI on 2/18/2016
Crutchfield Customer Review
(
What's this?
)
really a great replacement for five point one sound system, the wife loves the no wires for the back speakers. I had a 5.1 system that cost me $5000.00, I added a sub-woofer to this sound bar and it really came to life.

Pros: having quality sound with no back speakers

Cons:
Kenneth K from guaynabo, PR on 1/20/2016
Crutchfield Customer Review
(
What's this?
)
After the initial set-up and running its auto Beam adjust. I tested it with a few movies, some Spotify, allcast and DLNA. I can say the sound is clear and no distorsion. I have it paired with a Klipsch Reference R-12SW Sub. The Martian, some Lord of the Rings and a game Battlefront wich features ATMOS, all sounded great. As for music, Blues, Jazz and ROCK, same results great spaciousness and superb music.

Pros: No Wires for speakers, A lot of formats, sound modes to please and features to boot. Superb Surround, ATMOS sound awesome, and AUDIO fine tuning.

Cons: Can be a bit tall and might cover part of your screen, if placed at the same level, easily fixed.
Details
Product Research
Audio/Video Section
Wireless Multiroom Audio
Remote & Convenience Features
Mounting & Placement Options
Audio/Video Section
Digital Sound Projector Technology: While many other soundbars offer only stereo audio or a "virtual surround" experience, the YSP-5600 soundbar speaker uses Yamaha exclusive Digital Sound Projector technology to produce sound beams that reflect off the walls & ceiling of your room to deliver a truer surround sound experience, and even supports Dolby Atmos & DTS:X (via future firmware update) for 7.1.2ch surround. The result is an amazingly expansive & immersive listening experience that brings your favorite movies, TV shows, and music to life.
44 Beam Drivers: Beautifully designed with 44 precisely calculated and positioned beam drivers (1.5" x 32 / 1.125" x 12), the YSP-5600 effectively creates 7-channel sound beams (front left/right, center, surround left/right, & height left/right). Using Yamaha Digital Sound Projector technology, each beam driver is controlled by individual delay times and is driven with its own independent amplifier circuit. These beams are projected onto the walls and ceiling, and reflected to the listening position.
Height Channels: The height channels are created by placing 12 of the total 44 beam drivers in two six speaker arrays, one on each end of the YSP-5600 soundbar. For the maximum sound beam effect, these drivers are mounted on an angled baffle with sound beam vertical control. The height speakers create multi-dimensional sound by reflecting directed beams off the ceiling to the listening position. The result is realistic sound field reproduction with true height, as if real speakers were mounted on the ceiling. You get great sound without having to mount ceiling speakers or run speaker wire.
Dual Subwoofers: Two powerful 4.5" subwoofers are built into the soundbar speaker to deliver deep and expansive bass for both movies and music. Each woofer is powered by its own discrete amplifier for tight, dynamic bass.
IntelliBeam Auto Sound Optimization: The YSP-5600 employs IntelliBeam automatic sound optimization using the supplied microphone for the best performance in your listening environment. IntelliBeam searches for the locations in your room where the sounds are properly reflected to the microphone and then performs adjustments to obtain the optimum balance of sound quality and volume, depending on the reflection locations. This also includes setting the position of sound beams directed at the ceiling. IntelliBeam will achieve highly accurate and impressive soundfield reproduction for almost any room. You can choose from 3 IntelliBeam modes to optimize the sound.
Beam + Sound Optimization: Optimizes the beam angle, delay, volume, and quality so the parameters best match your listening environment (takes about 3 minutes).
Beam Optimization: Optimizes the beam angle only (takes about 1 minute).
Sound Optimization: Optimizes the beam delay, volume, and quality only (takes about 3 minutes).
Note: In addition to the auto setup, you can manually fine tune the beam outputs.
Playback Modes: Once you have completed the IntelliBeam setup, you can choose from a variety of Digital Projector playback modes.
3D Surround: In 3D Surround mode, surround sound can be heard in front of you, beside you, behind you, and above you. The YSP-5600 not only reflects its beam drivers off your side and rear wall, it also directs its height beam drivers upward and reflects them off the ceiling. Compared to conventional surround sound playback with only a horizontal plane, this gives your surround sound environment a greater sense of immersion and reality with up to 7.1.2 channels of discrete audio.
Surround: In Surround mode, 5-channel sound beam drivers create a soundfield for surround sound playback for sound that is all around you; including in front of , beside, and behind you. The soundbar speaker's height channel beam drivers are not used.
Stereo: In this mode, the soundbar speaker uses only the right front and left front channels for stereo playback; center, surround and height channels are not used. When multi-channel audio signals are input, they are down-mixed to two channels.
Target: Target Playback mode outputs sound beams from a single channel for optimal listening from a specific seated location.
My Surround: The MySurround mode creates rich surround sound effects in rooms with less than optimal surround sound conditions.
Immersive Surround Sound: In addition to popular Dolby Digital formats such as Dolby Digital EX / Dolby Digital Plus / Dolby TrueHD and DTS formats such as DTS-ES / DTS-HD Master Audio / DTS-HD High Resolution / DTS 96/24, the Yamaha YSP-5600 offers support of the newest Dolby Atmos and DTS:X (via future firmware update) truly immersive discrete surround sound formats for breathtaking home theater experience.
Dolby Atmos: With Dolby Atmos, sound comes alive from all directions, including overhead, to fill your home theater with a thrilling & immersive surround sound experience. astonishing clarity, power, detail, and depth.
DTS:X (future firmware update required): DTS:X is the next generation object-based, multi-dimensional audio technology from DTS. Unbound from channels, DTS:X conveys the fluid movement of sound to create an incredibly rich, realistic and immersive soundscape - in front of, behind, beside and above the audience - more accurately than ever before. DTS:X offers the ability to automatically adapt the audio to the speaker layout that best fits your space.

DTS:X will be enabled through an online firmware update coming later this year.
Note: To enjoy Dolby Atmos you most connect your Blu-ray player's HDMI output directly to the HDMI input on the soundbar, because your TV's HDMI ARC jack will not support Dolby Atmos.
CINEMA DSP 3D: CINEMA DSP technology creates thrillingly realistic soundscapes in any room. Conventional multichannel audio reproduction systems base their sound on Dolby Digital and DTS Digital Surround decoding, using matrix and steering technologies to create surround sound effects. Yamaha CINEMA DSP Digital is much more advanced; actually creating independent sound fields that envelop you in an unmatched surround sound experience. With dialogue, music, and effects located in separate soundfields, you will hear sound with directionality, smooth movement, exceptional clarity and presence. The CINEMA DSP 3D Mode adds an expansive height direction to the soundfield, creating an even more immersive sound space. The YSP-5600 supports this feature by using special array speakers to create vertical beams. You can enjoy the feeling of a live performance with standard sound formats, and combine this effect with Dolby Atmos or DTS:X to enjoy a more natural expansion of the 3D surround sound. You can choose from Cinema DSP Movie, Music, and Entertainment modes.
Movie Soundfields: Spectacle, Sci-Fi, & Adventure
Entertainment Soundfields: Sports, Talk Show, Drama, & Game
Music Soundfields: Music Video, Concert, & Jazz Club
Audio Technologies: The YSP-5600 soundbar utilizes four of Yamaha's audio technologies (Clear Voice, Dialog Lift, Compressed Music Enhancer, & Adaptive DRC) for a better listening experience when watching movies or listening to your digital music files.
Clear Voice: Human voices, such as dialog in TV shows and movies, news, and sports commentary are played back with extra clarity. This technology enhances the acoustic characteristics of speech and increases the perceived volume level, while still maintaining the quality of the soundtrack's background sound & effects.
Dialog Lift: With many soundbars positioned below the TV, dialog and vocals can often seem misplaced relevant to the people talking onscreen. To correct this problem, the YSP-5600 has a Dialog Lift function (adjustable in three steps) that raises the reflecting beams from the array speakers to the proper height for accurate onscreen dialogue. Enjoy sounds and images that are perfectly aligned, just as in a movie theater.
Compressed Music Enhancer: This technology enhances and extends bass & treble, which tend to be weak in digitally compressed music formats such a MP3, WMA, and AAC. The Compressed Music Enhancer makes your compressed audio sound more musically dynamic and rich.
Adaptive DRC: Adaptive DRC (Dynamic Range Control) adjusts the dynamic range in relation to the volume, useful at low volume.
HDMI 2.0: The Yamaha YSP-5600 is fitted with four HDMI 2.0 inputs and one ARC-enabled HDMI 2.0 output. The HDMI jacks support the latest HDMI 2.0 standards.
4K/60Hz + HDCP 2.2: Thanks to transmission of 4K video at 60 frames per second, you can fully enjoy the high definition video quality of without degradation. HDMI Input 1 and the HDMI output also adheres to the HDCP 2.2 copyright protection standard for 4K video transmission.
Multi-Channel Audio: The YSP-5600's HDMI jacks support 2ch linear PCM (up to 192kHz/24-bit) & 7.1ch linear PCM (up to 192kHz/24-bit). The following Dolby Digital formats are supported - Dolby Digital Plus, Dolby Digital EX, & Dolby TrueHD. The following DTS formats are supported - DTS-HD Master Audio, DTS-HD High Resolution, DTS ES, & DST 96/24. Dolby Atmos & DTS:X (requires firmware update) is also supported.
ARC (Audio Return Channel): This feature allows audio to be sent from your compatible TV to the soundbar speaker through the same HDMI cable already being used to send audio and video to your TV. This eliminates the need for extra cables connected to your television.
3D-Ready: The soundbar speaker's HDMI jacks will accept 3D video from your 3D Blu-ray player and output the video signal in 3D to your 3D-ready HDTV.
Deep/x.v.Color: The Yamaha soundbar also supports Deep Color and x.v.Color content, which can display a larger color range than standard-definition schemes. The result is a more lifelike, vibrant picture.
Auto Lip-Sync: The soundbar automatically adjusts the delay in output timing between video signals and audio signals so they match when you are watching a movie. You can also manually adjust the audio delay between 0 to 500 ms.
Notes:

Because with many televisions, the ARC-enabled HDMI input will only pass 2ch PCM from devices connected to the TV via HDMI or analog, we recommend that you connect your Blu-ray/DVD player, Satellite/Cable box, or Gaming console to the Yamaha soundbar directly; and then connect the YSP-5600's ARC-enabled HDMI output to your TV's ARC-enabled HDMI input. This setup will give you with the best overall sound performance.
The soundbar does not offer HDR pass-through. If you have a HDMI source device with HDR capability, you will need to connect it directly to your TV. Audio from the HDR source device will be sent back out to the soundbar via HDMI ARC at only 2ch PCM for many TVs (you will lose Dolby Atmos support and may also lose Dolby Digital/DTS capability).
Analog + Digital Audio Inputs: In addition to HDMI connectivity, the YSP-5600 soundbar is equipped with one analog stereo RCA input, one coaxial digital input, and two optical (toslink) digital inputs. The digital inputs support Dolby Digital, DTS, and 2ch PCM up to 96kHz/24-bit).
Note: The digital output terminals of most newer flat-panel TVs only send an audio signal in 5.1ch when receiving Dolby Digital/DTS surround sound from the TV's built-in tuner, network connection, or connected USB device; and will output only 2ch stereo from sources connected to the TV via HDMI, or RCA (like your Blue-ray/DVD player or satellite/cable box).
Subwoofer Output & Optional Wireless Subwoofer Kit: The YSP-5600's subwoofer output lets you connect a powered subwoofer for added bass. Yamaha's optional SWK-W16 kit (022SWKW16, sold separately) can be used to wirelessly connect a powered sub to the YSP-5600. You won't need to use any connecting wires between the soundbar speaker and the subwoofer.
Audio Adjustments: The Yamaha YSP-5600 soundbar offers a variety of audio settings to match the speaker to your application.
Bass & Treble: You can adjust Bass & Treble output levels for each source input.
Dynamic Range: Adjusts the soundbar's dynamic range (difference between maximum and minimum volume levels). Select Auto (automatically sets dynamic range for comfortable listening at low volumes), Standard (dynamic range recommended for regular volume level), or Max (output sound without adjusting the dynamic range of the input signal).
Channel Level: You can adjust the output level of each channel (Front Right/Left, Front Height Right/Left, Center, Surround Right/Left, Right/Left, and Subwoofer) on the soundbar speaker to balance output levels. Adjustable range is -10 to +10.
Volume Trim: You are able to adjust the input level of each input jack to compensate for variations in volume. Adjustable from -12 to +12.
Turn On Volume: The system's volume can be set to come on at a preset level (1-99) when power is turned on.
Max Volume: You can set the speaker's maximum volume output level to 1 through 99.
Subwoofer Volume You can adjust the soundbar's built-in subwoofer volume level independently from the speaker's overall volume.
Wireless Multiroom Audio
MusicCast: The Yamaha YSP-5600 soundbar is part of Yamaha's MusicCast multiroom audio eco-system. MusicCast from Yamaha, brings music to every room in your home wirelessly with control provided by a free app on your Apple iOS or Android device. Designed to easily work with your existing home WiFi network, MusicCast offers access to a huge range of audio content. This content includes select online music services, Internet radio, digital music libraries, and Bluetooth audio; as well as connected external sources such as TVs, cable/satellite boxes, Blu-ray/DVD Disc players, and CD/SACD players. MusicCast can even select terrestrial AM/FM radio stations for playback throughout the home when linked to a tuner-enabled MusicCast device (like an AV receiver). MusicCast is enabled on many 2015-up Yamaha components like this soundbar speaker, plus their AV receivers, wireless speakers, and other HiFi components.
Note: Yamaha's new MusicCast system is not compatible with Yamaha's old MusicCAST system.
Firmware Update: The YSP-5600 soundbar may require a firmware update in order to use the MusicCast feature.
Multiroom Audio: Start with the Yamaha YSP-5600 soundbar in your living room or bedroom and add other MusicCast products from Yamaha (like wireless speakers, AV receiver, and HiFi systems ) over time to create a multiroom audio, whole-house experience. Up to 10 MusicCast devices can be connected.
Wired or Wireless Network Connection: The Yamaha MusicCast YSP-5600 soundbar supports both WiFi (802.11 b/g/n; 2.4GHz) and wired Ethernet (RJ-45) connections, so you can choose to build a wireless or wired network, or a combination of both if desired. Network setup is completed through the free MusicCast app on your compatible Apple iOS or Android device.
Note: If you want to install a MusicCast device to a location that is out of range of your wireless router, connect another MusicCast device to the router with a network cable to extend the range ("Extend Mode").
MusicCast App: The free MusicCast app can be downloaded for Apple (iOS 7.1+) iPod/iPhone/iPad and Android (OS4.1+) smartphones/tablets. The MusicCast app puts control of your whole home listening experience in the palm of your hand from your Apple iOS or Android device. You'll be able to quickly select the room or rooms you want to listen to music in, select the source or sources you want to listen to, browse music content from your music library and online music services or Internet Radio, plus control music playback functions.
Rooms: Choose which room or rooms you want to listen to music in. You can select a different source for each room, group certain rooms together for playback of the same source, or link all rooms together so the same source is played back throughout the house.
Source Selection: From the app you can select which source or sources you want to listen to; choose from network-connected devices, select online music services, Internet Radio or Bluetooth for the YSP-5600. You can also select from the soundbar speaker's HDMI, digital and analog inputs, plus TV audio.
Music Browsing: You can browse music libraries from your network-connected devices; like your smartphone, tablet, computer, or laptop. You can also browse music content from select online music services and search Internet Radio stations from the MusicCast app.
Playback & Song/Artist Info: From the MusicCast app on your compatible Apple iOS or Android device you get Volume Up/Down, Play/Pause, and Previous/Next Track; as well as song/artist information and album art.
Favorites: Internet radio stations, content from select online music services, plus playlists and songs from your network-connected device's music library can be saved as "Favorites" for quick recall within the MusicCast app.
Sound Settings: From the MusicCast app you can select between CINEMA DSP modes, activate Clear Voice & Dialog Lift, as well as turn on the Compressed Music Enhancer & Adaptive DRC.
Personalization & Customization: With the app's unique personalization features, you can choose from preloaded room images or change the color of buttons to represent each room in the home, or even take pictures of their own home and assign the images to each button. The content source buttons can also be customized to rename, remove or reorder selections for easier operation.
High Resolution Audio: The Yamaha YSP-5600 supports true high-resolution audio formats to deliver more accurate reproduction of sonic details. The soundbar speaker system is compatible with Apple Lossless (ALAC) up to 96kHz/24-bit, as well as FLAC and WAV music files up to 192kHz/24-bit. It also supports lower resolution music files like MP3, WMA, and AAC up to 48kHz.
| | | | |
| --- | --- | --- | --- |
| File | Sampling Frequency | Bit-rate or Bit-depth | Gapless Playback |
| MP3 | 8-48 kHz | up to 320 kbps | N |
| WMA | 8-48 kHz | up to 320 kbps | N |
| AAC | 8-48 kHz | up to 320 kbps | N |
| WAV (PCM) | 32-192 kHz | 16/24-bit | Y |
| FLAC | 32-192 kHz | 16/24-bit | Y |
| AIFF | 32-192 kHz | 16/24-bit | Y |
| ALAC | 32-192 kHz | 16/24-bit | Y |
Note: When multiple MusicCast devices are "linked" for multiroom audio playback, the Master room device's playback is at the native sampling rate (up to 192kHz/24-bit), while the other rooms and MusicCast devices down-converted to 48kHz.
Streaming Music Partners: MusicCast includes Pandora, Spotify Connect, Napster, and SiriusXM Internet Radio streaming services, as well as thousands of free local and international Internet radio stations from vTuner. TIDAL and Deezer will be available through a firmware update available in late spring of 2017.
Music Service
Description
Pandora
Pandora is personalized radio that plays music and comedy you'll love. Just start with the name of one of your favorite artists, songs, comedians or composers and Pandora will create a custom station that plays similar tracks. You can also rate (thumbs up/thumbs down) songs as they play, and Pandora will adapt stations to your feedback. You can create up to 100 stations and easily switch between your favorites.
Spotify Connect
With the Spotify app (premium account required) on your Apple iOS or Android smartphone, you've got instant access to millions of songs. And now you can stream those same songs from your smartphone to the Yamaha AV receiver by using Spotify Connect; simply hit play on the app to start streaming music. What's more, when you've been listening to Spotify on your smartphone outside and come inside, the song immediately begins to stream to the system for uninterrupted music enjoyment. You can also personalize playlists and receive phone calls while listening to music.
SiriusXM
SiriusXM Internet Radio lets you listen to over 120 channels of commercial-free music, talk radio, news, sports, entertainment, and more.
TIDAL
(requires firmware update)
Tidal is accessible through the Yamaha MusicCast app for Apple iOS & Android. TIDAL is a global streaming service that offers over 30 million songs in high-fidelity CD sound quality. TIDAL has two pricing tiers; either $9.99 or $19.99 a month. Both pricing levels allow you to access TIDAL's entire music library. The $19.99 tier has the added benefit of high-fidelity sound at CD-level quality.
Deezer
(requires firmware update)
Deezer is an online music service offering over 43 million tracks starting at $9.99 a month. Discover the perfect playlist or make your own, as well as browse curated collections by genre.
Napster
Napster is a streaming music subscription service (starting a $10 per month) that allows you to play the full-length songs you choose on demand from a collection of over 10 million songs, without ads and without having to purchase or download the music.
vTuner
You can also listen to Internet radio stations using the vTuner Internet Radio Station database service particularly customized for this unit, providing a database of numerous radio stations around the world. You can search for Internet Radio stations by Location, Genre, New, Popular, or Podcast.
Bluetooth Audio: The Yamaha MusicCast YSP-5600 offers built-in Bluetooth (v.2.1+EDR) for wireless music streaming & control. This allows you to stream stored music and music apps on your Bluetooth-enabled Apple iPod/iPhone/iPad, Android smartphone/tablet, Windows Phone/PC, Mac computer/laptop, and more to the soundbar speaker. The speaker can be paired with up to 20 device, but only one can be actively connected.
SBC + AAC Codecs: In addition to support for the standard SBC Bluetooth audio codec, the YSP-5600 offers support of AAC. By supporting AAC, the soundbar offers better audio performance of the music streamed from your Apple iPod, iPhone, or iPad.
Linked Playback Mode: With Linked Playback Mode, music streamed via Bluetooth to one MusicCast device can then be wirelessly streamed to multiple MusicCast devices for multiroom audio. Bluetooth is limited to the SBC codec during Linked Playback mode.
Bluetooth Output: The Bluetooth Output feature allows you to wirelessly stream audio from a non-Bluetooth source of a MusicCast device to another Bluetooth speaker or headphones (regardless of manufacture), making it even more convenient to add the MusicCast eco-system to your existing audio gear. Bluetooth is limited to the SBC codec during "Bluetooth Output" Playback mode.
AirPlay: AirPlay lets you stream your favorite songs directly from your Apple iOS (4.3.3+) device or from your iTunes (10.2.2+) library on your Windows PC or Mac computer to the Yamaha MusicCast YSP-5600 speaker, over your home's WiFi network connection. From your Apple iOS device you are able to stream stored music and music apps on your device to the Yamaha MusicCast speaker. From your Windows or Mac you can stream your stored iTunes music library on your computer to the MusicCast speaker.
Note: AirPlay is not available for multiroom audio playback.
DLNA: The MusicCast YSP-5600 speaker supports DLNA (Digital Living Network Alliance) 1.5, allowing access to DLNA-compatible Windows 7/8 computers (with Windows Media Player 11 or 12) and network attached storage (NAS) devices. You'll be able to wirelessly stream the music libraries on your computer, laptop, or NAS to the Yamaha MusicCast speaker system.
Note: Digital Rights Management (DRM) content cannot be played back.
Remote & Convenience Features
Home Theater Controller App: Download Yamaha's free Home Theater Controller app for Apple iOS (5.1.1+) or Android (2.3.3+) to easily perform a variety of functions from your Apple iPod/iPhone/iPad or Android smartphone/tablet. Basic functions include Input Selection and Volume Up/Down. Advanced functions include selecting Cinema DSP modes, Clear Voice, or the Enhance Music Enhancer for the best listening experience. Your Apple iOS or Android device and the YSP-5600 soundbar must be connected to the same WiFi network.
IR Remote Control: The Yamaha YSP-5600 includes an IR remote control for wireless operation of the soundbar speaker system. The soundbar speaker is 8.375" tall and may block part of your TV causing issues with your TV receiving IR commands from the remote. The YSP-5600 also has an IR input (3.5mm) and pass-through output (3.5mm) for use with third-party control systems.
HDMI Control: You can also use your TV's remote control to operate this system, if your television supports the HDMI control function and is connected to the soundbar's HDMI output. The soundbar speaker will automatically select the input according to the input source setting on your TV. You will also be able to turn on/off the soundbar with your television.
RS-232C Port: Thanks to its RS-232C port, it is certified for use with Control4 home automation and smart home systems for network-based control.
OSD (On-Screen Display) & Hidden Indicators: A convenient on-screen display provides menu setup and audio adjustments on your HDMI-connected television. The front-panel and the indicator section are covered by a mesh grille achieving a simple, elegant look. In addition, the indicator section lights only when needed, to avoid any distraction while viewing.
Alexa Compatible (Firmware Update Required): Alexa-enabled devices (including the Amazon Echo, Echo Dot, Tap and Echo Show) will soon be able to control key functions of a MusicCast system using voice commands. A firmware update (available sometime in October), will be available for download that allows key functions of MusicCast products to be controlled using your voice through Alexa-enabled devices (sold separately).
Alexa Skill: The MusicCast skill for Alexa will allow you to power MusicCast products on and off, control basic playback functions, make selections from a playlist of favorite music, adjust the volume, and use the Link function for playback of multiple MusicCast products simultaneously.
Echo Source Input: In addition or alternatively, an Echo device can be used as a music/audio source for a MusicCast system. All MusicCast devices offer a Bluetooth input. Just pair your Echo, Echo Dot or Echo Show with any MusicCast wireless speaker, sound bar or AV receiver and the sound will play from the MusicCast device. Using the MusicCast app, you can then select the Bluetooth input and link multiple MusicCast devices for playback, allowing you to hear it throughout your home. Many MusicCast products also offer inputs which can be connected to Echo Dot via its line output, if a wired connection is preferred over Bluetooth. This requires using an optional analog audio cable (sold separately). Using the MusicCast app, you can select the wired input and link multiple MusicCast devices for playback, allowing you to hear sound from Echo Dot throughout your home.
Note: You will need an Alexa-enabled device (Amazon Echo, Echo Dot, Tap, or Echo Show - all sold separately) to operate certain functions of your MusicCast products via voice-command. The MusicCast components and the Alex-enabled devices must be on the same network.
Auto Standby & Sleep Timer: The soundbar speaker will automatically enter standby mode after approximately 20 minutes of no audio playback and no operation. You can set the unit's Sleep Timer to 30, 60, 90 or 120 minutes from the app on your compatible mobile device.
Firmware Updates: New firmware updates that provide additional features or product improvements will be released by Yamaha in the future. If the soundbar speaker is connected to the Internet, you can download the firmware via the network and update it. If the soundbar is not connected to the Internet, you can download the latest firmware update from the Yamaha Website to a USB thumbdrive, which can then be used to update the speaker's firmware.
Mounting & Placement Options
Mounting Options: The YSP-5600 can be placed on TV furniture using the included feet or it can be wall-mounted using an optional bracket (sold separately).
Table Top: The YSP-5600 soundbar speaker sits in front of your TV on a flat-surface. The speaker can be table-top mounted with or without the mounting feet. The soundbar speaker is 8.375" tall and may block part of your TV causing issues with viewing the bottom part of the TV screen and your TV receiving IR commands from the included remote.
Optional Wall-Mount Bracket: The Yamaha YSP-5600 soundbar can also be wall-mounted using Yamaha's optional wall-mount bracket (022SPMK30, sold separately).
Soundbar Position: The YSP-56000 reflects sound beams off of wall and a ceiling to create the surround sound effect. The placement and position of this soundbar speaker to the listening position, wall, and a ceiling is important to achieving the desired surround sound effects. Following these guidelines for ideal placement & sound.
Install the soundbar speaker in the center of left and right walls. Be sure the speaker is installed with at least 1.9375" of empty space above and below it, leaving as much space as possible in a diagonal direction in front of and above the speaker.
The listening position should be located at the front of the soundbar speaker. The distance between the listening position and the speaker should be more than 5.9375'. Your listening position should be as far from the back wall as possible (the optimal listening position is halfway between the speaker and the back wall, or slightly closer to the back wall.
Be sure that obstacles such as furniture will not obstruct the pat of the sound beams, in order to achieve desired surround sound effects.
Note: Some rooms will not allow for ideal placement. In this case you can calibrate the system within the soundbar's on-screen menu.
Our Product Research Team
At Crutchfield, you'll get detailed, accurate information that's hard to find elsewhere. That's because we have our own in-house Product Research team. They verify what's in the box, check the owner's manual, and record dimensions, features and specs. We stay on top of new products and technologies to help people make informed choices.
Q & A
Customer Q&A
Crutchfield asked


Why did you buy this?
My wife did not want a subwoofer box in the greatroom so selected the most self contained SB with reasonable speaker system

[ Richard Dec 22, 2017 ]
Good value for money

[ John Oct 16, 2017 ]
the best sound bar out there

[ E Aug 29, 2017 ]
High quality, good reviews, downsizing speaker setup

[ Griffin Dec 28, 2016 ]
will produce same sound as more speakers connected to a receiver.

[ Bill Dec 22, 2016 ]
Best soundbar available for my needs

[ Michael Dec 15, 2016 ]
Always been impressed with Yamaha for Soundbar. Also Eddie very good sales rep.

[ Thomas Dec 14, 2016 ]
Dolby Amos surround sound without running wires or drilling holes in walls and ceiling. And, the quality and reliability of Yamaha is superb.

[ Robert Dec 01, 2016 ]
Dolby Atmos without the wires

[ CONNIE Jun 27, 2016 ]
Recommendation from Artie based on the specific attributes of the room where this will be installed. His help was offered a couple months ago while a new built in wall unit was being designed and that construction and installation is to be completed next week thus the timing of this order as well as a separate order for an LG 60 inch tv also placed today. Thanks Artie. Artie's Bio: http://www.crutchfield.com/Support/Bio.aspx?bio=93

[ HERBERT Jun 17, 2016 ]
The Yamaha YSP 5600, in my opinion, is one of the Best Soundbars available. It is the First Dolby Atmos & DTS X enabled Sounder on the market. Yamaha & Zvox have been in the Soundbar Business longer then anyone. They seem too have it down, all around, better then most. Buying from Crutchfield, is always good. Frank K.

[ FRANK Jun 15, 2016 ]
I am hoping to get a surround sound experience.

[ Vishal May 26, 2016 ]
rave reviews on this sound bar

[ clifton May 10, 2016 ]
Based on reviews and help from Crutchfield advisor.

[ M Mar 13, 2016 ]
I heard this sound bar at a friends house and I was totally amased at the sound coming out of the 5600.

[ ABRAHAM H Feb 26, 2016 ]
I wanted a complete Atmos experience for my living room without 18 million speakers. That's for the media room. I already purchased a sub, as I heard you do need a sub with this. This will replace a fully capable DT sound bar, so it will be interesting to see (hear) the difference! I will be the guniea pig folks, and report back as to this sound bar's performance. I expect it to be suburb for $1600 but not at well as a tricked out Atmos system. It will be interesting.

[ JOSEPH Feb 07, 2016 ]
14 questions already asked