Why Choose Crutchfield?
Deep discounts on car installation gear
We offer vehicle-specific installation instructions, dash kits, wiring harnesses, and speaker accessories at deeply discounted prices with car stereo and speaker purchases. Available for most vehicles.
Learn more
Trusted since 1974
Our customers have trusted us with their business, and they've helped us win awards for our service.
Check out our most recent awards
Factory-authorized dealer
The manufacturer's warranty always applies.
See more details
Denon AVR-2308CI
Home theater receiver with HDMI switching and video upconversion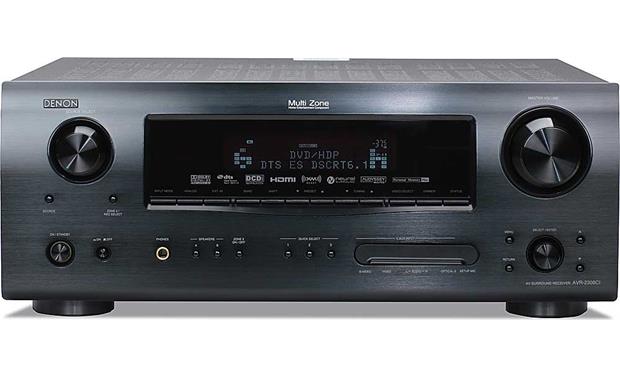 Denon AVR-2308CI - Front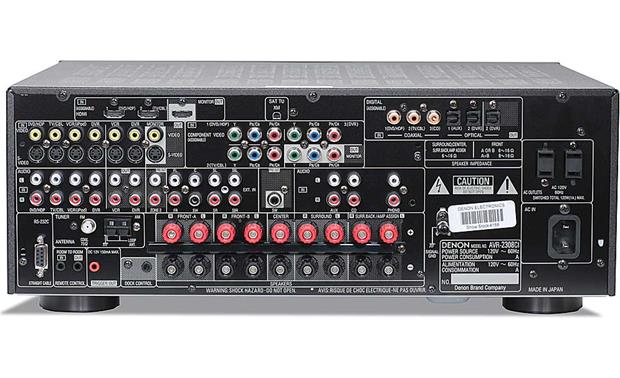 Denon AVR-2308CI - Back
Analog-to-HDMI Conversion and Upconversion
Understanding Automatic Speaker Calibration
Understanding Multi-room/Multi-source Playback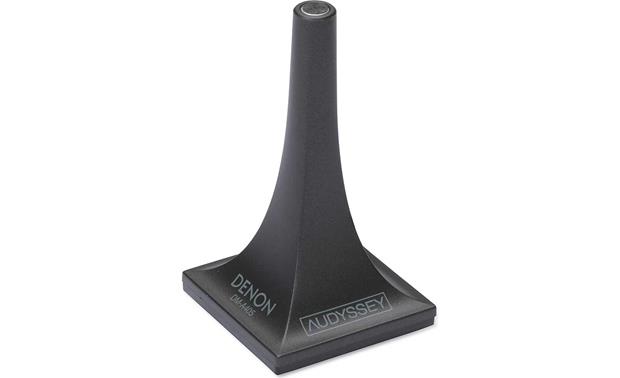 Denon AVR-2308CI - Calibration microphone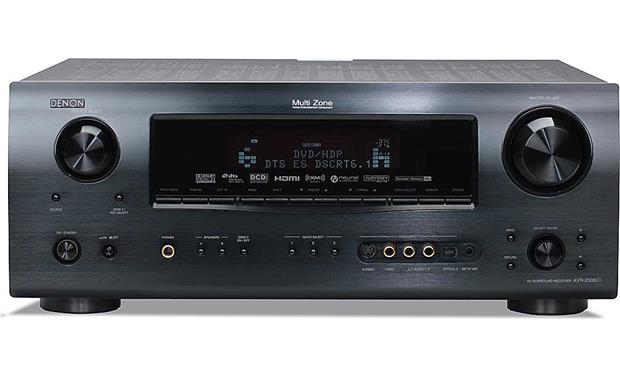 Denon AVR-2308CI - Front panel open
Item # 033AV2308C | MFR # AVR-2308CI
This item is no longer available.
Overview
Our take on the Denon AVR-2308CIby Crutchfield's Dave Bar
Denon's AVR-2308CI delivers a riveting home theater experience every time you turn it on. It teams up advanced surround processing capabilities with 100 watts per channel of clean, high-current Denon amplification to drive up to seven speakers with power and precision. This receiver also includes features that help you optimize the sound of your system and streamline your video connections.
Superior picture quality from every source
The '2308CI's versatile video capabilities include 1080p HDMI switching for two high-def video sources — especially handy if your HDTV has just one HDMI input. Analog-to-HDMI video conversion lets you send all of your video sources to an HDMI-capable TV using only a single digital cable. This simplifies video switching and preserves maximum picture quality for each source. Plus, sophisticated digital video upconversion can upgrade any non-HD video source to an HDMI digital signal with resolution up to 1080p, to better match with your HDTV's display.
Easy, accurate speaker setup
Denon also includes Audyssey MultEQ®, a sophisticated auto-calibration system that helps you get the most accurate home theater sound possible. The '2308CI uses an included microphone to analyze sound from up to six different listening positions, then automatically adjusts level, equalization, and delay settings for each of your speakers. You get accurate response across a wide listening area instead of just a single "sweet spot," so everyone in the room can enjoy precisely balanced home theater sound.
Learn about the ins and outs of HDMI connections at CrutchfieldAdvisor.com.
Shop our selection of HDMI cables.
Product Highlights:
100 watts x 7 into 8 ohms (20-20,000 Hz) at 0.05% THD
Dolby® Digital EX, DTS-ES™, DTS 96/24, Pro Logic® IIx, and DTS Neo:6 decoding
Audyssey Laboratories' MultEQ six-point auto setup and room calibration system (microphone included)
XM Satellite Radio Ready (requires XM subscription and optional XM Mini-Tuner package)
Neural Surround decoder for XM's HD Surround channels
iPod® integration (requires optional Denon ASD-11R)
Compressed Audio Restorer for better sound with compressed music sources
two-room/two-source output with powered and line-level stereo audio output for 2nd room (using powered 2nd room stereo output allows 5.1 home theater in main room)
high-current, low-impedance amp design
Pure Direct modes switch off all unused circuitry for the cleanest possible sound
192kHz/24-bit DACs for all channels
multibrand remote
basic remote for 2nd listening room (requires remote control extender system, not included)
17-1/8"W x 6-3/4"H x 17-3/16"D
warranty: 2 years
Connections:
1080p-compatible HDMI digital video switching (2 in, 1 out)
analog-to-HDMI video upconversion (up to 1080p) with Faroudja DCDi™ video processing and scaling
HDMI version 1.3a
component video switching (3 in, 1 out)
component video conversion (composite to S-video, or composite and S-video to component)
digital inputs: 4 optical (including 1 front panel), 2 coaxial
digital outputs: 1 optical
5 audio/video inputs, including:

1 front-panel input with composite and S-video
4 rear-panel inputs with composite and S-video

3 audio-only inputs (including phono)
7.1-channel analog audio preamp input
RS-232C port for automated control systems
2 sets of main speaker outputs
back surround speaker channels re-assignable for bi-amping front left and right speakers
Excellent Product

Enock, Mayaguez, PR
What's in the Box:
Black AM/FM/Dolby Digital/DTS receiver
Audyssey DM-A405 setup microphone with attached 25' cord (has a minijack mono connector)
RC-1080 Wireless remote control with LCD
RC-1084 Secondary Wireless remote control
2 "AA" batteries
2 "AAA" batteries
6' AC power cord
AM analog loop antenna
FM wire antenna
Owner's Manual
Limited Warranty sheet
Denon Service Network sheet
XM channel guide
Reviews
Denon AVR-2308CI Reviews
Average Customer Review(s):
Enock from Mayaguez, PR on 11/15/2008
Crutchfield Customer Review
(
What's this?
)
Excellent Product

Pros:

Cons:
Good Receiver/There are better
Edward from Waco, TX on 10/28/2008
Crutchfield Customer Review
(
What's this?
)
I probably overdid receiver looking, but I do not have tons of money to replace a unit every time some new sonic or video marvel appears on the horizon. In replacing a relatively old receiver, I wanted something that would at least get me current in the realm of A/V receivers and give me excellent acoustic performance. I tried six different models- three of them were Denon. I tried two Denons from a local dealer (both returned). The first would not come on. The second had a great sound, but so many of my questions concerning setup and operation went unanswered by staff that knew zero about their product. Crutchfield is as advertised- knowledgeable- courteous- and right on the price! I ordered the 2308 from Crutchfield. They were most helpful with my set up questions and most helpful when I sent the 2308 back. Bottom line- the 2308 -though more expensive and with a bit more power - had hole in the sound field. No matter what I did, there was just something lacking in the acoustic reproduction. After talking with the Crutchfield folks, they suggested I try the 2808. It was perfect! Also- the 2808 has the new Blu-Ray HD sound capability- so I was able to buy for the future as well- I was glad to settle in on that model because I think my relationship with the UPS man was beginning to be too intense!

Pros:

Cons:
anon from Denver, CO on 8/5/2008
Crutchfield Customer Review
(
What's this?
)
Receiver - Excellent product overall. Elegant design with solid performance for the price. Great foundation for a comprehensive Denon system I am assembling over time. Impressive sound, making it a much easier "sell" for my spouse. Remote - cluttered, and unnecessarily complicated. I'm not trying to launch the space shuttle here.... Anticipating early retirement for the flimsy back panel protecting second set of buttons. "Manual" (?!) - to confirm the hundreds of reviews I skimmed before my purchase, the manual is really frustrating! I bet that 8 out of every 10 users could write a more effective and illustrative manual, after swearing their way through this one for a few hours. There are probably technical blogs dedicated to this already, or at least a few emotional support groups. Crutchfield - Excellent. Hassle-free, informative, and patient with my questions. Service that reinforced their strong reputation. I also found the lowest price here.

Pros:

Cons:
DAN from MANISTEE, MICHIGAN on 7/25/2008
Crutchfield Customer Review
(
What's this?
)
THE EQUIPMENT IS GREAT, BUT THE USERS GUIDE, WHY DOES IT HAVE TO BE SO HARD. TO DO THIS GO TO PAGE 23, BUT FIRST LOOK AT PAGE 17, BUT THEN ON PAGE 36 IF YOU DO THIS... JUST REALLY HARD TO FOLLOW OR MY ATTENTION SPAN JUST ISNT WHAT IT USED TO BE. STILL THE FINAL PRODUCT IS JUST WONDERFULL

Pros:

Cons:
Biffer from Texas on 1/29/2008
This A/V Receiver really performs well. the only down side is the interface could be more intuitive, sometimes it is confusing. overall a good A/V Receiver at this price point. Along with the one of the network ready iPod Docks this little baby does everything I want.

Pros:

Cons:
Details
Product Research
Features
Remote Controls
Inputs and Outputs Notes
Features
7-Channel Equal Power Amplifier:The Denon AVR-2308CI features a 7-channel equal power, discrete amplifier. The amplifier is rated at 100 watts x 7-channels RMS.
Digital Signal Processing (DSP): The Denon AVR-2308CI is equipped with a high-resolution 32-bit floating point Digital Signal Processor (DSP). All elements of the Surround Processor are optimized to the highest standards by the use of selected high performance and discrete components, particularly the A/D and D/A converters and the sophisticated DSP surround decoder.
24-Bit, 192 kHz D/A Converters: The AVR-2308CI uses 24-bit/192-kHz Digital-to-Analog converters for all channels. The 192kHz sampling and 24-bit word length capabilities of the DACs allows you to play high-resolution recordings and hear the increased clarity, detail and dynamic range of those recordings.
Custom Integration: The AVR-2308CI carries the "CI" stamp, which is Denon's certification to custom installers that the receiver has advanced connectivity and control features often required for custom home integration and theater applications using premium control systems. These features include a RS232C jack for use with whole house control systems, remote in/out IR command control, and assignable +12-volt triggers.
Video Up-Conversion Powered With DCDi By Faroudja: The AVR-2308CI is equipped with a flexible video switching system that converts video signals in an effort to only require one video connection from the receiver to your TV. The video switching system features a Directional Correlation De-interlacing (DCDi) special video processor developed by Faroudja that involves advanced algorithms to remove the jagged edges that appear when standard interlaced video is viewed on progressive scan displays. DCDi converts standard interlaced signals into progressive scan signals in order to eliminate the stair-casing effect that conventional up-converters can introduce to diagonal edges. Unlike most other conversion circuits, this receiver will convert analog signals from composite video, S-Video, and component video to HDMI up to 1080p.
Composite Video: can be converted to S-Video, component video, or HDMI
S-Video: can be converted to composite video, component video, or HDMI
Component Video: can be converted to composite video, S-Video, or HDMI (480i signals only when down converting)

Note: Video signals input as HDMI must be output via HDMI.
Surround Modes:This receiver incorporates a wide variety of surround modes to bring you maximum enjoyment from your audio and video software. The surround modes include:
Dolby Digital: Dolby Digital is a 5.1 multi-channel digital surround format.
Dolby Digital EX: Dolby Digital EX is a 6.1 multi-channel digital surround format.
Dolby Pro Logic II: Dolby Pro Logic II technology processes any high quality stereo (two-channel) movie and music audio into five playback channels of full-bandwidth surround sound. A matrix surround decoding technology, Dolby Pro Logic II detects the directional cues that occur naturally in stereo content and uses these elements to create a five-channel surround sound playback experience. You can choose from the following Dolby Pro Logic II formats - Cinema, Music, or Game.
Dolby Pro Logic IIx: Pro Logic IIx expands any existing stereo- or 5.1-channel audio for a 6.1- or 7.1- channel playback, creating a seamless, natural surround soundfield that immerses you in the entertainment experience. You can choose from the following Dolby Pro Logic IIx formats - Cinema, Music, or Game.
DTS Digital Surround: DTS Digital Surround is a 5.1 multi-channel digital surround sound format used for both commercial/theatrical and consumer grade applications.
DTS-ES Extended Surround: DTS-ES features two 6.1 multi-channel formats.

DTS-ES Discrete 6.1: DTS-ES Discrete 6.1-channel is a 6.1-channel discrete digital audio format adding a surround back channel to the DTS digital surround sound.
DTS-ES Matrix 6.1: DTS-ES Matrix 6.1-channel is a discrete 6.1 channel digital audio format inserting a surround back channel to the DTS surround sound through matrix encoding.

DTS Neo:6 Surround: DTS Neo:6 is a matrix decoding technology for achieving 6.1-channel surround playback with 2-channel sources. You can choose from two DTS Neo: 6 Surround formats - Neo: 6 Cinema and Neo: 6 Music
DTS 96/24: DTS 96/24 is a digital audio format enabling high sound quality playback in 5.1-channels with a sampling frequency of 96 kHz and 24 bit quantization of DVD-video.
Combined Surround Modes: The receiver features several combined modes using existing Dolby and Digital Theater Systems (DTS) surround modes:

Dolby Digital+Dolby Pro Logic IIx (Cinema and Music)
DTS+Neo:6
DTS+Dolby Pro Logic IIx (Cinema and Music)

Neural Surround: Neural Surround has been adopted by XM Satellite Radio for digital radio broadcasts of XM HD Surround recordings and live events in surround sound. Neural Surround employs psychoacoustic frequency domain processing which allows delivery of a more detailed sound stage with superior channel separation and localization of audio elements.
Denon Original Surround (DSP) Modes:

Rock Arena: this mode is for enjoying the atmosphere of a live concert in an arena
Jazz Club: this mode is for enjoying the atmosphere of a live concert in a jazz club
Mono Movie: this mode is for playing monaural movie sources with surround sound
Video Game: this mode is suited for achieving surround sound with video games
Matrix: this mode lets you add a sense of expansion to stereo music sources
Virtual: this mode is for enjoying surround effects using only the front speakers or headphones
7CH Stereo: this mode is for enjoying stereo sound from all speakers
Surround Parameters: You can adjust the following surround mode parameters:
CINEMA EQ (Cinema Equalizer): The Cinema EQ function gently decreases the level of the extreme high frequencies, compensating for overly-bright sounding motion picture soundtracks. Select this function if the sound from the front speakers is too bright. This function only works in the Dolby Pro Logic (including PL II and PL IIx), Dolby Digital, DTS Surround, DTS Neo:6, and Wide Screen modes.
D.COMP (Dynamic Range Compression): Motion picture soundtracks have tremendous dynamic range (the contrast between very soft and very loud sounds). For listening late at night, or whenever the maximum sound level is lower than usual, the Dynamic Range Compression allows you to hear all of the sounds in the soundtrack (but with reduced dynamic range). This only works when playing program sources recorded in Dolby Digital or DTS. You can select one of the four settings: "OFF", "LOW", "MID" (middle), or "HI" (high).
LFE: This setting adjusts the low-frequency effects level (LFE). You can adjust the LFE from -10 to 0 dB.
Center Image: This function assigns a center channel signal to the front left and right channels for wider sound. You can adjust the center image range from 0.0 to 0.3 to 1.0.
Panorama: This feature assigns front left and right signals to surround channels for wider sound. You can turn this feature On or Off.
Dimension: This settings shifts the sound image from the center to the front or rear to adjust playback balance. You can select from 0 to 3 to 6.
Center Width: This function assigns a center channel signal to the front left and right channels for wider sound. You can select from 0 to 3 to 7.
Delay Time: This feature adjusts the delay time to control the sound stage size. You can select either 0 to 30ms to 300ms.
Effect Level: This function adjusts the effect signal level from 1 to 10 to 15.
Room Size: This feature determines the size of your acoustic environment. You can select from Small, Medium small, Medium, Medium large, or Large.
AFDM: This feature auto-selects the surround mode by the connected source's content.
SB CH Out (for multi-channel sources): This setting selects the playback mode for the surround back channels of the receiver. You can choose from Non Matrix, Matrix, PLIIx Cinema, PLIIx Music, ES Matrix, ES Discrete or Off.
SB CH Out (for 2-channel sources): You can select either On or Off for the surround back channels when listening to a 2-channel source.
Tone Settings: You can independently adjust the system's overall Bass and Treble settings from -6 to +6 dB. These settings can be set for the main zones, as well as zones 2 and 3.
Night Mode: This mode is optimized for late night listening. You can select from the following Night Modes - Low, Middle, High or Off.
Restorer: This function restores compressed audio signal to how they were before compression and corrects the sense of volume of the bass to obtain richer playback sound. You can select from one of the following modes - Mode 1, Mode 2, Mode 3 or Off.
Two-channel Music Modes: There are three 2-channel playback modes exclusively for music:
Pure Direct:plays back music with an extremely high level of sound quality. All the video-related circuits are turned off so that music signals are reproduced with high quality. When an analog mode is selected, the digital processing circuits are also turned off to achieve the highest purity.
Direct: audio signals bypass the tone control circuits, and are transmitted directly, resulting in good quality sound
Stereo:allows you to adjust the tone to achieve the desired sound
Personal Memory Plus: The receiver has a personal memorize function that automatically memorizes the surround modes and input modes selected for the different input sources. When the input source is switched, the modes set for that source last time it was used are automatically recalled. The surround parameters, tone control settings, and playback level balance for the different output channels are memorized for each surround mode.
Auto Setup: The receiver is equipped with an Auto Setup and Room Equalization function, to achieve the most ideal sound field for your room. The AVR-2308CI's Audyssey MultiEQ function is designed to optimize the sound quality at each listening position in the room. The included DM-A405 microphone is used to measure test tones at each listening position. This measured data is then analyzed using a program to improve acoustic characteristics in the listening area. For best results at least 6 positions should be measured, including a main position. The main position is given more weight in the calculations. The Audyssey function adjusts the following measurements automatically: Speaker Configuration, Distance, Channel Level, Crossover Frequency, and Room EQ.
Room EQ: The Room EQ function offers the following adjustments:
Audyssey: Adjusts the frequency response of all speakers to correct the effects of room acoustics.
Audyssey Byp. L/R: Optimizes frequency response of speakers except front speakers to match room acoustics.
Audyssey Flat: frequency response of all speakers are flat.
Manual EQ: This feature adjusts the tonal quality for each speaker using the receiver's built-in graphic equalizer. You can select -20 to +6 dB for the following frequencies for each speaker - 63Hz, 125Hz, 250Hz, 500Hz, 1kHz, 2khz, 4kHz, 8kHz, and 16kHz.
Off: Turns equalizer off.
Subwoofer Control:You can adjust the cutoff frequency of the subwoofer output from 40Hz, 60Hz, 80Hz, 90Hz, 100Hz, 110Hz, 120Hz, 150Hz, 200Hz or 250Hz. You can also select the subwoofer output level between 0, 5, 10 or 15 dB.
Amplifier Assign: There are seven amplifier channels built into the receiver. These channels are typically used for 7.1 channel surround in the main room, but the amplifier assign function gives you the option of configuring the system differently if you prefer. The amplifier features four different amplifier assignment configurations.
Bi-Amp Connections: Certain loudspeakers are equipped with two sets of input terminals for bi-amplification. The receiver's Power Amp Assign mode allows you to power bi-amp capable speakers with two amplifier channels. The front speakers can be powered by either the Front "A" or Front "B" and the Surround Back/Zone 2 speaker outputs.
Dual Zone/Dual Source Operation: Denon's Dual-Zone/Dual-Source function lets you select different audio/video sources for listening and viewing in different locations of your home. The AVR-2308CI features a Main Audio/Video Zone (Zone 1) and an Audio Only Zone (Zone 2). The Main Audio/Video Zone 1 contains 7.1-channel playback of your audio/video gear in your main entertainment room. The Audio Only Zone 2 allows you to play a stereo audio source connected to the receiver in a 2nd room of your house via left/right RCA audio or speaker terminal output connections.
Note: Zone 2 features either a preamp-output or speaker terminal output so you can use this amp or a separate amp to power speakers in another room. When using the AVR-2308CI to power speakers in a second room of your home, the main zone is restricted to 5.1-channel at the same time. When using the receiver's preamp output terminals for the second room you need an additional amplifier in that room to power those speakers while the main Zone of the receiver remains 7.1-channel.
iPod Compatibility: Using the optional Denon ASD-1R iPod dock (033ASD1RBK or 033ASD1RWT), you can connect your iPod to the AVR-2308CI. Folder and file names appear on the receiver's display panel. The iPod can be controlled using the buttons on the main unit and the remote control. In addition, you can view photo and video data stored on an iPod on a TV or monitor. The AVR-2808CI also supports Denon's optional iPod/Network adapter docks (ASD-3N/ASD-3W, sold separately) through its iPod terminal.
Note: The ASD-1R is compatible with 3rd generation and later iPods with a dock connecter.
AM/FM Tuner: The receiver features an AM/FM tuner which allows you to preset up to 56 radio stations (8 stations each in 7 separate banks). You can delete any unused tuner banks.
XM Ready: With the optional XM Mini Tuner and Mini Tuner Home Dock, you can enjoy the variety and sound quality of XM Satellite radio. XM offers over 150 channels of music, news, sports, and talk radio and even has weather and traffic information in several major markets. The channel number, channel name, artist name, and song title are listed on the AVR-2308CI's display and on the connected TV monitor. XM stations are stored as presets and recalled in the same way AM and FM stations are. A subscription to XM Satellite Radio is required.
Audio Delay:The audio signal can be delayed, from 0-200ms, to match the video signal.
Volume Setting: You can set a maximum volume level of 0, -10, or -20 dB to limit the receiver's total volume output. You can also indicate a Turn-On Volume setting from -80 to +18dB or Last (whatever volume you used last before turning the unit Off).
Muting Level Adjustment:You can set the amount of attenuation for the audio muting circuit from -40dB or -20dB from the present volume level.
Source Delete: You can delete inputs you are not using from the receiver's display and on-screen menu to make accessing your connected sources quicker and easier.
Last Function Memory: This unit is equipped with a last function memory, which stores the input and output setting conditions as they were immediately before the power was switched off.
Back-Up Memory:The unit is also equipped with a back-up memory. This function provides approximately one week of memory storage when the main unit's power switch is off and the power cord is disconnected.
On-Screen Display (OSD): The OSD menu can be displayed on your television for easy system setup. The OSD menu is sent through all monitor outputs (composite video, S-video, component video, and HDMI).
Dimmer: The receiver features 4 display brightness settings - Bright, Dim, Dark or Off.
Remote Controls
Main Remote Control (RC-1080): The AVR-2308CI comes with a main remote control that can operate the receiver as well as other remote control capable Denon components. It is pre-programmed with control signals for other brand products; including DVD players, VCRs, TVs, cable boxes, satellite receivers, CD players, CD recorders, MiniDisc players/recorders, and cassette decks
Sub/Dual-Zone Remote Control (RC-1084): The receiver's sub remote control unit is equipped with frequently used buttons, so it can be used for simple remote control unit operations. The sub remote (RC-1084) can also be used for dual zone, so you can use it to control the AVR-2308CI from other rooms with an optional IR repeater kit. The following operations can be performed using this remote:
Switching the input source
Adjusting the volume
Tuner (AM/FM), XM, and iPod operations
OSD menu
Zone power on/off

Note: It is not possible to operate devices other than the amplifier with the Sub/Multi-Zone remote.
Inputs and Outputs Notes
Rear Panel Connections: The following connections are found on the rear panel of the receiver.
HDMI Inputs/Output: This unit has 2 HDMI version 1.3a inputs and 1 HDMI version 1.3a output. The HDMI inputs are assignable to different input sources. The HDMI jacks support HDCP copyright protection and are compatible with 30 and 36 bit Deep Color and xvYCC technology.
Component Video Inputs/Output: The receiver features 3 component video inputs and 1 component video output. The component video inputs are assignable to different sources.
Assignable Digital Inputs: The AVR-2308CI features 2 optical digital (Toslink) inputs and 3 coaxial digital inputs. Each input can be assigned to any of the different input sources except Phono and Tuner. Optical Digital Input 2 also has a corresponding Optical Digital output for use with a CD, MD or other digital recording device.
7.1 Multi-Channel Input: The AVR-2308CI is equipped with a 7.1-channel input to accommodate present and future multi-channel formats.
Speaker Terminals: All of the receiver's speaker terminals are binding posts. They are not 5-way binding posts because a plastic collar prevents their use with spade lugs and they are positioned too far apart to be used with dual banana plugs.
XM: This proprietary terminal allows you to connect and optional XM Mini Tuner and Mini Tuner Home Dock.
iPod Connection Terminal: You can connect and play an iPod that has Apple's Dock connector using the optional Denon ASD-1R iPod dock (033ASD1RBK, 033ASD1RWT) or iPod network dock (033ASD3N, 033ASD3W).
RS-232C Port: The AVR-2308CI includes an RS-232C port for connection to external whole-house control systems, from companies such as AMX, Crestron, and others, and provides a software/firmware upgrade pathway.
Room-to-Room Remote Jacks: The receiver has a mini-jack input for use with an optional Denon RC-616, 617, or 618 IR re-transmitter. The adjacent room-to-room output is for future use.
12V Trigger Output: The AVR-2308CI has a mini-jack output to send a 12-Volt DC "turn-on" signal to another component that accepts a 12V trigger, such as a power amplifier.
Front Panel Connections: The following connections are found on the front panel of the receiver behind the unit's fold-down door.
A/V Inputs: The receiver features a front panel S-video, a Composite-video, a pair of Left/Right RCA-audio, and one Optical digital input on the front panel behind the unit's fold-down door.
Headphone Jack: The receiver has a standard 1/4" headphone jack on the front panel, positioned behind the fold-down panel.
Setup Mic: 3.5mm input for connection of supplied setup microphone.
Our Product Research Team
At Crutchfield, you'll get detailed, accurate information that's hard to find elsewhere. That's because we have our own in-house Product Research team. They verify what's in the box, check the owner's manual, and record dimensions, features and specs. We stay on top of new products and technologies to help people make informed choices.