Why Choose Crutchfield?
Deep discounts on car installation gear
We offer vehicle-specific installation instructions, dash kits, wiring harnesses, and speaker accessories at deeply discounted prices with car stereo and speaker purchases. Available for most vehicles.
Learn more
Trusted since 1974
Our customers have trusted us with their business, and they've helped us win awards for our service.
Check out our most recent awards
Factory-authorized dealer
The manufacturer's warranty always applies.
See more details
Denon AVR-A100
100th anniversary home theater receiver
Item # 033AVRA100 | MFR # AVR-A100
This item is no longer available.
Overview

A special receiver to celebrate Denon's 100th anniversary
The AVR-A100 looks dressed for a black-tie affair, but Denon gave this 100th anniversary special edition receiver lots more than just a handsome high-gloss finish. Nine channels of clean, high-current power plus state-of-the-art surround sound and picture processing treat you to thrilling home theater performance. A full lineup of entertainment options adds flexibility to your setup. For instance, you can connect this receiver to your wired home computer network and access music and photos stored on your PC. You can enjoy a movie in your main room while family members listen to music in two additional rooms — all using just the receiver's built-in amplification. Tune in clear digital HD Radio™ broadcasts. Plus, you can plug your iPod® straight into the receiver's front panel or upgrade to Apple AirPlay® for ultra-convenient access to your iTunes® library — no dock needed.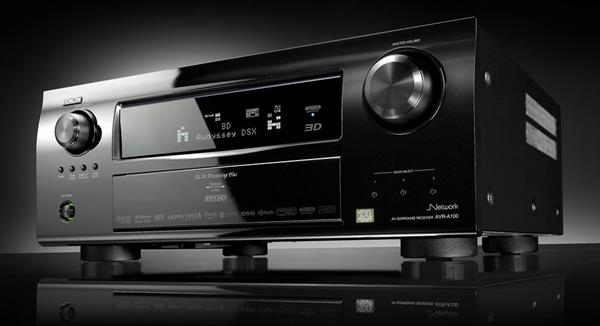 ---
Underneath the glossy exterior — plenty of raw Denon power
When it comes to sound quality, the AVR-A100 means business. Each of its nine amplifier channels generates a muscular 140 watts of high-current power. With that many channels, you have options. You can connect additional "height" and "width" speakers to supplement a traditional five-speaker home theater setup, and use the receiver's built-in Audyssey DSX processing for expansive surround sound that truly envelops you. Or, if your front speakers are biampable, you could supply them with two channels each for greater clarity and bass. You can also dedicate some channels to driving speakers installed in a second or third listening zone.
---
This receiver's got connections
You get plenty of inputs for all of your audio/video sources. There are seven 3D-ready HDMI inputs for high-def digital components like your Blu-ray player, cable box, or satellite receiver. Two HDMI outputs let you connect a flat-panel TV and an overhead video projector. Hook up your iPod or a USB thumb drive directly to one of the receiver's two USB inputs to enjoy your digital music. An Ethernet port lets you make a wired connection to your broadband router for even more entertainment options, from MP3 files and photos stored on your PC's hard drive to the endless stream of music available via Internet radio stations. Your biggest problem might be deciding where to begin the fun.

---
Optimum picture quality from every video source
The AVR-A100's high-performance Anchor Bay VRS™ video processor delivers superior video scaling and deinterlacing — it can upconvert all your video sources to resolutions as high as 1080p. You'll see improved detail and smoother playback from all your video components. Six separate picture adjustments, including noise reduction, color saturation level, and brightness, let you fine-tune the look of each of your video input sources, then store those settings in the receiver's memory. You break free of the "one-size-fits-all" picture setting limitation of most receivers, while still enjoying the convenience of a single-cable connection to your TV.
Audyssey's best auto setup tailors sound to your room
For the most accurate home theater sound possible in your room, Denon equipped this receiver with Audyssey MultEQ® XT 32, a sophisticated automatic speaker calibration system that helps you get the most accurate home theater sound possible. Watch a video on how Audyssey MultiEQ improves sound in your room.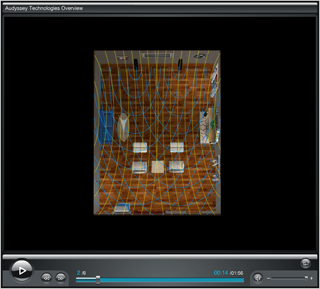 ---
The AVR-A100 pairs up perfectly with Denon's DB-PA100 limited edition Blu-ray player for dynamic, state-of-the-art surround sound and eye-opening picture clarity. The receiver includes Denon's 100th anniversary logo badge, and comes with a 5-year warranty and a signed certificate of authenticity from the chief production engineer who hand crafted the product. Also included is a beautiful Denon "brand book" that explores the history of this innovative brand.
Unleash your iTunes® music — upgrade to AirPlay®
Apple's exciting AirPlay technology lets you access your favorite music from your iPhone®, iPad™, iPod touch®, or your iTunes library on your computer using this Denon receiver. You'll be able to control iTunes and see music information, including your album art, track titles, and artist info on your compatible Apple device, or on your TV. First you will need a firmware upgrade for $49.99. Go to www.usa.denon.com and click on the AirPlay banner for instructions on how to purchase and activate the upgrade. Requires a wireless home network. Receiver requires wired connection to the router.
Learn about the ins and outs of HDMI connections at the Crutchfield Learning Center.
Shop our selection of HDMI cables.
---
Power and Processing:
140 watts x 9 into 8 ohms (20-20,000 Hz) at 0.05% THD
Dolby® TrueHD, DTS-HD™ Master Audio, Dolby® Digital Plus, DTS-HD™ High Resolution Audio, Dolby® Digital EX, DTS-ES™, Pro Logic® IIx, Pro Logic® IIz and DTS Neo:6 decoding
Audyssey Laboratories' MultEQ XT 32 auto setup and room calibration system (microphone included)
Audyssey DSX processing for enhanced surround sound height and width effects using additional front speakers
Digital Music Options:
iPod® integration:

Apple AirPlay®-ready with purchase of firmware upgrade from Denon
USB direct connection (audio playback only)
optional Denon ASD-11R control dock for audio and video playback

built-in HD Radio tuner with multi-casting reception
SIRIUS satellite radio capable (requires SIRIUS subscription and optional SiriusConnect™ home tuner kit)
XM Satellite Radio Ready with decoding for XM's HD Surround channels (requires XM subscription and optional XM tuner kit)
audio and photo streaming on a wired PC network, plus Internet radio (broadband connection required)
Audio Performance Features:
Compressed Audio Restorer for better sound with compressed music sources
Pure Direct modes switch off all unused circuitry for the cleanest possible sound
HDCD decoding
16 separate PCM1791A 192kHz/24-bit digital-to-analog converters
conversion of optical or coaxial digital signals to analog audio output for 2nd and 3rd rooms (PCM signals only)
detachable power cord
Connections:
1080p-compatible HDMI switching: 7 in, 2 out (including 1 front-panel input)
analog-to-HDMI video upconversion (up to 1080p/24/60 output via HDMI) with Anchor Bay Technologies VRS advanced video processing and scaling
HDMI version 1.4a with support for 3D Video, Audio Return Channel, Deep Color, x.v.Color, lip-sync, and HDMI-CEC
three-room/three-source output:

powered and line-level stereo audio output for 2nd room (using powered 2nd or 3rd room stereo output allows 5.1 home theater in main room)
composite video output for 2nd room

line-level or powered stereo audio output for 3rd room
component video switching: 3 in, 1 out
component video conversion (composite and S-video to component)
digital audio inputs: 2 optical, 2 coaxial
optical digital audio output
6 audio/video inputs, including:

1 front-panel input with composite video
4 rear-panel inputs with composite video
1 rear-panel input for iPod control dock (S-video plus stereo RCA)

2 audio-only inputs (including phono)
7.1-channel analog audio preamp input
7.1-channel analog audio preamp output
front and rear USB ports for audio playback from USB flash drives, hard disk drives, and portable USB music players (including iPod)
Ethernet port for music and JPEG streaming from a wired PC network, and control via a PC
Denon Link jack (4th edition)
RS-232C port for automated control systems
1 set of main speaker outputs
back surround speaker channels re-assignable for bi-amping front left and right speakers
General Features:
on-screen GUI (Graphical User Interface) superimposed on HDMI output (up to 1080p)
learning/multibrand LCD remote
basic remote for second or third listening room (requires remote control extender system, not included)
17-1/8"W x 6-3/4"H x 17-5/8"D
weight: 41 lbs.
warranty: 5 years
What's in the Box:
Black Surround Sound receiver
Audyssey DM-A409 setup microphone with attached 25' cord (has a mono mini-jack connector)
RC-1145 Wireless remote control with LCD
RC-1148 Secondary wireless remote control
2 "AA" batteries
2 "AAA" batteries
6' AC power cord
AM loop antenna
FM wire antenna
Owner's manual (English/ French)
Manual addendum
Warranty information
Denon service network information
SIRIUS Satellite Radio brochure
Napster information
100th Anniversary Thank You note
100th Anniversary certificate of authenticity
100th Anniversary book
Details
Product Research
Audio Features
Video Features
USB/PC/Network Functions
Remote Control
Audio Features
9-Channel Amplifier: The Denon AVR-A100 features nine discrete amplifier channels, supplying 140 watts RMS per channel (measured from 20 Hz to 20 kHz into 8Ω with no more than 0.05% THD). The nine amplifier channels can be used in several different configurations to accommodate your home theater setup:
Normal: 7.2 or 9.2 channel output; the surround back, front height, and front wide speakers are switched automatically based on the surround mode or input signal
Zone2: 7.2 channel surround plus stereo speakers are powered in Zone2; the terminals used for the Zone2 speakers are assigned in the menu; front height, front wide, or surround back
Zone2/3: 5.1 channel surround plus stereo speakers are powered in Zone2 and Zone3; Zone2 speakers are connected to the surround back terminals and Zone3 speakers are connected to the front wide terminals
Zone2/3-Mono: 7.1 channel surround plus single mono speakers are powered in Zone2 and Zone3; the terminals used for the Zone2/3 speakers are assigned in the menu; front height, front wide, or surround back
Bi-Amp: 7.1 channel surround and four amplifier channels are assigned to power the front left and right speakers (they must have bi-amp terminals); the terminals used to bi-amp the front speakers are assigned in the menu; front height, front wide, or surround back
2 CH: different speakers (other than the main surround system) are powered when the Direct or Stereo mode is used; the terminals used for the extra speakers is assigned in the menu; front height, front wide, or surround back
2 CH Bi-Amp: different speakers (other than the main surround system) are bi-amped when the Direct or Stereo mode is used; the front height and front wide terminals are used for the extra speakers
Front B: a second pair of front speakers can be powered simultaneously with the A front speakers (A, B, or A+B); the terminals used for the B speakers are assigned in the menu; front height, front wide, or surround back
11 CH: 11.2 channels in the main room, nine powered by the internal amplifiers; the speakers powered by the external amp assigned in the menu; front or front height
Pre Amp: all the speakers in the main room are powered by external amplifiers; speakers in Zone2 and Zone3 can be powered by the internal amplifiers in this setting
AL24 Processing Plus: AL24 Processing Plus is Denon's analog waveform reproduction technology. In addition to expanding the original 16-bit data to 24 bits, AL24 Processing Plus uses data interpolation or up-converted sampling to achieve natural interpolation without losing the original data. The result is reproduction of such spatial information as the delicate nuances in your music, the positions of the performers, and the breadth, height, and depth of the concert hall. AL24 Processing Plus is applied to all channels and listening modes other than the DSD Direct mode.
DDSC HD (Dynamic Discrete Surround Circuit): The Denon AVR-A100 is equipped with DDSC HD-Digital, featuring dual 32-bit floating point DSP processors. All elements of the surround processor are optimized by the use of selected high performance and discrete components, particularly the A/D and D/A converters and the sophisticated DSP surround decoder.
HDCD Decoding: The AVR-A100 automatically detects and decodes the digital bitstream from a CD that has been encoded through the special High Definition Compatible Digital (HDCD) process. HDCD discs use 20-bit encoding and other proprietary processing to provide improved CD sound quality.
Audyssey: This receiver is equipped with an automatic setup and equalization function to achieve the ideal sound field for your room. The Audyssey MultEQ XT 32 function is designed to optimize the sound quality at each listening position; the included microphone is used to measure test tones at up to eight listening positions. This measured data is then analyzed using a program to improve acoustic characteristics in the listening area. For best results multiple positions should be measured. The main position is given more weight in the calculations.
Audyssey Settings:
MultEQ XT 32: The MultEQ XT32 function automatically determines the number of speakers and optimizes the crossover points, output levels, delay times, and equalization of all speakers based on speaker frequency response, speaker location, and room acoustics measurements.
Dynamic EQ: Audio engineers mix music and movie soundtracks at reference levels much louder than typical home listening levels. At lower volumes the human ear perceives sound differently; voices change, bass dissipates, and the surround effect becomes less enveloping. Dynamic EQ adjusts the frequency response curve based on volume to maintain consistent bass output, octave-to-octave balance, and surround impact, resulting in rich sound at any volume.
Multiple Subwoofer Calibration: When using two subwoofers, the level and delay are adjusted individually, but optimized simultaneously to eliminate phase cancellations between the two.
Reference Level Offset: Dynamic EQ is referenced to the standard film mixing level and makes adjustments to maintain the sound quality, envelopment, and intelligibility as the volume is lowered. Three additional offset positions are available, useful when listening to non film-based sources:

0 dB: default; standard film reference for viewing movies
5 dB: classical music or other content with a very wide dynamic range
10 dB: TV viewing or listening to Jazz music
15 dB: pop or rock music

Dynamic Volume: Dynamic Volume addresses the issue of commercials that are too loud and movie soundtracks with vast differences between soft and loud passages; the results are more intelligible dialogue, loud passages maintain impact, and soft whispers are clearly heard. When the volume level changes, Dynamic EQ also adjusts the frequency response to maintain sound quality.
Note: You can also setup your speaker system manually; adjust speaker configuration (large/small/none), bass setting (LFE/LFE+Main), low-pass crossover (80/90/100/110/120/150/200/250Hz), speaker distance (0-60'), channel level (-12 to +12dB), equalization, and high-pass crossover frequency (40/60/80/90/100/110/120/150/200/250Hz).
Dolby Volume: When changing broadcast channels or inputs Dolby Volume measures and analyzes the incoming audio signal and maintains a consistent volume level based on how we perceive sound.
Surround Modes: This receiver incorporates a wide variety of surround modes to bring you maximum enjoyment from your audio and video software. The unit can be set to store the most recently selected surround mode for each input, so it is automatically activated each time the particular input is chosen. The surround modes include:
Dolby Digital: Dolby Digital is a 5.1 multi-channel digital surround format.
Dolby Digital EX: Dolby Digital EX is a 6.1 multi-channel digital surround format.
Dolby Digital Plus: Dolby Digital Plus was developed as an extension of Dolby Digital; the coding technology supports 7.1 discrete channels and has a higher bit rate.
Dolby TrueHD: Dolby TrueHD is a lossless coding technology that supports up to 8 channels of surround sound for the next generation optical discs. The reproduced sound is true to the original source bit-for-bit.
DTS Digital Surround: DTS Digital Surround is a 5.1 multi-channel digital surround sound format used for both commercial/theatrical and consumer grade applications.
DTS-HD High Resolution: DTS-HD High Resolution Audio is an improved version of the conventional DTS, DTS-ES and DTS 96/24 signal formats that is compatible with sampling frequencies of 48 or 96 kHz and up to 7.1-channels of discrete digital sound. High data bit rate performance provides high quality sound.
DTS-HD Master Audio: DTS-HD Master Audio is a lossless audio format that supports up to 8 channels at 96 kHz/24-bit resolution and up to 6 channels at 192 kHz/24-bit resolution. The lossless audio coding technology faithfully reproduces the sound of the studio master.
DTS-ES Extended Surround: DTS-ES features two 6.1 multi-channel formats:

DTS-ES Discrete 6.1: DTS-ES Discrete is a 6.1-channel discrete digital audio format adding a surround back channel to the DTS digital surround sound.
DTS-ES Matrix 6.1: DTS-ES Matrix is a discrete 5.1-channel digital audio format inserting a surround back channel to the DTS surround sound through matrix encoding.

DTS Express: DTS Express is an audio format supporting low bit rates (maximum 5.1-channels, 24 to 256 kbps)
DTS 96/24: DTS 96/24 is a digital audio format enabling high sound quality playback in 5.1-channels with a sampling frequency of 96 kHz and 24 bit quantization of DVD-video.
DTS Neo:6 Surround: DTS Neo:6 is a matrix decoding technology for achieving 6.1-channel surround playback with 2-channel sources; choose Neo: 6 Cinema or Neo: 6 Music.
Dolby Pro Logic: Center and mono surround information is matrixed into two stereo channels. When reproduced, audio is decoded and output in 4-channel surround sound.
Dolby Pro Logic II: Dolby Pro Logic II technology processes any high quality stereo (two-channel) movie and music audio into five playback channels of full-bandwidth surround sound. A matrix surround decoding technology, Dolby Pro Logic II detects the directional cues that occur naturally in stereo content and uses these elements to create a five-channel surround sound playback experience. You can choose from Cinema, Music, or Game formats. You can also choose Dolby Pro Logic (the earlier 4-channel mode).
Dolby Pro Logic IIx: Pro Logic IIx expands any existing stereo- or 5.1-channel audio for a 6.1- or 7.1- channel playback, creating a seamless, natural surround soundfield that immerses you in the entertainment experience. You can choose from Cinema, Music, or Game formats.
Dolby Pro Logic IIz: Dolby Pro Logic IIz introduces a new dimension to home entertainment through the addition of a pair of front height channels. Compatible with stereo, 5.1-channel, and 7.1-channel content, Dolby Pro Logic IIz provides enhanced spaciousness, depth, and dimension to movies, concert video, and videogame playback while maintaining full integrity of the source mix.
Audyssey Dynamic Surround Expansion (DSX): By adding front wide and/or front height speakers Auddysey DSX extends 5.1-channel and 7.1-channel sound sources to a wider and higher dimension.
DSD Direct: Use 2-channel or multi-channel DSD (Direct Stream Digital) Direct with SACDs.
Combined Surround Modes: The receiver features several combined modes using existing Dolby and DTS surround modes: Dolby Digital (Plus) + Dolby Pro Logic IIx Cinema/Music, Dolby TrueHD + Dolby Pro Logic IIz, DTS (HD) + Dolby Pro Logic IIz, DTS (HD) + Neo:6, etc.
Denon Original Surround (DSP) Modes: Denon offers several original surround modes designed for different sources and viewing situations:

Wide Screen: this mode is for enjoying the atmosphere of viewing a movie on a large screen
Super Stadium: this mode is suited for viewing sports programs
Rock Arena: this mode is for enjoying the atmosphere of a live concert in an arena
Jazz Club: this mode is for enjoying the atmosphere of a live concert in a jazz club
Classic Concert: this mode is for appreciating classical concert programs
Mono Movie: this mode is for playing monaural movie sources with surround sound
Video game: this mode is suited for achieving surround sound with video games
Matrix: this mode lets you add a sense of expansion to stereo music sources
Virtual: this mode is for enjoying surround effects using only the front speakers or headphones
Multi CH Stereo: this mode is for enjoying stereo sound from all speakers

Stereo Playback: This is the mode for playing in stereo. The tone can be adjusted. Sound is output from the front left and right speakers, along with a connected subwoofer.
Direct Playback: In this mode, this audio signal bypass the tone adjustment circuitry for higher quality sound.
Pure Direct: This mode recreates the original sound most faithfully, providing extremely high quality sound.
Surround Parameters: You can adjust the following surround mode parameters:
Cinema EQ: The Cinema EQ function gently softens the extreme high frequencies, compensating for overly-bright sounding motion picture soundtracks. Select this function if the sound from the front speakers is too bright.
Dynamic Range Compression: Motion picture soundtracks have tremendous dynamic range (the contrast between very soft and very loud sounds). For listening late at night, or whenever the maximum sound level is lower than usual, Compressing the dynamic range allows you to hear all of the sounds in the soundtrack with reduced dynamic range.
LFE: This setting adjusts the low-frequency effects level (LFE). You can adjust the LFE from -10 to 0 dB.
Center Image: This function assigns a center channel signal to the front left and right channels for wider sound; adjust from 0.0 to 1.0. This function only works in the DTS Neo:6 Music mode.
Center Width: This function assigns the center channel signal to the front left and right channels for wider sound; select from 0 to 7. This function only works in the Dolby Pro Logic II and PL IIx Music modes.
Panorama: This feature assigns front left and right signals to surround channels for wider sound, you can turn this feature On or Off. This function only works in the Dolby Pro Logic II and PL IIx Music modes.
Dimension: This settings shifts the sound image to the front or rear to adjust playback balance; select from 0 to 6. This function only works in the Dolby Pro Logic II and PL IIx Music modes.
Delay Time: This feature adjusts the delay time to control the sound stage size. In this menu the delay time is only adjusted for the Matrix mode.
AFDM: The AFDM (Auto Flag Detect Mode) reads the source signal's surround back channel flag and automatically set the optimum surround mode. AFDM can be turned off and the surround mode set manually if you prefer.
Surround Back CH Out: This setting selects the playback mode for the surround back channels; there are separate settings for multi-channel and 2-channel sources.
Height Gain: When using front height speakers their projected height is adjustable.
PL IIz Height: Specify whether sound is output from the front height speakers; on/off.
Speaker: Specify whether sound is output from the front height and/or front wide speakers when using the Denon DSP modes.
Sub Att: The subwoofer level can be attenuated (if needed) when using the analog multi-channel inputs.
Subwoofer: The subwoofer can be set to off if not needed when using the Direct mode.
Effect: Effect creates a wider sound stage; on/off.
Effect Level: This function adjusts the effect signal level from 1 to 15 when using the Denon Original Surround Modes.
Room Size: This feature allows you to set the size of your acoustic environment when using the Denon Original Surround Modes; select Small, Medium small, Medium, Medium large, or Large.
Source Level: This function adjusts the relative playback volume of an audio input, useful when there are differences in the input volume levels between different sources. You can correct the playback level of the audio input from -12 to +12dB.
Tone Settings: You can independently adjust the system's overall Bass and Treble settings from -6 to +6 dB. Bass and Treble are also independently adjustable (+/-10 dB) for Zone2 and Zone3.
Restorer: This function restores compressed audio signals to pre-compression form, correcting the sense of bass and treble volume to obtain a richer sounding playback; select Off, 64, 96, or HQ based on the compression setting of the source material.
Auto Lip Sync (Audio Delay): This feature automatically compensates for the timing shift between the audio and video of the receiver. If needed, the audio signal can be manually delayed to match the video signal; adjust from 0-200ms.
Denon Link (4th gen): This receiver features the Denon Link (4th generation), an RJ-45 jack on the back panel, which allows a compatible Denon Blu-ray player to share the receiver's master clock that operates the D/A converter, resulting in playback with negligible jitter.
Quick Select: Each of the three Quick Select buttons can be programmed with a specific input, volume, surround mode, and Audyssey settings for easy recall. There are separate Quick Select settings for Zone2 and Zone3 (input and volume only). If you prefer, the Quick Select buttons can be used to transmit a series of remote commands (macro).
Volume Control: You can set a maximum volume level of 0, -10, or -20 dB to limit the receiver's maximum volume output. You can also specify a turn-on volume, from -80 to +18dB or Last (whatever the volume setting when the receiver was turned off).
Muting Level Adjustment: You can set the amount of attenuation for the audio muting circuit; -40dB or -20dB below current volume, or full mute (sound turned off entirely).
Assignable Digital Inputs: The AVR-A100 features two optical digital (Toslink) inputs and two coaxial digital inputs. Each input can be assigned to any of the input sources except Phono and Tuner. Optical Digital Input 2 also has a corresponding Optical Digital output for use with a CD, MD or other digital recording device.
7.1 Multi-Channel Input: The AVR-A100 is equipped with a 7.1-channel analog input to accommodate present and future multi-channel formats. The multi-channel jacks can be assigned to any of the inputs.
Multi Zone/Multi Source Operation: Denon's Multi-Zone/Multi-Source function lets you select different audio/video sources for listening and viewing in different locations. The AVR-A100 features the main zone plus two secondary zones; Zone2 audio/video and Zone3 audio only. The main zone offers up to 11.2-channel playback of your audio/video gear in your main entertainment room. Zone2 allows audio and video playback of another source in a second location (video output via composite video from composite and S-video inputs, and component video input if at 480i resolution). Zone3 allows audio playback of a third source in a third location. There are preamp outputs for Zone2 and Zone3, or amplifier channels can be assigned to power either (or both) of the additional zones. The Zone2 and Zone3 preamp outputs can be set to variable or fixed volume. Optical and coaxial digital sources can be played in Zone2 and Zone3, but only if they are 2-channel PCM.
Binding Post Speaker Terminals: All of the receiver's speaker terminals are binding posts. They are not 5-way binding posts because a plastic collar prevents their use with spade lugs and they are positioned too far apart to be used with dual banana plugs.
Multi-Channel Pre-Out: The receiver features 11.2-channel pre-amp outputs (standard 7.1 plus a second subwoofer and front height and front wide channels) for connection to external power amplifiers.
HD Radio Tuner: In addition to receiving standard analog AM and FM broadcasts, the AVR-A100 features a built-in HD Radio tuner. HD Radio stations offer higher sound quality than conventional FM/AM broadcasts; typically FM HD Radio stations are approximately CD quality while AM HD Radio sound similar to analog FM stereo. It is also possible to receive data services and select broadcasts from among up to eight multicast programs. You can store up to 56 radio stations presets (8 stations each in 7 separate banks) and name each preset with an 8 character ID.
Sirius Satellite Radio Ready: The AVR-A100 can be connected to the optional SiriusConnect home tuner kit (item numbers607SCH1 or 220SCH2P, sold separately), allowing you to receive Sirius Satellite Radio. Sirius channels are stored as presets and recalled in the same way AM and FM stations are. A subscription to Sirius Satellite Radio is required.
Personal Memory Plus: For each input, the receiver automatically memorizes the settings for input mode, surround mode, HDMI output mode, MultEQ XT 32, Dynamic EQ, Dynamic Volume, audio delay, etc. When the input source is switched, the settings last used for that source are automatically recalled. The surround parameters, tone control settings, and playback levels for the different output channels are memorized for each surround mode.
Sleep Timer: This function allows you to automatically set the power to standby after a predetermined amount of time. You can set the sleep timer from 10 to 120 minutes in 10 minute increments.
Video Features
Noise Shaped Video (NSV): The NSV precision video feature works in the digital domain to reduce noise in the video signal frequency band in order to enhance video signal linearity, provide accurate signal representations, and enhance the picture quality. Noise shaping techniques are combined with dynamic element matching techniques in order to reduce the matching requirements of DAC elements by converting the analog mismatch into and out of band noise. This approach of dynamic element matching and noise shaping has been shown to allow the use of sigma delta modulation at video data rates. NSV can achieve ultimate precision with 12-bit fidelity in both digital-to-analog and analog-to-digital domains.
HDMI ver. 1.4a: This unit has seven HDMI version 1.4a inputs and two HDMI version 1.4a outputs. The inputs are assignable to different input sources. The two HDMI outputs are parallel so the same video signal is output through both and both can be used simultaneously. The HDMI jacks support HDCP copyright protection and are compatible with 30 and 36 bit Deep Color, xvYCC technology, 3D, ARC, and Content Type.
3D: The AVR-A100 will pass the 3D signal when connected to a 3D source (3D Blu-ray player, 3D cable box, etc) and a 3D ready TV.
Audio Return Channel (ARC): If the connected TV has HDMI version 1.4 and supports ARC, the audio signal can be transferred from the TV (when the TV is the audio source) to the AVR-A100 through the HDMI cable, so a second cable isn't needed. The ARC function is supported by both HDMI monitor outputs.
Video Converter and Scaler: The AVR-A100 is equipped with a flexible video switching system that converts video signals in an effort to require only one video connection from receiver to TV. The 480i/480p (SD-quality), 720p, and 1080i video signals input as component, composite, or S-video are converted to HDMI and scaled as high as 1080p resolution (output resolution set in the menu). Composite and S-video signals are also converted to component video, and S-video and component video (480i only) are converted to composite video.
Note: Video signals input as HDMI must be output via HDMI, but can be scaled if they're not already 1080p.
Video Resolution: The video scaler can be turned off, applied to just analog video inputs, or applied to analog and HDMI video inputs. When applied to analog and HDMI video inputs, the output resolutions for the two are set separately; options include Auto (automatically sets the highest resolution accepted by the monitor), 480p, 720p, 1080i, 1080p, and 1080p/24.
Component Video Inputs/Outputs: The receiver features three component video inputs and one component video output. The component video inputs are assignable to different sources.
Picture Adjustments: The receiver allows you to make the following picture adjustments to incoming video - Contrast, Brightness, Chroma Level, Hue, DNR, and Enhancer.
On-Screen Display (OSD) With GUI Menus: An OSD with GUI menus can be displayed on your television for easy system setup. The OSD and GUI menus are sent through all monitor outputs (composite video, component video, and HDMI).
Dimmer: The receiver features four display brightness settings; Bright, Dim, Dark and Off.
USB/PC/Network Functions
USB Terminal: A mass storage class or MTP (Media Transfer Protocol) conforming USB memory device can be connected to the front or rear panel USB port. WMA (48-192 kbps), MP3 (32-320kbps), WAV, AAC (16-320kbps), FLAC, and JPEG files are compatible. When a music file includes album art data, the album art can be displayed on your connected TV while playing the file. You can also play JPEG still picture files in a slideshow.
Note: You cannot use the front and rear USB ports at the same time; select one or the other.
iPod Compatibility: The AVR-A100 is Made for iPod and iPhone compliant; using a USB to iPod Dock cable plugged into the front panel or rear panel USB port music can be played directly from an iPod or iPhone, bypassing the iPod's D/A converter. The iPod is controlled by the receiver's remote and text, album art, and elapsed time are displayed on the connected video monitor. With an optional ASD-11RK iPod dock (sold separately) video and still photos (as well as music) can be played from an iPod or iPhone. Using the USB/Dock cable to connect directly, iPod compatibility is as follows (as of January 2011):
iPod/iPhone Model
Generation
Media Type
Control Type
Display Type
Charge
Audio
Video Out
Remote
iPod/iPhone
Song/Artist Text
Track Info
dock connector
3rd
N
N
N
N
N
N
N
clickwheel
4th
N
N
N
N
N
N
N
mini
1st
N
N
N
N
N
N
N
2nd
N
N
N
N
N
N
N
video
5th
Y
N
Y
N
Y
Y
Y
classic
80GB
Y
N
Y
Y
Y
Y
Y
120GB
Y
N
Y
Y
Y
Y
Y
160GB
Y
N
Y
Y
Y
Y
Y
nano
1st
Y
N
Y
N
Y
Y
Y
2nd
Y
N
Y
Y
Y
Y
Y
3rd
Y
N
Y
Y
Y
Y
Y
4th
Y
N
Y
Y
Y
Y
Y
5th
Y
N
Y
Y
Y
Y
Y
6th
Y
N
Y
Y
Y
Y
Y
touch
1st
Y
N
Y
Y
Y
Y
Y
2nd
Y
N
Y
Y
Y
Y
Y
3rd
Y
N
Y
Y
Y
Y
Y
4th
Y
N
Y
Y
Y
Y
Y
iPhone
2G
Y
N
Y
Y
Y
Y
Y
3G
Y
N
Y
Y
Y
Y
Y
3GS
Y
N
Y
Y
Y
Y
Y
4
Y
N
Y
Y
Y
Y
Y
Note: Apple iPod/iPhone software updates may change functionality results. If you download a newer software version, you may need to reset the device and your iPod/iPhone to regain functionality. If this doesn't work, you may need to revert to the older software version or wait until an newer software update is available.
Home Network Function: The AVR-A100 is equipped with an Ethernet port that lets you connect the receiver to your home network (LAN) and to your broadband internet modem via your LAN. Once connected you can take advantage of these network functions:
Media Player: This function lets you stream audio and still image files to the receiver from your PC or DLNA certified media server or media controller. Compatible file types include WMA (48-192 kbps), MP3 (32-320 kbps), WAV, AAC (16-320 kbps), FLAC, and JPEG.
Internet Radio: Internet radio refers to radio broadcasts distributed over the internet. Stations from around the world can be received and up to 56 preset for easy recall. The AVR-A100 supports MP3 and WMA Internet radio content and allows you to search for Internet radio stations by genre or location. The list of stations that the AVR-A100 uses comes from the vTuner radio station database that has been customized for Denon. You can register your favorite stations at radiodenon.com using a computer.
Flickr: Flickr is an on-line photo sharing service; you can create an account, upload your photos, and access them using the AVR-A100. You can also view photos made public by other users.
Napster: The monthly music subscription service Napster is accessible with the AVR-A100.
Pandora: Once the receiver is registered with your Pandora account, you can listen to the automated music recommendation and Internet radio service through the AVR-A100.
Rhapsody: Rhapsody is another paid music broadcast service accessible through the receiver.
Web control: This function lets you set up and control the receiver over the network using a browser window; there is even an optimized screen for the iPod touch browser.
Network Party Mode: The same network audio (Internet radio, Media Server, or iPod Direct) can be played on multiple Denon products (up to five) equipped with the Party Mode function and connected to the same network.
Remote Control
Learning Remote Control: The receiver's main remote control (RC-1145) features back-lit buttons and an LCD display. If your other audio/video devices are of a brand other than Denon and they cannot be operated with the preset memory function, the other device's remote control signals can be learned by the RC-1145. The remote's three Quick Select buttons can be programmed with macro commands, allowing a series of remote control signals to be transmitted by pressing a single button. Up to 18 sequential signals can be stored in each of the Quick Select buttons.
Sub/Multi-Zone Remote Control: The receiver's sub remote control (RC-1148) unit is equipped with frequently used buttons, so it can be used for simple remote control operations. The sub remote will also control the Zone2 and Zone3 functions, so you can use it from other rooms via an optional IR repeater kit.
HDMI Control: The Denon AVR-A100 can control select external HDMI control compatible audio/video components when connected via HDMI. Several operations can be performed from the AVR-A100's remote control: Power off, Switching audio output devices, Switching audio input devices, and Volume adjustment.
Custom Integration: The AVR-A100 has Denon's certification to custom installers that the receiver has advanced connectivity and control features often required for custom home integration and theater applications using premium control systems. These features include a RS232C jack for use with whole house control systems, remote in/out IR command control, and assignable +12 volt triggers:
RS-232C Port: The AVR-A100 includes an RS-232C port for connection to external whole-house control systems, from companies such as AMX and Crestron.
Remote Jacks: The receiver has a mini-jack input and output for use with other compatible Denon components or an external IR repeater.
12V Trigger Outputs: The AVR-A100 has two mini-jack outputs to send a 12-Volt DC turn-on signal to another component that accepts a 12V trigger, such as a power amplifier. The conditions under which each trigger output activates is programmable.
Our Product Research Team
At Crutchfield, you'll get detailed, accurate information that's hard to find elsewhere. That's because we have our own in-house Product Research team. They verify what's in the box, check the owner's manual, and record dimensions, features and specs. We stay on top of new products and technologies to help people make informed choices.