Why Choose Crutchfield?
Deep discounts on car installation gear
We offer vehicle-specific installation instructions, dash kits, wiring harnesses, and speaker accessories at deeply discounted prices with car stereo and speaker purchases. Available for most vehicles.
Learn more
Trusted since 1974
Our customers have trusted us with their business, and they've helped us win awards for our service.
Check out our most recent awards
Factory-authorized dealer
The manufacturer's warranty always applies.
See more details
Toshiba 47L7200U
47" 1080p 3D LED-LCD HDTV with Wi-Fi®
Item # 05247L7200 | MFR # 47L7200U
This item is no longer available.
Overview
Our take on the Toshiba 47L7200Uby Crutchfield's Steve Kindig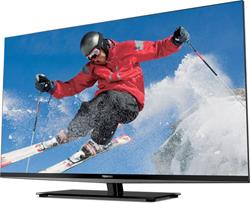 Edge-to-edge excitement
Edge-lit backlighting contributes to the 47L7200U's superb picture quality and ultra-thin panel depth. And Toshiba's bezel-less design is glass from edge to edge, for a clean, futuristic look.

The 47L7200U uses passive 3D technology, which provides a 3D viewing experience that's comfortable and familiar — it's just like what you've enjoyed in movie theaters. The lightweight, inexpensive passive glasses are great for watching long movies and for 3D gaming, and the TV includes four pairs of glasses so your family and friends won't miss out on the fun.
A Smart TV that's ready for primetime
With built-in Wi-Fi®, the 47L7200U connects easily to your home's wireless network. Toshiba's onboard suite of Internet apps makes navigating the web easy, whether you're watching, listening, surfing or searching. There are apps for popular sites and services like YouTube® and Netflix®. It's like having 24/7 access to a couple of channels packed with amazing and unpredictable entertainment.
Learn about the ins and outs of HDMI connections at the Crutchfield Learning Center.
Shop our selection of HDMI cables.
Tip: For a list of over-the-air digital TV stations you can receive, as well as antenna recommendations for your location, enter your zip code in AntennaWeb's mapping tool.
Note: Sorry, we can only ship Toshiba products to the 49 continental United States and Washington D.C.; we can't ship them to Hawaii or U.S. Territories. (Solamente es posible enviar productos de la Toshiba dentro los 49 estados unidos continentales y Washington D.C.)
Features:
46.96" screen (measured diagonally)
glossy screen, bezel-less Aero™ design
tuner receives over-the-air HDTV broadcasts (antenna required)
QAM cable TV tuner (subscription required to receive cable channels — contact your local service provider for details)
displays 3D images when you wear Toshiba's passive 3D glasses (4 pairs of glasses are included)
2D-to-3D conversion adds 3D-like depth to non-3D video sources
LED edge backlight with local dimming for excellent picture contrast
ClearScan® 240Hz blur reduction (240Hz refresh rate plus backlight scanning)
Internet-ready Smart TV — plays Netflix® video and more (broadband service required; subscription required for Netflix service)
supports up to 5.1-channel audio with streaming movie services like Netflix and Vudu™ (audio quality depends on your connection speed)
built-in Wi-Fi® to link to a wireless network
built-in web browser
dual-core processor for enhanced picture quality and web browsing
video and music streaming from a DLNA-compatible Windows® PC
built-in stereo speakers (10 watts x 2)
Audyssey Premium Television™ sound processing (includes equalization, bass enhancement, and auto volume level adjustment)
illuminated multibrand remote control plus wireless QWERTY keyboard
simplified control of compatible Toshiba components via the HDMI connection (HDMI-CEC)
meets ENERGY STAR® requirements
picture settings memory for each video input
Connections and Dimensions:
6 A/V inputs, including:

1 composite video
1 component video (selectable component/composite)
4 HDMI v1.4

PC input
RF input for antenna/cable signals
optical digital audio output
stereo minijack output for connecting a sound bar or home stereo system
Ethernet port for a high-speed connection to a home network
2 USB ports for connecting a camera or thumb drive
detachable swivel stand (stand "footprint" is 19"W x 9-1/4"D)
wall-mountable (bracket not included)
41-7/8"W x 25-1/4"H x 1-7/8"D (27-7/16"H x 9-1/4"D with stand)
weight: 37.5 lbs. with stand; 31.8 lbs. without stand
warranty: 1 year parts & labor — in-home service or pick-up for service
What's in the Box:
47" LED-LCD TV
Pedestal stand
Stand body
Stand body cover
Wireless remote control (CT-90395)
Four 3D glasses (FPT-P100)
Wireless keyboard (KG-917)
USB dongle (for keyboard)
9" Component video adapter cable (with a male 3.5mm component video connector on one end and female RCA component video connectors on other end)
Two 9" AV adapter cables (with a male 3.5mm AV connector on one end and female composite video/stereo RCA connectors on other end)
6' IR blaster cable
2 "AA" batteries
2 "AAA" batteries
Four M5 x 14mm machine screws (with lock-/flat-washers installed)
Four M4 x 16mm machine screws (with lock-/flat-washers installed)
Two-sided tape
Quick Start instructions
Resource Guide
Limited Warranty information
Keyboard Instructions
Vudu brochure
Energy Guide:

View the Energy Guide
Details
Product Research
Video Features
Audio Features
Network/USB/PC Functions
Convenience Features
Remote Control
Mounting Options
Video Features
LED Edge-Backlighting w/ Local Dimming: The Toshiba L7200U LED-LCD TV utilizes LED edge-backlighting with local dimming for dramatically improved black levels and contrast ratios that deliver a better overall picture. Local dimming offers control over different "zones" for more precise and accurate dimming control with deeper images. LED edge-backlighting with local dimming provides superior picture quality, and ultra-thin depth.
CQ (Cinema Quality) Engine: The Toshiba L7200U LED-LCD employs the new Cinema Quality (CQ) Dual Core engine. This 1GHz dual core ARM processor creates superior picture quality with enhanced brightness, sharpness, color saturation and sharpness. In addition, the added power of the CQ Engine ensures a robust smart TV experience with additional connectivity features and increased speed.
DynaLight:DynaLight Backlighting Control automatically adjusts the backlight intensity based on the image content. It constantly monitors the brightness level of each video frame, even in low light settings. As a result, you see increased detail and greater depth of images.
ClearScan 240Hz: ClearScan 240Hz anti-blur technology reduces blurring caused by high-speed video and improves picture clarity without impacting brightness or adding flicker. The ClearScan 240 Hz anti-blur technology quadruples the frame rate from 60 frames-per-second to 240 frames-per-second, virtually eliminating motion blur that could be caused by fast action video.
Cinema Mode (3:2 Pulldown): When you view a DVD (3:2 pulldown processed) from a DVD player connected via composite, component, or HDMI, smoother motion can be obtained by setting the Cinema Mode to Film.
HDTV Tuner: The TV has built-in over-the-air HDTV (ATSC) and Digital Cable (QAM) tuners, so you don't need a separate set-top box to receive and decode over-the-air HDTV/SDTV or unencrypted Digital Cable signals.
1080p Resolution: The Toshiba L7200U LED-LCD TV has a display resolution of 1920 x 1080. All inputs are displayed at 1080p. The Toshiba L7200UTV provides high definition HDMI & component video inputs, as well as standard definition composite video inputs.
Four HDMI (ver.1.4) Inputs: The television features four HDMI (ver.1.4) inputs. The HDMI inputs will accept 1080p (24/60Hz), 1080i, 720p, 480p, 480i, video signals. If you want to connect a DVI-compatible device, you will need an HDMI-to-DVI adapter cable. Since DVI does not carry audio signals, a stereo audio 3.5mm input is provided for the HDMI 4 input (shared with PC input). In addition to the HDMI-to-DVI adapter cable, you will also need a stereo audio 3.5mm cable.
ColorStream Component Video Input: The ColorStream HD Component video input will accept 1080i, 720p, 480p, and 480i signals. This component video input consists of a female 3.5mm minijack and includes minijack-to-RCA component video adapter. The television's 3.5mm PC audio input can also be configured as a component audio/video input (adapter available through Toshiba).
2 Composite Video Inputs: The television also features two composite video inputs (480i only) with audio. Each composite video input consists of a female 3.5mm AV jack and includes a minijack-to-RCA composite video adapter.

Note: The television composite video 1 input shares its audio signal with the TV's component video input. You can only connect one or the other.
Natural (Passive) 3D: The Toshiba L7200U series LED-LCD TV creates stereoscopic 3D (three-dimensional) images using affordable polarized glasses (just like the movie theater), making it ideal for longer viewing periods and 3D gaming. Toshiba's passive 3D technology gives you wider viewing angles, meaning you get the same immersive 3D experience wherever you sit; there is also no "flicker-effect" and less eye strain. The Toshiba LED-LCD TV can display in 3D via 3D broadcasting or when the TV is connected to a compatible device, such as a 3D-ready Blu-ray player with 3D content. The TV must be connected to your 3D source via HDMI (v.1.4) and you must wear the included passive 3D glasses in order to see these images in 3D (three-dimensional) format. This TV includes 4 pair of polarized ("passive") 3D glasses. To ensure that you can enjoy 3D any time you want, Toshiba has incorporated TriVector 2D-to-3D conversion, which allows you to watch your favorite 2D movies, TV programs, or games in 3D.
3D Formats: 3D signals can be sent in one of 3 formats.

Side-by-Side: Images for the left and right eyes are positioned side by side
Top & Bottom: images for the left and right eyes are positioned at the top and bottom of the screen
Frame Packing: two frames of images (one for the left eye, one for the right eye) are positioned at the top and bottom of the screen

3D Display Modes: There are four modes for watching 2D or 3D TV.

3D: display 3D images
2D: displays 2D images by changing 3D images to 2D
2D-to-3D: displays 3D images by changing 2D images to 3D (you can adjust the image depth from 1-5)
Native: displays a received signal format in its original 2D or 3D format
Note: If you see a double image, your eyes are either too high or too low in relation to the horizontal center of the screen. Adjust your position, so that it is closer to the center to avoid eye fatigue and to enjoy optimum 3D effect.
Picture Size: When viewing a source, you can choose one of the following picture sizes:
Native: When receiving a 720p, 1080i or 1080p signal program, Native Mode restores the size of the picture by the 3-5% that is generally lost during the normal over-scanning that occurs on traditional sets. It also avoids unnecessary scaling of HD signals that can reduce overall image resolution and picture quality.
Normal: Image is displayed close to its originally formatted proportion, with black bars along the sides or top and bottom if the signal has an aspect ratio different than the TV.
Full: Mainly designed for receiving a squeezed 4:3 signal (a 16:9 [480i, 480p] programs squeezed into a 4:3 transmission), the picture is stretched wider to fill the screen, but not taller, none of the picture is hidden.
4:3:Provides a 4:3 aspect ratio of a 720p, 1080i or 1080p signal; sidebars fill the empty vertical spaces while not distorting the picture from its original size.
TheaterWide 1: The picture is non-uniformly enlarged; the center of the picture remains close to its true. proportion, but the left and right edges are stretched wider to fill the screen, used primarily with a 4:3 source.
TheaterWide 2: Entire picture is uniformly enlarged, used primarily with a widescreen source.
TheaterWide 3: Picture is non-uniformly enlarged; the picture is stretched wider to fill the width of the screen and stretched slightly taller.
Dot-by-Dot: "Dot by Dot" is a non-scaling display for PC signals only. Depending on the input signal format, the picture appears with sidebars and/or bars at the top and bottom.
Auto Aspect Ratio:The Auto Aspect Ratio feature will automatically select the picture size when one of the following inputs sources is received - a 480i, 480p, 720p, 1080i signal from the ANT/Cable input; a 480i signal from the Component Video input, and a 480i, 480p, 720p, 1080i, 1080p, or VGA (60 Hz) signal from any of the HDMI inputs. A 4:3 signal is set to Normal, a 16:9 signal is set to Full, a 4:3 letterbox signal is set to TheaterWide 2. If the signal's aspect is not defined, the Picture Size defaults to the last manually chosen setting.
Picture Modes:You can select one of the following picture modes for each input:
AutoView: By combining an ambient room light sensor and incoming video content monitoring, AutoView automatically sets most of the television's picture parameters for you. AutoView uses an external light sensor to automatically adjust various picture quality settings based on the amount of ambient room lighting and the type of video content you are watching for an improved viewing experience.
Dynamic: Creates the right amount of "pop," and provides more colors, finer details, less visual noise and brighter, realistic pictures.
Standard: Standard picture setting.
Movie: Lower contrast for a darkened rooms.
Game: Designed for playing a video game requiring split-second timing between the on-screen display and input from the controller (more effective for 480i & 1080i input video signals).
PC: Designed for viewing tables/documents from a PC.
Picture Quality Adjustment: The adjustments (backlight, contrast, brightness, color, tint, sharpness) you make to picture quality under a picture mode are saved to that picture mode.
Advanced Picture Adjustments: The television offers the following advanced picture adjustments.
Edge Enhancer: The Edge Enhancer feature lets you adjust the levels for your desired picture settings and achieve a sharper picture.
Dynamic Contrast: Dynamic Contrast detects changes in the picture quality that affect the appearance of your contrast settings and then automatically adjust the video. The adjustment range is from 0 to 10.
Backlight Adjustment Pro: This feature adjusts the backlight so that it can change to match the ambient light conditions.
Static Gamma: The Static Gamma feature lets you adjust the levels of black in the picture.
Film Stabilization: This feature helps to eliminate the video shaking.
MPEG Noise Reduction: The MPEG noise reduction feature allows you to reduce visible interference caused by MPEG compression. You can choose High, Medium, Low, or Off.
DNR: DNR enables you to "soften" the screen representation of a weak signal to reduce the noise effect.
Color Temperature: You can change the quality of the picture by selecting from three preset color temperatures - Cool (bluish), Medium (neutral), or Warm (reddish). You can also adjust the levels of greens and blues in each preset temperature.
ColorMaster: The ColorMaster feature adjusts hue, saturation, and color brightness of six different colors (Red, Green, Blue, Yellow, Magenta, Cyan) to create picture quality your way. This provides deep, natural colors for increased depth and realism.
Expert Picture Setting: You can make the following expert picture adjustments.
Test Pattern: When the test pattern is on screen, you can navigate the Picture submenus without removing the image. When you move to a no-Picture menu, or close the menus, regular video will be restored. Not available in 3D mode.
RGB Filter: This feature individually enables or disable the red, green, and blue components of the picture to allow for more accurate adjustment of each color. It is not possible to turn off all three colors simultaneously.
White Balance: This feature displays a Window Pattern to adjust the white balance with a measure device.
TheaterLock: The TheaterLock feature lets you lock items in the TV's Picture menu that affects the picture's display, to prevent them from being accidentally changed.
Audio Features
Audyssey Premium Television: Audyssey Premium Television is a suite of technologies that remove the acoustical problems caused by small speakers and drivers. Working together, these technologies deliver a better translation of the audio content and make the television experience sound closer to the original.
Audyssey EQ: Provides clear, accurate and natural sound right out of the box. This technology ensures you enjoy your audio experience as much as your video.
Audyssey ABX: Uses sophisticated driver analysis and low frequency monitoring to extend the range and bass of small speakers. This enables the system to produce lower frequencies than otherwise would be possible.
Audyssey Dynamic Volume: Automatically adjusts volume to provide a consistent sound level between television programs, commercials, and between the loud and soft passages of movies.
Audyssey Volume Extension: Audyssey Volume Extension doubles the volume capability in small speakers while blocking distortion, so your TV gets loud and still sounds great.
Surround Setting: The Surround setting helps to create a thrilling surround sound experience with deep, rich bass from stereo sound sources. The TV's audio will sound fuller, richer, and wider.
Day/Night Modes: This function automatically keeps the volume of the TV at the perfect level for day or night.
Wall/Table Modes: This function automatically keeps the volume at the perfect level if the television is mounted on a wall or located on a table-top.
Tone Adjustments: You can adjust the audio quality by adjusting the TV's bass, treble, and balance.
Dolby Digital Dynamic Range Control: This dynamic range control feature causes the ATSC dynamic range to be further compressed, allowing you to switch from ATSC to analog broadcasts at the same dynamic range.
Two-level Mute:The TV mutes the volume half-way when the Mute button is pressed once on the remote; when pressed a second time the TV will mute the volume completely and when pressed a third time the volume will resume as normal.
Audio Outputs: The Toshiba LED-LCD TV is equipped with an analog (RCA) and digital (optical) audio output.
Analog Audio: The television features a 3.5mm (minijack) audio output for connecting the television to an analog 2-channel receiver. You will need a minijack-to-RCA adapter (119MCON2M, sold separately) to make a stereo RCA connection between the television and your AV receiver. The TV's analog audio output terminals will output 2ch audio from any of the television's source inputs.
Digital Audio Output:The optical digital output on the rear-panel will output Dolby Digital (when available) or 2 channel PCM. The digital optical output terminal only sends an audio signal in Dolby Digital when you receive Dolby Digital Surround Sound from a digital broadcast channel through the TV tuner. The optical digital audio output will only output in 2ch stereo from sources connected to the TV via HDMI, RCA, or USB.
ARC (Audio Return Channel): The ARC feature of HDMI (ver.1.4) enables the audio signal of the TV to be sent to your connected AV receiver via the TV's HDMI ARC input and the receiver's Monitor output, using a single HDMI cable. In this case, it will not be necessary to connect an additional cable from the audio output of the TV to the audio input of the AV amplifier to reproduce the audio received from the TV through the AV amplifier. ARC allows audio from the TV tuner, Network connection, inserted USB device, HDMI inputs, or any analog connected device to be heard through your ARC compatible AV receiver via the television's HDMI ARC input. The audio from the TV's tuner, network connection, and HDMI inputs can pass as Dolby Digital or 2ch PCM. USB and analog connected devices will be output as 2ch PCM only.
Note: Both the television and the receiver must support ARC for this function to work properly. When connecting an A/V receiver that is compatible with Audio Return Channel (ARC), connect it to the TV's HDMI 1 input. If connecting a system that is incompatible Audio Return Channel (ARC), an additional audio connection via Digital Audio Out (Optical) is necessary.
Network/USB/PC Functions
Network Connection (wired/wireless): The Toshiba L7200U LED-LCD TV features an Ethernet port (RJ-45) and built-in WiFi (IEEE802.11a/b/g/n) to connect to your wired or wireless home network. Either network connection gives you access to your PC's movie/photo/music files and select online TV apps.
Note: The TV's built-in WiFi is based on the IEEE 802.11a/b/g/n specifications and operates on a 2.4 or 5.0GHz frequency range. Its supports WEP64/128, TKIP, AES, WPA/WPA2-PSK, and WPS security formats.
ePORTAL: Once you are connected to your home network, you can access the TV's ePORTAL page. The ePORTAL is the "home page" that allows you to control the various elements of Toshiba L7200 system. This includes traditional features such as Apps, Internet (web browser), and MediaShare (Media Player), as well as other unique Toshiba features such as SearchAll, MediaGuide, Events, and Messages.
Search All: The SearchAll function scours the Internet and your connected devices for content. This search finds content from; TV programming and Video On Demand (VOD), MediaShare (Media Player): Connected Media Servers and USB devices, the Internet.
Messages: You can create personal messages on your TV using the Messages feature.
Events: You can set events on your TV through the Events Calendar feature.
Favorites: You can access your favorite ("bookmarked") Internet sites from the ePORTAL.
Preferences: Use ePORTAL Preferences to customize the look and feel of the ePORTAL.
TV Apps: The TV's Ethernet port or built-in Wi-Fi lets you connect to Toshiba's TV Apps online service through your home network connection. TV Apps includes a variety of online applications and services. TV Apps offers the following internet-based content (as of 6/14/2012).
CinemaNow: CinemaNow is a digital entertainment service that offers instant access to an extensive online library of premium video content for rental or purchase, including new release movies and TV shows, with no subscription required. Rentals starting at $3.99.
Netflix 5.1: With more than 20 million members in the United States and Canada, Netflix is the world's leading Internet subscription service for enjoying movies and TV shows. For $7.99 a month, Netflix members can instantly watch unlimited movies and TV episodes streamed over the Internet.
Vudu HD Movies: VUDU has the most HD titles on demand and more are added every week. VUDU delivers a cinema-like experience at home with HDX, featuring stunning 1080p True Digital and rich Dolby Digital Plus 5.1 surround sound. VUDU is available without a monthly subscription or contract. There are no late fees, plus thousands of movies are available to rent for just $2 for two nights.
Vudu Apps: Vudu Apps provides you with access to a wide range of Internet services and applications including streaming video, music on demand, photo browsing, social networking, news, weather, and more. Vudu Apps offers the following online applications (as of 6/15/2012).

Featured Apps: Vudu movies, Flicker, Picasa, Facebook, Twitter, Weather, Dolby Digital Plus, Stock Tracker, Dailymotion
Arts & Entertainment: Nation Lampoon, Scam School, Big Love, True Blood, Californication, Dexter
Gaming: Attack of the Show, X Play
Internet Culture: Currently no apps available.
Music: UVTV
News: The New York Times, NBC Nightly News, Today Show, MSNBC w/ Rachel Maddow, AC360°, CNN Daily, CNBC
Science & Technology: Discovery, Nova, Hidden Universe, Ted Talks
Sports: Motorz
Travel & Lifestyle: DelciousTV, DiveFilm HD

YouTube: YouTube allows billions of people to discover, watch and share originally-created videos. YouTube provides a forum for people to connect, inform, and inspire others across the globe and acts as a distribution platform for original content creators and advertisers large and small.
Note: Some online services may not be available in your area. Online content may change without notice.
MediaGuide: The MediaGuide is an integrated service that provides access to both television programming and Internet content based on the Rovi Guide System. The MediaGuide screen will be displayed with the defaulted setting; the first menu is set to ALL, the secondary menu is set to TV Listings, and the Current Channel is highlighted. The sub-menus include My Profile, Movies, Settings, TV, Search, and TV Listings.
Search MediaGuide: You can use the Search menu, within the MediaGuide to find movies or programs by name. You can search from the primary menu, or from within the TV or Movie menus.
Select Listing: Once you have selected or opened a TV program, movie, or celebrity; an Overview screen will appear with general information about the selected item. It also contains options such as watch, bookmark, see a trailer, overview, or summary.
Detail Screen: The detail screen contains menu options that display additional information, such as biographies and reviews. The TV Listing/Movie Detail menus can contain information such as History, Episodes (for TV series only), Overview, Summary, Review, Cast & Crew, and others. Celebrity detail menus contain different items such as History, Overview, Biography, and Credits.
Web Browser: The web browser on this TV lets you search & explore online content on the web by entering in a URL address or keywords. Along with access to popular places, you'll be able to search for and browse your favorite sites, and find new content, with simple, intuitive navigation. The TV's web browser will work differently than your computer's browser. This web browser does not:
support platform-dependent technologies, such as ActiveX
support media formats other than JPEG/PNG/GIF
support all fonts & texts

support parental control or locks, and it is the responsibility of the user to monitor browser usage by minors
Note: In addition, some web pages may exceed the memory allotment of the web browser. The web browser will close when this happens.
MediaShare (DLNA Certified): The Toshiba LED-LCD TV lets you play movie, photo, and music files on your PC by connecting the television to your home network via a wired (LAN) or wireless (Wi-Fi) connection. The Toshiba L7200U LED-LCD TV features an Ethernet (LAN) port and includes built-in Wi-Fi for connecting the television to your home network. You can use this home network connection to access movie (MPEG2/H.264), still-image (JPEG), and music (MP3/WMA/LPCM) files stored on your DLNA certified server, such as a Windows PC and play them on the TV. The television supports the following specific file formats via a DLNA network connection.
Video File Playback: You can access up to 1,000 MPEG2, H.264, or WMV movie files (with a maximum resolution of 1920 x 1080) per a single folder from a DLNA certified server or Windows 7 PC.
Photo File Playback: You can access up to 1,000 JPEG still-image files per a single folder (with a resolution of 4096 x 4096) from a DLNA certified server or Windows 7 PC.
Music File Playback: You can access up to 1,000 MP3 or LPCM (32-320kbps; 32/44.1/48kHz) music files per a single folder from a DLNA certified server or Windows 7 PC.
Media Player: Media Player allows you to view photo and video files, as well as listen to music files stored on a USB mass storage class (MSC) device using the TV's dual USB type-A ports. Your photo, movie, and music files must be formatted in FAT16/FAT32. The TV will recognize up to 1,000 files per folder.
Video File Playback: The televisions supports playback of MPEG2 and H.264 video files stored on a USB device. Basic control includes Play/Pause, Stop, Skip (Reverse/Forward), and Repeat (File/Folder).
Photo File Playback: The Toshiba LED-LCD TV supports the playback of JPEG still images (8192 x 16,384; 9MB) stored on a USB MSC device. The TV can recognize up to 2,000 photo files per folder. There are three types of photo view modes - Multi-View, Single View, and Slide Show.

Multi-View: This view allows you to search for photos in a grid format. These picture are displayed using thumbnail data in each image file.
Single View: In this view mode, only files located in the selected directory shall be displayed. This view allows you to change the photo content manually. You can rotate an image 90-degrees clockwise or counterclockwise.
Slide Show: This view allows you to watch a slideshow of your photos (with or without background music). In this mode, only the files located in the selected directory will be played.

Music File Playback: The televisions supports playback of MP3, AAC, and LPCM files (32-320 kbps; 32/44.1/48kHz) stored on a USB device. Basic control includes Play/Pause, Stop, Skip (Reverse/Forward), and Repeat (File/Folder).
PC Input:This connection allows you to view the image from a personal computer on the TV screen. When connecting the PC to the TV, you will need a 15-pin D-sub RGB computer cable and a PC audio cable. The PC input shares the stereo audio 3.5mm input with the television's HDMI 1 input. Supported signal formats include VGA, SVGA, XGA, WXGA and SXGA. You can also connect the TV to your PC via the HDMI 4 input. Additional supported signal formats include 480i, 480p, 720p, 108i, 1080p.
Software Upgrades: Toshiba may offer upgrades for the TV's software in the future. The TV's software is upgraded via the network connection. VisitSupport.Toshiba.com for the latest firmware update information. The tested TV contained software/firmware version 0.4.7.0 with an immediate software/firmware update (ver. 0.6.5.0); as of 6/20/2012.
Convenience Features
Bezel-Less Aero Design: The new Bezel-less Aero design is glass from edge-to-edge for a clean, modern look.
Channel Return:The Channel Return feature allows you to switch between two channels without entering an actual channel number each time
SurfLock:The SurfLock feature temporarily memorizes one channel under the Channel Return button, so you can return to that channel quickly from any other channel.
Channel/Input Label: Channel Label allows you to put the Call Letters (ABC, HBO, etc.) on the screen along with the station numbers, so you always know what you are watching. You can also label each video input source according to the type of device you have connected from a preset list of labels; Receiver, Cable, DVD, Game, PC, Recorder, Satellite, VCR, or Blu-ray. You can also select specific channels and video inputs to be "skipped", so they do not clutter your on-screen menu when they are not being used.
Closed Captions: The TV offers analog and digital closed captions.
Analog CC: The analog closed caption mode has two options

Captions: An on-screen display of the dialog, narration, and sound effects of TV programs and video that are closed captioned.
Text: An on-screen display of information not related to the current program, such as weather or stock data when provide by individual stations.

Digital CC:You can customize the closed caption display characteristics by changing the background color, opacity, text size, type, edge and color.
Lock System: The TV's Lock Menu includes ratings blocking, channel blocking, input locking, and a side panel control lock which are all protected by the same user customized 4 digit password.
V-Chip: Some TV programs and movies include signals that classify the content of the program (violence, dialogue, language, etc). The V-Chip feature in this television detect the signals and blocks the programs according to the ratings you select. Your rating setting is protected by a custom-user 4-digit password.
Channel Block: With the Channels Block feature, you can block specific channels.
Input Lock: You can sue the Input Lock feature to lock the video inputs and channels 3 and 4. You will not be able to view the input sources or channels until you unlock the inputs.
3D Lock: When this feature is set to "On", you must enter a 3D PIN code for changing displays mode to 3D or 2D-to-3D mode.
Control Panel Lock: You can lock the control panel to prevent your settings from being changed accidentally.
Timers: The Toshiba LED-LCD TV offers 2 convenient timer functions.
On Timer: You can set the On Timer to automatically turn the TV to a preset channel or input at a preset time and preset volume level.
GameTimer: You can use the GameTimer function to set a time limit for playing a video game from to 30, 60, 90, or 120 minutes. When the GameTimer expires, the TV enters Input Lock mode and locks out the input source for the video game device.
3D Timer: This feature helps to remind you not to watch 3D video for extended periods of time. Once a set period of time has passed, a dialog box will be shown asking you if you wish to continue viewing or not.
Sleep Timer: The sleep timer switches the television off after a specified amount of time. The sleep timer can be adjusted up to 12 hours.
ENERGY STAR Certified:The Toshiba L7200U exceeds ENERGY STAR requirements by incorporating advanced power saving features Auto Power Off, No Signal Power Down, and Last Mode Memory.
Auto Power Off: The TV will automatically turn itself off (standby) after 4 hours, if you do not operate the TV either from the remote control or the TV control panel.
No Signal Power Down: The TV will automatically turn itself off after approximately 15 minutes if it is turned to a vacant channel or a station that completes its broadcast for the day.
Last Mode Memory: If the power is cut off while you are viewing the TV, the Last Mode Memory feature automatically turns on the TV when the power is resupplied.
Note: If it's possible, and you will be away from the TV for an extended period of time, you should unplug the power cord.
eMANUAL: The eMANUAL provides on-screen, context-sensitive, instructions that describe the TV features. The TV must be connected to the Internet to access the online manual.
Remote Control
Wireless Remote: The supplied remote is pre-programmed to operate this TV and a number of functions on many other Toshiba components; such as a Blu-ray or DVD player. The remote contains a dedicated "Netflix" button, so you can instantly access your Netflix movie library. There is also a "Light" button which illuminates the remote's keypad for 5 seconds.
Wireless QWERTY Keyboard: The Toshiba L7200U series LED-LCD TV comes supplied with a wireless USB keyboard (QWERTY). The wireless keyboard communicates with the television via RF frequency (2.4GHz). The keyboard features a wireless RF transmitter and comes with a wireless USB receiver that plugs into the USB port on the television. The wireless keyboard operates off of two "AAA" batteries (included). The keyboard features a standard U.S. layout with alphanumeric keys. The keyboard makes entering alphanumeric text much simpler and faster.
Note: Not all TV functions support the wireless keyboard. Supported TV Apps include the Web Browser, ePORTAl, SearchAll, Events, Messages, eMANUAL, Calendar, and MediaGuide.
HDMI CEC Control: This features uses CEC technology and allows you to control other HDMI CEC compatible devices from the TV's remote control, via an HDMI connection. The following HDMI CEC Controls are possible - TV Auto Input Switch, TV Auto Power, and playback control for DVD players, as well as Volume/Mute controls for your A/V receiver.
IR Blaster: The 3.5mm IR output can be used to control infrared remote-controlled devices through the TV, using the included IR blaster cable. You can use the TV's IR Out terminal and IR blaster to remotely operate two infrared remote-controlled devices enclosed within an entertainment center or cabinet. The TV IR pass-through feature does not support all IR-controlled devices.
App Control: Toshiba provides three apps for tablets and smartphones - Toshiba A/V Remote App, Toshiba Send & Play App, & Toshiba MediaGuide App. These apps are available for compatible tablets and smartphones powered by Android (Honeycomb or higher). You can download these apps through the Android Market.
A/V Remote App: This tablet and smartphone control app includes text input, mouse control, and touchpad control that allows you to use your Android tablet or smartphone as a touchscreen remote controller for the Toshiba television. The App also includes codes needed to operate other popular home entertainment electronics. With this app, you can control the Toshiba TV and other devices connected to it through IP, IR Blaster, or the HDMI CEC functions.
Send & Play App: The Toshiba Send & Play App allows you to share a URL from your Android tablet or your smartphone to the Toshiba TV. Some web pages may not display correctly.
MediaGuide App: The Toshiba MediaGuide App is a channel guide application for your Android tablet or smartphone. There are four screen modes which display detailed information such as TV Listings, TV Portal, Movies Portal, and Search. The screen modes can be changed using a left or right swipe of the switch bar at the top of the compatible device screen.
Mounting Options
Pedestal Stand: The Toshiba LED-LCD TV comes supplied with a tabletop pedestal stand which must be attached using the supplied hardware. The tabletop stand allows the television to swivel 20° left or right. The TV weighs 37.5 lbs with stand.
Wall Mounting: The TV has four threaded inserts on the back for use with an optional wall-mount bracket. The spacing of the mounting holes is 400mm horizontal x 400mm vertical. The threaded inserts require 6mm machine screws (not supplied). The TV weighs 31.75 lbs without stand.
Note: When mounting the TV on the stand or a wall (with optional bracket) leave 4" of clearance on each side of the television and 4" above/below the television for adequate ventilation.
Attached AC Power Cord: The television is fitted with an attached 58" AC power cord. The power cord is terminated with a two-prong AC plug which sits 1.375" from the wall.
Our Product Research Team
At Crutchfield, you'll get detailed, accurate information that's hard to find elsewhere. That's because we have our own in-house Product Research team. They verify what's in the box, check the owner's manual, and record dimensions, features and specs. We stay on top of new products and technologies to help people make informed choices.