Why Choose Crutchfield?
Deep discounts on car installation gear
We offer vehicle-specific installation instructions, dash kits, wiring harnesses, and speaker accessories at deeply discounted prices with car stereo and speaker purchases. Available for most vehicles.
Learn more
Trusted since 1974
Our customers have trusted us with their business, and they've helped us win awards for our service.
Check out our most recent awards
Factory-authorized dealer
The manufacturer's warranty always applies.
See more details
Nikon S1000pj
12.1-megapixel digital camera with 5X optical zoom and built-in projector
Item # 054S1000 | MFR # 26186
This item is no longer available.
Overview
Our take on the Nikon S1000pj by Crutchfield's Tara W.
Built-in projector lets you review photos almost anywhere
Nikon's S1000pj comes with a novel feature — a built-in projector. Use it to review images and videos from a soccer game at the picnic afterwards or on the wall of your home later that night. You can project images onto surfaces up to six feet away from the camera, or as close as 10 inches. And the included remote makes it easy to flip through photos or queue up a slideshow of your favorite pics.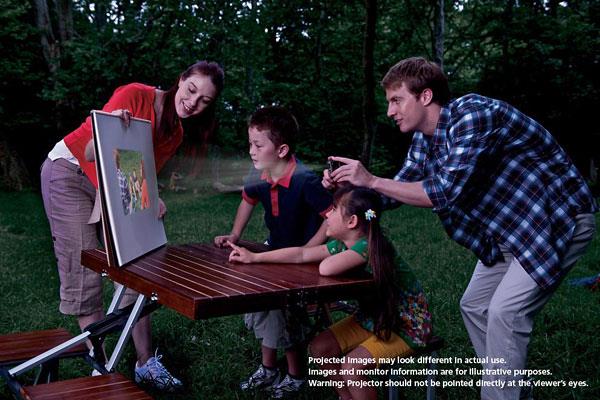 ---
Gorgeous, crystal-clear photos and videos
The S1000pj is an extremely capable digital camera. You get detailed 12-megapixel photos, and a handy 5X optical zoom for bringing your subjects closer. Nikon's digital and optical vibration reduction compensates for camera movement caused by a shaky hand, giving you blur-free photos. The clear 2-11/16" LCD makes it easy to compose photos and videos.
---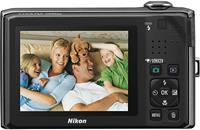 Record superior portraits
This camera's intelligent shooting features help you get great photos of your favorite folks. The S1000pj recognizes and automatically focuses on the faces in your shots, and can smooth out uneven skin tones for a flattering look. It even alerts you if one of your friends blinks while you shoot, so you can try again. And in-camera editing functions let you correct the red-eye effect and brighten dark shadows before you print your photos.
---
The camera's built-in 36MB memory holds approximately six photos at top resolution — add optional SD™ or SDHC™ memory cards for more storage.
Product Highlights:
12.1-megapixel effective recording
5X optical zoom (4X digital/20X total zoom)
optical and digital image stabilization
2-11/16" LCD with anti-reflection coating
35mm equivalent focal length: 28-140mm
top JPEG resolution: 4000 x 3000
face priority autofocus for better portraits
in-camera automatic red-eye correction
smile mode automatically snaps the shutter when the camera detects a smiling subject
D-Lighting in-camera editing brightens dark areas of recorded images
movie mode with audio (640 x 480 at 30 frames per second)
16 scene modes including Sports, Dusk/dawn, and Panorama assist
automatic scene selector sets the correct scene mode for the image in your frame
built-in flash
built-in projector with in-camera slide show
variable ISO (film speed equivalent) settings including a high sensitivity setting for low-light shooting (ISO 3200 and 6400 available at images sizes of 3M or smaller)
36MB internal memory stores approximately six shots at top resolution
uses optional SD™ and SDHC™ memory cards
high-speed USB interface
compatible with PictBridge-enabled printers
4-1/16"W x 2-11/16"H x 1"D
weight (without battery and media): 5.5 oz.
warranty: 1 year
Supplied Accessories:
rechargeable Lithium-ion battery (EN-EL12)
battery charger (MH-65)
wireless remote control
audio/video and USB cables
wrist strap
software CD-ROM
What's in the Box:
Digital camera with black camera body
EN-EL12 Lithium-Ion battery (3.7V/1050mAh) with plastic terminal cover
MH-65 Battery charger
6.5' AC power cord
59" USB cable with a USB type-A connector on one end and a proprietary connector on other end
59" AV cable with a composite video/mono audio RCA connector on one end and a proprietary connector on other end
ML-L4 Wireless remote control (with installed CR2025 3V battery)
Plastic stand
Hand-held camera strap
Nikon Software Suite CD-ROM
User's Manual (English)
User's Manual (Spanish)
Quick Start Guide (English)
Quick Start Guide (Spanish)
Nikon Digital Imaging Limited Warranty
Online Product Registration
My Picturetown offer
AC cord requirements note
Featured Video:
Details
Product Research
Recording Features
Play, Edit, and Print Functions
Battery Information
Connections
Supplied Software
Recording Features
LCD Monitor: The Nikon Coolpix S1000pj has a 2.7" TFT LCD monitor featuring approximately 230,000 pixels, an anti-reflective coating and a five-level brightness adjustment. The LCD monitor's wide-angle viewing area makes it easy to see and use. The LCD monitor has approximately 97% horizontal and vertical coverage in the shooting mode and 100% horizontal and vertical coverage in playback mode.
Note: There is no separate viewfinder on the camera.
12.1 Megapixels CCD With EXPEED Engine: The Coolpix S1000pj features a 1/2.3-inch, high-density CCD imager with a total pixel count of approximately 12.39-million pixels. The effective pixel count is 12.1-million. Optimizing performance and color reproduction is an advanced new image-processing engine, EXPEED.
EXPEED Image Processing: Nikon's comprehensive EXPEED Image Processing ensures high-quality pictures with stunning color and sharpness. EXPEED is custom-tuned for COOLPIX point-and-shoot cameras to render natural-looking pictures and quick response so you don't miss that special moment.
Zoom-Nikkor Lens: The Coolpix S1000pj digital camera uses a Zoom-Nikkor glass lens for superb image quality. Every aspect of the lens manufacturing process is controlled by Nikon. The Zoom-Nikkor lens is designed for the specific camera and CCD combination. The Coolpix S1000pj uses a 5x optical zoom, 4x digital zoom lens (20x total zoom) that is equivalent to a 28-560mm lens in 35mm photography.
5-Way VR (Vibration Reduction) Stabilization: The Nikon Coolpix S1000pj offers a 5-Way Vibration Reduction (VR) Stabilization System.
Hybrid Optical and Electronic VR Image Stabilization: Nikon's Hybrid Optical and Electronic VR Image Stabilization compensates for the effects of camera shake for sharper, clearer pictures.
Motion Detection: Motion Detection automatically detects moving subjects and adjusts the shutter speed and the ISO setting to compensate for camera shake and subject movement.
High ISO 6400: High ISO 2000 capability gives you sharper results when shooting in low light or capturing fast-moving subjects. This creates new opportunities to take sharper, more natural-looking photos in lower light conditions. ISO 3200 and ISO 6400 is available at 3MP or lower resolution.
Best Shot Selector (BSS): Nikon's Best Shot Selector (BSS) automatically takes up to 10 shots while the shutter is pressed and then saves the sharpest image.
Built-in Memory: The camera has a built-in 36MB internal memory for storing still images and movies with sound.
Optional Recording Media: In addition to the built-in memory, images can be recorded onto SD (Secure Digital) or SDHC Memory cards. When an SD Memory card is inserted in the camera, the images are automatically recorded onto the card. When no card is inserted, the images automatically record to the internal memory. The camera can support SD cards from 128MB up to 2 GB; and 4GB to 16GB SDHC cards.
Image Size: The Coolpix S1000pj records still images in JPEG format, and standard-definition movies in AVI format (Motion-JPEG + WAV). You have a choice of seven still image size options and four movie options:
Image Size/
Resolution

Image Quality
Number of Storable Images (approx.)
Internal Memory
36MB
SD Memory Card
512MB
12M
4000 x 3000
High
6
85
Normal
12
165
8M
3264 x 2448
Normal
18
250
5M
2592 x 1944
Normal
28
390
3M
2048 x 1536
Normal
45
615
PC Screen
1024 x 768
PC
154
2100
TV Screen
640 x 480
TV
289
3945
16:9
3968 x 2232
Wide
16
225
TV Movie 640
640 x 480
@30 fps with sound
32 sec.
7 min. 20 sec.
@15 fps with sound
1 min. 2 sec.
14 min. 10 sec.
Small Size 320
320 x 240
@30 fps with sound
1 min. 2 sec.
14 min. 10 sec.
@15 fps with sound
1 min. 59 sec.
25 min.
Two-Stage Shutter-Release Button: The camera features a two-stage shutter-release button. To set focus and exposure, press the shutter-release button half-way, stopping why you feel resistance. Focus and exposure lock while the shutter-release button is held in this position. To release the shutter and take a picture , press the shutter-release button the rest of the way down.
Shooting Modes: You can choose one of the following shooting modes:
Single: The camera records one picture each time the shutter release button is pressed.
Continuous: While the shutter-release button is held down, up to 4 pictures are taken at a rate of about 0.9 frames per second (fps) when image mode is set to 12M Normal (4000).
Multi-Shot 16: Each time the shutter release button is pressed, the camera takes 16 consecutive "thumbnail" images at a rate of about 7.0 frames per second, and arranges them into 4 rows of 4 images in a single frame measuring 2592 x 1944 pixels.
Best Shot Selector: The BSS is recommended for situations in which inadvertent camera movement can produce blurred pictures, or when parts of the image are prone to under- or over-exposure. When BSS is on, the camera takes shots while the shutter-release button is pressed, to a maximum of ten. The images are compared and the sharpest picture is saved to the memory or memory card.
Self-timer: The camera is equipped with a 10 second and 2 second timer for self-portraits.
Remote Control: The include remote control is convenient for taking self-portraits and effectively eliminating blur caused by camera shake that occurs when the shutter-release button is pressed.
Focus-Area Selection: You can select between the following AF Area Modes to determine where the camera focuses:
Auto: The camera automatically selects the focus area (9-area automatic selection) containing the subject closest to the camera.
Face Priority: When the camera recognizes a face (front view only), the camera will focus on the face automatically. The camera can recognize up to 3 or 12 faces depending on shooting and exposure mode.
Center: The camera focuses on the subject in the center of the frame. If the desired focus area is not in the center, you can tap the screen with the stylus in the desired focus area to move the focusing frame.
Manual: You can manually select from 99 focus areas in the frame. Pictures can be taken while focus area selection screen is displayed.
Subject Tracking: Use this option to take pictures of moving subjects. Once you select the subject on which the camera will focus, the focus area will automatically move to track the subject.
Macro Mode: Macro mode is used for taking pictures of objects as close as 1.2-inches.
Focus Lock: The Focus Lock feature is used to focus on off-centered subjects in the frame while shooting in Center AF mode.
AF-Assist Illuminator: If lighting is poor, the AF-assist illuminator may light to assist the focus operation when the shutter-release button is pressed halfway. The illuminator has a range of about 16.0 feet at the maximum wide-angle position and 8.166 feet at the maximum telescopic position. You can turn this function on or off.
Motion Detection: Enable motion detection to reduce the effects of subject movement and camera shake when shooting still pictures.
Exposure Modes: You can set the camera to suit your level and style of photography. The mode choices include:
Auto (Point-and-Shoot) Mode: The Auto Mode is a simple point-and-shoot mode in which the majority of camera settings are controlled by the camera. This mode is recommended for first-time users of digital cameras.
Smart Portrait Mode: The camera detects smiling faces using face priority and releases the shutter automatically. The Smart Portrait mode contains the following menu options.

Smile Timer: Among the detected faces, if a smile is detected in the face that is framed by a double border, the camera automatically release the shutter.
Blink Proof: The shutter is release two times each time a picture is taken; the camera chooses one image in which the subject's eyes are open, and saves it.
Blink Warning: Blink Warning, when activated alerts you that the subject may have blinked and allows you to retake the photo.
Skin Softening: Skin Softening smoothes skin tone at three different levels for optimal portraits.

Scene Modes: Camera settings are automatically adjusted to suit the selected subject type. The Scene Modes include:

Portrait: Useful for photographs where you want the main subject to stand out clearly from the background.
Landscape: For vivid landscape shots that enhance outlines, colors, and contrast in such subjects as forests and skyscrapers.
Sports: A fast shutter speed freezes motion for dynamic sports shots.
Night Portrait: For shots that provide natural balance between the main subject and the background when shooting portraits under low lighting.
Party/Indoor: Shots include details of the background behind the main subject, or to capture the effects of candlelight and other indoor background lighting
Beach/Snow: Vividly captures the brightness of subjects such as snow fields, beaches or sunlit expanses of water
Sunset: Preserves deep hues seen in sunsets and sunrises
Dusk/Dawn: Preserves the colors seen in the weak natural light before sunrise and after sunset
Night Landscape: A slow shutter speed is used to produce stunning night landscapes.
Close Up: Used to capture vivid colors in close-up shots of flowers, insects and other small objects, with the background artistically blurred.
Food: Used when taking pictures of food.
Museum: Use indoors where flash photography is prohibited or in other settings in which you do not want to use flash
Fireworks Show: Slow shutter speeds are used to capture the expanding burst of light from fireworks.
Copy: Provides clear pictures of text or drawings on a white board, business card or in other printed matter
Back Light: Use when light is coming from behind your subject or when your subject is in the shade but the background is brightly lit
Panorama Assist: When taking a series of pictures that will later be joined to form a single panorama using the supplied Panorama Maker software.

Movie Mode: Shoot standard definition movies with sound recorded via the built-in microphone.
Color Options: When you are shooting your images, you can make certain colors more vivid, or record the images in monochrome. You have the following choices:
Standard Color: The images will be recorded in their natural colors.
Vivid Color: You can use this to give your images a vivid, "photoprint" colors.
Black and White: The image will be recorded in black and white.
Sepia: The image will be recorded in sepia tones.
Cyanotype: The image will be recorded in cyan-blue monochrome color.
Exposure Compensation: You can alter the exposure from the value suggested by the camera, making pictures brighter or darker. You can adjust the exposure from -2.0 to +2.0 EV in 1/3 steps.
ISO Settings: Sensitivity is the measure of how quickly the camera reacts to light. The higher the sensitivity, the less light needed to make an exposure. The camera features the following ISO settings - ISO 80, 100, 200, 400, 800, 1600, 200, 3200, 6400, Auto (auto gain from ISO 80-800) or Fixed Auto (fixed auto gain from ISO 80-200 or 80-400).
White Balance: You can set the White Balance to Auto, Daylight, Incandescent, Fluorescent, Cloudy, or Flash. You can also choose Preset White Balance and use a neutral-colored object as a reference to set the white balance under unusual lighting conditions.
Built-in Flash: The Coolpix S1000pj has a built-in Speedlite flash with a range of 1.0 foot to11.0 feet (Wide angle) and 1.0 feet to 8.0 feet (Telephoto). You can choose from the following flash modes:
Auto: Flash fires automatically when lighting is poor.
Auto with Red-eye Reduction: Pre-flash fires before main flash to reduce red-eye effect.
Flash Off: Flash will not fire, even when lighting is poor.
Fill Flash: Flash will fire whenever a picture is taken.
Slow Sync: Auto flash combined with slow shutter speeds.
Play, Edit, and Print Functions
Built-in Projector: The Nikon Coolpix S1000pj digital camera features an ultra-small, built-in projector that allows you to project your recorded pictures and movies on a nearby wall. The S1000pj is equipped with a single lamp/single LCD panel projection system which is capable of projecting a 640 x 480 image. The S1000pj's projections system consists of a 0.4" reflective panel (4:3 aspect ratio) with approximately 921k pixels, a 21mm f/3.5 manual focus projector lens, and one high-luminance white LED light source. The built-in projector can display an image size of 5-inches at a distance of 10-inches or 40-inches at a distance of 6.5-feet. The Coolpix S1000pj comes supplied with a small projector stand and IR remote control for easy setup and operation. The built-in projector offers manual focusing.
Auto Sort Mode: Pictures and movies will automatically be sorted in any of the following folder names after shooting them for convenient playback - Smile, Landscape, Movie, Portraits, Dusk to Dawn, Retouched Copies, Food, Close-Ups, Other Scenes.
Favorites: Pictures can be added to the Favorites folders and sorted for showing on vacation, at weddings, etc. Adding an image to favorites will allow you to playback only the vent you want to see. A single picture can be added to multiple folders. The camera features 9 favorite folders which can contain up to 200 pictures each.
Copy: You can internally copy images and voice recordings between the camera's internal memory and an inserted SD-card.
Slide Show Playback: View pictures in the internal memory or on the memory card in an automatic slide show with about three seconds between pictures. Maximum slide show duration is 30 minutes without operation.
Thumbnail Playback: Display 4, 9, or 16 picture thumbnails by simply placing two fingers on the picture currently displayed and pinching them together.
Calendar Display: This mode allows you to choose images from a 31-day calendar.
List-by-Date Mode: In this mode, pictures taken on a specified date can only be displayed.
Playback Zoom: During playback, you can enlarge a still image up to 10x by simply placing two fingers on the picture currently displayed and spreading them apart.
Rotate Image: Recorded pictures can be rotated 90-degrees clockwise or counter-clockwise on the unit's LCD screen.
Editing Picture: You can use the Coolpix S100pj to edit recorded pictures in-camera and store them as separate files. You can choose from the following editing functions.
Quick Retouch: Easily create retouched copies in which contrast and saturation have been enhanced.
D-Lighting: D-Lighting can be used to brighten dark or backlit subjects. While playing back an image, you can select the D-Lighting function, apply it, and save the corrected image without harming the properly exposed areas of the image.
Skin Softening: Skin softening can be applied to faces that are detected in pictures already taken, to make skin appear smoother. Pictures edited with this functions are stored as separate files.
In-Camera Cropping: This feature allows you to crop out the part of the image you don't want and keep the part you do.
Resizing Pictures (Small Picture): You can create a small copy of a recorded image. The copy will be stored as a JPEG file with a compression ratio of 1:16. You can choose from the following sizes:

640 x 480: Suited to television playback.
320 x 240: Suited to display on web pages.
160 x 120: Suitable for email attachments.
Voice Memos: Using the camera's microphone, you can record a voice memo during full-screen playback to be associated with a particular picture. Voice memos are recorded as long as the shutter release is held down, to a maximum length of 20 seconds.
Protect: The camera allows you to protect selected pictures from accidental deletion.
Multi-Language Menu: You can choose from 24 different menu display languages including English, Spanish or French.
Printing Pictures: You can print pictures stored in the internal memory or on the memory card by using the Print Set option in the playback menu. Using DPOF (Digital Print Order Form), you can designate which images to print, and how many copies to print.
Battery Information
Power Requirements: The Coolpix S1000pj is powered by a supplied rechargeable Lithium-Ion battery (EN-EL12). A battery charger (MH-65) is also supplied. The supplied rechargeable battery will last up to approximately 220 shots on one charge. It also provides up to 1-hour of playback using the built-in projector. A fully-exhausted battery charges in about 2 hours and 30 minutes. For longer periods of use, it is recommended to power the camera using the optional AC adapter (EH-62F, sold separately).
Auto Off: When the camera is operated on battery power, the Auto Off mode will automatically turn off the monitor to reduce the drain on the batteries if no operations are performed for the length of time specified in the Auto Off menu. The time limit for the Auto Off mode can be set to 30 seconds, 1 minute, 5 minutes or 30 minutes.
Connections
USB/Audio-Video Output: The Coolpix S1000pj features a single proprietary jack on the bottom of the camera for connecting the supplied AV or USB cable. This one output allows you to download your photos to your computer or printer via USB using the supplied USB cable, or view your photos on a TV using the supplied AV cable. The USB interface is USB 2.0 High Speed compatible. The video output is NTSC or PAL compatible.
Supplied Software
Software Suite CD-ROM: The supplied Software Suite CD-ROM contains Nikon Transfer, Panorama Maker and related software. Nikon Transfer is used to copy (transfer) pictures from the camera to the computer and to perform such other transfer-related functions as making backups and embedding information in pictures as they are transferred. Panorama Maker is used for creating panorama images from the camera's recorded still images.
System Requirements: The supplied software will work with Windows and Macintosh. You computer will need to meet the following system requirements.
Windows
Macintosh
CPU
Intel Celeron, Pentium 4, or Core series processor with a clock speed of 1 GHz or faster recommended
PowerPC G4 or G5 model or Intel Core or Xeon (Universal Binary) model
Operating System
Pre-installed versions of Windows Vista Service Pack 1 (32-bit Home Basic/Home Premium/Business/Enterprise/Ultimate editions), or Windows XP Service Pack 3 (Home Edition/Professional)
MAC OS X (Version 10.3.9, 10.4.11, 10.5.6)
RAM
Windows Vista: 1GB or more with a minimum of 128MB free
Windows XP: 512MB or more (1GB or more recommended), with a minimum of 128MB free
512MB or more (1GB or more recommended), with a minimum of 128MB free
Hard Disk Space
1GB or more required when software is running
Our Product Research Team
At Crutchfield, you'll get detailed, accurate information that's hard to find elsewhere. That's because we have our own in-house Product Research team. They verify what's in the box, check the owner's manual, and record dimensions, features and specs. We stay on top of new products and technologies to help people make informed choices.