Why Choose Crutchfield?
Deep discounts on car installation gear
We offer vehicle-specific installation instructions, dash kits, wiring harnesses, and speaker accessories at deeply discounted prices with car stereo and speaker purchases. Available for most vehicles.
Learn more
Trusted since 1974
Our customers have trusted us with their business, and they've helped us win awards for our service.
Check out our most recent awards
Factory-authorized dealer
The manufacturer's warranty always applies.
See more details
FujiFilm FinePix S200EXR
12-megapixel digital camera with manual-barrel 14.3X zoom lens
Item # 072S200EXR | MFR # 15976371
This item is no longer available.
Overview
Our take on the FujiFilm FinePix S200EXRby Crutchfield's Tara W.
High-performance optics and easy-to-use controls
The S200EXR combines the highlights of digital SLR shooting with the ease and simplicity of a point-and-shoot camera. Its incredible 14.3X optical zoom lens lets you get close to faraway subjects, and built-in image stabilization ensures crystal-clear results. Rotate the lens barrel manually to zoom in quickly and precisely, just like with an SLR camera. The lens is crafted from high-quality glass for low distortion and impressive light-gathering capability.
---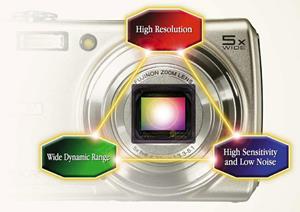 Advanced sensor technology for exceptional photos
The S200EXR's sophisticated image sensor uses three different modes to adapt to varying conditions, ensuring great-looking pictures in virtually any shooting environment:
High Resolution mode delivers detailed, full-resolution images of intricate subjects when the lighting is bright and even.
High Sensitivity and Low Noise mode links the sensor's 12 million pixels together to produce 6 million pixels with more surface area, for greater light-gathering capability. This mode minimizes graininess and noise in dark scenes.
Wide Dynamic Range mode ensures you capture all the details in both brightly lit and deeply shadowed areas of your photos at the same time.
You can choose the mode you want manually, or let the camera's advanced scene recognition technology automatically assess your subject and assign the ideal settings.

---
Clear, natural-looking portraits and closeups
Fujifilm's advanced face detection finds up to 10 faces in your frame and automatically adjusts focus, flash, and exposure settings to deliver sharp, lifelike portraits. The S200EXR even recognizes your subject's face at any angle — in profile, or even upside-down, so you can capture your children swinging by their legs from the monkey bars. And a handy in-camera cropping function lets you enlarge your subject's face in a recorded image and save that section as a closeup. The 2-11/16" LCD offers a bright, clear view from most angles.
---
The camera's 47MB internal memory holds approximately 9 shots at top JPEG resolution and 1 image in RAW mode — add optional SD™ cards for more storage.
Product Highlights:
12-megapixel effective recording
wide-angle zoom lens
14.3X optical zoom (2X digital/28.6X total zoom)
35mm equivalent lens focal length: 30.5-436mm
2-11/16" LCD screen
optical image stabilization counteracts camera shake for clear shots
top JPEG resolution: 4000 x 3000
scene recognition automatically selects optimal camera settings for high-res, low-light, or high dynamic range shooting
face detection identifies people in your frame and adjusts focus and exposure for better portraits
in-camera red-eye detection and automatic correction
film simulation mode gives your pictures the look of various types of photographic film
variable sensitivity (film speed equivalent) settings
high sensitivity mode for low-light shooting (ISO 12800 maximum with up to 3-megapixel resolution)
VGA movie mode with sound (640 x 480 at 30 frames per second)
manual, shutter priority, and aperture priority modes
14 scene modes including Beach, Portrait, and Flower
in-camera slide show
high-speed USB interface
47MB internal memory (holds approximately 9 JPEG files or 1 RAW file at top resolution)
compatible with SD™ and SDHC™ memory cards
5-5/16"W x 3-13/16"H x 6"D
weight (without battery and media): 28.9 oz.
warranty: 1 year
Supplied Accessories:
rechargeable lithium ion battery (NP-140)
battery charger (BC-140)
audio/video and USB cables
neck strap
software CD-ROM
What's in the Box:
Digital camera
NP-140 Lithium-Ion battery pack (1080mAh/7.8Wh)
BC-140 Battery charger
5' AC power cord
39" USB cable (with a USB type-A connector on one end and a USB type-B connector on other end)
47" AV cable (with a composite video/mono-RCA audio connector on one end and a male 3.5mm AV connector on other end)
Neck strap
Lens cap
Lens cap holder
Software for FinePix CD-ROM
Owner's Manual CD-ROM
Basic Manual (Eng)
Basic Manual (Fre)
Basic Manual (Spa)
Product Registration Card
Technical assistance contact information
FUJIFILM Digital Camera Worldwide Network sheet
Note on Using the Battery Pack and Battery Charger
"Pro Focus MOde & Pro Low-Light Mode" sheet
Details
Product Research
Recording Features
Play, Edit, and Print Functions
Battery Information
Supplied Software
Recording Features
LCD Monitor: The FujiFilm FinePix S200 EXR digital camera features a 2.7", 230k pixel, amorphous silicon TFT color LCD monitor with a frame coverage of approximately 100%. The 2.7", 230,000-dot LCD monitor assures a sharp, brilliant view. The wide viewing angle of up to 160°, both vertically and horizontally, keeps the image visible when holding the camera at various angles, and is equally convenient for playing back images and viewing menus. The LCD monitor features adjustable brightness settings.
Electronic Viewfinder: The camera's 0.2", 200k pixel reflect-type color electronic viewfinder provides 100% frame coverage and the same information as the LCD monitor. The viewfinder can be used when bright lighting conditions make the display in the monitor difficult to see. The camera is equipped with a diopter adjustment to accommodate individual differences in vision.
Super CCD EXR Sensor: The 1/1.6-inch, 12.0 million pixel Super CCD EXR provides superior picture quality, enabling a "3-in-1" sensor combination of Fine Capture Technology (High Resolution), Pixel Fusion Technology (High Sensitivity & Low Noise), and Dual Capture Technology (Wide Dynamic Range). With an innovative color filter array and image processing technology, the EXR ensures an advanced reproduction in imaging with exceptionally balanced quality.
FujiFilm EXR Processor: To achieve true image quality, the S200 EXR processor employs an advanced electric charge to control the output from the Super CCD EXR sensor. This simultaneously minimizes all forms of noise while allowing more natural colors, higher resolution, and quicker processing. This technology also makes possible rapid continuous shooting and the new Multi Frame technology that allows the S200 EXR to automatically align a number of separate exposures into one image.
14.3 Optical Zoom Fujinon Lens: Specifically designed to deliver maximum image quality to the Super CCD EXR sensor, the 14.3x zoom lens offers a massive range from 30.5mm wide angle to 436mm telephoto (35mm camera equivalents). The 14.3x zoom lens designed for the S200 EXR comprises 13 elements in 10 groups including aspherical and low-dispersion glass elements. The aspherical elements ensure low distortion and superior light-gathering abilities, for outstanding performance despite the relatively small number of elements. The low-dispersion glass elements meanwhile minimize the optical aberrations that cause color smearing and fringing when shooting at longer focal lengths. The result is high resolution and outstanding overall imaging performance throughout the entire zoom range. A number of the elements also employ multi-coating technology to reduce reflections, minimizing ghosting and flare.
Digital Zoom: The FujiFilm FinePix S200 EXR also offers a 2x digital zoom for a total zoom of 28.6x.
Dust-Free Lens w/ Body Integration: The camera's lens and body are structurally integrated, preventing the entry of dust and debris. That means the sensor and other internal components remain clean and maintenance-free.
Lens-Shift Image Stabilization: To minimize the effect of camera shake, especially at longer focal lengths, a lens-shift image stabilization system is incorporated. The sensor automatically detects small movements of the camera and then corrects them by shifting the lens group in the optical path. This system allows vibration-free handheld shooting at slower shutter speeds than normally possible.
Compatible Media: The camera is equipped with an internal 47MB flash memory for capturing still images or movies. In addition, the FinePix S200 EXR features a memory card slot which allows the use of SD (512MB-2GB) or SDHC (4GB-16GB). You can copy pictures between the internal memory and a memory card.
Image Size And Capacity: The S200 EXR offers nine JPEG still image sizes (resolutions) to choose from; three each in the 4:3, 3:2, and 16:9 aspect ratios. The image quality is then set to Fine (low compression) or Normal (high compression). You can also record still images in the RAW (uncompressed) format or RAW+JPEG. In addition, there are two motion-JPEG movie sizes, both 4:3 aspect ratio. The following tables show a sample of the number of pictures and recording times available for each resolution.
Media Size
Aspect Ratio/Still Image Quality
4:3
3:2
16:9
RAW
4000 x 3000
2816 x 2112
2048 x 1536
4000 x 2664
2816 x 1864
2048 x 1360
4000 x 2248
2816 x 1584
1920 x 1080
4000 x 3000
F (N)
F (N)
F (N)
F (N)
F (N)
F (N)
F (N)
F (N)
F (N)
25MB
(13MB)
Built-in 47MB
9 (15)
16 (31)
30 (59)
11 (17)
18 (36)
34 (66)
13 (21)
21 (42)
45 (68)
1
(3)
SD Card: 2GB
410 (610)
670 (1310)
1230 (2380)
460 (740)
750 (1470)
2820 (5390)
550 (880)
880 (1720)
1870 (2810)
80
(160)
SDHC Card:
4GB
830 (1330)
1340 (2640)
2480 (4770)
930 (1490)
1510 (2950)
2820 (5390)
1110 (1770)
1770 (3440)
3760 (5640)
160
(310)
Media Size
Movie Quality
640 x 480 (30 fps)
320 x 240 (30 fps)
Internal Memory: 47MB
42 sec.
83 SEC.
SD Card: 2GB
29 min.
57 min.
SDHC Card: 4GB
58 min.
114 min.
Note: Individual movies cannot exceed 2GB, regardless of capacity of memory card.
Shooting Modes: The FujiFilm FinePix S200 EXR offers various shooting modes.
Single Shot: A single image is captured with each press of the camera's shutter button.
High-Speed Continuous Shooting: To ensure you will never miss the decisive moment, you can shoot continuously at full 12 megapixel resolution up to 6 frames maximum in JPEG format or 3 frames maximum in RAW (EXR). Or choose 3 megapixel resolution for remarkable 5 frames per second for up to 24 frames. Furthermore, during playback, you can scan through up to 10 images per second.
Bracketing: The FinePix S200 EXR has three bracketing functions useful for high-level photography.

Film Simulation: One press of the shutter produces three images of PROVIA, Velvia and ASTIA modes.
Dynamic Range: One press of the shutter produces three images in a different dynamic range (100%, 200%, 400%).
Auto Exposure: Continuous capture of three frames with exposure range of up to ±1.0EV.

Self-Timer: The camera offers a ten-second timer that allows the photographer to appear in his or her own photographs and a two-second timer that can be used to avoid blur cause by the camera moving when the shutter button is pressed.
Focus Range: The digital camera offers a normal focusing range of 1.6' to infinity (wide angle) and 8.2' to infinity (telephoto). In Quick AF mode, the focusing range of the camera is 6.6' to infinity (wide angle) and 16.4' to infinity (telephoto). For close-ups, you can use the Macro mode with a focusing range of 0.3' to 9.8' at wide angle and 3' to 9.8' at telephoto. For extreme close-ups, you can use the Super Macro mode with a focusing range of 0.4" to 3.3'.
Focus Modes: The FujiFilm FinePix S200 EXR offers automatic and manual focus modes.
Auto-Focus: The S200 EXR offers three auto-focus mode.

AF-S (Single): Focus locks while the shutter button is pressed halfway; choose for stationary subjects.
AF-Co (Continuous): The camera continually adjusts focus to reflect changes in the distance to the subject even when the shutter button is not pressed halfway; choose for moving objects.
AF-Ce (Center): If the Intelligent Face Detection feature is on, the camera will continually adjust focus for the selected face

Manual Focus: Focus manually using the camera's focus ring. Rotate the ring left to reduce the focus distance, right to increase it. The manual focus indicator indicates how closely the focus distance matches the distance to the subject in the focus brackets. Choose manual control of focus in situations in which the camera is unable to focus properly using auto-focus.
AF Area Mode: This option controls how the camera selects the auto focus area. Regardless of the option selected, the camera will focus on the subject in the center of the monitor when macro mode is on.
Center: The camera focuses on the subject in the center of the frame. This option can be used with focus lock.
Multi: When the shutter button is pressed halfway, the camera detects high-contrast subject near the center of the frame and selects the focus area automatically.
Manual: The focus position can be chosen manually.
AF/AE Lock: Use AF/AE Lock to guarantee best result when shooting a subject that is not suited for auto-focusing; such as very shiny objects, fast moving subjects, or off center subjects.
AF-Assist Illuminator: In dimly lit conditions the AF-Assist Illuminator helps the auto focus system when pressing the shutter button of the camera down halfway.
Face Detection With Auto Red Eye Removal: The S200 EXR features Intelligent Face Detection which identifies human subjects' faces anywhere in the frame and determines the optimal focus and exposure settings for best results. Additionally the intelligent software algorithms can detect red-eye and correct it in-camera. Red-eye removal can be turned on or off.
Intelligent Flash: When the flash is used, the camera's Intelligent Flash system instantly analyzes the scene based on such factors as the brightness of the subject, its position in the frame, and its distance from the camera. Flash output and sensitivity are adjusted to ensure that the main subject is correctly exposed while preserving the effects of ambient background lighting, even in dimly-lit indoor scenes. The camera's built-in flash has a range of 1' to 23.6' at wide angle and 3' to 12.5' at telephoto. The S200 EXR features the following Flash modes.
Auto: the flash fires when required; recommended for most situations
Forced Flash: the flash fires whenever a picture is taken
Flash Off: flash does not fire even when the subject is poorly lit
Slow Sync: capture both the main subject and the background in low light
Note: If Auto Red Eye Removal is turned on, it will activate in Auto, Forced Flash, and Slow Sync modes.
Exposure Modes: The camera offers various auto, scene, and manual exposure modes to choose from according to the scene or type of subject you are shooting:
Manual: Allows you to manually adjust detail settings of the camera; in this mode you choose both shutter speed and aperture setting.
Program Auto: An automatic mode to specify the settings except for the shutter speed and aperture setting.
Aperture Priority Auto: An automatic mode to set the aperture.
Shutter Priority Auto: An automatic mode to set the shutter speed.
Auto: For easy point-and-shoot style photography with crisp, clear snapshots.

EXR Priority: With EXR Priority, you can manually switch the sensor to one of three capture modes. Just like your eye prioritizes different functions for optimal viewing of different scenes, each EXR mode uses a different approach to change how the sensor captures the image.

High Resolution: Just as your eye sees the finest detail in bright conditions, Resolution Priority uses the full 12 megapixel resolution of the unique EXR array to reproduce the smallest detail in bright beautiful color.
Wide Dynamic Range: Just as your eye sees the full range of shadows to highlights in high-contrast scenes, D-range Priority simultaneously captures two images to produce a single image with Wide Dynamic Range up to 800%, revealing subtleties in shadow and eliminating washout of the bright areas.
High Sensitivity & Low Noise: Just as your eye strives to make dark scenes as bright and detailed as possible, High ISO & Low Noise Priority takes advantage of high sensitivity and FinePix's original pixel binning technology to capture the subject with exceptional brightness and minimal noise.

EXR Auto: The camera automatically sets the scene mode based on the subject and shooting conditions -Portrait (for soft-toned portraits with natural skin tones), Landscape (for crisp, clear daylight shots for buildings and landscapes), Night (for a poorly lit landscape), Macro (close subject), Back-lit Portrait (use when your portrait subject is back-lit), Night Portrait (use when your portrait subject poorly lit).
Multi-Frame Composition: With the new Multi Frame feature, just press the shutter once and the camera automatically takes a rapid series of exposures, analyzes them, and then aligns them to produce a single frame. In this camera, the Multi Frame technology plays a role in two new shooting modes.

Pro Focus Mode: This focus-bracketing mode emulates the gentle, out-of-focus background look of a DSLR when shooting portraits or macro subjects. A single press of the shutter first takes an exposure focused on the main subject, then additional exposures at different focus points. This produces a final image emphasizing the sharply focused subject against a soft, out-of-focus background.
Pro Low-Light Mode: Ideal for shooting non-moving subjects in low light, this mode automatically takes a series of four high-sensitivity & low-noise exposures and then combines them into an image with less noise than the single exposures.

Scene Position Modes: Choose a scene suited for the subject or shooting condition and the camera will do the rest.

Natural & Flash (Dual Shot Mode): In this mode, the camera takes two shots each time the shutter button is pressed: one without the flash to preserve natural lighting, followed immediately by a second shot with the flash. The result is a new level of image clarity at high ISOs
Natural Light: This mode captures natural light indoors, under low light or where the flash cannot be used. The flash turns off and sensitivity is raised to reduce blur.
Portrait: Mode for photography to reproduce natural skin tones.
Portrait Enhancer: Enables automatic enhancements of skin tone.
Landscape: Best for shooting scenery in daylight capturing clear and sharp shots of buildings and mountains effectively.
Sport: A quick recognition of persons in motion or objects for a faster shutter speed to help you catch the perfect moment.
Night: Mode for shooting evening and night scenes. A picture is taken with a slow shutter.
Night (tripod): Clear shots of twilight scenes using tripod.
Fireworks: Effective for taking shots of fireworks with a slow shutter speed.
Sunset: Capture sunset scenes vivid in color.
Snow: Most adaptable to snow scenes without unnatural darkened images or where the whole screen appears white.
Beach: Clear shots of people without darkened images under strong sunlight.
Flower: Capture clear close-up shots of blooming flowers rich in color.
Text: Clear shots of letters on a document or white board.

C1/C2: Allows presets to shooting mode with user's preference.
Movie Mode: Use this mode to record Motion JPEG movies with monaural sound. You must zoom before shooting because you cannot zoom while shooting. Two movie quality selections are available: 320 x 240 for longer movies and 640 x 480 for better quality. The frame rate is 30 frames per second. You can shoot a movie until the file reaches a maximum size of 2 GB.
Film Simulation: You can simulate the distinctive look of five different types of film with the touch of a button. Modeled on these FujiFilm brands:
Provia/Standard: Standard color reproduction; suited to a wide range of subjects.
Velvia/Vivid: A high contrast palette of saturated colors; suited to nature photographs.
Astia/Soft: A soft toned palette of less saturated colors.
B&W: Black and white.
Sepia: Create a sense of nostalgia with the warm brown antique tones of Sepia.
Exposure Compensation: You can use exposure compensation when photographing very bright, very dark, or high-contrast subjects. The camera's exposure compensation can be adjusted from -2 EV to +2 EV in increments of 1/3EV.
Shutter Speeds (1/4000-30 secs): The S200 EXR gives you a choice of shutter speeds from 1/4000 second to 30 seconds, all with a shutter lag of no more than approximately 0.01 seconds. You also have access to a wide range of ISO sensitivities, as well as an aperture range of f/2.8 - f/11 in 1/3EV increments.
ISO: This function controls the camera's sensitivity to light; higher values can be used to reduce blur when lighting is poor. The digital camera's sensitivity can be set to ISO 100, 200, 400, 800, 1600, 3200, 6400 (Medium or Small images), 12,800 (Small images only), Auto, Auto (400), Auto (800), Auto (1600) or Auto (3200).
Metering Mode: The S200 EXR digital camera offers 256-segment TTL (through the lens) metering with three metering modes: Multi, Spot, and Average.
Multi: Automatic scene recognition is used to adjust exposure for a wide range of shooting conditions.
Spot: The camera meters lighting conditions at the center of the frame. Recommended when the background is brighter or darker than the main subject.
Average: Exposure is set to the average for the entire frame. Provides consistent exposure across multiple shots with the same lighting, and is particularly effective for landscapes and portraits of subjects dressed in black or white.
White Balance: You can use the camera's White Balance settings to obtain images with natural colors no matter the light source. Choose from Auto, Custom, Direct Sunlight, Shade, Daylight fluorescent, Warm white fluorescent, Cool white fluorescent, Incandescent, or Underwater lighting.
Nose Reduction: The camera's Noise Reduction Control gives you a choice of three levels of noise reduction: Normal (for standard noise reduction), Hard (for maximum suppression of noise), and Soft (when resolution is a priority).
Histogram: The Histogram shows the distribution of tones in the image. Brightness is shown by the horizontal axis and the number of pixels by the vertical axis.
Time Difference: When traveling, use this feature to switch the camera' clock instantly from your home's time zone to the local time at your current destination.
Play, Edit, and Print Functions
Auto Image Display: The camera can display pictures in the LCD monitor after shooting. Pictures can be displayed for 1.5 seconds, 3 seconds, or until the Menu/OK button is pressed.
Multi-Frame Playback: In addition to single frame playback, the camera allows you to view 2, 9, or 100 images at once on the LCD monitor.
Slide Show Playback: You can view still pictures in an automated slide-show on the camera's LCD monitor with selectable transition effects: Normal, Fade in, Intelligent Face Detection (zooms in on faces), and Multiple images.
Sort-By-Date: You can choose this function to view pictures taken on a selected date.
Playback Zoom: This function allows you to zoom in on images displayed in single-frame playback. Once the image is zoomed in, you can pan through the image horizontally and vertically.
Editing: The S200 EXR offers the following editing functions.
Red Eye Removal: You can create and save copies of images with reduced red eye.
Crop: You can create cropped copies of your original recorded pictures.
Resize: You can create small copies of your original recorded images.
Image Rotate: By default, pictures taken in tall orientation are displayed in wide orientation. Use this option to display pictures in the correct orientation on the camera's LCD monitor. Images can be rotated clockwise or counterclockwise in 90° increments.
Copy: Copy pictures between internal memory and an inserted SD/SDHC memory card.
Voice Memo: This function allows you to add a 30 second voice memo to a still picture recording. Voice memos are recoded as PCM-format WAV files. Volume of the camera's built-in speaker can be adjusted while playing back voice memos.
Erase/Protect: You can delete unwanted still pictures and movies, increasing the amount of space available on the memory card or in the camera's internal memory. You can erase one image at a time or all images. You can protect specific images so they can't be deleted accidentally.
Movie Playback: You can playback movies you have recorded on the camera on the unit's LCD monitor or viewfinder. The camera offers the following video playback functions - Play, Pause, End playback, Fast Forward, and Rewind. The volume of the movie can also be adjusted during playback.
TV Playback: Connect the camera to your television using the included composite video/mono RCA audio cable for playback of still images and movies on your TV screen.
PictBridge Compatible: The S200 EXR camera is PictBridge compatible and can be connected directly to a PictBridge compatible printer via USB so you can print pictures without being connected to or having to copy pictures to a computer.
DPOF Compatible: DPOF (Digital Print Order Format) is a standard which allows pictures to be printed from "print orders" stores in the internal memory of the camera or on a memory card. The information in the order includes the pictures to be printed and the number of copies of each picture.
Battery Information
Battery: The FujiFilm S200 EXR digital camera operates using the supplied NP-140 rechargeable Lithium-Ion battery. The battery is charged in the supplied BC-140 battery charger. The NP-140 has a battery life of approximately 370 shots. The NP-140 battery takes approximately 110 minutes to fully charge using the included battery charger.
Auto Power Off: When this function is active and the camera remains unused for 2 or 5 minutes, it automatically turns itself off.
Optional AC Adapter: The S200 EXR is compatible with FujiFilm's AC-84V AC power adapter (sold separately).
Supplied Software
FinePixViewer Software: The supplied FinePixViewer software can be used to copy JPEG pictures to a computer where they can be stored, viewed, organized, and printed. On the supplied disc, there are two versions of the software: Version 5.5 for Windows and Version 3.6 for Mac OS X 10.3-10.5.
System Requirements: Your computer will need to meet the following system requirements:
System Requirements
Windows
Macintosh
OS
Windows Vista
XP Professional (SP 2 or later)
XP Home Edition (SP 2 or later)
2000 Professional (SP 4 or later)
Mac OS X (version 10.3.9 to 10.5)
CPU
Vista: 800 MHz Pentium 4 or better
(3 GHz Pentium 4 or better recommended)
XP: 800 MHz Pentium 4 or better
(2 GHz Pentium 4 or better recommended)
2000: 200 MHz Pentium or better
Power PC or Intel CPU
RAM
Vista: 512 MB or more
(1 GB min recommended)
XP: 512 MB or more
2000: 128 MB or more
256 MB minimum
Free Disk Space
450 MB minimum required for installation, 600 MB needed when FinePixViewer is running (15 GB or more recommended for Vista, 2 GB or more recommended for XP)
200 MB minimum required for installation
400 MB minimum required when FinePixViewer is running
Display
800 x 600 pixels or more with 16-bit color or better
(1,024 x 768 or more with 32-bit color recommended)
800 x 600 pixels or more with thousands of colors or better

Other
Built-in USB port
Internet connection (56 kbps or faster)
Note: RAW still image files captured by the S200 EXR cannot be transferred to your PC using FinePixViewer software included in this CD-ROM. Updater of FinePixViewer for transfer of RAW still image files to your PC will be available November, 2009 (sold separately).
Our Product Research Team
At Crutchfield, you'll get detailed, accurate information that's hard to find elsewhere. That's because we have our own in-house Product Research team. They verify what's in the box, check the owner's manual, and record dimensions, features and specs. We stay on top of new products and technologies to help people make informed choices.