Why Choose Crutchfield?
Deep discounts on car installation gear
We offer vehicle-specific installation instructions, dash kits, wiring harnesses, and speaker accessories at deeply discounted prices with car stereo and speaker purchases. Available for most vehicles.
Learn more
Trusted since 1974
Our customers have trusted us with their business, and they've helped us win awards for our service.
Check out our most recent awards
Factory-authorized dealer
The manufacturer's warranty always applies.
See more details
JBL MS-8
Digital sound processor
Item # 109MS8 | MFR # MS-8
This item is no longer available.
Overview
Keep your factory stereo and transform your sound
Is your car's "premium factory sound system" pumping out less-than-premium sound? The JBL MS-8 System Integration Digital Processor is a powerful tool for improving the sound in your vehicle, especially if you want to keep your factory stereo or enhance a premium factory system with multiple sets of speakers.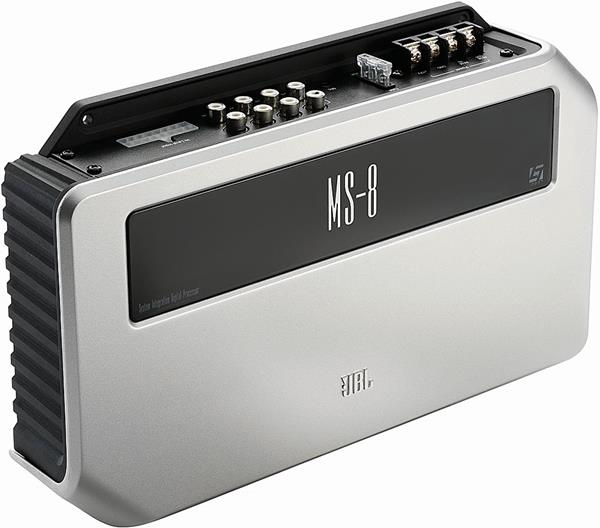 ---
What is it for?
Imagine hearing every note of your favorite music as if you were sitting inside a concert hall. The MS-8 transforms your car stereo setup into an exquisitely balanced, full-bodied audio system, perfectly tuned for every seat in your car. And it's not just for improving your factory stereo's sound — it'll make an aftermarket system sound better, too.
---
Set it up, let it do its thing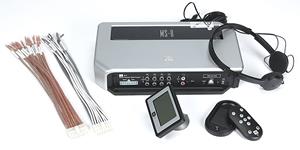 Using a clever headset microphone that takes your ear positions into account, the MS-8 equalizes and time-corrects your audio output automatically so the sound from all speakers reaches your ears at the same time.
Installation note: The MS-8 is not a plug-and-play processor — it requires grabbing 12-volt power, and making speaker level connections similar to installing an aftermarket amplifier. In fact, we don't recommend this installation for a beginner. And once you've got it installed, a bit of tweaking will probably be needed to deliver the sound and imaging you're after. Of course, if you get stuck while installing or tweaking the MS-8, our Tech Support can assist you.
---
Powerful equalizer lets you tweak the sound to your taste
Once your system's calibrated, the MS-8 features a 31-band equalizer for sound tweakers who appreciate manual control over the overall tone of the music. You can store up to five favorite EQ curves to optimize the sound for different sources or styles of music. Mount the included LCD display in a convenient place so you can keep your eye on your settings.
---


Build your system
The MS-8 can drive up to eight speakers with its built-in amp, and it uses advanced Logic 7 circuitry to transform your 2-channel stereo into a realistic 5.1 or 7.1 surround sound experience for home theater sound on the road. You'll also find 8 preamp outputs to accommodate just about any amplified system imaginable. An auxiliary input lets you plug in your portable music player while cruising.
---
Customer Reviews from Car Audio Online Magazine
"Bass is everywhere, front stage is in the windshield, stereo separation is impressive. No matter the source (FM, Sirius, HDD, iPod, CD) it sounds newly detailed, defined. And the bonuses: no hiss, no whine, no pops. I got goose bumps when I played it for the first time with this sucker."
"THRILLED !!! This thing is awesome! Makes me want to drive."
"The MS-8 opened up the depth tremendously, and locked in center information as well. The staging is pinpoint."
---
What's in the Box:
System integration digital processor (25A ATC fuse inserted in chassis)
Display unit
Remote control (with mounting bracket)
Headset microphone (with attached 25' cable terminated by a 3.5mm connector)
Display mounting bracket
12.5" Speaker-input harness
12.5" Speaker-output harness
20' AV 2.5mm minijack cable
Two 3mm x 20mm mounting screws
Three 3.5mm x 20mm mounting screws
Four 4mm x 20mm mounting screws
3mm Hex-key
2mm Hex-key
2 Dual-sided self-adhesive pads
4 Alcohol prep pads
Setup & Owner's Manual CD
Quick Start Guide (16 languages)
Product Highlights:
automatic equalization and time correction
built-in amplifier (18 watts RMS x 8 @ 4 ohms/30 watts RMS x 8 at 2 ohms)
8-channel preamp inputs and outputs
speaker-level inputs and outputs
realistic 5.1 or 7.1 surround sound from a stereo speaker setup
headset microphone for setup
remote-mount LCD display with 6-meter connection cable
remote control
main unit dimensions: 11-1/2"W x 2-3/16"H x 8-3/8"D
warranty: 1 year
Reviews
JBL MS-8 Reviews
Average Customer Review(s):


Submit a review and then enter to win a $350 rewards card
Review this product
Thanks for submitting your review
Most reviews are processed and published within 5 business days. You will receive a confirmation email once your review has been published.
Customer photos
---
Details
Product Research
Features
Controls
Connections
Specifications & Dimensions
Features
Overview: The JBL MS-8 System Integration Digital Processor features a hide-away digital processor with a built-in DSP equalizer that optimizes the frequency response, bass performance, dynamics, clarity, stereo imaging, and detail of your existing car audio system, using the supplied setup/calibration CD, microphone headset, LCD display, and RF remote control. Using the speakers and electronics you already have, the MS-8 lets you tailor your acoustics for maximum sonic impact. Its compatible with virtually any combination of factory-installed and/or aftermarket components.
Digital Sound Processing: Digital sound processing (DSP) allows the JBL MS-8 System Integration Digital Processor to greatly enhance the performance of your existing car audio system. The JBL MS-8 provides simple menu-driven calibration based on detailed input from a binaural headset microphone. It will produce a flat-response, full-bandwidth signal from up to eight input channels, and then use its built-in DSP functions to perform powerful corrections in equalization, time arrival, and crossover.
Equalization: The JBL MS-8 will automatically equalize the signal sent to the loudspeakers and optimize their response for up to four seating positions using the included binaural microphone headset. It improves tonal accuracy by automatically compensating for the sonic characteristics of the speakers, electronics and vehicle interior.
Time Correction: The MS-8 automatically ensures that the sound from all speakers arrives at the listener's ears simultaneously, in up to four individual seating positions, dramatically improving clarity and imaging.
Crossover: The JBL MS-8 provides precise, user-selectable crossover points and crossover slopes for up to eight separate outputs.
Built-in Amplifier: The JBL MS-8 features a built-in 8-channel amplifier (18 watts RMS x 8ch @ 4-ohms or 30 watts RMS x 8ch at 2-ohms). The unit's built-in amplifier can be used to power your factory or after-market speakers in a system with no external amplifiers. The unit also offers preamp outputs for car audio systems with aftermarket external amplifiers powering existing speakers.
Note: Do not connect your head unit directly to any amplifiers, including a subwoofer amplifier. The MS-8's signal processing takes nearly 8ms, so any signals connected directly to a head unit will be ahead of the signals leaving the MS-8 by about 8ms. This difference will cause them to be out of sync with the signals that pass through the MS-8. The MS-8 must generate all the signals that are sent to all of the system's speakers.
LCD Display: The JBL MS-8 comes supplied with a display unit with 2.625" LCD screen (128 x 64 pixels). The display unit must be connected during setup, but may be disconnected after setup and after you've made any additional adjustments in the Audio Controls menu. If the display unit is disconnected after setup and final adjustment, you will not be able to make any additional MS-8 adjustments, and the included remote control will not function. You can adjust the contrast and brightness of the display screen. You can also select type of language text (English, Spanish, French, Portuguese, German, Dutch, Italian, Danish, Norwegian, Swedish, and Finnish. The LCD display features an adjustable mounting bracket which can be mounted to the top of your dashboard or console using the included mounting screws or supplied self-adhesive pad.
Note: Choose a mounting location for the LCD display that is easy to see while you are operating the vehicle, but that does not obstruct your view or normal vehicle operations.
Microphone Headset: The included binaural microphone headset must be connected to the MS-8's Mic connection during the calibration/setup process. Place the microphone headset on your head (make sure that the left and right microphones are on the correct ears). Once setup is complete, you can unplug the microphone headset and store it in a safe place.
Note: Do not use any other microphone with the MS-8.
Controls
Remote Control: The JBL MS-8 features an RF (radio-frequency) remote to control all of the MS-8's user-selectable features. Since the remote operates by radio frequency, you do not need to point the remote directly at the system's display. There are dedicated volume buttons on the remote that always control the system volume, regardless of which menu screen is active. The remote features an integrated battery. You can leave the remote un-mounted or secure with velcro. JBL also offers two safe and convenient methods (Surface Mount or Flush Mount) to secure the remote using the supplied mounting bracket.
Speaker Setup: During the Speaker Setup you will help the MS-8 configure the speakers and acoustics in your system. You must use the calibration CD provided with the MS-8 for this step. If your system does not have a CD player, you can convert the CD to a .WAV file for use with a portable media player or other audio source. The file format you use must be lossless, or the calibration process will not be accurate.
Crossover Setup: You can configure the MS-8's eight outputs in a variety of ways, depending on the speakers that are installed in your vehicle. You can configure the MS-8 for a system with one-way (full-range), two-way or three-way front speakers, a one-way or two-way center speaker, side speakers, rear speakers and one or two subwoofers. Remember, however, that the total number of available channels is eight, so any combination of front, center, side, rear and subwoofer channels cannot total more than eight.

Subwoofer:

Type: enter 1, 2, or 0 subwoofers
Subsonic Filter: select a frequency between 20-50Hz and a slope of 6-24 dB/oct.
Low-Pass Filter: select a low-pass frequency between 50-200Hz and a low-pass slot of 6-24 dB/oct.

Front Speakers:

Type: enter 1-way, 2-way, or 3-way
Crossover Filter: for 1-way (full-range) front speakers set the HPF between 20-100Hz with a 6-24dB/oct. slope; for 2-way front speaker set the HPF between 50Hz-10kHz with a 6-24dB/oct. slope; for 3-way front speakers set the LPF between 100Hz-10kHz with a 6-24dB/oct. slope and the HPF between 20Hz-10kHz with a 6-24dB/oct. slope

Center Channel:

Type: enter 1-way or 2-way
High-Pass Filter: set the HPF between 50Hz-10kHz with a 6-24dB/oct. slope

Side Speakers:

Type: enter 1-way or None
High-Pass Filter: set the HPF between 50-10kHz with a 6-24dB/oct. slope

Rear Speakers:

Type: enter 1-way or None
High-Pass Filter: set the HPF between 50-10kHz with a 6-24dB/oct. slope

Channel Selection: This menu assigns the outputs configured in the MS-8's crossover setup to specific output channels by number. The menu will display only valid choices (according to the entries in the crossover setup).
Note: If the system has both side and rear speakers, the Fader control will adjust between the front speakers and both the side and rear speakers in tandem. It is not possible to adjust the balance between the side and rear speakers.
Acoustic Calibration: Acoustic Calibration can be done for the driver's seat, as well as for up to three additional seats. Connect the included binaural microphone headset to MS-8 and place the microphone headset on your head (make sure that the left and right microphones are on the correct ears). Follow the MS-8's on-screen menu instructions on the system's LCD display to complete calibration.
Note: The MS-8 will not pass an audio signal through to its outputs until you have configured it through this setup/calibration process.
Audio Controls: The JBL MS-8 provides various audio adjustments for your system after setup and calibration are complete. It allows you to adjust the system level, tone controls and 31- band graphic EQ, and engage/defeat the MS-8's Logic 7 processing, digital signal processing (time correction and equalization) and seating-position optimization.
System Level: This feature adjust the levels of the Aux input and the system's speakers.
Tone Control: This selection lets you adjust the system's overall tone quality. The bass control and treble control are shelving-type controls, with ±10dB of boost and cut at 20Hz and 20kHz, respectively. The midrange control is a peak-and-dip type with a Q of 0.26 that offers ±10dB of boost and cut at 650Hz.
31-Band EQ: The MS-8's graphic equalizer is a sophisticated tone control that divides the audio spectrum into 31-bands, each approximately a third of an octave wide. This format allows you to fine-tune the system's sound with extreme precision. Each band allows ±10dB of boost or cut at the band's center frequency. The equalizer's circuitry is designed to minimize destructive interaction between adjacent bands, giving you precise control with superior sound quality.
Logic 7: Logic 7 technology creates an ideal 5.1-channel or 7.1-channel surround-sound listening environment from two-channel source material. Logic 7 processing widens the stereo soundstage and increases the sense of sonic envelopment, making the vehicle's interior boundaries seem to disappear. The music sounds as though it exists on its own, rather than coming from speakers. The MS-8's Logic 7 has been specifically tuned for use in vehicles. It also includes processing for the center-channel speaker (if applicable). Logic 7 processing steers all mono information to the center channel (if applicable). You'll find vocal and instrument placement with Logic 7 enabled and the center-channel level in the center position to be natural sounding and consistent. If you listen to a lot of news, sports or talk radio, you may want to attenuate the center channel; you can even save a Favorite setting with such an adjustment.
Seated Position: You can optimize the sound for any of the seating positions that you measured during the setup process. Pressing the Select button cycles through the available positions: Driver, Passenger, Front, Rear, All. "Front" or "Rear" optimizes both front seats or both rear seats as the preferred listening position. "All" is a general setting that will produce good sound for any seating position.
Favorites: This option lets you store and recall currently active audio settings (you can store and recall up to five different combinations of settings). The MS-8 provides five Favorites positions that let you store the system's currently active audio settings. The system stores all audio and input selection settings in a Favorites setting (except the Aux volume setting). This feature lets you tailor the sound for a certain type of music or a certain driver, and save and recall the settings at any time.
Connections
Power & Ground Connections: The JBL MS-8 features 0.375" set-screw terminals for power, ground, and remote turn-on lead.
+12V: Connect unit's +12-volt power to the vehicle battery with a 25A fuse within 18" of the positive battery terminal (use 12AWG wire minimum).
Chassis Ground Input: Connect unit's ground to a paint-free spot on the vehicle chassis.
Remote Turn-On Output: Connect the unit's remote turn-on output to the remote-turn on-input of all amplifiers in the system. The MS-8 must control the turn-on signal of the other devices that come after it in the signal path. The output is +12-volts DC, 1A.
Remote Turn-On Input: Connect the unit's remote turn-on input to the remote turn-on output of the source unit if the source has such an output. If not, this terminal can connect to the vehicle's accessory (ACC) power circuit. In either case, a connection with over +4-volts DC will trigger the unit, accommodating a range of factory source units or amplifiers.
Input Signal Connections: Many factory-installed system include on-board equalization (EQ) and crossovers that make simple connection of aftermarket products difficult. The JBL MS-8 includes signal-summing circuitry, signal-conditioning EQ, and time correction processing necessary to reconstruct a two-channel, flat, full-range signal when you use the MS-8 with factory-installed equipment. Aftermarket head units with RCA-type outputs provide a flat-full-range, two-channel signal on their front RCA-type outputs. The JBL MS-8 provides both RCA-type (for aftermarket) and High-Level (for factory) inputs.
RCA-type Audio Inputs: If you use the MS-8 with an aftermarket head unit that includes RCA-type outputs, connect the front outputs to the MS-8 RCA-type inputs 1 and 2 only. Do not connect any other head unit output signals to MS-8's RCA inputs 3-8.
Hi-Level (Speaker-Level) Inputs; If you use the MS-8 with a factory-installed head unit, or any head unit that does not include RCA-type outputs, connect the front left and front right speaker-level outputs from the head unit to the "Hi-Level Input" 1 and 2 on the MS-8. If the factory-installed system includes a separate amplifier, connect the output of the amplifier to the "Hi-Level Input" of the MS-8.
Note: Many factory-installed separate amplifiers include separate channels for front tweeters, midranges, and subwoofers. Connect all of the front and subwoofer outputs to the speaker-level inputs of the MS-8.The subwoofer outputs of the factory amplifier must be connected only to the MS8's input channels 7 and/or 8.
Auxiliary Input: This stereo RCA auxiliary input allows you connect an external portable audio source to the MS-8. Switching between the unit's RCA-type/Hi-Level inputs and the Auxiliary input is done in the MS-8's menus.
Hi-Level & Low-Level Outputs: The JBL MS-8 features both Hi-Level speaker and Low-Level preamp outputs.
Speaker Outputs: The unit's speaker-level outputs connect directly to the speakers if the MS-8's on-board amplifiers will be used.
Preamp Outputs: If the MS-8's onboard amplifiers won't be used, connect the RCA-type inputs of additional amplifiers to the MS8's RCA-type output connectors. Some speakers may be powered by the MS-8's amplifiers and some by additional amplifiers, but only use one connection type per output.
Note: You can power some of your system's speakers by the MS-8's amplifiers and some by outboard amplifiers, but you should use only one connection type per output.
MS-8 Display: Connect the unit's 2.5mm Display output to the system's LCD display unit using the supplied cable. You must connect the display during setup, but you may also disconnect it after setup.
Note: If you don not install the display, you cannot adjust the MS-8, and the MS-8's remote control will not functions.
Microphone Input: Connect the unit's 3.5mm microphone input to the supplied microphone headset. You must connect the microphone headset to the MS-8 during setup. Once setup is complete, unplug the microphone headset and store in a safe place.
Note: Do not use any other microphone with the MS-8.
USB (type-B) Port: You can use the USB-Update port to install a firmware upgrade downloaded from www.JBL.com.
Specifications & Dimensions
Specifications:
CEA Power Output: 18 watts x 8-channels @ 4-ohms
Maximum Output Power: 30 watts x 8-channels @ 2-ohms
Frequency Response: 20Hz to 20kHz
Signal-to-Noise Ratio (Line-Input to Line-Output): >90dB
Signal-to-Noise Ratio (Line-Input to Speaker-Output): >85dB
Maximum Input Voltage (Speaker-Level Input): 15V
Maximum Input Voltage (Line Input): 2.8V
Maximum Output Voltage (Line Output): 2.8V
Maximum Current Draw: 16A
Stand-by Current Draw: <0.01A
Dimensions:
System Integration Digital Processor: 11.5" (w) x 2.1875" (h) x 8.375" (d)
LCD Display Unit: 3.4375" (w) x 2.375" (h) x 0.8125" (d)
Remote Control: 1.625" (w) x 3.1875" (h) x 0.5625" (d)
Microphone Headset Earcup: 1.875" (diameter) x 0.75" (depth)
Our Product Research Team
At Crutchfield, you'll get detailed, accurate information that's hard to find elsewhere. That's because we have our own in-house Product Research team. They verify what's in the box, check the owner's manual, and record dimensions, features and specs. We stay on top of new products and technologies to help people make informed choices.