Why Choose Crutchfield?
Deep discounts on car installation gear
We offer vehicle-specific installation instructions, dash kits, wiring harnesses, and speaker accessories at deeply discounted prices with car stereo and speaker purchases. Available for most vehicles.
Learn more
Trusted since 1974
Our customers have trusted us with their business, and they've helped us win awards for our service.
Check out our most recent awards
Factory-authorized dealer
The manufacturer's warranty always applies.
See more details
Kenwood Excelon X450-4
4-channel car amplifier — 60 watts RMS x 2 at 4 ohms + 100 watts RMS x 2 at 4 ohms (New Stock)
Item # 113X4504 | MFR # X450-4
This item is no longer available.
Overview
Our take on the Kenwood Excelon X450-4 by Crutchfield's Buck Pomerantz
Distributes the power where you need it
This sweet-looking Kenwood Excelon X450-4 4-channel amplifier gives "versatility" a whole new meaning. Think of it as two amps in one housing. The first amp serves up 60 watts RMS each to two speakers, while the second amp delivers 100 watts RMS to two others (or 150 watts each to two 2-ohm subs). Here are some possible system configurations that this amp can run:
Power your front speakers with 60 watts RMS each, and rear-fill speakers with 100 watts each;
Power a set of component speakers up front with 100 RMS watts each, and the rear-fills with 60 watts each;
Power your front speakers with 60 watts RMS each, and two subwoofers with up to 150 watts each;
Power your front speakers with 60 watts RMS each, and a larger subwoofer with 300 watts.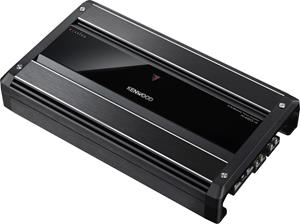 Tuning where you need it
High-pass filters on both amps let you tailor the sound to fit your vehicle and speakers. When you're running a subwoofer, you can adjust a low-pass filter and a bass boost on Amp B to get just the right bass for your vehicle, while optimizing your sub's performance.
Cooling fan
The unique fin shape of the extruded aluminum heatsink helps pull heat away from the amp's interior, reducing distortion and extending the amp's life. An intelligent thermal management system continually monitors the temperature and turns on a cooling fan when necessary, saving your music from any interruptions due to overheating.
Product Highlights:
4-channel car amplifier
Amp A: 60 watts RMS x 2 at 4 ohms (75 watts RMS x 2 at 2 ohms)
Amp B: 100 watts RMS x 2 at 4 ohms (150 watts RMS x 2 at 2 ohms)
Amp B bridged: 300 watts RMS x 1 at 4 ohms (4-ohm stable bridged, Amp A not bridgable)
variable high-pass filters on all channels (50-200 Hz, 12 dB/octave)
variable low-pass filter on B channels (50-200 Hz, 24 dB/octave)
variable bass boost on B channels (0-18 dB at 40 Hz)
cooling fan
preamp inputs
fuse rating: 40A x 2
4-gauge power and ground leads recommended — wiring and hardware not included with amplifier
13-5/8"W x 2-3/16"H x 7-3/8"D
warranty: 2 years
What's in the Box:
4-Channel amplifier
Two 40-amp fuses (installed)
2.5mm Allen wrench
Four 5/8" Self-tapping screws
2 End caps (installed)
Instruction manual (English/ French/ Spanish)
Warranty card
Featured Video:
Built very well! Great product

Jason, Staunton, VA
Why Shop
With Us?
10 Reasons.
Reviews
Kenwood Excelon X450-4 Reviews
Average Customer Review(s):
Jason from Staunton, VA on 4/3/2016
Built very well! Great product

Pros:

Cons:
Joe T from Copperas Cove, TX on 3/30/2016
Crutchfield Customer Review
(
What's this?
)
Small footprint, clean power. I was able to fit under my passenger front power seat.

Pros: Small, enough power, fan

Cons: Screw terminal
Randy K from Pennsylvania on 7/27/2015
Crutchfield Customer Review
(
What's this?
)
Good amp, makes the speakers sound nice and clean. This does seem to get pretty hot compared to the amp running my subs but it hasn't gone into protection mode so I assume it's ok. Only real issue I have (might not be the amps fault) when I turn the high pass filter on from the amp I seem to get this slight static/buzz sound from the speakers.

Pros: Easy set up Speakers sound great Not to expensive

Cons: Gets pretty hot
Super clean for mids & highs
Russell R from California on 6/29/2015
Crutchfield Customer Review
(
What's this?
)
I did a lot of research before I bought this amp to power up my excelon 6x9s and excelon 5 1/4s and it puts out clean and clear sound that keeps up with my two fully powered punch p3 shallow mount 12s.

Pros: Great amp that didn't break the bank.

Cons:
Electronicmechanic from Pennsylvania on 4/14/2015
Must have for kenwood Excelon full range speakers Really makes them boom

Pros: Must HAVE

Cons: None
quick350z from Santa Rosa, CA on 1/27/2015
Crutchfield Customer Review
(
What's this?
)
perfect for compartment behind passenger seat on my 2004 350z the fans help it from becoming a "hot box", put out great power for the JBL component speakers I put behind seats and JL audio door speakers 6-3/4 inch, HITS HARD, cant wait to add in my 1000w mono for som W7's

Pros:

Cons:
Kyle from Pennington Gap on 11/14/2014
Crutchfield Customer Review
(
What's this?
)
I've bought refurbished in the past with good results and this was no exception. Unit works great, Looks great, Sounds great. Fits nicely under the seat of my Colorado.

Pros:

Cons:
Jeff from New Orleans on 3/29/2014
Crutchfield Customer Review
(
What's this?
)
I searched and searched, it had been many years since I put an aftermarket system in a car, this one went into my weekend cruiser 1989 Camaro IROC. I had some experience with Kenwood product and this one did not disappoint. Highs are clear and crisp, and the low power is very good and stays clean. I was surprised at the power

Pros: Clean crisp and powerful

Cons: Cable management is not the best but I managed to clean it up some.
Perfect Amplifier for Under Truck Seat
Dan S from State College, PA on 6/25/2013
Crutchfield Customer Review
(
What's this?
)
This amplifier fit perfectly under the passenger seat of my 2008 regular cab Chevrolet Colorado. (after cutting off a stud on the seat floor that is used to retain the jack tools) I'm running the 60w channels to a set of Kenwood Excelon XR-1800P 7" components in well deadened doors. The sound is solid and clean. I listen to audiobooks on the way to work and everything is much crisper and clearer. Listening to some super audio CDs, the bass is sharp and punchy. This is definitely not a sloppy amp. I'm looking forward to hooking up a subwoofer to the 100w channels. Sorry to see it discontinued. If you are considering this for a truck, get it before it's gone. You won't regret it.

Pros: Sounds like solid clean power to me. No noise. Goes louder than I can tolerate without distortion. Power and ground inputs are large enough to accept #10 (or maybe even larger) spade terminals, so you can run 4 gauge power wire directly to the amp.

Cons: Mounting feet are plastic and can crack/distort when screwing the amp down. A frequency adjustment for the bass boost would have been nice, especially for a truck where you're struggling to get lower extension out of a small amount of space.
Dave from Key West, FL on 6/24/2013
Crutchfield Customer Review
(
What's this?
)
I replaced my factory OEM audio system and bought this amp because I was interested in delivering more power to my speakers than the head unit alone could provide. I went with this particular amp because of its different power ratings to channels A and B, as my front Focal component speakers have a lower RMS rating than the Kicker speakers in the rear. I was hesitant to buy a factory refurbished model because I had never bought anything electronic used and/or refurbished. The more I thought about it, I determined that this would be a better test case than any because, 1) I really didn't NEED the amp to replace my factory system, 2) I figured whatever issue it had been sent back to the factory for would now be a non-issue since it would be fixed and re-tested by the manufacterer, and 3) since I was purchasing through Crutchfield I felt completely comfortable in returning the product if I had to. I am absolutely glad that I purchased the amp, however, and have had zero issues with it.

Pros: The low price was the true selling point that caused me to purchase this amp versus a factory new same model or similarly capable models from Kenwood. Versatile configuration options to accommodate wide variety of system set-ups. Small size fits perfectly under rear-passenger seat of '05 GMC 2500HD even when seat is folded down (which by the way when this happens I like the fact that it is fan cooled).

Cons: The only thing I can think of is that it would have been nice for Kenwood to include an audio test CD because it has been slightly frustrating to tune the amp without one. (Very minor complaint because in the grand scheme of things Crutchfield tech service could help but I just haven't taken the time to call.)
tanner from Washington on 6/8/2013
Crutchfield Customer Review
(
What's this?
)
Amazing amp, have this set up in a ford ranger extended cab. I'm running 6 1/2 polk audio components in the front and 6 1/2 polk audio coaxial in the back. Wasn't very impressed at first then a day later realized I had run the components to the wrong channel and were being under powered. Switched it and it sounded amazing. Very clear and very loud. Just the way I like it. The amp has many features and is built very solid. Has a very small footprint for the amount of power it puts out. The amp I had prior was a older 4 channel kenwood and loved it. Bought another kennwood amp and couldnt be happier.

Pros: compact size, lots of options.

Cons:
Jacob from Stillwater, Ok on 1/28/2013
I didn't buy this amp, the installer used it to replace a 500W digital Phoenix Gold amp I had bought from him that had digital switching noise that caused a constant whine through my speakers. minus the whine the amp sounded really good, but once the amp was replaced with the kenwood it was like a had a new set of speakers, i currently have boston spz components, and they went from awesome to the point where my JL W3 is almost overkill

Pros: everything

Cons: none
Knowmadic from Gainesville, VA on 12/27/2012
A+ Amplifier.

Pros: Perfect amp for my car. My front speakers max at 60 RMS and the rear at 100 RMS so I'm getting max power to each speaker off of one amp without any overpowering. The built in EQ was very extensive for just an amp and allowed much customization.

Cons: The side with all the EQ options doesn't look as sleek as the rest of the amp. At first I thought something had broken off so I checked the picture online but it was as it was meant to be. Other then that a flawless amp.
Mike A from North Olmsted OH on 10/17/2012
Crutchfield Customer Review
(
What's this?
)
Have this installed in my 2011 fusion behind a DNX 9990HD driving aftermarket 5.25" comps and 5.25" coaxials. I bypassed the factory sony amp and the sound is unbelievable. I like the staggered output in four channel mode, allows you to use the 60w for rear fill.

Pros: Very compact, staggered output.

Cons: Would be nice if the power level was around 150w + 100w instead of the 100w + 60w that it is now
Jimmy from Auburn, NY on 7/7/2012
Crutchfield Customer Review
(
What's this?
)
I wasn't looking to shake my neighbors windows as I drove by or make my ears bleed, but this thing rocks. At a high volume my mp3s and XM radio are crystal clear. I am running four speakers at 4 ohms, with a seperate sub/amp package.

Pros: Sleek design. Fit perfectly in place of my glove box. (removed everything but the glove box door in my 92 F350)

Cons: None
Jjkinsd from San Marcos, CA on 5/16/2012
Crutchfield Customer Review
(
What's this?
)
I purchased this amp to wake up some after market speakers I installed years ago. I have two 90 watt infinity components in front and two 60 watt coaxials in the rear (extra cab pickup). This amp is a perfect fit for my setup and after a few weeks I am still tweaking everything but I can now achieve distortion free sound much louder than I ever imagined from the speakers. I am setup at 4ohms to four speakers, I have a seperate amp for a small sub so I can't comment on the other setup options for this amp, but it's definitely versatile! I am also not yet using any h/l pass filters or xover (I am using the reciever) but I may screw with these settings at some point.

Pros: Clean efficient power. Amp stays plenty cool under passenger seat (I setup with 1/2" airflow below since it's on carpet) built in fan is silent.

Cons: Nope
Details
Product Research
Features
Asymmetrical Design: The Kenwood X450-4 is basically two different size amps built into one chassis, both full-range and 2-channel. Amp A is 60 watts x 2 and amp B is 100 watts x 2. Amp B is also bridgeable to 300 watts x 1, so it can be used to power a subwoofer.
CEA-2006 Compliant: CEA-2006 is a system of testing and measurement methods for mobile audio amplifiers. This voluntary standard advocates a uniform method for determining an amplifier's RMS power output and signal-to-noise ratio. The criteria for measuring power uses a DC input voltage of 14.4 volts and the RMS power output is measured into a 4-ohm load, with 1% or less Total Harmonic Distortion plus noise (THD+N), and over a frequency range of 20 Hz to 20 kHz (when applicable). Signal-to-Noise ratio is measured in weighted absolute decibels (dBA) at a reference of 1 watt into 4 ohms. CEA-2006 allows consumers to compare car amplifiers and receivers on an equal basis. Using CEA-2006 criteria, the X450-4 is rated at 60 watts RMS x 2 plus 100 watts RMS x 2 with an 80 dBA signal to noise ratio.
Specifications: The manual also lists these non CEA-2006 compliant specifications:
A Channels: 75 watts x 2-channels (into 2Ω, at 1 kHz, no more than 0.5% THD)
B Channels:

2Ω: 100 watts x 2 (at 1 kHz, no more than 0.5% THD)
Bridged: 300 watts x 1 (into 4Ω, at 1 kHz, no more than 1% THD)

Signal to Noise Ratio: 100 dB (at rated power)
Cooling Fan: There is a cooling fan to help dissipate heat and ensure cool, reliable operation. Make sure not to block the vents or the fan when installing the amplifier.
Input Sensitivity: The X450-4 features independent gain controls for the A and B channels. The input sensitivity of each is adjustable from 200 mV to 5.0 volts.
A Channel Crossover: The A channels have a switch to set the built-in crossover to high-pass or off (full-range). The high-pass crossover point is adjustable from 50-200 Hz and the crossover slope is 12 dB/octave.
B Channel Crossover: The B channels have a switch to set the built-in crossover to low-pass, off (full-range), or high-pass. The crossover point is adjustable from 50-200 Hz. The crossover slopes are 24 dB/octave for low-pass and 12 dB/octave for high-pass.
Bass Boost: The B channels have a bass boost circuit centered at 40 Hz; boost is variable from 0 to +18 dB.
Input Selector: The signal for the A and B amplifier channels can be supplied from separate inputs (two pair of stereo RCAs), or from just the A channel inputs (stereo RCAs); set the switch to AB or A.
Aluminum Heat Sink: The aluminum heat sink increases the amplifier's heat dissipation efficiency, increasing the life of the amplifier.
Power And Ground Terminals: The amplifier features screw terminals for power and ground. They will accommodate spade connectors up to 0.55" wide.
Remote Turn-On Terminal: The remote turn-on is a screw terminal that will accommodate a spade connector up to 0.35" wide.
Speaker Terminals: The four pair of speaker outputs are screw terminals and will accommodate spade connectors up to 0.35" wide.
Signal Inputs: The amplifier features two pair of RCA input connections, A and B.
Fuses: Two 40-amp ATO fuses are installed in the amplifier chassis.
Our Product Research Team
At Crutchfield, you'll get detailed, accurate information that's hard to find elsewhere. That's because we have our own in-house Product Research team. They verify what's in the box, check the owner's manual, and record dimensions, features and specs. We stay on top of new products and technologies to help people make informed choices.
Staff Reviews
Product reviews from the Crutchfield Labs
Kenwood Excelon line of amplifiers - three models featuring a small footprint, clean design, and covered by a reassuring 2-year warranty.
What are the Labs?
Q & A
Customer Q&A
Crutchfield asked


Why did you buy this?
Good price and quality

[ demone Mar 03, 2016 ]
Got it at a great price.

[ Garrett Feb 09, 2016 ]